This Boring Stock Is a Safe Investment You Can Hold for Decades – Baystreet.ca
If you're worried about a market crash or just want a safe stock that you can forget about for years, Waste Connections (TSX:WCN)(NYSE:WCN) could be an ideal option. The company recently released its fourth-quarter results and reminded investors why it's a great but boring investment to hang on to.
On Feb. 17, it posted sales of $1.398 billion U.S., which grew 2.7% from the same period last year despite an economic slowdown caused by the pandemic. However, its net income of $130.7 million U.S. was down a modest 2% year over year. Although its operating income improved, the company incurred greater interest expenses which offset that growth.
Acquisitions have played a big part of Waste Connection's growth over the years and the company stated in the earnings release that "acquisition dialogue remains elevated and given the strength of our balance sheet, we remain well positioned to fund additional acquisitions, while also increasing return of capital to shareholders through opportunistic share repurchases and dividend growth."
Over the past 12 months, Waste Connections stock is down more than 7%. However, when looking at the past 10 years, the company has grown 280% in value. Investors can also earn a modest yield of 0.8% from investing in the waste management company.
Although Waste Connections isn't going to make you rich overnight, or even in a year or two, this is an investment that you can safely hold whether there's a recession, downturn, or a pandemic impacting the economy. The demand for waste collection is not going away anytime soon, and that's why this is an ideal investment for risk-averse investors to be holding in their portfolios.
Cannabis May Be the Hottest Investment Opportunity of the Year – Baystreet.ca
Cannabis may be one of the hottest investments of the year.
More states are legalizing its use, including New Jersey. North Dakota just approved a cannabis legalization bill. Legalization has been proposed in Maryland. In fact, the Maryland sponsor of the bill, Del. Jazz Lewis, argues, "the bill would take the production of cannabis off of the streets to ensure safer products, while simultaneously creating jobs, helping small businesses, and bringing in potentially hundreds of millions of dollars in annual tax revenue."
Even some of the top lawmakers in D.C. want to federally decriminalize cannabis. To-date, according to CNET, recreational sales are legal in 15 states, plus Washington, D.C. Medical sales are legal in 35 states. Medical sales of CBD are legal in seven states. In addition, it has been decriminalized in 32 states.
It's also fueling big growth for the global edibles market, which could generate about $13.65 billion by 2025 at a CAGR of 30.5%, says Zion Market Research. "The growing acceptance of cannabis is the key factor likely to drive the cannabis edibles market globally in the future."
All Could Help Drive Cannabis Stocks to Higher Highs
Pure Extracts Technologies Corp.(CSE:PULL)(OTC:PRXTF)(XFRA:A2QJAJ), for example, just announced that its wholly owned subsidiary, Pure Extracts Manufacturing Corp.'s distribution partner has submitted a Notice of New Cannabis Product (NNCP) application to Health Canada on behalf of the Company seeking approval for its retail cannabis products including cannabis extracts and edible cannabis.
The Company submitted over 20 Stock Keeping Units (SKUs) product identifiers for approval including THC vapes, CBD vapes, 1:1 blended vapes, and 3 different flavours/formulations of gummies. The Company plans to launch these products under its 'Pure Pulls Vapes' and 'Pure Chews Gummies' branded product lines and is looking forward to having them listed for sale with provincially authorized distributors and retailers nationwide.
Pure Extracts is continuing to develop its portfolio of cannabis 2.0 products with emphasis on its 34 proprietary formulations of 'Pure Pulls' branded full spectrum oil (FSO) vape products and on its new line of 'Pure Chews' edible gummies manufactured under license from Taste-T, LLC, the manufacturer of Fireball cannabis gummies.
Pure Extracts CEO, Ben Nikolaevsky, remarked, "We create products that are in high demand by provincially authorized distributors and retailers nationwide, and are looking forward to having our high quality, FSO products in consumers' hands early in Q2 of this year."
Or, look at Canopy Growth Corporation (NASDAQ:CGC)(TSX:WEED).
The company just announced the launch of a new line of science-backed CBD products for dogs under the brand name SurityPro. Leading scientists at Canopy Animal Health developed this new generation of advanced pet specialty CBD products for dogs to support calm behavior, joint health and flexibility, healthy aging, and overall physical and mental well-being in dogs. The SurityPro portfolio is scientifically-formulated to deliver carefully controlled CBD content for customized daily use in dogs of all sizes. All SurityPro CBD Pet products carry the National Animal Supplement Council (NASC) quality seal, denoting strict adherence to manufacturing, labeling, testing and marketing guidelines. The products also contain no corn, soy, artificial flavors, colors or preservatives.
Organigram Holdings (NASDAQ:OGI)(TSX:OGI) announced its results for the first quarter ended November 30, 2020. "We are pleased with our double-digit sales growth in the Canadian adult-use recreational market this past quarter as it reflects the success of many of our new product launches, particularly in the dried flower value segment," said Greg Engel, CEO. "Now we look forward to our new higher margin Edison dried flower offerings contributing substantially to overall revenue with even more new products to come in the next few quarters. We believe our product portfolio revitalization combined with additional resources to ramp up production and achieve greater economies of scale as well as our relentless focus on increased automation and cost efficiency opportunities position us well to generate further top-line growth and significantly improve gross margins."
Charlotte's Web Holdings, Inc. (TSX: CWEB)(OTCQX: CWBHF), the market leader in hemp CBD wellness products, announces that Charlotte's Web, Inc., a wholly-owned subsidiary, has been granted U.S. Utility Patents for its hemp genetics by the United States Patent and Trademark Office. The newly issued patents cover two of the Company's new feminized seed hybrid hemp varieties developed under the Company's breeding program; 'Kirsche' (US Patent No. 10,888,060) and 'Lindorea' (US Patent No. 10,888,059). 'Lindorea' and 'Kirsche' are the world's first two allowed U.S. Utility Patents reading on feminized hybrid hemp plants. The Company now has earned a total of five U.S. hemp variety patent grants: one Plant Patent and four Utility Patents as it advances the science of hemp horticulture.
Neptune Wellness Solutions Inc. (NASDAQ:NEPT)(TSX:NEPT) announced groundbreaking research on the absorption of omega-3 fish oils, which are the basis of its exclusive product MaxSimil®. The study was published in The Journal of Nutrition by the Oxford University Press. MaxSimil® is a patented omega-3 fatty acid delivery technology that uses enzymes that mimic the natural human digestive system to predigest omega-3 fatty acids. The study — titled 'Pharmacokinetics of Supplemental Omega-3 Fatty Acids Esterified in Monoglycerides, Ethyl Esters, or Triglycerides in Adults in a Randomized Crossover Trial' —adds to a growing body of research on Neptune's patented MaxSimil® fish oils.
Legal Disclaimer / Except for the historical information presented herein, matters discussed in this article contains forward-looking statements that are subject to certain risks and uncertainties that could cause actual results to differ materially from any future results, performance or achievements expressed or implied by such statements. Winning Media is not registered with any financial or securities regulatory authority and does not provide nor claims to provide investment advice or recommendations to readers of this release. For making specific investment decisions, readers should seek their own advice. Winning Media is only compensated for its services in the form of cash-based compensation. Pursuant to an agreement Winning Media has been paid three thousand five hundred dollars for advertising and marketing services for Pure Extracts Technologies Corp. by a third party. We own ZERO shares of Pure Extracts Technologies Corp. Please click here for full disclaimer.
Contact Information:
2818047972
[email protected]
Square Payment Volume Disappoints Amid Further Bitcoin Investment – CMC Markets
Square (NYSE: SQ) shares fell after hours as the company's December-quarter financials beat analyst expectations but gross payment volume was slightly below estimates. The company is one of the fastest-growing fintechs in the world and has witnessed the popularity of its Cash App soar during COVID-19. In general, digital payment tech companies have been some of the biggest winners throughout the health crisis as they have made it easier for people and businesses to send and receive payments safely.
This article was originally written by MyWallSt. Read more market-beating insights from the MyWallSt team here.
Square's fourth-quarter earnings
On Tuesday, the San Francisco-based company recorded better-than-expected Q4 results;
Adjusted earnings of $0.32 per share, up 39% year-over-year (YoY), beating the Street's estimate of $0.24.
Revenues of $3.16 billion, up 141% YoY, smashed the consensus forecast of $3.11 billion.
Gross profit of $804 million, up 52% YoY, beating forecasts of $801 million.
Sales for its Seller system, which allows merchants to accept mobile card payments via a plastic dongle that's inserted into a mobile phone, grew to $987 million.
Subscription and services-based income climbed to $449 million, up 60% YoY.
Square's gross payment volume falls short
Shareholders were disappointed with Square's gross payment volume (GPV) of $32 billion for the quarter, which was up 12% YoY but still fell short of Wall Street's prediction of $32.1 billion. Square's GPV provides investors with an overall picture of transaction volumes and is the main gauge of the total dollar amount being transferred through its payment services. The higher the volume of payments tracked by GPV, the more transaction revenue Square can generate.
Square stated that revenue growth was driven by more people using the Cash App to buy and sell Bitcoin. The mobile payments company benefited hugely from the recent Bitcoin rally, helping Square generate $1.76 billion in profit. Excluding Bitcoin, Square's total net revenue increased to $1.4 billion, meaning the company was heavily reliant on cryptocurrency transactions on its platform during the quarter.
During the earnings call, Square also disclosed that it had invested a further $170 million into Bitcoin in addition to its earlier $50 million purchase. This investment could provide the company with further income down the line, yet the worry for investors here is that financial regulators might begin to crack down on Bitcoin.
Square is growing its user base
Square shares have surged over 16% year-to-date as investors largely ignored the threat of small businesses closing during the pandemic and how this could affect the company. Instead, shareholders focused on the growth of the company's Cash App and how the service could help people make payments safely during the pandemic. At the end of 2020, its Cash App had 36 million users, up from 30 million at the end of Q3.
Square's revenue growth is benefiting from the shift to e-commerce and growing popularity for its digital cryptocurrency transaction services offered by its Cash App. Whether investors need to be worried about Square's reliance on Bitcoin is still a concern for many. However, Bitcoin continues to receive legitimacy in the eyes of the financial world as more companies like Tesla invest in it. This might just be a play that could work in the company's favor but is still one that investors are watching closely.
MyWallSt gives you access to over 100 market-beating stock picks and the research to back them up. Our analyst team posts daily insights, subscriber-only podcasts, and the headlines that move the market. Start your free trial now!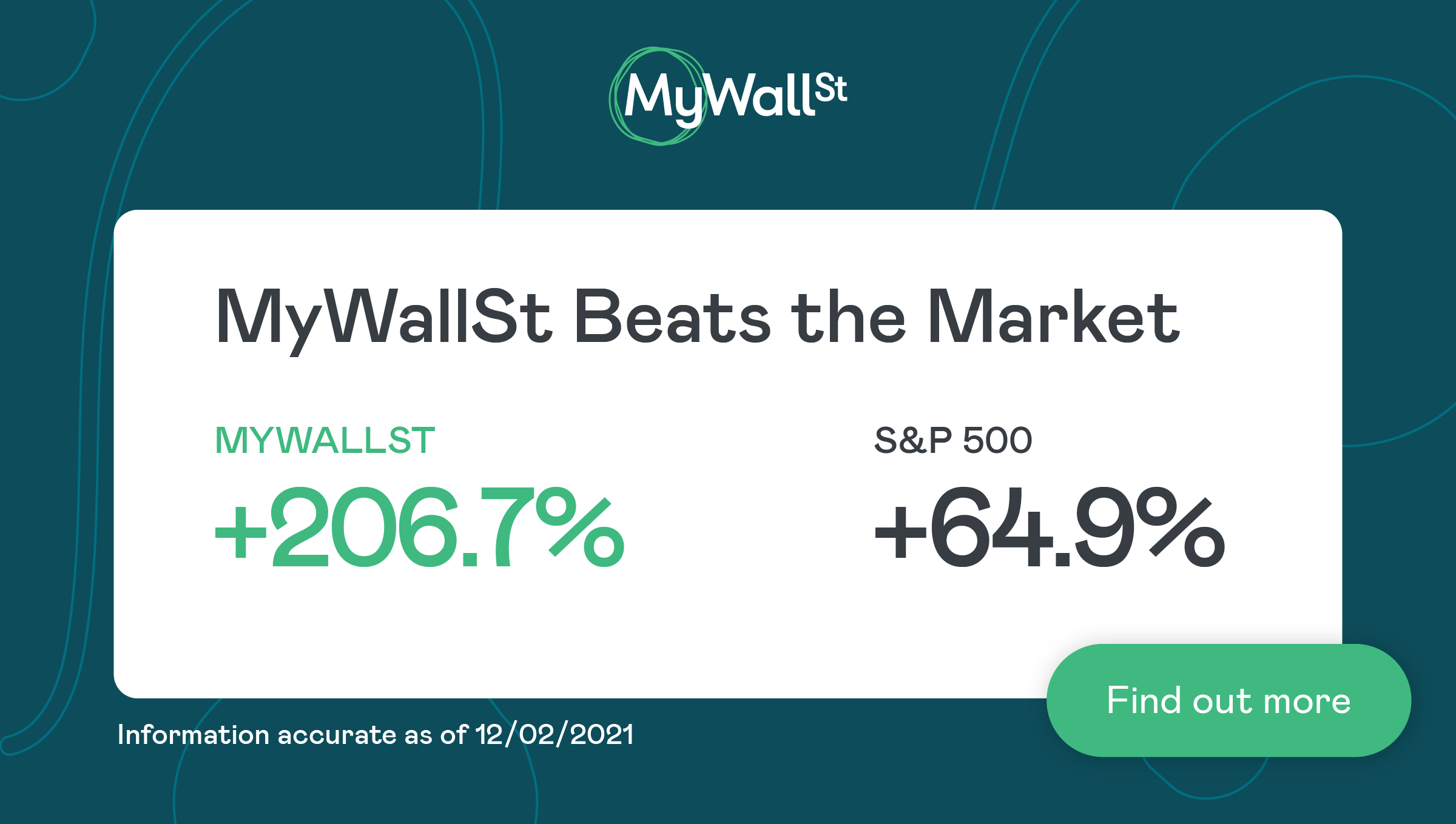 Disclaimer Past performance is not a reliable indicator of future results.
CMC Markets is an execution-only service provider. The material (whether or not it states any opinions) is for general information purposes only, and does not take into account your personal circumstances or objectives. Nothing in this material is (or should be considered to be) financial, investment or other advice on which reliance should be placed. No opinion given in the material constitutes a recommendation by CMC Markets or the author that any particular investment, security, transaction or investment strategy is suitable for any specific person.
The material has not been prepared in accordance with legal requirements designed to promote the independence of investment research. Although we are not specifically prevented from dealing before providing this material, we do not seek to take advantage of the material prior to its dissemination.
CMC Markets does not endorse or offer opinion on the trading strategies used by the author. Their trading strategies do not guarantee any return and CMC Markets shall not be held responsible for any loss that you may incur, either directly or indirectly, arising from any investment based on any information contained herein.
*Tax treatment depends on individual circumstances and can change or may differ in a jurisdiction other than the UK.
Continue reading for FREE
BTV Visits Thriving Companies to Invest In – Investing News Network
On national TV Sat. Feb 27 & Sun. Feb 28, 2021 – From mining to cryptocurrency this episode of BTV-Business Television visits exciting companies for your investment portfolio including:Cannot view this video? Visit: Preview: YouTube BTV Live Premiere 1pm PST today + Meet the Hosts of BTVClick here to set a reminder! Discover Companies to Invest InBIGG Digital Assets Inc. – As cryptocurrency grows in popularity, BTV …
On national TV Sat. Feb 27 & Sun. Feb 28, 2021 – From mining to cryptocurrency this episode of BTV-Business Television visits exciting companies for your investment portfolio including:
Cannot view this video? Visit:
https://b-tv.com/btv-visits-thriving-companies-to-invest-in-ep-355/
Sneak Preview: YouTube BTV Live Premiere 1pm PST today
+ Meet the Hosts of BTV
Click here to set a reminder!
Discover Companies to Invest In
BIGG Digital Assets Inc. (CSE: BIGG) (OTCQB: BBKCF) – As cryptocurrency grows in popularity, BTV finds a company dedicated to creating a safer, more accessible crypto environment. Adelaide Capital's Victoria Rutherford weighs in.
Talisker Resources Ltd. (TSX: TSK) (OTCQX: TSKFF) – BTV discovers how this junior resource company is fast tracking its historic gold mine in B.C. towards production.
Blockchain Foundry Inc. (CSE: BCFN) – A company at the forefront of blockchain technology development. BTV learns about Syscoin, their blockchain protocol.
Moneta Porcupine Mines Inc. (TSX: ME) – Their recent acquisition increased their land position to create one of the largest undeveloped gold projects in North America.
Sernova Corp. (TSXV: SVA) (OTCQB: SEOVF) – A regenerative medicine therapeutics company with a new approach to treating chronic diseases including Type 1 Diabetes.
Outback Goldfields Corp. (CSE: OZ) – This mining exploration company has four key assets in one of Australia's hottest gold exploration districts.
Monarch Mining Corporation (TSX: GBAR) – BTV visits this gold focused company with plans to restart the Beaufor Mine in Quebec's prolific Abitibi Greenstone Belt.
On air for over 20 years, BTV – Business Television, a half-hour investment TV show, features analysts and emerging companies on location. With Hosts, Taylor Thoen and Jessica Katrichak, BTV brings viewers investment opportunities.
TV BROADCAST NETWORKS and TIMES:
CANADA:
BNN Bloomberg – Saturday Feb 27 @ 8:00pm EST, Sunday Feb 28 @ 4:30pm EST
Bell Express Vu – Saturday Feb 27 @ 8:00pm EST, Sunday Feb 28 @ 4:30pm EST
US National TV:
Biz Television Network – Sun Mar 7 @ 8:30am EST
Suggest a Company to Feature!
Contact: (604) 664-7401 x3 info@b-tv.com
To receive news, click here to subscribe.
To view the source version of this press release, please visit https://www.newsfilecorp.com/release/75445
News Provided by Newsfile via QuoteMedia