Twitter is working on its version of Stories and we're already over it – The Next Web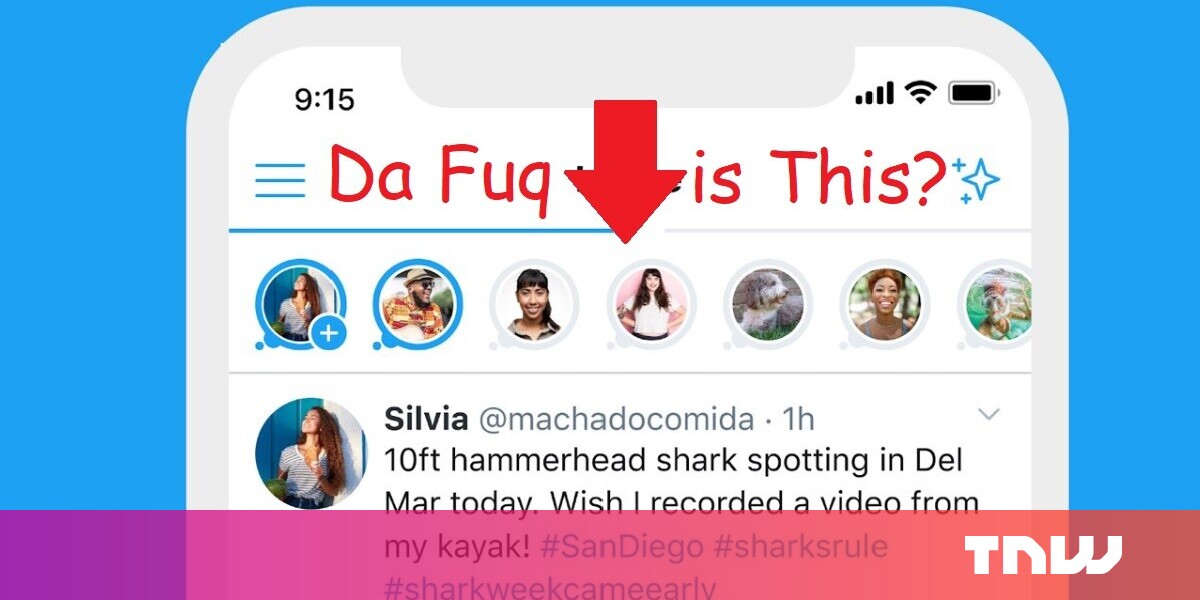 Twitter today revealed it's testing its own version of ephemeral updates… a.k.a. Stories (because apparently the "rip off Snapchat" train is still chugging along). I can barely find the words to express how little I want this or how un-Twitter it seems.
We've been listening to this feedback and working to create new capabilities that address some of the anxieties that hold people back from talking on Twitter. Today, in Brazil only, we're starting a test (on Android and iOS) for one of those new capabilities. It's called Fleets. pic.twitter.com/6MLs8irb0c

— Kayvon Beykpour (@kayvz) March 4, 2020
The idea behind Fleets, according to Twitter Product Lead Kayvon Beykpour, appears to be to give people the opportunity to tweet thoughts they're not comfortable having a permanent part of their timeline. Tweets are always public (unless your account is protected), and anyone can retweet or like them. Apparently people also feel they're "performative" in that you have to post that which will give you maximum likes and retweets. Fleets is an attempt to redress that, though it should be pointed out that "anyone who can access your full profile will also be able to find your Fleets there," so it's not like they're actually private.
Fleets will appear in a row at the top of your feed, with people who you follow and who follow you appearing first, and other accounts you follow coming next. In other words, Instagram's setup. Twitter intends for them to be text updates, though you can add photos if you wish. As is typical for Stories, they vanish after 24 hours.
Okay, I know this was the fashionable thing to do a couple of years ago, but I thought we'd all come to the conclusion that only Snapchat and Instagram are really set up to do the whole Story thing? I mean, everyone and their dog was ripping off Snapchat left, right, and up the middle, and those are still the only two instances where it's proven to have lasting popularity. That is to say, where it's stuck because of user interest, rather than because publishers are trying to brute-force it to stick.
I know what you're thinking: "THIS SOUNDS A LOT LIKE STORIES!". Yes, there are many similarities with the Stories format that will feel familiar to people. There are also a few intentional differences to make the experience more focused on sharing and seeing people's thoughts. pic.twitter.com/OaGYZpChcN

— Kayvon Beykpour (@kayvz) March 4, 2020
I get the idea behind it: sometimes you just want to tweet a weird thought without it becoming a permanent part of your timeline, but a form of text update that can't be liked, retweeted, or publicly replied to feels a little pointless. What am I, the theoretical viewer of Fleets, intended to do with what they contain? Be happy that the people I know are still alive and move on? Fleets can be replied to with an emoji, so I guess that takes away the notion that they aren't performative. Users can also DM you a reply… though I presume they won't be able to do that if your DMs are locked.
There's also the name: "Fleets." At first I thought that was just something that didn't get translated properly from the original Portuguese announcement. But nope, apparently that's the name they're choosing to go with. It's supposed to be a mash-up of "fleeting" and "tweets," would be my guess, but that's… not the first thing I think of when it comes to that name. And given this tweet, apparently I'm not the only one.
yes we know what fleets means. thanks – gay intern

— Twitter Comms (@TwitterComms) March 4, 2020
Twitter will be testing Fleets in Brazil, and might expand the test to other countries depending on what kind of feedback it receives.

Explorando uma nova forma de iniciar conversas no Brasil
on Twitter

Read next:

Thanks, coronavirus: Apple reportedly has few replacement iPhones to go around
Wordle game help: 5-letter words with 'AME' in the middle – Dot Esports
Since its October 2021 release, Josh Wardle's Wordle seems to have become the internet's most popular word game.
Each day, a new five-letter word is the answer to the challenge, and players need to guess it in up to six tries. The word is the same for all players on the same calendar day and there are no clues but the letters themselves, which change colors depending on where they are in the word—and if they are in the word at all.
While Wordle may be a simple challenge on most days, there are times when you could get stuck. Maybe you found two or three letters, but you have no idea what your next guess should be, either because you can't remember any words with that specific combination or because there are too many options to choose from. If that is the case today and all you have is "AME" right in the middle of the word, you can check the list below for inspiration.
Five-letter words with "AME" in the middle to try on Wordle
CAMEL
CAMEO
CAMES
DAMES
FAMED
FAMES
GAMED
GAMER
GAMES
GAMEY
HAMES
KAMES
LAMED
LAMER
LAMES
MAMEE
MAMEY
NAMED
NAMER
NAMES
RAMEE
RAMEN
RAMET
SAMEK
SAMEY
TAMED
TAMER
TAMES
WAMES
YAMEN
There are not that many options, but you will still need to narrow down the list to get the answer right. The first thing you can do is check all the letters that appear gray in your previous guesses, then eliminate all words that contain any of them. A second tip is to avoid plural forms. They are valid guesses if you need them, but Wordle will never pick a plural form as the answer to the daily puzzle.
If you're still unsure and don't want to wait until Wordle resets at midnight local time, you can always look up the answer to today's puzzle (which we update around 12am CT) to avoid losing your streak.
New LoL champion Bel'Veth is a transforming Void nightmare – PCGamesN
The next champion coming to League of Legends is a powerful, menacing empress from deep within the heart of the Void. Bel'Veth, who Riot Games calls a 'God of Oblivion,' has debuted in her official cinematic trailer, and she is a terrifying and Lovecraftian monster capable of mimicking human features – but only as a lure, since her primary motivation is to consume everything and everyone.
The cinematic, which you can view below, begins with Daughter of the Void Kai'Sa alighting in the ruined city of Belveth, which is now completely overgrown with eerily luminescent Void flora. Led by a toy ship carried aloft by glowing butterflies, Kai'Sa enters a natural chamber – only to discover the walls are alive with Void-infused, skeletal arms.
Bel'Veth approaches her from a rift that opens behind Kai'Sa. "I am everything the Void has consumed," she says ominously, striding forward. Bel'Veth is tall, and shrouded with a cape that wraps around her in tight layers. Two huge horns emerge from a piece of armour on her upper back. "Just as I devoured this city, I will devour your world."
Here's the cinematic.
Kai'Sa's attacks are useless against Bel'Veth, whose face begins to peel apart to reveal a glowing fungal flower… which is positioned over her true face. It's revealed as Bel'Veth's cape opens: a monstrous maw lined with razor-sharp teeth. Terrifying.
You can read more about Bel'Veth's background in the short story Pinwheel, written by Jared Rosen. It's available on the official League of Legends site.
Leaks suggest Bel'Veth is an ability power/attack damage hybrid jungler champion, with her ultimate ability being her transformation into her 'true' Void form. However, none of that's been confirmed yet, as Bel'Veth has yet to appear on the Leage of Legends PBE.
Experience Parallel Search Capabilities on the HUAWEI Mate Xs 2 with Petal Search – Canada NewsWire
Adapting to the always-on lives of today's consumers, Petal Search allows users to double their efficiency experience a new layout of a search engine.
With Petal Search now optimised for foldable screens, users can search for an array of topics ranging from news, apps, shopping, nearby services, and many more on the 7.8-inch True-Chroma foldable display of the new HUAWEI Mate Xs 2. With one tap on the search bar, the Parallel Search function is automatically activated as details of the search is smoothly displayed across both screens in a dual-window layout. This interactive design allows users to multitask on larger screens improving efficiency even during leisure browsing.
Petal Search provides consumers with the Parallel Search function, allowing different portions of the search services that the consumer is using to be displayed on both screens at the same time. Valuable information will be doubled, complicated operations will be reduced by half, and the efficiency will be improved by 100%.
Parallel Search allows users to instantly view search results on one screen while still scrolling through for further options on the other. For example, scroll through nearby food options on one screen, while displaying detailed information of a selection option on the other, deals, menu, food photos , reviews, ordering online, etc. With such a versatile layout, consumers are able to experience a smooth and efficient browsing experience.
With online shopping being the go-to for most, research shows that roughly 51% of consumers visit up to 4 sites before deciding to purchase a product (Source: People Comparison Shop). To aid consumers in their search, the new search function can display product details all on one page allowing easy comparison between 2 items. Furthermore, Petal Search allows users to run 2 search services simultaneously, such as video-streaming apps on one screen of the HUAWEI Mate Xs 2 while reading up on the latest news on the other.
All-In-One Search for an immersive search experience
With Petal Search's Parallel Search function, consumers are able to choose between 2 different viewing modes. With the dual-window mode, consumers view different parts of the search on each screen increasing efficiency. Or if consumers require a better view, single-window mode provides a larger view for a more immersive search experience.
Enjoy an immersive search experience on the large screen of the new HUAWEI Mate Xs 2 with Petal Search's All-In-One Search. By partnering up with over 3,000 top e-commerce, travel and local merchants, Petal Search optimizes shopping, travel and more than 20 other vertical search categories for users to search from.
Experience true search power when it comes to leisure. Find interesting deals, compare items and prices and much more without having to open additional tabs, when shopping online with Petal Search. Also plan your next holiday with Petal Search by comparing prices of flights and hotels all on one page. Come and take your search experience to the next level!
Based on Huawei's 1+8+N all-scenario strategy and the adaptation capability of hardware and software, Petal Search aims to provide users with a seamless and consistent search experience.
To download and experience Petal Search, please visit: https://bit.ly/3rpGYGY
SOURCE Petal Search, Huawei
For further information: Lingling Wang, [email protected]