Union says Bell Media cuts hit 210 employees in Toronto, half from newsrooms – BarrieToday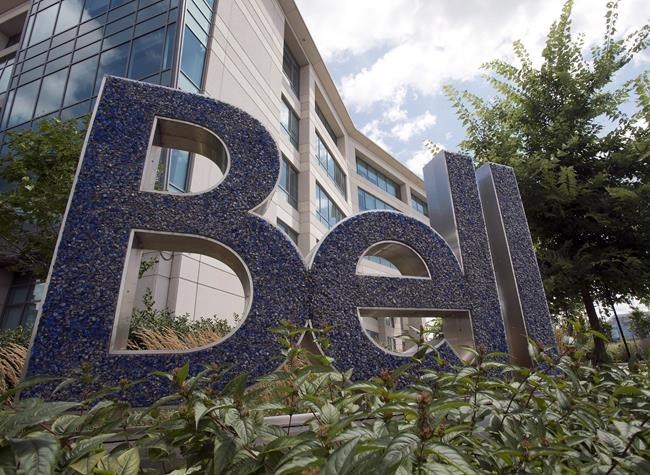 CALGARY — The union representing some Bell Media workers says a total of 210 employees in the Toronto area are being laid off, with most of the notifications taking place today.
Howard Law, media section director for Unifor, says about 100 of the employees are union members and are connected to Toronto television newsrooms, while the non-union staff include administration and sales staff.
He says the affected union members include field camera operators but not on-air television reporters. Law declined to be specific because he says some affected employees may not have been notified yet.
He says some support staff are being laid off temporarily because certain local TV information shows aren't being made in-house during the COVID-19 pandemic.
Bell Media didn't immediately respond to requests for comment.
Bell Media is part of BCE Inc.'s Bell Canada division, the country's largest telecommunications company. Its holdings include the CTV television network, specialty TV channels, radio stations and production studios.
A Bell Media spokesman confirmed Monday that it had cut an unspecified number of staff, including on-air broadcast roles, due to programming decisions by Bell's radio brands as part of the company's streamlined operating structures.
"They're laying off camera operators which has to mean less news coverage, unless they expect everybody else to work twice as hard," Law said on Tuesday.
Last month, Bell Media confirmed it had restructured its leadership team leading to some staff departures.
The changes come as Bell Media puts greater priority on growing its streaming platforms.
This report by The Canadian Press was first published Feb. 2, 2021.
Companies in this story: (TSX:BCE)
The Canadian Press
Accused killer's social media rife with violence – Winnipeg Free Press
The man accused of the grisly slaying of a woman in North Kildonan threatened to rip apart another man's flesh with his teeth in a profanity-laced social media rant two weeks before he was charged.
The vitriolic outburst by accused killer Jeremy Anthony Michael Skibicki was sparked by the man's comment about Skibicki's military-style hat.
Skibicki, 35, is charged with first-degree murder in the death of 24-year-old Rebecca Contois, whose partial remains were found in a garbage bin behind an Edison Avenue apartment block on Monday. The charge of first-degree murder indicates the Crown believes there was pre-meditation to the homicide.
A source has told the Free Press there could be four additional victims. Police have acknowledged they are looking for other victims — officers are conducting a search of the Brady Road Landfill — but wouldn't say more than that.
Winnipeg Police Service Const. Rob Carver said Thursday homicide detectives had not ruled out the possibility of more victims "due to the nature of the circumstances" of the investigation, but he wouldn't elaborate.
A Free Press review of the accused's social media accounts revealed posts about far-right politics, including references to the white genocide conspiracy theory as well as antisemitic content.
On May 8, just before 4:30 a.m., Skibicki posted the violent rant, claiming a man had threatened to shoot him "multiple times in the head and in the body" if Skibicki "came around again," after they discussed his hat — social media photos show the accused wearing a grey, military-style cap.
"He claimed all Europeans are Nazis even if I don't identify as a National Socialist," the post reads. "Guess where I am headed again this morning?"
The post describes violent acts.
"When I see him I am going to beat the f—-ing sh— out of him and rip apart his flesh with my teeth if he so much as blinks at me wrong while he's too close.
"I don't need a weapon to kill, but I will certainly shoot him with his own gun or stab him with his own knife if I need to."
The post claims Skibicki knows he will go to heaven.
"If this is the hill I die on, so be it. I will not recoil in shame of my race… this infidel better have a full clip and permission from God to end my life," the post reads.
An arrest information obtained by the Free Press shows police believe Contois was killed on or around May 14.
The same information shows Skibicki has been charged with failing to comply with the conditions of a release order — specifically that he live at a West Broadway address.
On Thursday, Carver told reporters officers had executed a warrant on Skibicki's residence in the area where Contois's remains were found.
On Thursday afternoon, a police forensics truck was parked at the McKay Avenue four-plex where the accused lived, which is one block north of Edison Avenue.
On Friday, residents of the four-storey block in West Broadway, where Skibicki had been ordered to live, said they did not recognize him.
His suite has been vacant since January, a resident said.
erik.pindera@freepress.mb.ca
Twitter: @erik_pindera
Erik Pindera
Reporter
Erik Pindera reports for the city desk, with a particular focus on crime and justice.
Media Release – May 20, 2022 – Guelph Police – Guelph Police Service
Attempt break and enter
The Guelph Police Service is investigating after an attempted break and enter at a west-end business.
Early Thursday morning, two males arrived by vehicle at a business on Speedvale Avenue West. One of the suspects was caught on video using an angle grinder in an attempt to gain access to a storage unit, but the males fled when an alarm sounded.
A query of the licence plates, which were on an older two-tone Ford Escape, revealed they are registered to another vehicle.
The incident remains under investigation. Anyone with information is asked to call Constable Graeme Adams at 519-824-1212, ext. 7419, email him at gadams@guelphpolice.ca, leave an anonymous message for Crime Stoppers at 1-800-222-8477 (TIPS) or leave an anonymous tip online at www.csgw.tips.
Prohibited driver arrested
A Cambridge male banned from driving was arrested after he was caught behind the wheel in Guelph Thursday.
A Guelph Police Service officer was on patrol on Speedvale Avenue West just after 3 p.m. when he queried a licence plate and learned it was registered to a prohibited driver. A traffic stop was conducted and the owner of the vehicle confirmed to be the driver.
Investigation revealed the male is a prohibited driver as a result of a December, 2021, conviction for refusing to provide a breath sample. A 49-year-old Cambridge male is charged with driving while prohibited and driving while suspended. He will appear in a Guelph court July 5, 2022.
Male threatens staff, gets arrested
A Guelph male faces charges after threatening to "mace" employees of a local business Thursday afternoon.
Approximately 4:20 p.m. the male entered a business on Woodlawn Road West near Woolwich Street. Staff recognized him from a shoplifting incident earlier in the week and began to follow him. The male became agitated and threatened to "mace" the employees before reaching into a fanny pack he was wearing and removing something.
Staff retreated and called police, who located the male in the area of the business. He was not found to be carrying any weapons.
A 40-year-old Guelph male is charged with two counts of uttering threats and breaching probation. He was held for a bail hearing Friday.
Stunt driving charge laid
A Guelph male was taken off the road after he was caught Thursday driving more than twice the speed limit.
A Guelph Police Service Traffic Unit officer was patrolling just before 1 p.m. in the area of Victoria Road South and College Avenue West when he observed a vehicle travelling at a high rate of speed. The vehicle was clocked at 110 km/h in a posted 50 km/h zone.
A 21-year-old Guelph male is charged with stunt driving and speeding. His driver's licence was immediately suspended for 30 days and his vehicle impounded for 15 days.
Total calls for service in the last 24 hours – 246
Brock Media Clips for Friday, May 20 – The Brock News – Brock University
Assistant Professor of Education Stanley 'Bobby' Henry spoke to CHCH about statements from Prince Charles that discussed residential schools in Canada and the need for reconciliation.
Here's a look at some of the media attention Brock University received recently.
Royal Canadian Tour continues, Indigenous groups await formal monarchy apology: Assistant Professor of Education Stanley 'Bobby' Henry spoke to CHCH about statements from Prince Charles that discussed residential schools in Canada and the need for reconciliation.
Brock prepares future nurses for challenges in the field: Department of Nursing Chair Karyn Taplay and Nursing student Sierra Smith spoke to Newstalk 610 CKTB about the growth of Brock's Nursing program, as well as what it's like to pursue a career in nursing. Taplay also discussed the Nursing program's expanding enrolment in a St. Catharines Standard article.
Who are union members supporting in this election?: Professor of Labour Studies Larry Savage spoke to CBC's Ontario Today program about the decision of a construction union to endorse the Progressive Conservatives in Ontario's upcoming provincial election.
As several Canadian cities loosen public drinking laws, Toronto rejects proposal again: Professor of Health Sciences Dan Malleck spoke to The Globe and Mail about current conversations around alcohol consumption and their relationship to temperance movement of the 19th and 20th centuries. Malleck also spoke to Nunatsiaq News about Nunavut's system of alcohol regulation.
"We want to make curling cool" — Rolling the dice on the Roaring Game: Assistant Professor of Sport Management Michael Naraine spoke to Yahoo!Sports about the potential for legal sports gambling to bring a new audience to the sport of curling.
If you know of an appearance or story about a Brock faculty member, student, athlete or alumni, please drop us a line with a link to the story at universitycom@brocku.ca
---