Why the iPhone 12 Pro is worth the upgrade cost – AppleInsider
Putting the iPhone 12 Pro through its paces in the real world really shows why it's worth the extra cost over an iPhone 12.
It's more than surface deep
The new iPhone 12 Pro of course offers more features than its predecessors, but before you even notice any of those, you immediately see — and feel — how it has all been physically redesigned. As with all the iPhone 12 range, it has the iPad Pro-style flat edges, and they make it remarkably appealing to hold.
Then with the iPhone 12 Pro, Apple retained the stainless steel frame but has four new colors. What's been less well reported, though, is that even the colors that we thought we'd seen before, such as silver and gold, have a subtly different — and better — look.
For instance, the silver version, which has the white glass back, is now lighter than before. The gold has a new finish to make the color more substantial around the edge, and this also makes it more resistant to fingerprints. Unfortunately, the darker colors remain fingerprint magnets.
Graphite iPhone 12 Pro and space gray iPhone 11 Pro
Whereas Pacific Blue is entirely new. It replaces last year's green and, at least anecdotally, appears to be a particularly popular option. There's a slight slate-color tint to the blue on the iPhone 12 Pro, and it's gorgeous enough that you will keep staring at it until you put the phone in a case.
To go with these brand new colors, and improved existing ones, are new exclusive wallpapers. Apple has created four new live wallpapers for the iPhone 12 Pro line that match the phone colors, and move. Hold your finger on the lock screen and these images animate as if they have lens flares.
Massive camera updates
You can point to the finer color and, actually, to the brighter screen, to say there are variations between the iPhone 12 and the iPhone 12 Pro, but the real differences are in the new photo and video capabilities on the new iPhone 12 Pro.
Most of the best new features are relegated to the iPhone 12 Pro Max, though. That has yet to be released, but in the meantime, iPhone 12 Pro has some key new features of note.
Such as the addition of Dolby Vision recording at 60 frames per second, as opposed to the 30fps of the iPhone 12. The inclusion of Dolby Vision at all is a feat, and it means that these two smartphones are the first in the world on which you can shoot, edit, and share 4K Dolby Vision HDR.
However, if you are going to benefit from Dolby Vision, it feels wrong to hamper yourself with the 30fps version. The iPhone 12 Pro's 60fps is certainly better, and makes greater use of the potential of Dolby Vision recording.
What's more, in real-world use, it is as easy as you'd want and expect it to be.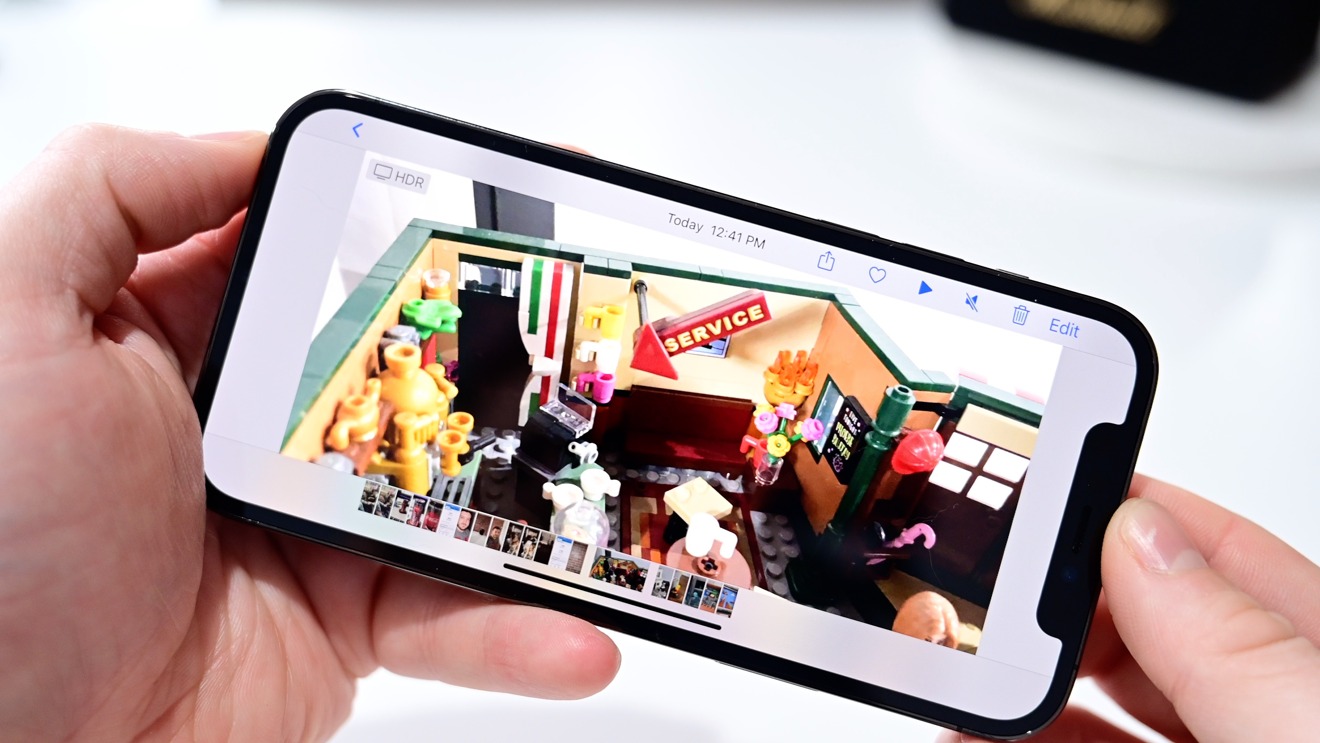 Dolby Vision HDR Video
When you come to play or edit it, you can immediately tell that footage was shot in Dolby Vision because it is marked with an HDR watermark in the top-left corner of the video app. Similarly, if you edit in the Photos app, you'll see the display get brighter as it starts to display this footage.
It all looks very good when played on an HDR-capable display, but can be toggled off if you don't wish to capture it and take up all the storage space it requires.
Night shoots
Another frankly amazing feature we explored was night mode portraits on the iPhone 12 Pro. This night mode feature came with the iPhone 11 line, and it already allowed you take long-exposure shots in very low light situations. With iPhone 12 Pro, though, that same functionality comes to portrait shots.
When you switch to portrait mode in the Camera app and go to take a pic in a very low-light environment, you will see the night mode icon in the lower-left corner where the 1X and 2X indicators are.
You can't zoom in and keep this portrait effect, you have to take the shot at 1X. Explain to your subject that you have to step closer. That's because for this type of shot it needs the new faster aperture of the wide-angle camera rather than that on the 2X tele lens.
For the iPhone 12 Pro, Apple increased the aperture from f/1.8 to f/1.6 which allows more light in and allows the shutter to fire faster. The new LiDAR scanner is also used because it allows the camera to focus in near pitch-black environments.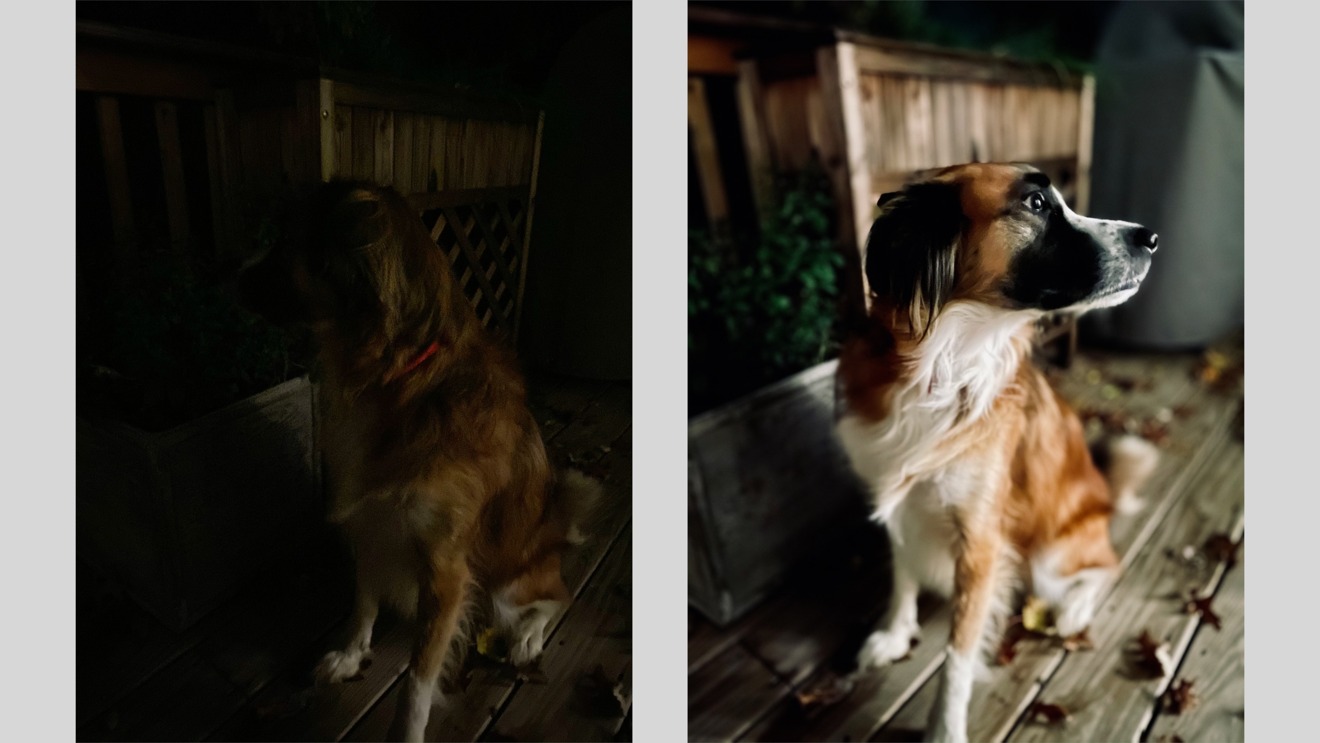 iPhone 11 Pro low-light portrait shot versus night mode portrait on iPhone 12 Pro
We will have a more comprehensive comparison soon, but we did take a quick set of example shots using portrait mode on our iPhone 11 Pro and iPhone 12 Pro. The iPhone 11 Pro wasn't able to enable portrait mode at all so it just captured a normal image.
Naturally, that image came out very, very dark and completely unusable. On the other hand, iPhone 12 Pro captured a very impressive image in almost no light.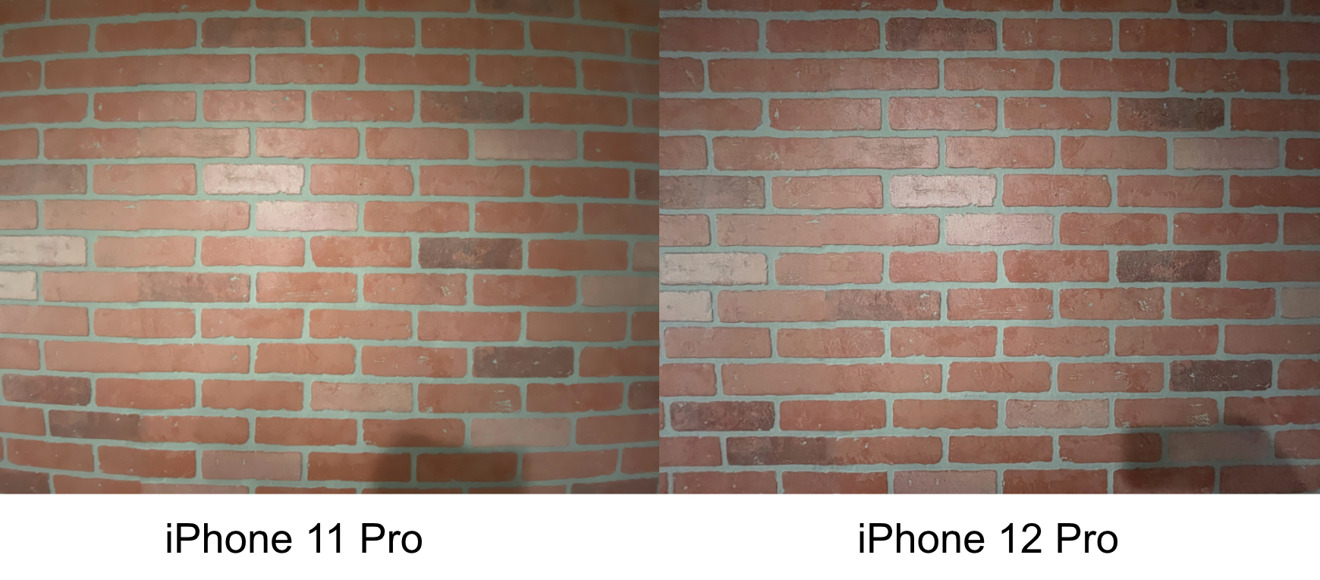 Ultra-wide lens correction on iPhone 12 Pro
Aside from night mode coming to all cameras — notably including the front-facing True Depth or selfie one — Apple has improved the ultra-wide lens. There's also a new lens correction that's applied in order to deal with the quite excessive distortion that could be present before. Once more, see our sample shot took on iPhone 11 Pro and iPhone 12 Pro to see how much of a difference this has made.
As important and visibly improved as the new lens and camera systems are, it's this combination of corrections and software control that make the iPhone 12 Pro such a good buy for photographers. That's only going to become even truer, too, when the promised Apple ProRAW format comes out.
We'll know for sure when it's released and we can test it in the real world. However, Apple ProRAW is claimed to take all of the advantages of shooting RAW, of using uncompressed images, and applying Apple's computational photography algorithms to get the very finest results possible.
Internal upgrades
Powering all of these new features is Apple's latest A14 Bionic processor. Last year, the A13 Bionic processor on the iPhone 11 Pro scored 1334 and 3543 on the single-core and multi-core tests. This year, the iPhone 12 Pro pulled a 1598 and a 4180.
That represents about a 20 percent improvement on the single-core score and about 15 percent gain on the multi-core. These are the kinds of improvements that don't just sound good on paper, you can actually appreciate them in real use.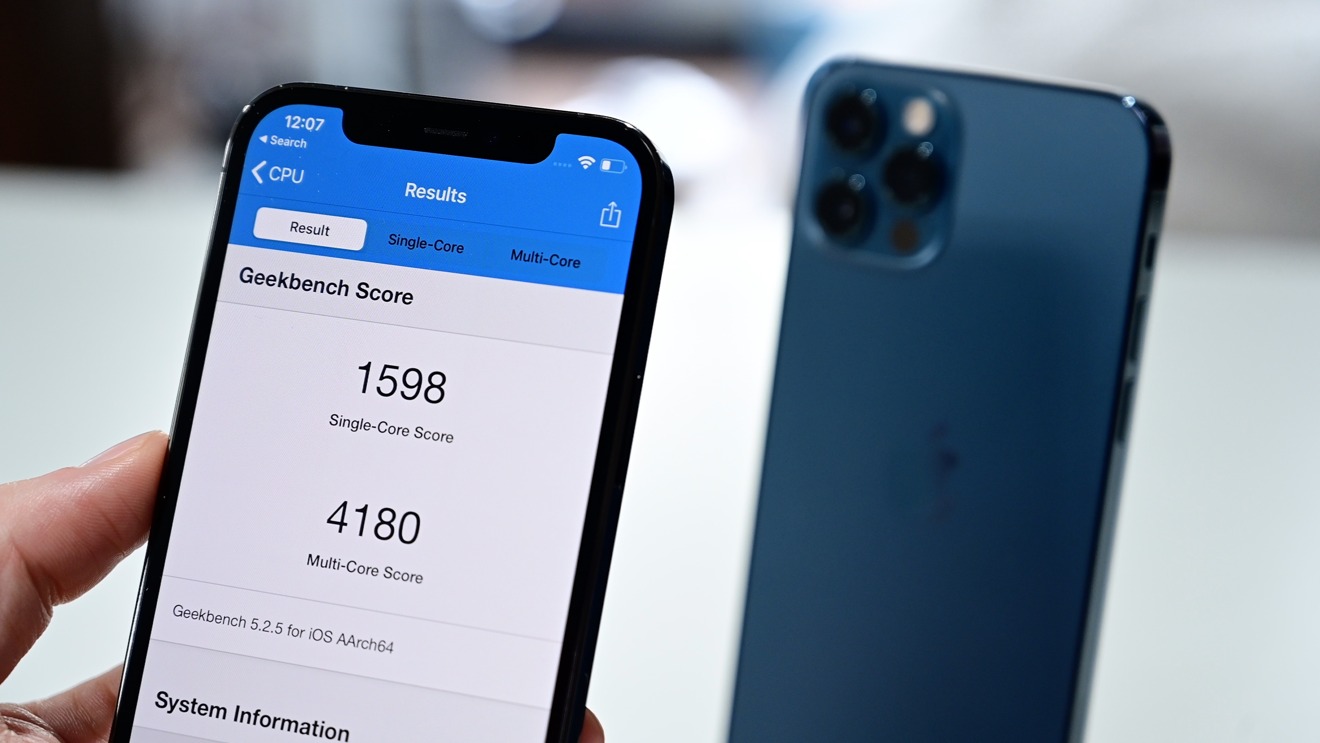 Geekbench scores for iPhone 12 Pro
That's going to apply to everything you do on the phone as most tasks are single-core, so this iPhone 12 Pro feels more snappy in daily use. But it's particularly noticeable in video and photo editing, which is faster even when you're dealing with 4K 60FPS content.
Most of these internal differences are also in the iPhone 12, but Apple has given the iPhone 12 Pro an extra 2GB of RAM, bringing it to 6GB. This directly aids with specific tasks like loading apps from the background, many Safari tabs, and more. Storage was doubled too, going from 64Gb on the base model to 128GB at the same price point.
Of course, 5G is also an internal upgrade, supporting both sub-6GHz and mmWave 5G here in the US, and sub-6GHz elsewhere.
MagSafe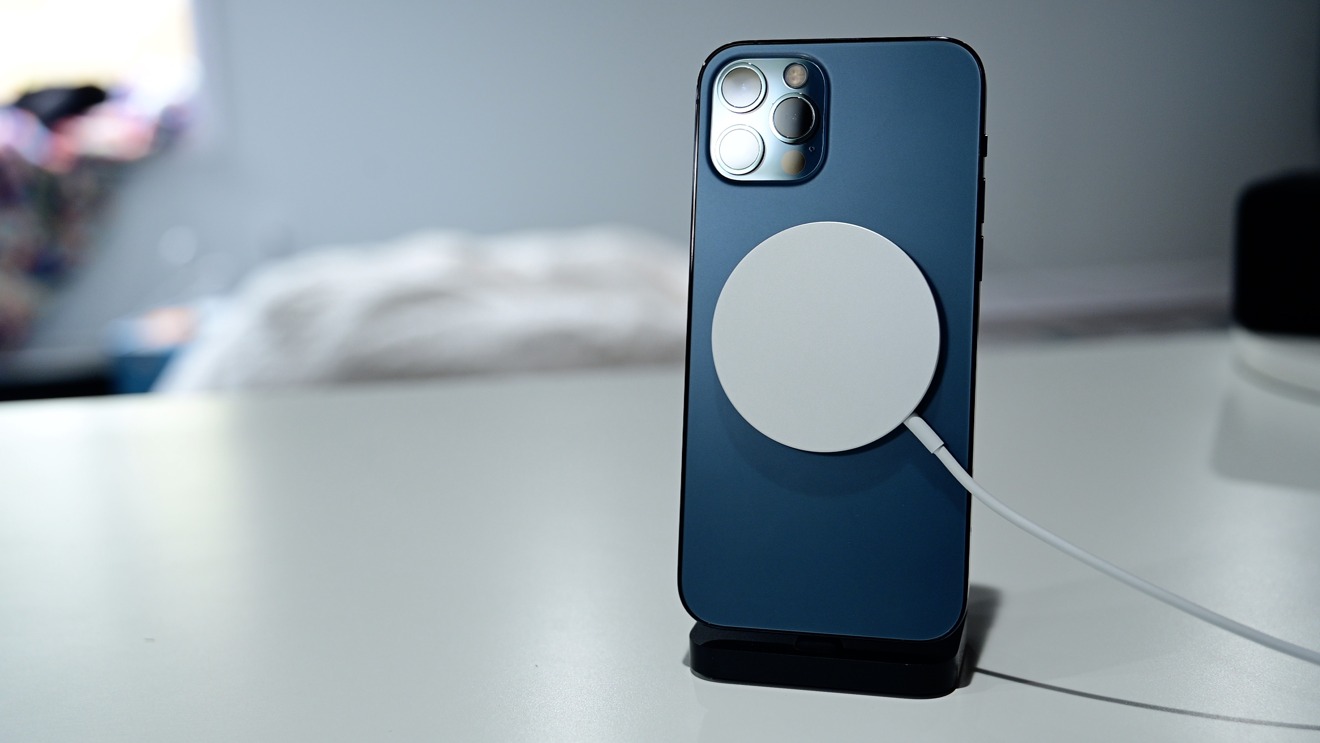 MagSafe charger on iPhone 12 Pro
In terms of what it means for the iPhone 12 Pro, though, MagSafe is poised to be a massive new feature. You're going to see a huge increase in the iPhone ecosystem between cases, chargers, mounts, wallets, cases, folios, PopSockets, and more, which are all on their way.
Right now, our real world tests with the iPhone 12 Pro have been using Apple's own cases, and its own MagSafe charger.
Even based on these, though, MagSafe is a hit. The convenience of the longer lead that means you can pick up the phone without disconnecting it from the charge is a boon.
And the magnets really do instantly center the iPhone 12 Pro on the right spot to make sure it gets charged properly.
Look to the future
That's the thing about an Apple device. You can review it as it's launched, and you can properly test it out in the real world, but then it changes.
We're going to see the addition of more MagSafe devices — such as Apple's own forthcoming device that charges both the iPhone 12 Pro and the Apple Watch — and we're going to see Apple ProRAW soon.
Right now, the iPhone 12 Pro is an exceptional phone. It's going to be interesting to see just how significant the extra camera improvements are in the iPhone 12 Pro Max. But regardless of that, this iPhone 12 Pro is a good buy that is going to keep on getting better.
Galaxy Z Flip 3 tipped to offer 120Hz screen, thinner bezels at a much lower price – PhoneArena
Samsung launched its first clamshell foldable smartphone, the
Galaxy Z Flip
in February this year alongside the
Galaxy S20
series, and it was followed by a
5G
variant in August. The next iteration will apparently be called the Galaxy Z Flip 3, and the chaebol has apparently
decided against
unveiling it at the same time as the
Galaxy S21
out of fear that it would eat into sales of the next S series flagship.
A post on the Chinese social networking website Weibo by
Ice Universe
(via
MyFixGuide
) suggests Samsung is right to be worried. The leaker claims that the Galaxy Z Flip 3 will support a refresh rate of 120Hz, a feature that is largely exclusive to high-end smartphones at the moment. He also suggests that the device will have narrower bezels than the current model, which already has pretty thin bezels.
The last bit is a little hard to interpret, but it seemingly suggests that the price of the Galaxy Z Flip 3 will be within KRW 1,000,000 (~$904) in South Korea. For reference, the Z Flip 5G costs KRW 1,650,000.
Alternatively, he might be suggesting that it will be priced under 10,000 Yuan (~$1,520), which sounds more plausible. The LTE model costs 11,999 Yuan in China, in case you are wondering.
Either way, it appears that the Z Flip 3 will be more affordable than the Z Flip 5G, which cost $1,450 in the US.
Per
previous information
, the device will have a larger cover display than the current model, and a triple camera system.
Although the screen will likely remain the same 6.7-inch size as the Z Flip 5G, it will be protected by an improved version of Ultra-Thin Glass. We can also look forward to a bigger battery, stereo speakers, and an upgraded hinge.
The device will likely arrive in Q2 2021, presumably in April. Samsung is reportedly planning to launch five foldable phones in 2021, so we might also see a stripped-down version of the pocketable device.
The Best Black Friday 2020 Phone Deals: Galaxy S20 FE for $140, Google Pixel 5 at $500, and plenty more! – XDA Developers
Black Friday is finally here. All over the internet, there are so many deals to try and take advantage of, your head will spin. It's downright overwhelming! Instead of trying to sift through long lists, though, we've rounded up some of the best Black Friday phone deals from around the world wide web. Skip the researching and skip straight to getting what you want!
We know what you're here for–nice smartphone discounts. We have everything from the bleeding edge to the lowest-priced smartphones around. No matter how you're looking to upgrade, we have the deal for you!
Looking for even more deals? Check our other Black Friday round-ups:
The excellent LG CX OLED TV continues to be a Black Friday deal winner – TechRadar
The LG CX range has been part of our Black Friday deals round-ups for the past couple of weeks as retailers started their sales early – and the good news is that these great offers are still available in the US and UK.
We've seen the 55-inch model go in and out of stock at a number of retailers – unsurprisingly considering the $600/£500 saving that's out there – and it's currently in stock both sides of the Atlantic.
This is an excellent price for a year-topping OLED TV. Those of you after an even bigger discount may be out of luck as we tick over to Black Friday, but we'll be sure to bring you any further price drops as they happen.
Not in the US or UK? Scroll down for the best deals in your region.
Today's best LG CX OLED TV Black Friday deals (US)
US Deal
LG CX 55-inch OLED 4K TV: $1,999.99 $1,399.99 at Best Buy (save $600)
Limited Stock – This 55-inch LG CX OLED TV deal brings the price of a gorgeous premium display all the way down to £1,299. That's a further £100 off an earlier £400 discount, making this 55-inch display a hugely attractive option.
View Deal
LG CX OLED 65-inch TV: $2,499 $1,899 at Best Buy
Go up a screen size with this 65-inch OLED TV deal, now discounted for an amazing $600 discount. It's basically down to the original RRP of the 55-inch size, so it's a very worthwhile saving.
View Deal
Today's best LG CX OLED TV Black Friday deals (UK)
UK Deal
LG CX 55-inch OLED 4K TV: £1,399 £1,299 at John Lewis (save £500)
This 55-inch LG CX OLED TV deal brings the price of a gorgeous premium display all the way down to £1,299. That's a further £100 off an earlier £400 discount (a total saving of £500), making this 55-inch display a hugely attractive option.
View Deal
LG CX 55-inch OLED TV: £1,799 £1,299 at Currys
This 55-inch LG CX OLED TV deal brings the price of a gorgeous premium display all the way down to £1,399. That's a £400 discount that makes this 55-inch display far cheaper than the 48-inch model.
View Deal
LG CX 65-inch OLED TV: £2,799 £1,799 at John Lewis
Want something bigger? This 65-inch model can be had at John Lewis for £1,799, which is a whopping £1,000 discount over the original RRP – and the same amount we originally had to pay for the 55-inch size.View Deal
For context, the LG CX OLED is one of the best OLED TVs we've had the pleasure of reviewing this year.
The LG CX packs in a beautiful OLED panel, with deep black, excellent brightness control, and a contrast ratio to die for. There's a little bit more punch to the color on some other OLEDs too, due to LG's distinct processing – and the webOS smart TV platform means it'll be more a pleasure than a chore to navigate the TV's many apps and services.
It supports Dolby Vision and Dolby Atmos, which are quickly becoming the industry standards for HDR picture content and high-resolution audio – ideal for viewing compatible content from Netflix, Apple TV, and Disney Plus.
It also has the latest in HDMI tech, with four HDMI 2.1 inputs. This basically means it can display content at up to 4K 120hz, with a variable refresh rate, which is exactly what the PS5 and Xbox Series X can do, as well as the latest graphics cards from Nvidia and AMD.
If you're after something cheaper, though, there's a step-down model called the LG BX that might be worth checking out.
More LG TV deals
Looking for more LG TV deals? You'll find all the lowest prices from around the web right here, with offers available in your region.
TechRadar is rounding up all the top deals in the run up to the Black Friday sales period, and we've put all the best Black Friday 2020 deals in an easy-to-navigate article to help you find the bargains you're looking for.