Xiaomi 55W GaN charger compatible with the Mi 11 launched for 99 yuan (~$15)
Yesterday, Xiaomi went oifficial with the Mi 11 flagship with the device adopting a decent starting price of 3999 yuan (~$612). One of the major highlight of the announcement was the disclosure that the standard edition won't ship with a charging adapter in the retail box. To make up for the gap, Xiaomi has officially released a 55W GaN charger. The charging adapter is priced at 99 yuan and is presently on reservation on JD.com. The adapter will be officially released at 0:00 on January 1.
Just like other GaN chargers in the market, Xiaomi's 55W GaN charger is manufactured using gallium nitride semiconductors. The use of gallium nitride semiconductor materials has the advantages of super thermal conductivity, high-temperature resistance, acid and alkali resistance, and greatly reduces the size of the charger.
The Xiaomi 55W GaN charger can provide 55W fast charging for the Mi 11, as well as fast charging support for the Mi 10 (30W), Redmi K30 Pro (33W), Redmi K30 5G (30W), etc. The original intention is to support environmental protection.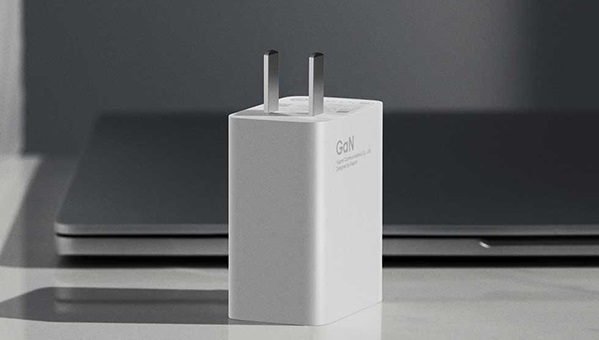 Xiaomi offers the Mi 11 in two options: a standard version and a package version. The package version is equipped with a 55W GaN charger. The price is the same as the standard version at 3999 yuan (~$612) for the 8GB RAM + 128GB storage.
Xiaomi pegs the reason for the removal of the adapter from the standard version to the need to protect the environment. This is the same reason Apple gave for shipping the iPhone 12 without an adapter. However, Xiaomi already has some chargers that are compatible with the Mi 11 like the Mi 10 Pro and Mi 10 Extreme Edition charger.  There is also a Mi 65w GaN charger already in the market which can also deliver 55W charge to the Mi 11.
Source:- gizmochina
Hey Apple! Steal this Galaxy Buds Pro feature for AirPods Pro 2 – Tom's Guide
The AirPods Pro 2 are in the works, and while some may be annoyed to hear it's going to arrive as late as Q1 2022, I'm more than happy. That's because I want Apple to take all the time it needs to imitate the best feature in Samsung's newly announced Samsung Galaxy Buds Pro.
Yes, even though I'm rarely swayed by Samsung, even I can admit when the Seoul-based company has beaten Cupertino. And Samsung's Galaxy Buds Pro showing all but guarantees it a slot in our best wireless earbuds rankings.
The Galaxy Buds Pro are smarter than AirPods Pro
While AirPods Pro does have similar features to the Galaxy Buds Pro — active noise cancelling (ANC) and Ambient Sound mode for nearby noise amplification — Samsung's got a new trick that I feel shouldn't be too hard to replicate.
Titled Voice Direct, the Galaxy Buds Pro can dynamically shift volume or enable ambient sound by detecting when you talk. If using ANC, for example, the Buds Pro will switch to the Ambient Sound, because it knows that you're probably talking to someone out loud.
This is a cool feature for me personally because it cuts down on the social abrasion when using wireless earbuds. If I don't preemptively pause or lower the volume, I end up stumbling into a conversation, having to ask the person to repeat what they said.
That naturally leads to me feeling as if I've come off as the self-centered jerk, as I was too siphoned off in my own world and not considerate of those around me.
Why I'm not holding my breath
Annoyingly, such a feature hasn't been heard of in the AirPods Pro 2 rumors we've tracked. Instead, there's chatter of transparency mode being improved to warn wearers of incoming hazards, as well as compatibility with the oft-rumored AirTags.
And I could see a world where Apple doesn't find a way to match Voice Detect. First off, the fine print of Samsung's press release (its estimated battery life is with "default settings with Bixby voice wake-up and Voice Detect turned off,") suggests it may cut down battery life — and that may be too high a cost for Apple.
Also, Samsung could have patented this technology, and be unwilling to license it to Apple (which could also be unwilling to pay for it). And if Apple can't get that technology, I'd love to see the $249 AirPods Pro go down a bit in price, since the Galaxy Buds Pro are $50 cheaper at $199.
Plus, Apple may not see the need for this feature as much as I do. AirPods Pro only need this feature to protect users from switching away, and most iPhone owners will likely still prefer the ease of use of the AirPods, since its made for Apple devices. The Buds Pro are similarly made to work best with Samsung devices. That being said, the Galaxy Buds Pro do use Bluetooth, which works with iPhones, and it's worth testing out.
If Apple wants to continue to be seen as the king of this segment, it can't overlook Voice Detect. It's a feature that makes social interaction with truly wireless headphones frictionless.
Apple extends 13-inch MacBook Pro service program to fix 'stage light' issue – AppleInsider
Apple has updated its repair program for the 2016 13-inch MacBook Pro to fix the so-called "stage light" problem, increasing the eligibility from four years to five years after the first retail sale of the unit.
Apple launched its 13-inch MacBook Pro Display Backlight Service Program in May 2019, enabling a small number of 2016 13-inch MacBook Pro users to fix an issue with the backlight of their devices. For some units, the backlight can exhibit a stage light-style effect, which the program offers to fix.
The problem of bright and dark spots at the bottom of the screen was found to be due to Apple using fragile flex cablesinstead of wire cables, as used in earlier models, which wear down over time. This can cause parts of the backlight to stop showing, or break the backlight completely.
The issue only affected a "very small percentage" of 2016 13-inch MacBook Pro units sold between October 2016 and February 2018, and not other models. Affected Macs are repaired by Apple or an Apple Authorized Service Provider free of charge, though if there are other detected faults that have to be repaired, the extra fixes are chargeable.
Previously, Apple defined the program as being eligible for "four years after the first retail sale of the unit." In an update to the program page on January 15 spotted by MacRumors, Apple has changed the language to extend the period.
The new terms state eligible models can be repaired up to "five years after the first retail sale of the unit or 3 years from the start date of this program, whichever is longer." As the program commenced on May 21, 2019, this means the affected MacBook units are eligible for the program until May 20, 2022, or at latest, February 2023.
Apple reportedly looking to create a podcast subscription service – MobileSyrup
Apple is reportedly thinking about creating a podcast subscription service to compete with the likes of Spotify and SiriusXM.
A new report from The Information reveals that the tech giant is currently in talks with production companies about the service, which would charge people to listen to podcasts. By charging for individual podcasts, Apple could give creators a way to make more money, which may convince them to leave rival services.
The report outlines that it's worth noting that Apple often explores ideas without seeing them through, so it's unknown when or if the service could launch.
It does make sense for Apple to consider forming its own premium service, especially since it played a role in popularizing podcasts through the iPod and iTunes. Further, Apple already runs the most widely used podcasting app in the industry, as noted by The Information.
Spotify reportedly also considered creating a separate service for exclusive podcasts. Other podcast services such as Stitcher have locked certain podcasts behind subscriptions. Amazon is also looking to disrupt the podcasting industry with its recent acquisition of the Wondery network.
A Bloomberg report from last year revealed that Apple was interested in buying exclusive rights to podcasts and developing companion podcasts for its Apple TV+ content. This latest report builds on this and shows that Apple is looking to enter the competition.
Source: The Information, Engadget