Cottage real estate rush slows to a stall
Prices set to fall in all but one province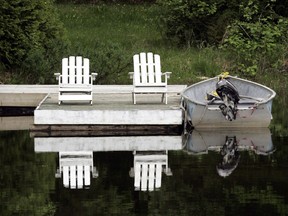 A chill has fallen over cottage country in Canada.
After a red-hot record run over the past two years, prices for recreational real estate in the country are expected to fall 4.5 per cent in 2023 as market activity slows, according to a Royal LePage report out this morning.
With the exception of Alberta, all of Canada's recreational markets are forecast to see a decrease in single-family home prices. Quebec and Ontario are expected to see the biggest drops, falling 8 per cent and 5 per cent respectively.
This is a big difference from what the recreational market experienced over the past two years. Last year aggregate prices for a single-family dwelling increased 11.7 per cent to $619,900. The year before they soared 26.6 per cent.
"After two years of relentless year-round competition, Canada's recreational property markets have slowed and returned to traditional seasonal sales patterns," Phil Soper, president and chief executive of Royal LePage said in the report.

Soper said the recreational property market is less sensitive to rising interest rates because buyers tend to put more money down and borrow less, but overall inflation and a "severe lack of inventory" have led to a slump in sales.

Another factor is a reversal of the pandemic exodus out of the cities. During COVID-19 lockdowns when offices closed, many Canadians used their cottage as a second home and worked from there.  But with companies requiring employees back in the office at least a few days of the week commutes have become challenging.
"For many, living in cottage country full-time has lost its romantic shine, meaning we are back to viewing the cottage, cabin and chalet as a weekend and summer escape from urban living," said Soper.

In Atlantic Canada, a "pandemic relocation hotspot," 46 per cent of brokers said they were seeing a trend of homeowners returning to cities after relocating to the region and demand for cottage properties has decreased significantly.

"The multiple-offer scenarios and homes selling over-asking are not as common today as they were during the pandemic boom," said Corey Huskilson, sales representative, Royal LePage Atlantic in South Shore, Nova Scotia.

Cottage prices in Ontario climbed steadily during the pandemic years, with the price for a waterfront property topping $1 million in 2022. This year prices are expected to fall by 5 per cent.
"After two years of historically high pandemic-driven sales, activity in the recreational market came to a comparative standstill in the last half of 2022. Rising interest rates, buyer fatigue, and lack of inventory all played a role," said John O'Rourke, broker, Royal LePage Lakes of Muskoka.

O'Rourke expects activity to be more balanced this spring, with traditional cottage buyers coming back to a market where they don't have to compete with "the investment-focused buyer, a prominent player during the pandemic boom."

Alberta is the one area of the country bucking the trend. Last year the aggregate price for a recreational single-family home here climbed 13.3 per cent to $1,165,500 from 2021. This year that price is expected to rise to $1,171,328.
Next door to Banff National Park and the home of many luxury properties, Canmore is a significant driver of prices in Alberta.

While brokers here are seeing lower inventories, demand has remained stable.

Moreover, 65 per cent of the brokers surveyed said they were not seeing the trend of homeowners moving back to cities after relocating, another factor contributing to the supply shortage.

"Buyer demand for recreational properties in Canmore continues to be driven by retirees and Albertans living in the surrounding cities, as well as residents from Ontario and Quebec. As Canmore attracts many cash buyers, higher interest rates have had little impact on this market, a factor that has kept prices stable," said Brad Hawker, associate broker, Royal LePage Solutions.
One bright spot for all you cottage owners out there. Despite the declines forecast this year, the national aggregate price will still be 32 per cent higher than in 2020, after two years of double-digit gains.

The World Bank is warning of a lost decade, saying that potential global growth has slumped to the three-decade low of 2.2 per cent a year through to 2030.

Crisis after crisis including the COVID-19 pandemic and Russia's invasion of Ukraine have ended almost three decades of sustained expansion, says the new report.
With nearly all the economic forces that powered progress and prosperity over the past 30 years fading, potential GDP growth is expected to decline by about a third from what was seen in the century's first decade. The decline is even steeper for developing economies and if the current banking turmoil explodes into a global financial crisis or recession, the declines will be steeper still.

The World Bank says its report offers the "first comprehensive assessment of long-term potential output growth rates in the aftermath of the COVID-19 pandemic and the Russian invasion of Ukraine."

"A lost decade could be in the making for the global economy," said Indermit Gill, the World Bank's chief economist.

Expanding labour supply, boosting investment in sustainable sectors and cutting trade costs could increase GDP growth, but failure to reverse the slowdown would have profound consequences on the world's ability to tackle climate change and reduce poverty, warned the report.
Federal Budget. Get primed for the budget which will be released at about 4 p.m. ET with Financial Post coverage here
Josie Osborne, minister of energy, mines and low carbon innovation, will make an announcement about support for leading-edge clean energy, such as projects advancing B.C.'s ocean economy
The U.S. Consulate General in Vancouver and MAPLE Business Council co-host a SelectUSA conference to inform small and medium-sized Canadian businesses, entrepreneurs and others about how to expand a business or invest in the United States.
BCFSA rules on real estate agent's $50K loan to client
A real estate agent who lent a client $50,000 so she could afford to make a deposit on a property in Richmond, B.C., committed professional misconduct by doing so, according to a provincial regulator.
The B.C. Financial Services Authority, which investigates real-estate-related complaints from members of the public, has concluded that Wei "Vicky" Wang's loan constituted a conflict of interest, and that Wang had committed misconduct by failing to avoid the conflict and by failing to advise her client of it.
The BCFSA's chief hearing officer Andrew Pendray issued his decision on the matter earlier this month. It was published online Wednesday.
In it, Pendray wrote that the evidence before him supported the conclusion that the $50,000 Wang provided was a loan, and thus a conflict, despite Wang's arguments to the contrary.
THE PURCHASE
Pendray's decision came after hearings on the BCFSA's fifth amended notice to Wang about the complaints against her from her former client.
All of the iterations of the notice centred on the client's purchase of two homes – one in Richmond and one in Vancouver. Both addresses are redacted throughout the decision, as are the names of the client, her husband and other witnesses.
The loan related to the Richmond purchase, for which a contract of purchase and sale was executed on June 9, 2016, with a completion date scheduled for Oct. 4 of that year, according to the decision.
The agreed purchase price was $1,688,000, with a deposit of $90,000 – slightly more than five per cent of the total price.
Pendray's decision indicates that Wang's brokerage provided the BCFSA with two "receipt of funds records" relating to the deposit, one for $40,000 from the client's account and one for $50,000 from Wang's account.
The record for the $50,000 transaction included the note "loaning to the buyer temporarily," according to the decision, and both Wang and the client acknowledged that Wang provided $50,000 toward the purchase of the Richmond property.
WANG'S DEFENCE
The real estate agent argued that the $50,000 she provided to her client should not be considered a loan because it wasn't provided with the expectation of repayment with interest.
"When asked what she would call the $50,000 towards the (Richmond property) deposit, if it were not described as a loan, Ms. Wang indicated that she did not know, though she subsequently suggested that one could consider it to be a gift," Pendray wrote in his decision.
"Ms. Wang stated that she and the client were friends, and that she had not thought much of providing the $50,000 at the time."
Despite Wang's suggestion that the money could be considered a gift, Pendray noted that she made efforts to secure repayment of it.
The money was wired back to Wang on June 29, 2016, after she and her client had exchanged WeChat messages about how and when she would be paid back, according to the decision.
In her defence, the decision indicates, Wang declined to say she had been repaid, insisting that the money had been "returned" in the same way one would return a car after borrowing it.
She also argued that the entire hearing had been unfair to her, submitting three times that it ought to be adjourned because the BCFSA had revised its allegations against her five times.
THE DECISION
Pendray rejected all of these arguments, writing that Wang has "long known the nature of the allegations against her" and that there was "no unfairness in proceeding with the hearing."
He concluded that both Wang and her client understood the $50,000 to be a loan, not a gift, and that Wang expected to be repaid.
"Even if I was to accept Ms. Wang's submission that in order for the $50,000 to be considered a loan, it is necessary that the loan have been provided in exchange for future repayment plus something more, the facts of this case lead me to the conclusion that there was, in this case, something more," Pendray wrote.
The chief hearing officer noted that Wang received a commission of $22,538.78 for her role in the transaction. She could not have received that amount, he concluded, if the client had backed out of the purchase for lack of funds.
"In order to receive that commission, the purchase of that property had to complete," Pendray wrote. "In order for the purchase to ever have had the chance to reach completion, the deposit on the property, as required by the contract of purchase and sale, would have had to have been paid."
Having concluded that Wang provided the client with a loan, Pendray determined that doing so was a conflict of interest under the provincial Real Estate Services Act, and that Wang had committed misconduct.
He ordered Wang and the BCFSA to make submissions on what sanctions Wang should face for her behaviour, with specific penalties to be determined at a later date.
Luxe $9m South Yarra sanctuary for sale with six-car basement garage
---
A winning collaboration by some of the best in the business has produced this luxurious modern sanctuary in a prized lifestyle location.
High-end builder Agushi teamed with celebrated Workroom architects and Nathan Burkett Landscape Architects on the private inner-city residence.
The four-bedroom, five-bathroom house at 12 Rockley Rd, South Yarra has hit the market with a $9m-$9.5m asking price.
Largely crafted from concrete – which even features on the sculptural curved staircase that links the home's three levels – and marble, it delivers sophisticated interiors with carefully framed garden views.
RELATED: Funky Eltham 'treehouse' recreates childhood fantasy
Epic Balwyn house has rooftop cinema
Melbourne mansion makes $4m in two years
When at home, a mirrored lift, infinity pool with in-floor cleaning and a six-car basement garage provide the ultimate in convenience.
But it is the state-of-the-art automation that paves the way for a lock-up-and-leave lifestyle.
The technology has been a game-changer for vendor and interior designer Georgie Coombe-Tennant and her husband, Mark.
It has transformed the way they live, doing away with the need for front door keys and allowing them to turn on the oven remotely, let the postie in the gate while sitting on a ski lift or turn on the sprinkler from Europe.
---
---
---
"We had always had old traditional homes and renovated them, and we just felt like it was time for something modern," Mrs Coombe-Tennant said.
"We saw Bear (Agushi's) work and my expression for his work is that everything is so resolved.
"He has not left a single detail out of it. If you think of something you would need in a home it's there."
She has delighted in decorating the home, which she said offers loads of space despite having a townhouse feel.
"I found the home is so easy decorate and furnish because you have got this beautiful blank canvas and you can put any amount of colour or neutrality into in," she said.
As well as three living areas and four bedrooms, the two-year-old home has the luxury of two home offices with desks crafted of the same grey Damastas marble that features in the lavish kitchen and bathrooms.
---
---
---
The main open-plan living zone screams entertainer thanks to a series of full height sliding doors linking it to a covered outdoor dining space with a built-in barbecue, a conversation pit and north-facing sun deck.
A second ground floor lounge room provides another breakout space, perfect for curling up beside the fire.
Despite its proximity to Chapel St and Toorak Village, Mrs Coombe-Tennant said the home felt secluded.
"I guess with South Yarra people are always worried about noise and things like that but it's very, very quiet, it's really secretive. No one knows it's here," she said.
"Once we are in that front door you don't hear a single sound, but you have got everything on your doorstep."
---
---
---
RT Edgar Toorak director Sarah Case added that it was rare to find homes of this calibre created specifically for a lock-up-and-leave lifestyle.
"This home has every luxury we've come to expect from Agushi, who's renowned solid concrete construction, superior quality, generous spaces and meticulous attention to detail, while providing for a modern way of living with a lift to all levels, stunning pool and six-car garage," Ms Case said.
"From the magnificent marble kitchen to the beautiful bedrooms and the poolside outdoor spaces, every aspect has been thoughtfully designed to meet the needs of even the most discerning buyer."
Mr Agushi said he prided himself on building homes with "over specced" insulation, glazing, solar panels and smart home integration.
Expressions of interest close on June 15 at 5pm.
According the latest Proptrack Home Price Index, national home prices continued to stabilise in April after rising for the fourth consecutive month, rising 0.14 per cent.
LACKIE: Busy Spring in Toronto Real Estate
This has been a busy, bustling spring for the Toronto real estate market.
There are people who will say it's all an illusion. A perfectly coordinated dance between snake oil selling realtors and their greedy clients, all unified in pumping a market currently back on its heels as means of personal enrichment.
How does that saying go — never let the truth get in the way of a good story?
They will say it makes no sense that the market should have any signs of life at all given the rollercoaster of the last 18 months (slash, the three years since COVID, if we're being honest) and that with rates high and staying there, and prices still high and mostly staying there, we are looking at the furthest thing from a healthy marketplace.
And perhaps it's all relative — things feel particularly energized because in comparison to last fall, we are actually seeing some action out there.
Houses in dodgy pockets fetching upwards of 20 offers, buyers seemingly undeterred by the needles on the street just steps away from the front door.
Cute houses in great pockets drawing multiple offers and landing peak-of-2022 prices.
Sellers who may have wondered if the time-was-now realizing they didn't want to miss their moment.
There are many utterly baffled that the market has held. That prices have held. That the pain of 2022 didn't reset the playing field.
They are adamant that any attempt to explain it by pointing to how grossly insufficient our inventory levels are is really just distortion and manipulation. The idea somehow being that people can be scammed into engaging and thus what we are really looking at is a mirage.
They think our problems will be solved if buyers simply stay home. Refuse to show up to houses that are underlisted. Refuse to engage in multiple offers. Refuse to pay a dollar more than list price. Refuse to pay realtor fees. Refuse to participate.
Legislate agents into listing at market value. Legally obligate sellers to accept any offer that meets the price they chose to list at. Cap realtor fees. The list goes on.
Absent from all of this is the reality very much apparent on the ground: for all of the noise and anger, Toronto has not enough houses and more than enough willing participants who are capable of driving a marketplace.
By this time next week, we will have stats to support that the spring market is very much here and with it I expect we will note a sharp increase in transactions and a notable bump to average sale prices.
Is it a seasonal blip that will fizzle out as temperatures rise? Entirely possible. But even just a return to some seasonal rhythms in our marketplace would be a welcome return to normalcy.