Dr. Bonnie Henry suffers breakdown over partiers in Vancouver parody skit (VIDEO) – Vancouver Is Awesome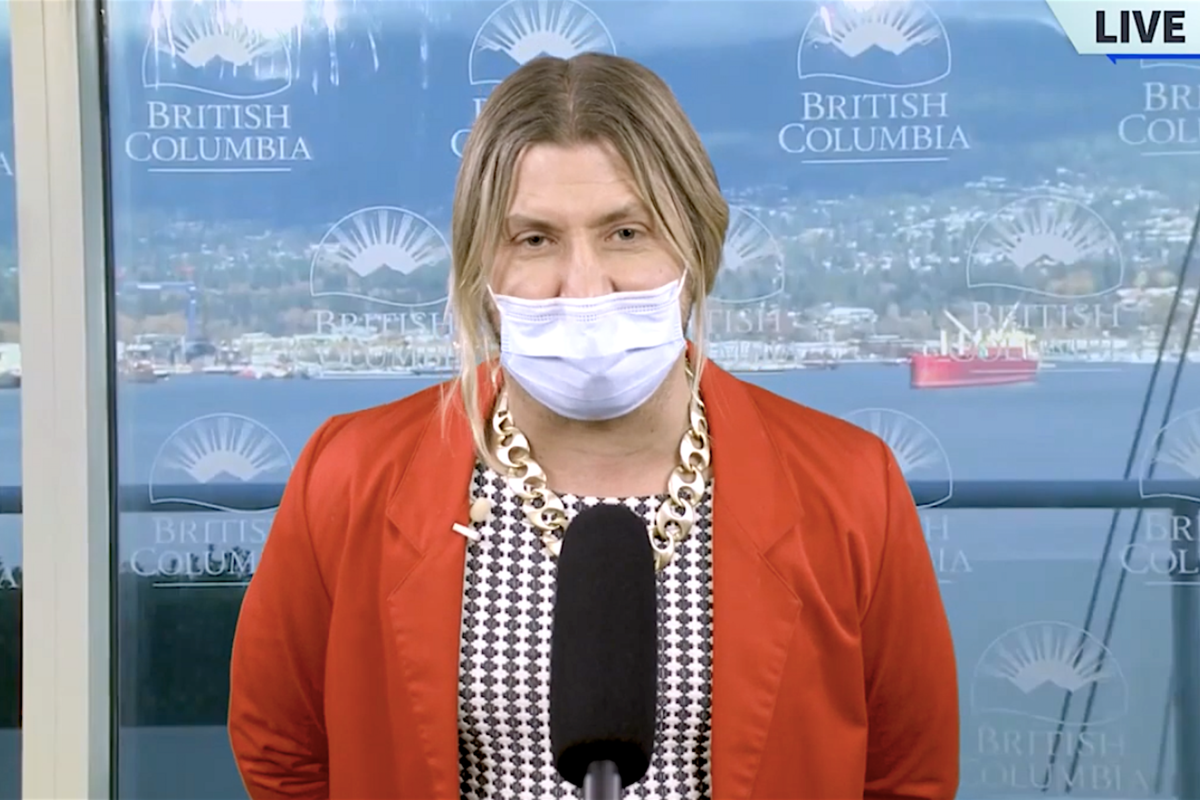 Editor's note: This article contains links to a video containing expletives.
A group of Vancouver comedians parodied massive crowds gathered on Granville strip this Halloween and Dr. Bonnie Henry, who tightened the reins on gatherings in Vancouver after a recent spike in COVID-19 cases.
In the YouTube video entitled "Halloween Superspreader Granville Street Massacre Party 2020," the character who played Henry was unable to maintain composure in light of the partiers.
"Well, well, well. You've done did it again, didn't cha?" The character says calmly during the remake of the Saturday briefing.
"As of 10 p.m. tonight, we're going into lockdown."
Henry, played by Vancouver sketch artist Jody Lubin, then erupts into a state of unbridled rage.
"What are you going to sit on the couch for another f–king two weeks?! A–holes."
Smashed Potato Kids (SPK), Vancouver brothers Jessey and Cody Nelson, and Filip Zivanovic produced the video.
[embedded content]
Henry praised by Vancouver comedians
Jessey told Vancouver Is Awesome on Thursday that the sketch was filmed the same day the provincial health officer announced a two-week ban on gatherings of any kind – other than with immediate household members.
By that time, Henry had reported an all-time high of 567 new COVID-19 cases in the previous 24-hour period.
"We are on her team," Jessey said about the Nov. 7 briefing, and resulting health order.
"Maybe she'll let us make the next one," the comedian joked.
Manitoba offers temporary $5/hour pay bump to staff helping vulnerable people – CBC.ca
Caregivers who provide direct or residential care to vulnerable Manitobans during the pandemic are being thanked with a pay bump.
The province will provide $5 per hour wage increase to eligible staff, including health-care aides, housekeeping staff, direct service workers and recreation workers, for a period of two months, Families Minister Heather Stefanson announced at a briefing Friday.
"This is really targeted at those lower-income folks that are working … frankly, as heroes within our system right now," Stefanson said.
The $35-million caregiver wage support program will also support workplaces that are low on staff due to positive cases of COVID-19, she said.
Individuals at personal care homes or in disability services, child welfare services, homeless and family violence prevention shelters or long-term care facilities are eligible for the top-up. To qualify, workers must earn less than $25 an hour.
It's expected as many as 20,000 workers can benefit.
Saluting front-line workers
"It recognizes the dedication and heroism of our front-line workers who are serving vulnerable Manitobans each and every day," Stefanson said.
The program is partly funded by a $17-million commitment from the federal government. Ottawa's contribution was part of money originally set aside for wage subsidies, an official said.
The top-up is based on the number of hours an employee works from Nov. 1 to Jan. 10. Regular and overtime hours are accepted. There is no limit to the amount of hours an eligible employee could apply for the wage bump.
Applications will be accepted twice. The first intake period will close on Dec. 14 and the money will be paid directly to workers that week, the province said. Applications will also be received in the second week of January.
A full-time worker could receive an extra $1,800, the province said.
Shannon McAteer, health care co-ordinator for the Canadian Union of Public Employees Manitoba, said the extra $5 an hour will supplement the incomes of people who need it.
"This also highlights the fact that this this category, this sector … is definitely underpaid," McAteer said, and that was the case even before the pandemic. The pay scale in some positions doesn't go much higher than minimum wage, she said.
Some workers in this sector only have a few days of sick pay, said McAteer. She'd like to see additional funding for support workers who get sick with COVID-19 or must isolate.
Meanwhile, Stefanson described the wage subsidy announcement Friday as a first step toward helping employees already working in the sector.
She didn't say, however, how facilities are coping with limited staffing. Stefanson said 16 Community Living disABILITY Services agencies have reported positive COVID-19 cases among participants or staff.
B.C. sees new daily high of 911 COVID-19 cases, reports 11 deaths – News 1130
VANCOUVER (NEWS 1130) — As the province's second wave pushes new COVID-19 cases and hospitalizations to new records on a nearly daily basis, health officials are urging British Columbians to keep each other safe.
Provincial Health Officer Dr. Bonnie Henry announced 911 new infections Friday, pushing B.C. over the 30,000 mark of confirmed cases since the pandemic began.
It is also another day deaths were in the double digits, with 11 more people losing their lives to COVID-19.
Dr. Henry says if you are opposed to wearing a mask, shop online, order take out, stay outside. Don't put others at risk.

— Lasia Kretzel (@lkretzel1130) November 27, 2020
Henry said she's concerned about recent reports of aggression over mask wearing, where employees have been assaulted or confronted over the order.
"Please remember that this requirement to wear a mask in indoor public locations is a provincial order that everyone must follow," she said, while comparing masks to seatbelts and helmets. "It's a layer of protection for everybody and a courtesy to those around you. And if you are opposed to wearing a mask, then I asked you to shop online, order takeout, or stay home and not put other people at risk."
She again offered a reminder that we don't always know each other's story, and we need to show each other respect.
"We have people who are suffering in our hospitals, right now, and their families are suffering too. And that these small simple actions, make a big difference for all of us," Henry added.
There are a record 301 patients currently hospitalized, with 69 of them in intensive care.
Bc #covid19 Nov 27
911 new-30884
11 death-395total
Hosp/ICU (294/64)301/69
Active (7899)
Isolated (10307)10430
21304 Recovered
VCH +153
FH +649
Int +47
Island +27
North +35
Non-res (96)
LTC 54/5 3new 1over
1162 active – 718 residents #bcpoli @news1130

— LizaYuzda (@LizaYuzda) November 27, 2020
While Health Minister Adrian Dix assures there is enough capacity in acute care, there is still the challenge of having ample staffing and resources.
"We do for the moment, but it is important, I think, for everyone to understand how critical is for those waiting for other procedures and for everyone that we do everything we can to stop the spread over the last number of days as well."
No info given for number of known active cases
301 in hospital (+7) NEW RECORD YET AGAIN
69 in ICU (+5)
21,304 fully recovered (+1,306 or 68.9% of all recorded cases)
10,430 people under active public health monitoring after coming in close contact with a positive person (+123)

— Lasia Kretzel (@lkretzel1130) November 27, 2020
Given there are more than 10,000 people under public health monitoring because they're been in close contact with an infected person, nearly 8,000 active cases, and rising daily infections, Henry reminded British Columbians that there can be a delay in receiving a negative test result.
"Public health teams may conduct, or may ask and offer widespread testing of people whether symptomatic or asymptomatic in settings like workplaces like schools and long-term care homes even if there's not widespread community transmission in that area. The priority is to contact those who are positive first to make sure that people are isolating so there may be a delay in people getting results," she explained.
Meanwhile, three more outbreaks in health-care facilities were reported at the German-Canadian Benevolent Society, Villa Cathay Care Home, and Morgan Place Care Home. The Peace Portal Senior Village outbreak has ended.
Basically message is, BC will restrict daily life in areas where we see #COVID19 transmission, and won't put as harsh of restrictions in areas where current policies are working.
This is why schools are not shut down, but weddings are. Exposures do not mean transmission

— Lasia Kretzel (@lkretzel1130) November 27, 2020
N.B. could have COVID-19 vaccine by January. Now comes deciding who gets it first – CBC.ca
All things considered, it's a good problem to have: eight months into managing the COVID-19 pandemic, Public Health officials in New Brunswick now must start sorting out who to vaccinate first.
It won't be easy, given that the number of New Brunswickers old enough to be considered high-risk far exceeds the number of doses coming in the first wave of vaccines early next year.
The province could receive enough doses for 60,000 people early in January.
But the number of people over the age of 60 — the point at which the risk of serious COVID-19 impacts increases dramatically — is more than 200,000.
Chief Medical Officer of Health Dr. Jennifer Russell said choosing who will be at the front of the line will be a complicated calculation.
"That's the point of prioritizing," she said. "We know there's not going to be enough, and this is going to be the most complex immunization program ever delivered in this country and around the world."
Federal distribution plan based on population
The federal government has agreed to distribute the first batch of vaccines, due in the first three months of 2021, using a formula roughly based on population.
With enough doses for three million people, that would translate into about 60,000 New Brunswickers vaccinated by April.
Russell said she and her counterparts federally and in other provinces have agreed on a general plan that will be hammered into place in time for expected regulatory approval of the first vaccines next month.
Distribution could begin as early as January.
"I think long-term care nursing home facilities would be priority one, certainly, as a very vulnerable section of our population," said Premier Blaine Higgs.
The New Brunswick Association of Nursing Homes said there are 4,800 beds in its member homes.
"I think you would move quickly into the health-care workers and protecting them, and then the likely next step would be seniors," Higgs said.
Nursing home workers would account for 4,800 doses
First responders would also be near the top of the list, Higgs said.
"And then you just kind of work through the age demographics."
Vaccinating unionized nursing home workers around the province would require more than 4,800 doses.
That's how many members of the Canadian Union of Public Employees work in more than 50 nursing homes, according to union spokesperson Simon Ouellette.
Vulnerable people should be prioritized, but so should the people who work with them.– Simon Ouellette, CUPE spokesperson
Five long-term care or nursing homes have been hit by outbreaks in New Brunswick.
Some nursing home workers, including maintenance and cleaning staff, must move from room to room, creating the risk of becoming a super-spreader, Ouellette said.
"Vulnerable people should be prioritized, but so should the people who work with them."
There are also 1,875 doctors in the province, according to Dr. Jeff Steeves, president of the New Brunswick Medical Society. The New Brunswick Nurses Union estimates 6,400 nurses are in the workforce now.
Those doctors include emergency department and critical care physicians who are potentially exposed to COVID-19 frequently.
"Those most exposed to those being ill are going to need it first," Steeves said.
People with chronic conditions on high-priority list
And there are 950 ambulance paramedics who are "seeing folks that they don't have a really good understanding of when they initially respond about what may or may not be wrong with them," said Chris Hood, executive director of the Paramedic Association of New Brunswick.
"The association feels strongly that to protect the members, who are obviously in short supply, and to protect the public that they serve, they should be one of the first groups to be done," he said.
Russell said New Brunswickers with chronic conditions are also "somewhere on that list" of high-priority patients.
According to the New Brunswick Health Council, 11.6 per cent of adults in the province have been diagnosed with asthma and 11.4 per cent have been diagnosed with diabetes, two conditions that COVID-19 can quickly make life-threatening.
Russell said Indigenous people will also be a high priority because COVID-19 has had a disproportionate impact on them.
But it's possible the federal government, which has responsibility for Indigenous issues, will hang on to a small percentage of vaccine doses and do that itself, along with immunizing some military members and federal inmates.
She said the goal is to have 75 per cent of the province vaccinated, enough to create herd immunity in the population. She doesn't see that happening until next fall or later.
Cardy wants schoolchildren to follow high-priority groups
Higgs said Thursday that the fact some people will want to wait to ensure the vaccines are safe could make the process easier.
"There's a number of people that want to be vaccinated early, and there are probably others that want to kind of wait a bit," he told CBC's Power and Politics. "So it may not be a rush to the front of the line immediately."
Last week Education and Early Childhood Development Minister Dominic Cardy said he would support immunizing schoolchildren soon after the high-priority groups are done.
"We're seeing, unfortunately, in the last few months, a significant increase in the number of young people who are becoming not just infected with COVID-19 but are then passing it on," he said.
"Younger people get less sick, but they can be just as efficient a disease vector as anyone of any age, so I'd certainly argue that. I think that would make sense."