Facebook toning down politics on platform in 'coming weeks' – Fox Business
Facebook on Wednesday announced that it will officially start reducing the number of political posts that American users see on the platform "in the coming weeks."
Ticker
Security
Last
Change
Change %
FB
FACEBOOK INC.
270.38
-1.49
-0.55%
The changes come after Facebook CEO Mark Zuckerberg said during the company's fourth-quarter 2020 earnings call in January that he wants to "reduce the amount of politics" on the platform as social media sites face criticism for facilitating political divides.
"As a first step, we'll temporarily reduce the distribution of political content in News Feed for a small percentage of people in Canada, Brazil and Indonesia this week, and the US in the coming weeks," Aastha Gupta, Facebook's product management director, said in a Wednesday statement.
Gupta continued: "During these initial tests we'll explore a variety of ways to rank political content in people's feeds using different signals, and then decide on the approaches we'll use going forward."
FACEBOOK WANTS YOU TO COMMENT ON ITS TRUMP BAN. HERE'S HOW.
Facebook will survey its users about their experience as the tests are conducted to get a better understanding of how people respond to the changes, she said.
Zuckerberg clarified during the company's fourth-quarter earnings call that the social media company will still "enable people to encourage in political groups and discussions if they want to."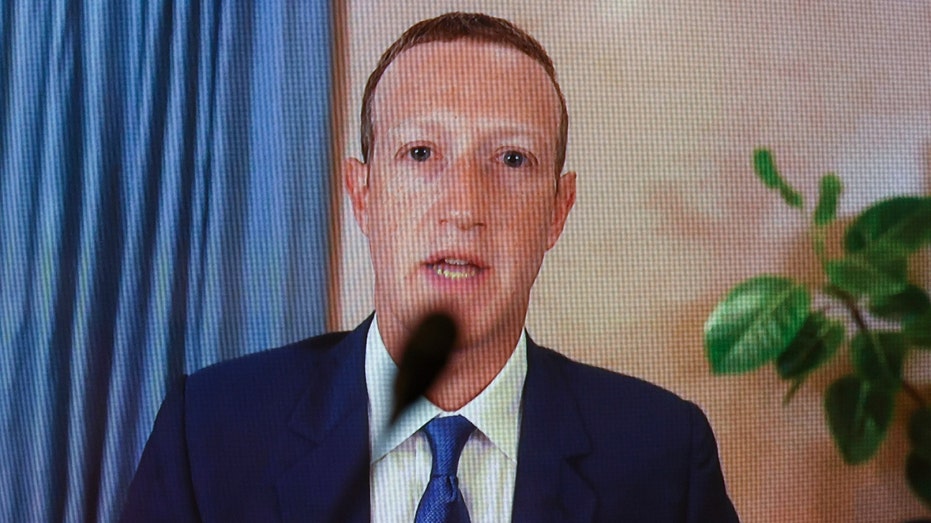 "One of the top pieces of feedback that we are hearing from our community right now is that people don't want politics and fighting to take over their experience on our services," he said. "So, one theme for this year is that we're going to continue to focus on helping millions of more people participate in healthy communities, and we're going to focus even more on being a force for bringing people closer together."
FACEBOOK WANTS YOU TO COMMENT ON ITS TRUMP BAN. HERE'S HOW.
The company said in October that it was planning to pause recommendations for political groups to U.S. users ahead of the 2020 presidential election; now, Facebook is looking to make that pause permanent and on a global scale.
The Jan. 6 Capitol riots furthered demands for investigations into social media companies like Facebook and how they play a role in radicalizing people and instigating in-person violence.
GET FOX BUSINESS ON THE GO BY CLICKING HERE
Other demands for censorship have led to debate among lawmakers, tech experts and civil rights groups about how social media giants should tackle violent or provocative speech that is shared across different platforms while simultaneously protecting free speech and privacy rights.
CLICK HERE TO READ MORE ON FOX BUSINESS
The FBI told Fox News in January that it was "reviewing" requests from congressional lawmakers to investigate Facebook, Twitter and Parler for their potential roles in the Jan. 6 riots.
China says Taiwan pineapple ban not about politics as war of words escalates – TheChronicleHerald.ca
BEIJING (Reuters) – China on Monday denied accusations by Taiwan that a ban on pineapples from the island was about politics, saying it was purely a matter of biosecurity, in an escalating war of words that has added to existing tensions.
China announced the ban last week, citing "harmful creatures" it said could come with the fruit, threatening China's own agriculture.
Taiwan, which China claims as its own territory, says there is nothing wrong with its pineapples and that Beijing is using the fruit as another way to coerce the island.
China's Taiwan Affairs Office said the decision was "totally rational and necessary" and that customs had a responsibility to prevent diseases carried by plants from entering the country.
"The Democratic Progressive Party (DPP) authorities have deliberately misrepresented and maliciously interpreted technical issues, taking the opportunity to attack and discredit the mainland," it said, referring to Taiwan's ruling party.
The DPP has neither the will nor the ability to solve practical problems, and they can only evade their own responsibility by "slandering the mainland", it added.
While Taiwan is best known internationally for exporting semiconductors, the sub-tropical island has a thriving fruit industry developed when it was a Japanese colony, and last year more than 90% of its exported pineapples went to China.
Politicians have rallied behind pineapple farmers, posting pictures of themselves in fields with farmers and tucking into the fruit on their social media pages, encouraging domestic consumers to pick up the slack.
The government has also been asking Taiwanese companies to make bulk purchases, and looking for alternative export markets.
President Tsai Ing-wen on Sunday visited a pineapple farm in southern Taiwan, where the bulk of the fruit is grown and where the DPP traditionally enjoys strong support.
China has ramped up pressure to get Taiwan to accept Chinese sovereignty, including regularly flying fighter jets and bombers near Taiwan or into its air defence identification zone.
(Reporting by Beijing newsroom; Writing and additional reporting by Ben Blanchard in Taipei; Editing by Nick Macfie)
Morning Brief: 'Playing politics' – iPolitics.ca

Today's Morning Brief is brought to you by GCT's #BetterDeltaport campaign. The Port of Vancouver's multi-billion-dollar, taxpayer-funded RBT2 project will create unneeded capacity, uncompetitive port rates and will cause damage that, according to Environment Canada, is "permanent, irreversible, and continuous." Fortunately, there is a way to #buildbackbetter. Learn more.
____________________
You can listen to today's brief here:
____________________
Good morning, and happy March.
— Liberals accuse Tories of 'playing politics': Liberal MPs are accusing the Conservatives of blocking the government's legislative agenda almost to the point of obstruction. While all parties say they do not want an election amid the pandemic, the Canadian Press looks at how the Conservatives might be pursuing a strategy that would give the Liberals reason to call one.
— Kady O'Malley looks ahead to the day in politics with iPolitics AM: "With daily Commons proceedings on pause until next Monday, Prime Minister Justin Trudeau will start his week with a virtual visit to Nova Scotia's Eastern Passage, where, as per his official itinerary, he'll join local MP Darrell Samson for a closed-door video chat with members of the Island View High School student council. Also on the prime ministerial to-do list today: A huddle with his front bench team, as well as other unspecified 'private meetings.'"
— Blinken on two Michaels: The U.S. Secretary of State, Antony Blinken, says his country will continue to stand with Canada in its efforts to secure the release of Michael Kovrig and Michael Spavor from Chinese detention.
"It's a lot harder for China to ignore our collective voice and our collective weight than it is for China to ignore each of us individually," he said, adding that he had brought the two Michaels up in his own conversations with Chinese counterparts.
— Kremlin-linked Twitter accounts targeted Canada: Canada and Canadian political leaders were targeted more than 300 times by social media accounts that have now been shut down by Twitter due to their links to the Russian government or its proxies. Many tweets made by the now-suspended accounts were focused on undermining confidence in NATO, The Globe and Mail reports, citing data from DisinfoWatch.org.
— Woman behind Vance allegations speaks out: Maj. Kellie Brennan, the woman at the centre of allegations of inappropriate behaviour against Gen. Jonathan Vance, is calling for an independent investigation to fix systemic problems within the Canadian armed forces. Since sharing her story publicly with Global News a week ago, she says she has been flooded with messages from others who allege they have experienced misconduct in the military.
— Divorce Act changes take effect: New rules meant to put an end to the winner-loser mentality of family law come into effect today. Divorcing spouses now have a legal "duty" to use other channels, rather than the courts — such as negotiation, collaborative law, or mediation — "to the extent that it is appropriate to do so." The aim is to avoid drawn-out court battles that could harm the children of separating parents.
— Coming up: Meng Wanzhou is due back in the British Columbia Supreme Court today. Her lawyers are expected to argue for admission of evidence to support their case.
____________________
News tip? Let us know: [email protected]
____________________
AROUND THE WORLD
— Protests in Hong Kong: Crowds gathered outside a courthouse in Hong Kong in the territory's biggest protests in months. They demonstrated to support 47 pro-democracy activists charged with subversion under the national security law.
U.S. Secretary of State Antony Blinken called for the release of the campaigners in a tweet yesterday.
— Tehran rejects talks: Iran rejected proposed nuclear negotiations with the U.S., which the European Union had offered to broker. Tehran insists that the U.S. must lift all unilateral sanctions before the two sides can come to the table, while Washington says Iran must make the first move and return to compliance with the 2015 deal.
— U.S. House passes $1.9 trillion relief package: The stimulus bill is now headed to the U.S. Senate, after the House passed it early on Saturday.
— Myanmar military fires on protesters: Myanmar soldiers opened fire on protesters over the weekend, killing at least 18 people in the deadliest day of protests since the coup last month.
This morning, Aung San Suu Kyi appeared in court via a video link, the first time she's been seen publicly since being detained in the coup.
— Elsewhere: The U.S. approved Johnson & Johnson's vaccine. Europe's AstraZeneca stockpile mounts as citizens snub the jab. Indian PM Modi got his COVID-19 shot. Amnesty International says Eritrean troops killed hundreds of Ethiopian civilians. Gunmen in Nigeria released 27 schoolboys who were kidnapped the week before last, but the search is ongoing for more than 300 schoolgirls abducted on Friday. Trump blasted Biden in a CPAC speech.
IN OTHER HEADLINES
WHAT WE'RE READING
ICYMI FROM IPOLITICS
CARTOON OF THE DAY
THE KICKER
After North Korea closed its borders to trains as part of its COVID-19 measures, a group of Russian diplomats seeking to leave Pyongyang were forced to do so via a hand-pushed rail trolley.
Conservatives accused of 'playing politics' in the House, raising questions about pandemic election – CBC.ca
All federal party leaders maintain they don't want an election in the midst of the COVID-19 pandemic, but the Conservatives appear to be pursuing a strategy that could give the Liberals justification for calling one.
Liberals are accusing the Conservatives of systematically blocking the government's legislative agenda, including bills authorizing billions of dollars in pandemic-related aid and special measures for safely conducting a national election.
The Conservatives counter that the Liberals have not used the control they have over the House of Commons agenda to prioritize the right bills, while other parties say both the government and the Official Opposition share the blame.
"They're playing politics all the time in the House. It's delay, delay, delay — and eventually that delay becomes obstruction," Government House leader Pablo Rodriguez said in an interview, referring to the Conservatives.
"It's absurd. I think it's insulting to Canadians, and I think people should be worried because those important programs may not come into force … because of the games played by the Conservatives."
Conservatives blocking legislative agenda, Liberals say
Rodriguez pointed to the three hours last week that the Commons spent discussing a months-old, three-sentence committee report affirming the competence of the new Canadian Tourism Commission president.
That was forced by a Conservative procedural manoeuvre, upending the government's plan to finally start debate on the pandemic election bill. It contains measures the chief electoral officer has said are urgent given that the minority Liberal government could fall at any time if the opposition parties unite against it.
A week earlier, MPs spent three hours discussing a committee report recommending a national awareness day for human trafficking — something Rodriguez said had unanimous support and could have been dealt with "in a second."
That debate, also prompted by the Conservatives, prevented any progress on Bill C-14, legislation flowing from last fall's economic statement with billions in expanded emergency aid programs and new targeted aid for hard-hit industries.
That bill was introduced in December but stalled at second reading, with Conservative MPs talking out the clock each time it did come up for debate. After eight days of sporadic debate — more than is normally accorded for a full-fledged budget, Rodriguez noted — Conservatives finally agreed on Friday to let the bill proceed to committee for scrutiny.
'Modest debate' warranted: O'Toole
Conservative Leader Erin O'Toole has argued that "modest debate" is warranted on C-14, which he maintains is aimed a fixing errors in previous rushed emergency aid legislation.
Last December, the Conservatives dragged out debate on Bill C-7, a measure to expand medical assistance in dying in compliance with a 2019 court ruling.
For three straight days last week, they refused consent to extend sitting hours to debate a motion laying out the government's response to Senate amendments to C-7, despite a looming court deadline that was extended Thursday to March 26.
Conservatives say they offered the previous week to extend the hours to allow a thorough debate, but the government waited five days before tabling its response to the amendments.
Liberals can't cut debates short alone
For Rodriguez, it all adds up to "a pattern" of obstruction aimed at blocking the government's legislative agenda.
Procedural machinations are commonly used by opposition parties to tie up legislation. But Rodriguez argued it's inappropriate in a pandemic, when "people are dying by the dozens every day."
If the government held a majority of seats in the Commons, it could impose closure on debates. But in the current minority situation, it would need the support of one of the main opposition parties to cut short debate — something it's not likely to get.
In a minority Parliament, Rodriguez argued, all parties share responsibility for ensuring that legislation can at least get to a vote.
Opposition parties point fingers
But Conservative House leader Gérard Deltell lays the blame for the legislative impasse squarely on Rodriguez.
"The government House leader has failed to set clear priorities and has therefore failed to manage the legislative agenda," he said in a statement to The Canadian Press, adding that "my door is always open for frank and constructive discussions."
Bloc Québécois House leader Alain Therrien agrees that the Liberals have "mismanaged the legislative calendar and must take their responsibilities." But he doesn't exempt the Conservatives.
He said their obstruction of the assisted-dying bill and another that would ban forcible conversion therapy aimed at altering a person's sexual orientation or gender identity is "deplorable."
"These are files that require compassion and rigour. It is inexcusable to hold the House hostage on such matters," Therrien said in an email, suggesting that O'Toole is having trouble controlling the "religious right" in his caucus.
As far as NDP House leader Peter Julian is concerned, both the Liberals and Conservatives are trying to trigger an election.
"We believe that is absolutely inappropriate, completely inappropriate given the pandemic, given the fact that so many Canadians are suffering," he said in an interview.
Julian accused the Liberals of bringing forward unnecessary legislation, such as the election bill, while "vitally important" bills, including one implementing the United Nations Declaration on the Rights of Indigenous Peoples and another on net-zero carbon emissions, languish.
The intention of the Liberals, he said, is to eventually say there must be an election because of "all these important things we couldn't get done." And the Conservatives "seem to want to play into this narrative" by blocking the bills the government does put forward.
Rodriguez must be at 'wits end': May
Veteran Green Party MP Elizabeth May, however, agrees with Rodriguez, who she says must be "at his wits' end."
"What I see is obstructionism, pure and simple," she said in an interview.
She blames the Conservatives primarily for the procedural "tomfoolery" but accuses both the Bloc and NDP of being "in cahoots," putting up speakers to help drag out time-wasting debates on old committee reports.
"It's mostly the Conservatives, but they're in league," May said.
"They are all trying to keep anything orderly from happening that might possibly let the Liberals say we've accomplished a legislative agenda. Whether the bills are good, bad or indifferent is irrelevant in this strategy."