Hands-On With Samsung's $30 Bluetooth-Enabled 'SmartTags' – MacRumors
Samsung recently came out with Bluetooth-enabled item trackers called SmartTags, beating Apple's rumored AirTags to market. With ‌AirTags‌ still set to launch later this year, we thought we'd check out Samsung's SmartTags to see just what Apple will be competing with.
There are already multiple Bluetooth-enabled item tracking options on the market, the most popular of which is Tile, and Samsung's SmartTags are similar in both design and functionality to Tile's offerings. The SmartTags are square-shaped with a small cutout at the top where a keyring can be connected, allowing them to be attached to a range of items.
‌AirTags‌ are likely going to be similar, but rumors suggest they'll have a round design and will use various holders instead of having a built-in attachment point.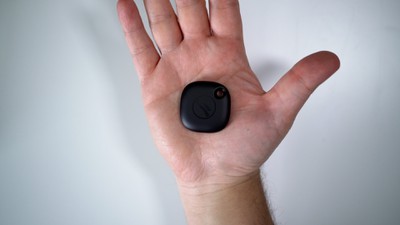 SmartTags are only designed to work with Galaxy devices for tracking purposes, and connecting and setup is a simple enough process. When setup is complete, the SmartTags show up in the SmartThings app from Samsung for tracking purposes.
In the SmartThings app, there's a map where you can see the physical location of the tag (and the item it's attached to), plus you can have it play a chime if the item is located nearby. For items lost further away, Samsung has a "Galaxy Find Network" crowd tracking feature that allows other Galaxy devices to ping lost tags to offer up a better chance of finding a lost device.
Tile has a similar crowd tracking network feature, and Apple's ‌AirTags‌ will too. ‌AirTags‌ will be trackable through the Find My app alongside your Apple devices, and Apple in iOS 13 introduced a ‌Find My‌ feature that lets lost devices be tracked even without a cellular connection by leveraging devices owned by other people. This functionality will likely be available for the ‌AirTags‌, and with so many Apple devices out there, it's going to make it easier to find something that's lost.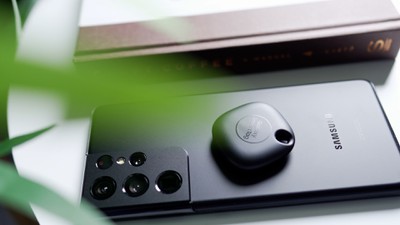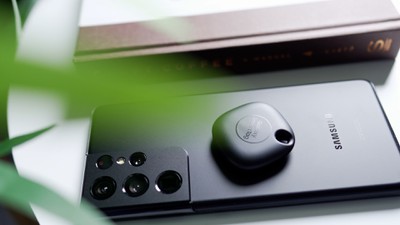 SmartTags are Bluetooth-based and need to connect to a device using Bluetooth for their location to be tracked. ‌AirTags‌ will also work over Bluetooth, but ‌AirTags‌ are expected to have an edge over the SmartTags because Apple is expected to take advantage of Ultra Wideband technology, which will utilize the U1 chip in recent iPhones to allow for more precise indoor positioning and tracking.
There's a little button on the SmartTag that can be tapped to play a sound on the phone, so if you lose your phone but have a SmartTag nearby, it'll help you find your lost device.
One neat SmartTag perk includes smart home control. The button on the SmartTag can be customized to control smart home devices through various long and short button presses. That's not something that's rumored for the ‌AirTags‌, but it's possible that we could see Apple use the positioning functionality to interface with HomeKit devices through automations.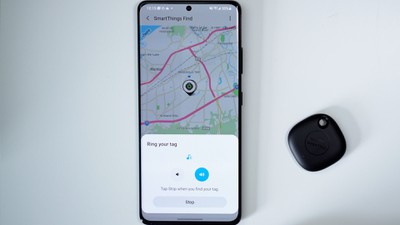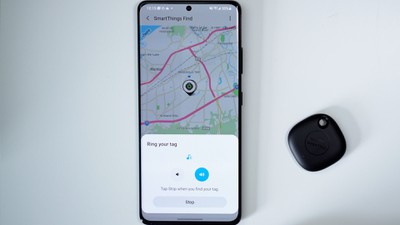 SmartTags are using a traditional CR2032 battery that's replaceable, and it's not yet clear what Apple's battery solution will be. There have been rumors that Apple will use rechargeable batteries and rumors of a replaceable battery, so we'll have to wait to see what Apple ends up implementing.
We've been waiting on the ‌AirTags‌ for a long time now, but multiple rumors have suggested that 2021 is the year we'll finally see a launch, so there's a possibility we may not have to wait too much longer to see Apple's solution.
Price wise, Samsung is charging $30 for the SmartTags, which is competitive with other offerings on the market. It's possible Apple will also aim for that general price point, but we don't really have word on what ‌AirTags‌ will cost.
SmartTags are useful for those who have Galaxy devices, but they don't have much of an edge over existing trackers from companies like Tile, so there's not much of a reason for an Apple user to pick up a SmartTag.
Today's 'Wordle' Word Of The Day #334 Answer And Hint: Thursday, May 19th – Forbes
It's Thursday—again. No surprise there. Thursday typically falls just after Wednesday, and we just had one of those. Soon it will be Friday. Soon it will be the weekend and then another week and then another Thursday.
Wordle will be with us along the way, with just over six years of 5-letter answers left to solve for the daily word puzzle game. Kind of crazy to think about!
Wordle officially launched last October, but the very first Wordle word of the day was actually released on June 19th, 2021—a day before my 40th birthday. The very first answer for Wordle #1 was 'cigar.'
This means that we're actually exactly one month away from the game's anniversary (and just about one month away from my 41st birthday!) on June 19th, 2022.
In any case, today we're on Wordle #334. Let's take a look at the hint and answer, shall we?
Today's Wordle #334 Answer & Hint
Naturally, there spoilers in this post about the Wordle word of the day answer and hint. One spoiler is the hint. One spoiler is the answer. That makes two—two spoilers! Ah ha ha!
The hint: The type of house you probably shouldn't throw things in.
And the answer is . . . .
My first guess is a 'great opening word' according to Wordle (if still inferior to crane, as always). Normally flare cuts down possible solutions to 98, but today it cut them down to 26.
Plant was a 'solid choice' and narrowed possible solutions to just nine, but Wordle Bot didn't sound very enthusiastic when it told me this. Claim was just 'pretty good' despite cutting possible solutions down to just two. Guessing class would have been better—obviously in hindsight!—but I was going for maximum letter-elimination and a word with a double 'ss' seemed like a bad idea.
At this point, unbeknownst to your humble narrator, there were just two solutions left and I guessed the wrong one. Slash was "unlucky, but a smart guess" and it narrowed my remaining solutions to just one: Glass.
Which, by the way, is a truly terrible M. Night Shyamalan movie. I really liked Unbreakable and thought Split was also pretty good, but boy oh boy did he screw up the third movie in that sort-of-trilogy. Just a massive miss.
Anyways, have a terrific Thursday, oh my Wordlers! See you tomorrow!
Follow me on this blog for all your daily Wordles, game coverage and TV and movie reviews.
You can also follow me on Twitter and Facebook and support my work on Patreon. If you want, you can also sign up for my diabolical newsletter on Substack and subscribe to my YouTube channel.
Huawei unveils new foldable phone, smartwatches, fitness band: All the details – Times of India
NEW DELHI: Huawei has unveiled its latest foldable smartphone and wearables at its global launch event. The company has launched the Huawei Mate Xs 2 foldable smartphone, Watch GT 3 Pro smartwatch and the Watch D with Blood Pressure and ECG monitoring and the Band 7 for global markets. All these devices were recently launched in China.
Huawei Mate Xs 2 specifications
Huawei Mate Xs 2 features a 6.5-inch OLED display with 1176×2480 pixel resolution when folded and a 7.8-inch OLED display when unfolded. The smartphone is powered by an octa-core Qualcomm Snapdragon 888 chipset paired with up to 12GB of RAM and up to 512GB internal storage.
Huawei Mate Xs 2 runs HarmonyOS 2 and it comes with dual SIM support. The foldable smartphone features a triple rear camera setup with a 50MP main camera, 13MP ultra-wide-angle and 8MP telephoto lens. There's also a 10.7MP front camera for selfies.
Huawei Mate Xs 2 comes equipped with a side-mounted fingerprint sensor and dual speakers. The smartphone is backed by a 4600mAh battery with 66W fast charging support.
Huawei Watch D specifications
Huawei Watch D comes with micro air pumps, airbags and not to forget the blood pressure measurement technology. The company has also incorporated a tension-resistant material in the strap and curved airbag with a butterfly buckle which creates pressure and measures the blood pressure accurately. Along with this, the wearable also comes with an ECG monitor that claims to generate ECG reports in real time.
The Huawei Watch D comes with a 1.64-inch HD display with 456×280 pixel resolution. The device supports Bluetooth 5.1 and it works with devices running HarmonyOS, Android 6.0 and above and iOS 12.0.
The smartwatch comes with IP68 rating which makes it water-resistant. The wearable offers GPS and NFC support. Huawei Watch D promises to offer 7 days of battery live on a single charge.
Huawei Watch GT 3 Pro specifications
Huawei Watch GT 3 Pro sports a 1.43-inch AMOLED display and is powered by ARM Cortex M processor. The smartwatch packs 4GB of RAM and 32GB internal stoarge.
Huawei Watch GT 3 Pro is compatible with HarmonyOS, Android and iOS. It comes equipped with an optical heart rate sensor, AI pressure sensor and temperature sensor. The wearable comes with Bluetooth calling functionality and sports a water and dust-resistant design.
The smartwatch offers more than 100 workout modes and can also keep track of your sleep and daily activities.
The Huawei Watch GT 3 Pro comes in two sizes — 46mm and 42mm. The 46mm variant of the smartwatch is backed by a 530 mAh battery and promises to offer up to 8 days of backup on a single charge. On the other hand, the 42mm houses a 292 mAh battery which claims to churn out up to 7 days of battery life in a single charge.
Huawei Band 7 specifications
Huawei Band 7 supports Bluetooth version 5.0 and it is compatible with Android and iOS operating systems. The fitness tracker comes with a 1.47-inch AMOLED display with 194×368 pixel resolution.
The wearable sports a water-resistant design and offer 96 workout modes including 11 professional workout modes such as indoor and outdoor running, cycling, and rope skipping, and 85 more customized modes, including fitness, ball games, and dancing type.
The fitness tracker promises to offer up to 14 days of battery life in a single charge. The device also supports fast charging and with 5 minutes of charge users can enjoy two days of battery backup.
Why Slots Are More Popular Than Ever in Canada
Slots have been a mainstay at casinos for decades, with the first slot machine invented back in 1894. They're popular because of how easy they are to play, as well as the fact that they offer the potential for big wins from small stakes. Over the years, slots have changed a lot, although the key principle remains the same. Players insert a coin and then pull the lever or push the button to spin the reels. When matching symbols appear across one of the pay lines, a win can be awarded.
In Canada, slots can be played at traditional, land-based casinos or online. There are a growing number of online casinos available to Canadian players. It's this growth that's fuelling the rise in the popularity of slots. Players can enjoy thousands of online slots from their homes, playing on computers, tablets or mobiles. All online slots can be played for real money, and many can be played for free too. Let's take a look at why these games are so popular.
Variety
When it comes to playing games, variety is important. Players enjoy having a wide range of different games to choose from, which is one of the reasons why slots are loved by so many. There are hundreds of thousands of different online slots available to play, with new games released each week. Players can usually choose from thousands of different games at most top casinos, with the majority of these being online slots.
All most slots use the same basic idea of matching symbols. There's a lot of variety in the features they use and how they work. Some slots may only have three reels and three rows, while others may have five reels and seven rows or even more. As the demand for slots increases, developers get more creative with how they design slots, leading to interesting new ways to play.
Basic slots still exist, but a lot of modern slots combine unique designs and bonus features, making them more interesting than ever. This means that very few slots provide the same playing experience, and there are loads of different themes and genres of slots too.
Simplicity
While modern slots sometimes include new bonuses and features, the basic premise is always simple and easy for players to understand. All you have to do is choose your stake and press spin to start playing. Unlike some other casino games, you don't need to use any strategy or make decisions. You just spin and wait to see if you're a winner.
The simplicity of slots makes them easy to play and a lot of people find it relaxing to spin the reels. As a result, they're popular with all kinds of casino players. Using features such as autoplay make it even simpler, as you can set up the game to play out a certain number of spins.
Big Wins
Slots may be simple to play, but that doesn't stop them from being exciting. The excitement comes from the fact that it's possible to land big wins, even when you're playing with small stakes. This is especially true of jackpot slots. These slots offer jackpots, which can be worth thousands, hundreds of thousands or even millions of dollars. Although the chance of winning jackpots is lower than with regular slots, they're very popular for obvious reasons.
Not all slots offer big wins of course, but the payouts are generally higher than in some other casino games. Still, it's always important to manage risk and ensure that you're playing responsibly. Never bet more than you can afford to lose, and set a budget so you don't get carried away.