Heat wave melts 20% of snow cover from Antarctic island in days – Axios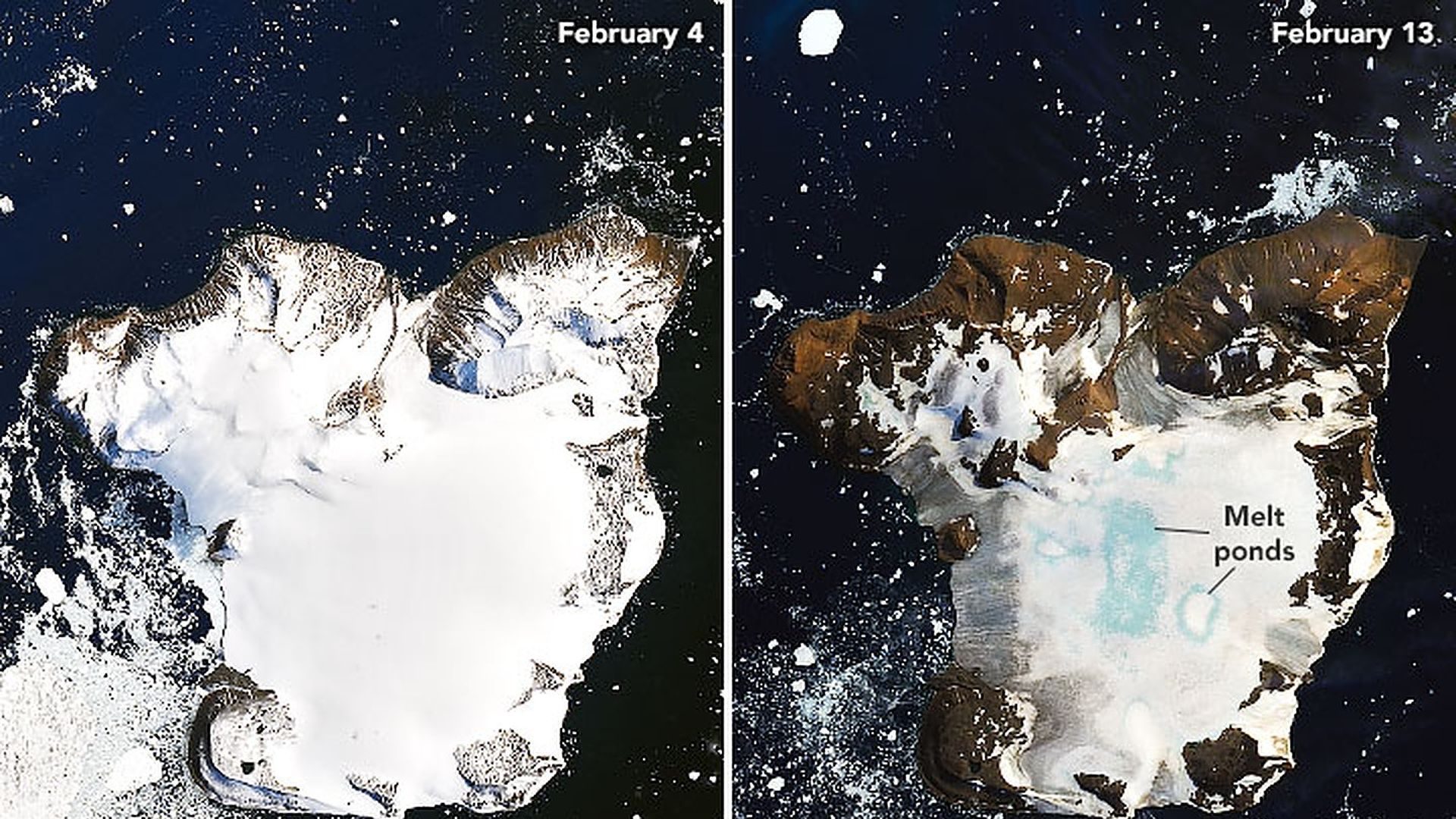 The effects of February's record heat wave on Eagle Island in Antarctica. Photo: NASA
Antarctica's Eagle Island now has a side that's almost ice-free following this month's searing heat wave in the region, images released by NASA show.
Why it maters: "The warm spell caused widespread melting on nearby glaciers," NASA said in its report. It's the third major melt event of the 2019-2020 Southern Hemisphere summer, following warm spells in January and last November, according to the United Nation's World Meteorological Organization (WMO).
Such persistent warmth was not typical in Antarctica until the 21st century, but it has become more common in recent years."
— NASA statement
Driving the news: The Argentine research base Esperanza reported a temperature of 64.9°F on Feb. 9 — indicating a "likely legitimate record," per the WMO, which is still verifying the statistics.
The island "experienced peak melt" — about 1 inch — on the day of the reported heat record, leading to a loss of 4 inches in total within 10 days.
"About 20% of seasonal snow accumulation in the region melted in this one event on Eagle Island," NASA said in a statement Friday.
What they're saying: Mauri Pelto, a glaciologist at Nichols College, who observed the warming event as 0.9 square miles of snowpack became saturated with meltwater, said in NASA's report: "I haven't seen melt ponds develop this quickly in Antarctica. You see these kinds of melt events in Alaska and Greenland, but not usually in Antarctica."
Of note: The event comes after scientists in January found for the first time warm water beneath Antarctica's "doomsday glacier," so-called because it's one of the region's fastest melting glaciers.
The bottom line: "If you think about this one event in February, it isn't that significant," Pelto said. "It's more significant that these events are coming more frequently."
Go deeper:
Scientists observe total solar eclipse in Antarctica – Global Times
Scientists from the Chilean Union Glacier Station observe a total solar eclipse in Antarctica, Dec. 4, 2021.Photo:Xinhua
Scientists from the Chilean Union Glacier Station observe a total solar eclipse in Antarctica, Dec. 4, 2021.Photo:Xinhua
Scientists from the Chilean Union Glacier Station observe a total solar eclipse in Antarctica, Dec. 4, 2021.Photo:Xinhua
Photo taken from Chilean Union Glacier Station in Antarctica on Dec. 4, 2021 shows a total solar eclipse.Photo:Xinhua
Dinosaur Tail Found In Chile Could Point To Discovery Of New Species – NDTV


<!–
–>
Santiago:
Chilean paleontologists on Wednesday presented their findings on a dinosaur discovered three years ago in Patagonia which they said had a highly unusual tail that has stumped researchers.
The remains of the Stegouros elengassen were discovered during excavations in 2018 at Cerro Guido, a site known to harbor numerous fossils, by a team who believed they were dealing with an already known species of dinosaur until they examined its tail.
"That was the main surprise," said Alexander Vargas, one of the paleontologists. "This structure is absolutely amazing."
"The tail was covered with seven pairs of osteoderms … producing a weapon absolutely different from anything we know in any dinosaur," added the researcher during a presentation of the discovery at the University of Chile.
The osteoderms — structures of bony plaques located in the dermal layers of the skin – were aligned on either side of the tail, making it resemble a large fern.
Paleontologists have discovered 80 percent of the dinosaur's skeleton and estimate that the animal lived in the area 71 to 74.9 million years ago. It was about two meters (almost seven feet) long, weighed 150 kilograms (330 pounds) and was a herbivore.
According to the scientists, who published their research in the journal Nature, the animal could represent a hitherto unknown lineage of armored dinosaur never seen in the southern hemisphere but already identified in the northern part of the continent.
"We don't know why (the tail) evolved. We do know that within armored dinosaur groups there seems to be a tendency to independently develop different osteoderm-based defense mechanisms," said Sergio Soto, another member of the team.
The Cerro Guido area, in the Las Chinas valley 3,000 km (1,800 miles) south of Santiago, stretches for 15 kilometers. Various rock outcrops contain numerous fossils.
The finds there allowed the scientists to surmise that present-day America and Antarctica were close to each other millions of years ago.
"There is strong evidence that there is a biogeographic link with other parts of the planet, in this case Antarctica and Australia, because we have two armored dinosaurs there closely related" to the Stegouros, said Soto.
(Except for the headline, this story has not been edited by NDTV staff and is published from a syndicated feed.)
Chinese Rover Exploring What Appears to Be Cube-Shaped Object on Moon – Futurism
There's a Moon cube now! At least, it looks that way based on some intriguing photos from the Chinese lunar rover Yutu-2, released by the country's space agency this week.
The photos show a distant object that looks like a perfect cube, and China say the rover is headed to check it out.
It's worth worth noting a few caveats about the photo, spotted yesterday by space journalist Andrew Jones, who described the formation as a "cubic shape." For one thing, the object is just a few pixels in the photo, meaning it could easily be some sort of optical illusion that'll be a disappointment up close.
And China has struggled with lunar science communication in the past. In 2019, Yutu-2 "discovered" a "gel-like substance" on the lunar surface, but upon closer inspection it turned out to be, well, rocks. It also trumpeted the discover of a "shard" on the Moon earlier this year, but that turned out to just be another interesting rock. Did we mention that there's not a lot other than rocks on the Moon?
Advertisement
Advertisement
Jones, for his part, is managing expectations.
"So yeah, it's not an obelisk or aliens, but certainly something to check out," Jones tweeted in followup.
The idea of alien artifacts on the Moon runs deep in popular culture — remember that one scene in "2001: A Space Odyssey"? — but, needless to say, none have been found in reality.
The apparent cube sits in the Von Kármán crater, and China's space program has been dubbed it, evocatively, the "mystery house."
Advertisement
Advertisement
Yutu-2 will spend two or three lunar days traveling to investigate the cube; lunar days are about 50 minutes longer than solar days on Earth.
Jones speculated that the object could be a boulder carved out by an asteroid impact, and posted a photo of a similarly sharply defined boulder found previously on the Moon's surface.
CNET's coverage of the most recent discovery agrees with Jones' analysis, saying the most likely explanation is that the Moon cube is a boulder.
That's not to say Yutu-2 hasn't ever found anything cool. In 2019, CNET reported the rover discovered that the Moon's surface was made of different materials than we previously thought, a discovery that could better predict how Earth's internal layers might change over time.
Advertisement
Advertisement
We're not saying there isn't weird stuff on the Moon. After all, we just recently found enough buried oxygen under its surface to sustain billions of people. But suffice it to say we aren't holding our breath over Moon cube, and if it turns out to be anything other than a rock we'll be really impressed.
More on space: Scientists Discover Enormous Black Hole Right Near Our Galaxy
Care about supporting clean energy adoption? Find out how much money (and planet!) you could save by switching to solar power at UnderstandSolar.com. By signing up through this link, Futurism.com may receive a small commission.
Share This Article