How many COVID-19 cases are there in Cambridge? – TheRecord.com
This is a rapidly evolving situation. The information in this article was last updated on Aug. 18. It will be updated as more data is released from Waterloo Region Public Health.
The Aug. 18 dashboard report from Region of Waterloo Public Health shows 2 positive COVID-19 cases for a total of 4,336 cases of the virus in Cambridge.
In total, there have been 18,699 positive cases of COVID-19 in the region, 16 of which are currently hospitalized.
There are 4,938 cases of a variant identified in Waterloo region.
There have been a total of 558,192 COVID-19 tests administered.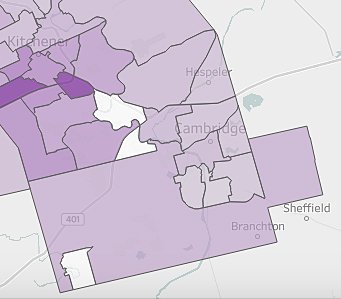 NEIGHBOURHOOD BREAKDOWN
North Cambridge: 195 total cases in a population of 3,111
Hespeler: 715 total cases in a population of 26,126
Central Preston: 546 total cases in a population of 15,629
Langs/Industrial: 249 total cases in a population of 8,213
North Galt/Elgin Park: 693 total cases in a population of 21,287
Shades Mills: 600 total cases in a population of 16,792
Southwood/Southwest Galt: 386 total cases in a population of 15,896
Galt City Centre/South Galt: 523 total cases in a population of 17,599
Southeast Galt: 416 total cases in a population of 13,569
Blair: 13 total cases in a population of 450
TOWNSHIPS
North Dumfries/Beverly: 102 total cases in a population of 5,033
Ayr: 127 total cases in a population of 5,713
There are 168 cases in the region with invalid or missing postal codes.
New cases will be added daily at 1:30 a.m.
For a provincial total, visit the Ontario Ministry of Health site at ontario.ca/coronavirus, which is updated twice daily.
What do you do if you have symptoms?
Go to ontario.ca/coronavirus to complete a self-assessment. The result may indicate you should call your family doctor or Telehealth Ontario at 1-866-797-0000 to arrange an over-the-phone assessment.
• Continue to practise social distancing;
• self-isolate;
• call your primary-care provider, or Telehealth Ontario;
• in the case of symptoms, such as severe difficulty breathing or severe chest pain, call 911, or go to the emergency department.
BC College of Pharmacists investigate reuse of syringes for COVID-19 – BC News – Castanet.net
The Fraser Health Authority has confirmed that syringes were reused for COVID-19 vaccines at a B.C. pharmacy.
CTV News Vancouver is reporting that Fraser Health confirmed the information on Tuesday via email that – "the plastic tube which holds the vaccine solution, not the needles" – were reused.
Fraser Health did not indicate where in the region the pharmacy is located in. The Fraser Health Authority stretches from Burnaby to Boston Bar.
Fraser Health indicated the pharmacy was part of a provincial pilot program that was testing the ability of pharmacies to use a specific booking system. The location was suspended from the program once it the issue came to light.
Fraser health indicates the B.C. College of Pharmacists is investigating the but they confirmed the pharmacy is no longer giving out vaccines.
-with files from CTV News Vancouver
COVID-19 vaccine boosters recommended for long-term care residents, national advisory committee says – CBC.ca
Canadian seniors living in long-term care homes and other congregate-care settings should get COVID-19 vaccine booster shots, Canada's vaccine advisory body recommends.
Residents of such sites, including retirement homes and assisted-living facilities "are at increased risk for COVID-19 infection because of their daily interactions with other residents and staff," said the National Advisory Committee on Immunization (NACI) in updated guidance released online on Tuesday.
"They are also at increased risk for severe disease because of their age and underlying medical conditions."
The amount of time that has passed since residents received their initial vaccinations is a factor in the recommendation — given that older adults may "have a less durable response to vaccines and/or past infection compared to younger adults."
"Older Canadians residing in congregate living settings were prioritized for the COVID-19 vaccine when the vaccines were first authorized; therefore, many completed their COVID-19 vaccination series early in the vaccine roll-out, leaving more time for waning should it occur," NACI said.
Many long-term care residents had their initial COVID-19 shots spaced out over shorter intervals based on the manufacturers' guidance — 21 days between doses for Pfizer-BioNTech (Comirnaty) and 28 days for Moderna (Spikevax).
Current evidence now suggests that longer intervals between doses result in higher immune responses, NACI said, and therefore the original schedule may have contributed to "more rapid waning of protection, including against variants of concern."
In its guidance, NACI noted that its booster shot recommendation for residents of long-term care homes is not the same as recommending a third dose as part of the initial vaccination schedule.
"The intent of a booster dose is to restore protection that may have waned over time in individuals who responded adequately to a primary vaccine series," the advisory committee said.
That's different than the recommendation NACI issued just over two weeks ago for moderately to severely immunocompromised Canadians. People who are immunocompromised should receive three doses of COVID-19 vaccine as part of the standard immunization schedule, NACI said, because they may not mount an adequate immune response to two doses in the first place.
North Bay–Parry Sound's COVID-19 vaccination rates rank near bottom-third in Ontario – BayToday.ca
The North Bay Parry Sound District Health Unit is trailing the majority of the 33 other districts in Ontario when it comes to vaccination rates but officials are confident the mobile vaccination clinics held on a retrofitted transit bus can boost those numbers toward the 90 per cent goal.
According to COVaxON, the province's vaccination reporting system, 78 per cent of eligible North Bay–Parry Sound residents age 12 and older have had two doses of the COVID-19 vaccine. That's tied for 23rd out of 34 health units in Ontario.
The Health Unit also reports 84 per cent of eligible residents 12 and older in the district have received at least one dose, tied for 25th of 34 health units.
The recent introduction of the proof of vaccination program for Ontarians to gain entry to non-essential settings such as restaurants, fitness clubs, and cinemas is acknowledged by health officials as a means to encourage those who are not fully vaccinated to do so.
There was an uptick in vaccinations in the weeks following the announcement of the vaccine certificate program in Ontario. And, a boost in vaccinations followed locally, as well, in mid-September, as the Health Unit reported an increase, particularly among those aged 29 and younger. The Health Unit reported then a 128 per cent increase in first doses week over week.
See also: Chirico impressed with new wave of vaccinations but still more work to do
The goal locally and province-wide is to have 90 per cent of the population vaccinated with first and second doses. As of Monday, that leaves 6,646 first and 14,680 second shots required. The Health Unit's dashboard reports 692 doses administered over the weekend. It should be noted hundreds of third doses have been administered to eligible segments of the population over the past two weeks.
In North Bay–Parry Sound, the 30-39, 18-29 and 12-17 age groups all sit at less than two-thirds fully vaccinated, although the 12-17 category was not eligible for the vaccine for months following the initial local roll-out.
The Health Unit reports since June 1, 10 per cent of local positive cases have been detected in fully vaccinated people. Ontario reports 86 per cent of COVID-19 patients in ICUs are unvaccinated, while 72 per cent in hospitals (but not the ICU) are unvaccinated.
The Health Unit has consistently advocated for more people to roll up their sleeves and has gone to great lengths to achieve that goal by providing clinics in long-term care and retirement communities, mass immunization opportunities at Memorial Gardens, clinics focused on members of the vulnerable population, and now the mobile vaccination clinics that visit many of the underserved towns in the district.
See: How better conversations can help reduce vaccine hesitancy for COVID-19 and other shots
Andrea McLellan, Director of COVID-19 Immunization Strategy, previously spoke about possible reasons for vaccine hesitancy.
"It may be a lack of confidence in immunizations overall, it may be a personal choice they are making at this time and waiting to receive further information," she said, noting there are excellent resources out there for those who are hesitant. "We are providing as much information to the public as we can — our website holds a wealth of information, the Ontario.ca website has a lot of information about the vaccine, as does Public Health Ontario."
"Some people need a familiar health care provider to really reassure them that the vaccine is right for them," Dr. Carol Zimbalatti added, encouraging people to reach out to their trusted health care providers for guidance. "Definitely, primary care offices have the information available to counsel their patients."
The Health Unit will continue to roll out the vaccine through mobile clinics. McLellan says some of the feedback from the public indicated people who weren't thinking of getting their shot did so thanks to the convenience of the bus set-up.
"We believe the mobile bus has been exceptionally successful," McLellan said last week. "We've done over 300 at a couple of clinics, 150-plus at other clinics, 50 to 60 in smaller communities. The bus has been helpful in getting our numbers up. A lot of people are getting their first doses. And, we've accommodated a lot of people eligible for their third doses."