iOS 16's Best New Features: Skip CAPTCHAs, Unsend Messages and More – CNET
This story is part of WWDC 2022, CNET's complete coverage from and about Apple's annual developers conference.
What's happening
Apple previewed iOS 16, the next major version of iPhone software at its 2022 developers conference.
Why it matters
iOS 16 rolls out this fall to iPhone 8 models and newer. It's filled with major updates like the ability to customize your lock screen, frequently asked-for tools like the ability to edit and "unsend" iMessage texts, and significant utilities like seeing and restricting who has access to your location and passwords.
Apple's iOS 16 will bring several improvements focused on making communication, personalization and privacy easier. Previewed at the company's annual WWDC keynote, new updates to iMessage, the iPhone lock screen and Apple's Wallet will bring substantial changes to iOS when it eventually launches to the public this fall.
For now, the iOS 16 developer beta is currently out, with a public beta version coming in July. When iOS 16 does launch widely, it will likely arrive alongside the heavily rumored iPhone 14. The new software will work on iPhone 8 models and newer.
Here's every iOS 16 feature you should know about.
Edit and 'unsend' messages
"Embarrassing typos are a thing of the past," said Apple Senior Vice President of Software Engineering Craig Federighi as he introduced three of the most requested features for the Messages app.
First, in iOS 16 you'll be able to edit sent messages. So if you notice a typo after a message, you'll be able to edit the message after the fact. A tiny "edited" appears in the status under the message.
Next, and this might be my favorite new feature, you can immediately recall a sent message. If you accidentally send an unfinished message, you can use the Undo Send tool to prevent it from being read and hopefully look less chaotic to your friends and family.
Last, you can mark messages and threads as unread. This could be an excellent tool for when you don't have time to respond to a message in the moment, but want to make sure you come back to it later.
A new customizable lock screen
One of the things you look at the most on your iPhone is the lock screen, especially if you have a Face ID-equipped iPhone. iOS 16 brings the most substantial update to the iPhone's lock screen yet. Press and hold to edit your lock screen. You can swipe to try out several different styles. Each style changes the color filter for the background photo and the font on the lock screen so everything complements each other. This feels a bit like Apple's take on Google's Material You, which launched with Android 12.
You can also customize the fonts for the time and date, and add lock screen widgets like temperature, activity rings and a calendar. The widgets are akin to complications on the Apple Watch lock screen.
You can even set up multiple customized lock screens with different widgets and easily swipe to switch between them. There's even a photo-shuffle option that automatically changes the pictures on your lock screen.
One feature we hoped to see Apple add was an always-on display. It's something nearly all Android phones have; even the Apple Watch does. There's hope it'll come out with the iPhone 14.
Notifications and live activities
Sometimes notifications can cover up your lock screen's photo, so iOS 16 moves notifications to the bottom of your display. As you receive them, instead of being compiled into a list, they appear like a vertical carousel. This not only looks better but should be a big help for one-handed use of your iPhone.
iOS 16 also aims to solve another notification problem. Sometimes you get a bunch of notifications in a row from one app, like the score of a basketball game. A new tool for developers called Live Activities makes it easier to stay on top of things happening in real time from your lock screen, instead of getting a series of interruptions.
Live Activities should make it easier to follow sporting events, workouts or even the progress of an Uber ride.
Skip CAPTCHAs using Private Access Tokens
The CAPTCHA — which stands for Completely Automated Public Turing test to tell Computers and Humans Apart — have been a necessary evil across the internet. They are designed to make sure that a person is accessing a website or service, and not a bot. They are also annoying, often involving reading strangely written letters or having to find all the images that have a truck. With iOS 16, Apple's looking to replace these awkward interactions with Private Access Tokens.
According to a video on Apple's website demonstrating Private Access Tokens, websites that support the token will essentially login and authenticate that you are indeed a human without having to play any of the usual CAPTCHA games. Apple says in the video that the company is working with other companies to roll out support for this feature, so we can't reliably say the CAPTCHA will be dead after iOS 16 rolls out to the public. But the concept could provide some relief if it gets adopted.
Wallet and Apple Pay Later
ID cards from more states will be available in your Wallet app along with more security and privacy features. In iOS 16 you can also protect your identity and age. So rather than showing your exact birth date, the Wallet app will display your ID and that you're over 21.
iOS 16 makes sharing keys easier with apps like Mail and Messages. When your friend receives the key, they can add it to the Wallet app on their iPhone. Apple said it's working to make sure that shared keys are an industry standard and free for others.
Apple Pay will support new types of payments and adds a new feature called Apple Pay Later, a Klarna-like service that lets you split the cost of an Apple Pay purchase into four equal payments spread over six weeks, with zero interest and no fees. Upcoming payments are managed through the Wallet app, making it easy to keep track of dates and payments.
But Apple Pay doesn't stop there. A new feature will also help you track Apple Pay orders and lets merchants deliver detailed receipts and tracking information. This should make it easier to stay up to date on the status of all your orders.
Visual Lookup's tap and drag for photos
In iOS 15, Visual Look Up analyzes your photos and can identify objects like plants, landmarks and pets. iOS 16 takes this to the next level. When you touch a photo's subject like the dog in the image above, you can lift it away from the background and add it to apps like Messages. Essentially it's a tap and hold tool that removes a photo's background.
Apple sometimes overuses the word "magic," but this feature truly seems like it.
SharePlay comes to Messages
SharePlay, which debuted in iOS 15, lets you have a shared experience while connecting with someone over FaceTime. You can watch TV shows, listen to music in sync and other things. iOS 16 adds the ability to discover more apps that support SharePlay from within FaceTime.
But perhaps one of the coolest things Apple did for SharePlay was to make it work within the Messages app. Apple said that this was one of the biggest requests from app developers. Now when you want to share a movie on Disney Plus, you can start SharePlay together with a friend while chatting in Messages.
Safety Check aims to help people in abusive relationships
Safety Check is a new feature intended to be helpful for people in abusive relationships. It lets you review and reset who has access to location information as well as passwords, messages and other apps on an iPhone.
Focus mode updates and Focus filters
Focus mode gets several updates. The first applies Focus behaviors to widgets and lock screen looks. So you could have one lock screen set for when your Work Focus is enabled and another for workouts.
Apple added specific Focus filters that apply your iPhone's Focus mode within apps. For example, in Safari, you can limit what tabs are shown depending on what Focus mode you have active.
Apple Maps adds transit fare cards
Maps will get several updates. You'll be able to plan trips with up to 15 different stops along the way. If you start planning a trip with the Maps app on your Mac, you'll be able to share that to your iPhone.
And in something similar to what Google announced for Google Wallet in Android 13, you'll be able to see transit fare estimates as well as add more money to a fare card from within Apple Maps.
iCloud family checklist
iCloud gets several new features. One of the more interesting ones is the option to quickly set up a new device for your child. When Quick Start appears, you have the option to pick a user for the new device and use all the existing parental controls you've previously selected and configured. However, this is not what many of us still want: the ability to set up separate users for the same device.
There's a new family checklist with tips for updating settings for your kids as they get older, like a reminder to check location-sharing settings or share your iCloud Plus subscriptions.
For more, check out everything Apple announced at WWDC 2022.
SoundGear Phantom hearing protection – Canadian Occupational Safety
Bluetooth-compatible and rechargeable
The SoundGear Phantom product line offers custom Bluetooth-compatible and rechargeable hearing aids and hearing protection devices. The Phantom protects user's ears from loud sounds – suppressing noise at 90 decibels, while simultaneously allowing the user to hear conversations and other environmental sounds. Features include a volume control wheel, Apple and Android connectivity, and 23 hours of battery life.
Subscribe to our free newsletter to stay up-to-date with the world of safety.
This page requires JavaScript
Motorola Launches Moto G42 in India at Rs 13,999 – LatestLY
New Delhi: With an aim to woo the consumers in mid-range segment, Motorola on Monday launched a new affordable smartphone 'moto g42' that features Full HD+ display with Stereo speakers and Android 12. The smartphone is available in a single 4GB RAM+64GB storage variant priced at Rs 13,999. Moto G42 With Snapdragon 680 SoC Launched in India; First Sale on July 11, 2022.
[embedded content]
"The moto g42 comes with near-stock Android 12 with an assured upgrade to Android 13 and 3 years of security updates," said the company in a statement.
The stylish, power-packed #motog42 is here! Enjoy the uber- stylish design with 6.4" FHD+ AMOLED Display, Stereo speakers with Dolby Atmos® & more. Make it yours at just ₹12,999 (incl. of bank offer). Sale starts 11 July on @Flipkart & at leading retail stores. #UnleashYourStyle

— Motorola India (@motorolaindia) July 4, 2022
Weighing 174.5 grams, it comes in two colour variants — Metallic Rose and Atlantic Green. The device comes with a 6.4-inch AMOLED FHD+ display and is packed with Stereo speakers with Dolby Atmos sound technology.
The smartphone houses a 50MP Quad function camera with an 8MP Ultrawide sensor and a 16MP selfie camera. The device is powered by the Qualcomm Snapdragon 680 octa-core processor. It comes with a side fingerprint sensor, 3 in 3 card slots supporting two nano SIMs and a dedicated microSD storage up to 1TB for expanding the 64GB on board storage, said the company.
(The above story first appeared on LatestLY on Jul 04, 2022 05:44 PM IST. For more news and updates on politics, world, sports, entertainment and lifestyle, log on to our website latestly.com).
Xiaomi 12S and 12S Pro debut: Leica cameras, Snapdragon 8+ Gen 1 chipset – GSMArena.com news – GSMArena.com
The Xiaomi 12S and 12S Pro have 1/1.28" sensors in their main cameras, which could have been considered large if not for the 12S Ultra model, which was also unveiled today. This is the same IMX707 sensor as on the 12 and 12 Pro, however, all three S-series models were "co-engineered with Leica".
What does that mean? For starters, the three phones have Leica Summicron lenses and support for Leica imaging profiles. Users can choose between the Leica Authentic Look and Leica Vibrant Look presets. The former recreates the natural look that Leica is known for, the latter was tuned by both Leica and Xiaomi and is a blend of the styles of the two companies.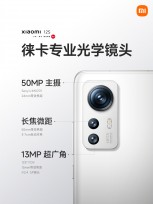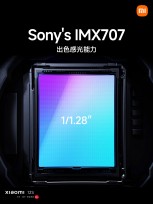 Xiaomi 12S camera info • The Xiaomi 12S and 12S Pro feature the 1/1.28″ Sony IMX707 sensor
Additionally, the phones support 10-bit RAW image capture, which was calibrated by Adobe Labs. The phone will embed color correction metadata in the files, so that Adobe Lightroom can automatically optimize the images, giving photographers a good starting point for post-processing their shots.
A quick look back at the IMX707 – it's a 50MP sensor (1/1.28") with 1.22µm native pixels (2.44µm after binning). The phones support 30fps burst modes as well as Xiaomi's AI Image Solution and ProFocus for fast start-up, capture and continuous capture.
The Pro model has two other 50MP cameras – one with a 50mm lens (2x optical magnification) and one with an ultra wide 14mm lens (115° FoV). The vanilla 12S gets a 13MP ultra wide and a 5MP telemacro instead.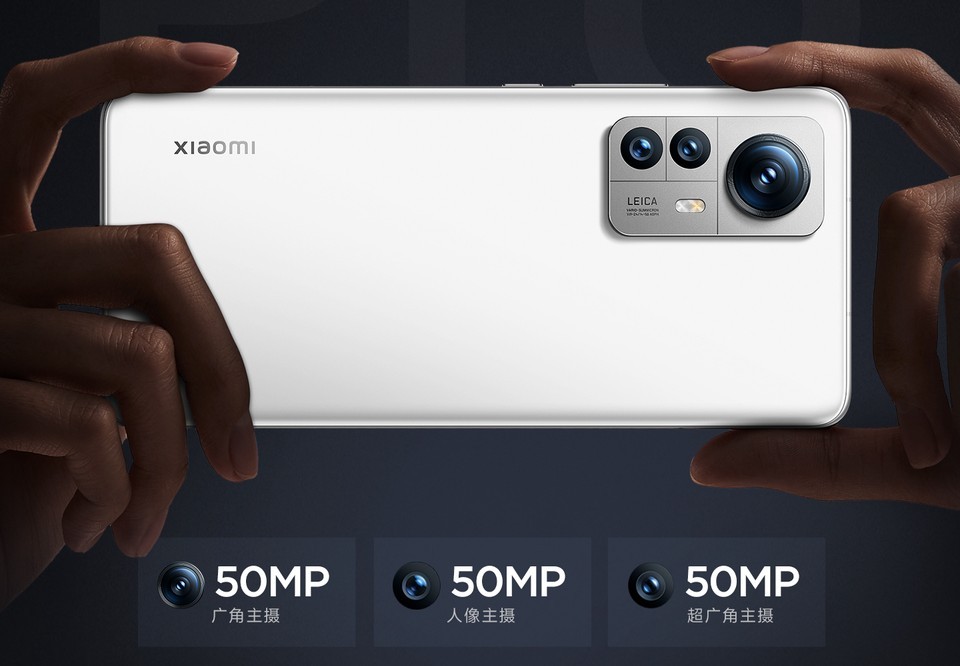 The Xiaomi 12S and 12S Pro also switch to the new Snapdragon 8+ Gen 1 chipset, which offers a 10% boost in performance and reduces power usage by 30%. The S-phones will have longer battery lives and run cooler under load.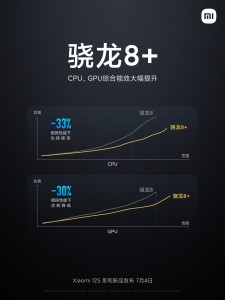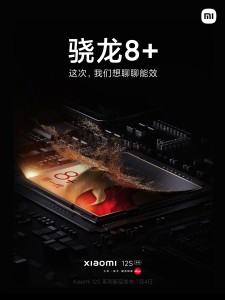 The Snapdragon 8+ Gen 1 brings improved performance and efficiency
Camera and chipset upgrades aside, the two phones follow the formula of the 12 and 12 Pro. The Xiaomi 12S Pro has a 6.73" LTPO AMOLED display (E5, 1-120Hz, FHD+), which is also used on the 12S Ultra. The vanilla 12S is smaller with a 6.28" panel with 120Hz refresh rate (it's not an LTPO panel, however).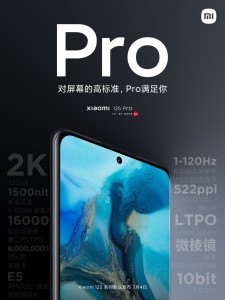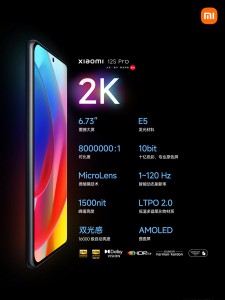 The Xiaomi 12S Pro and 12S Ultra use the same display as the 12 Pro
As before, the 12S Pro supports fast charging – 120W wired and 50W wireless – thanks to the in-house Xiaomi Surge P1 chipset and comes with a 4,600mAh battery. Using a 120W power brick, the Pro can do 0-100% in 19 minutes or in 25 minutes in low temperature mode The Xiaomi 12S charges its 4,500mAh battery at 67W over a wire or at 50W wirelessly.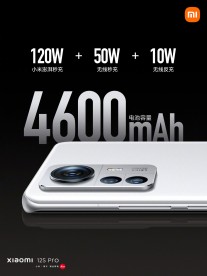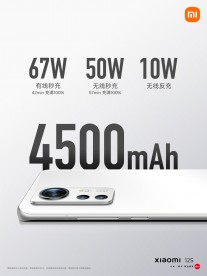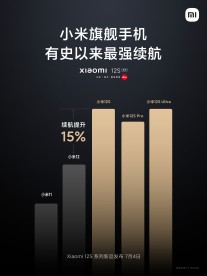 Xiaomi 12S Pro and 12S: same batteries and charging, longer battery life through improved efficiency
The Xiaomi 12S and 12S Pro will soon be available in mainland China. The Xiaomi 12S Pro starts at CNY 4,700 for the 8/128GB model ($700/€670/₹55,000). There is also an 8/256GB for CNY 5,000, 12/256GB for CNY 5,400 and 12/512GB for CNY 5,900.
The Xiaomi 12S starts at CNY 4,000 ($600/€570/₹47,000) for the base 8/128GB model. The same memory configurations are available: 8/256GB for CNY 4,300, 12/256GB for CNY 4,700 and 12/512GB for CNY 5,200.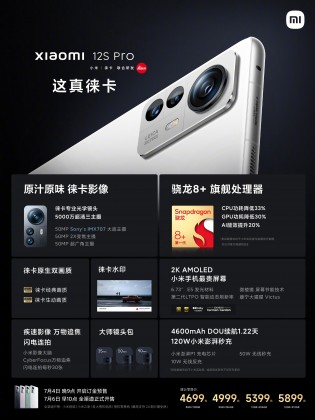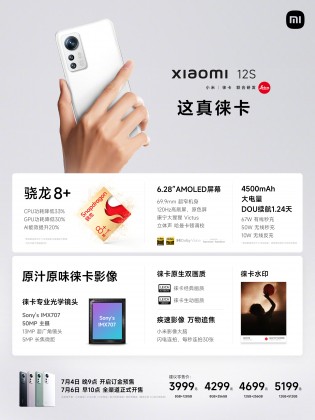 Xiaomi 12S Pro highlights and prices • Xiaomi 12S highlights and prices
For comparison, the Xiaomi 12 Pro launched at CNY 4,700 in China, the base price for the Xiaomi 12 was CNY 3,700. There was also a more affordable 12X model, but there is no "Xiaomi 12SX" now.