Japan raises view on demand, but says economy in severe situation – TheChronicleHerald.ca
By Daniel Leussink
TOKYO (Reuters) – Japan's government upgraded its view on consumption in a monthly report in October on stronger demand for electronics and higher travel spending, but cautioned broader economic conditions remained severe due to the coronavirus pandemic.
Authorities maintained their assessment that the world's third-largest economy was showing signs of picking up from the fallout of COVID-19, which included a hit to Japan's exports from a slump in global demand.
"The Japanese economy remains in a severe situation due to the novel coronavirus, but it is showing signs of picking up," the government said in its October economic report.
The economy suffered its worst postwar contraction in the second quarter and analysts expect any rebound to be modest.
The government already has announced $2.2 trillion in economic stimulus in response to the virus crisis, and analysts polled by Reuters said it should compile a third extra budget for the current fiscal year.
The government said the impact from policy measures at home and improvement in economic activity overseas supported hopes for a continued rebound in the economy.
But it also flagged the risk that coronavirus infections could further weigh on domestic and overseas economies.
While many countries eased coronavirus restrictions earlier this year, some have had to resume curbs as they face a second wave of infections.
Japan's government upgraded its view on private consumption for the first time in seven months due to more robust domestic demand for household electronics and higher nationwide hotel occupancy rates, especially in Hokkaido in northern Japan.
"It's very encouraging that consumption is picking up," Economy Minister Yasutoshi Nishimura said at a news conference after the cabinet approved the report.
"While capital spending, exports, production and employment are improving, it of course can't be said (economic conditions) have completely recovered so the overall assessment was left unchanged," he said.
The government stuck to its assessment that exports are picking up, according to the report.
But it downgraded its view on imports for the first time in seven months due to relatively weak shipments from the United States and the Asian region, a Cabinet Office official said.
The government's assessment of the remaining components in the report remained unchanged.
(Reporting by Daniel Leussink; Editing by Ana Nicolaci da Costa and Kim Coghill)
China's Li Sees Economy Returning to 'Proper' Range Next Year – Yahoo Canada Finance
The Canadian Press
NEW YORK — Best Buy Co. reported fiscal third-quarter results that blew through analysts' expectations as the nation's largest consumer electronics retailer enjoyed surging demand for items like home theatre and appliances that help people learn, cook, work and connect in their homes during the pandemic.
The Richfield, Minnesota-based retailer, said that third-quarter profits rose 33% while sales were up 21%. Sales at stores opened at least a year rose 23%, while online sales in the U.S. surged 174%.
Still, shares fell 5% in Tuesday morning trading as Best Buy warned that sales could slow down during the current quarter as the number of virus cases surge.
"As we start the fourth quarter, the demand for the products and services we sell remains at elevated levels, but similar to last quarter, it continues to be difficult for us to predict how sustainable these trends will be," Matthew Bilunas, Best Buy's chief financial officer, told analysts during the call. "In fact, we are seeing COVID cases surge throughout the U.S. and Canada at a time of significant holiday volume through our stores, online and supply chain. "
Bilunas also noted other factors such as potential government stimulus, the risk of continued high employment and the availability of inventory like computers to match customer demand.
Best Buy joins big box stores like Walmart, Target, Home Depot and Lowe's in reporting strong fiscal results. Unlike mall-based stores and other businesses that sell non-essentials, big box retailers were allowed to stay open during the lockdown in the spring and have all seen their dominance increase as consumers focus on necessities and home-related activities.
Before the pandemic, Best Buy had expanded its services to such options as at-home consulting and same-day delivery. It also sped up its online shipping. But the pandemic has forced Best Buy to adjust its operations and launch new shopping experiences that provide more convenience and safety for customers.
Early fall, Best Buy began using 250 of its stores as fast-shipping hubs for online orders. It's now adding 90 more locations during the holiday period. It says its goal is to have all 340 stores ship more than 70% of its ship-from-store units during the holiday quarter. It's also testing new store formats as it transforms locations to fulfilment hubs.
For example, in four Minneapolis locations, Best Buy reduced its square footage for shopping to 15,000 square feet from an average of 27,000. The product assortment on the sales floor will still include the primary categories these locations featured before the remodel, but instead the focus will be on the most popular items, the retailer said. The remodels will result in increased space for staging product for in-store pickup and to help ship-from-store transactions, as well as provide the ability to stage inventory for items that may not be on the sales floor.
Best Buy reported fiscal third-quarter profit of $391 million, or $1.48 per share, compared with $293 million, or $1.10 per share, in the year-ago period. Earnings, adjusted for restructuring costs and amortization costs, were $2.06 per share.
The results exceeded Wall Street expectations. The average estimate of 11 analysts surveyed by Zacks Investment Research was for earnings of $1.76 per share.
The consumer electronics retailer posted revenue of $11.85 billion in the period, also beating Street forecasts. Eight analysts surveyed by Zacks expected $11.02 billion.
Shares fell $6.69 to $1150 in late morning trading. Shares have increased 39% since the beginning of the year, while the S&P 500 index has increased 11%. The stock has increased 69% in the last 12 months.
____
Elements of this story was generated by Automated Insights (http://automatedinsights.com/ap) using data from Zacks Investment Research. Access a Zacks stock report on BBY at https://www.zacks.com/ap/BBY
Anne D'Innocenzio, The Associated Press
German economy grew by 8.5% in third quarter, but recession fears grow – The Guardian
BERLIN (Reuters) – Germany's gross domestic product grew by a record 8.5% in the third quarter as Europe's largest economy partly recovered from an unprecedented plunge caused by the first wave of the COVID-19 pandemic in spring, the statistics office said on Tuesday.
The stronger-than expected rebound was mainly driven by higher household spending and soaring exports, the office said.
"This enabled the German economy to make up for a large part of the massive decline in gross domestic product caused by the coronavirus pandemic in the second quarter of 2020," it added.
The reading marked an upward revision to an earlier flash estimate of 8.2% growth, and followed a 9.8% plunge in the second quarter.
The outlook is clouded by a second wave of coronavirus infections and a partial lockdown to slow the spread of the disease. Restaurants, bars, hotels and entertainment venues have been closed since Nov. 2, but shops and schools remain open.
Chancellor Angela Merkel and regional state premiers are planning to extend the "lockdown-light" on Wednesday until Dec. 20, according to a draft prepared for their meeting.
A contraction in the service sector is expected to weigh heavily on gross domestic product in the fourth quarter, while lockdown measures in other countries are likely to hit export-oriented manufacturers as well.
DIW economist Claus Michelsen said a decline in economic output was therefore on the cards, with initial estimates indicating a GDP drop of around 1% in the final quarter.
"Germany and many important trading partners are likely to slide back into recession," Michelsen said.
(Reporting by Michael Nienaber and Rene Wagner; Editing by Riham Alkousaa and EKevin Liffey)
No-deal Brexit would be worse for the UK economy than Covid-19, says Bank of England governor – CNN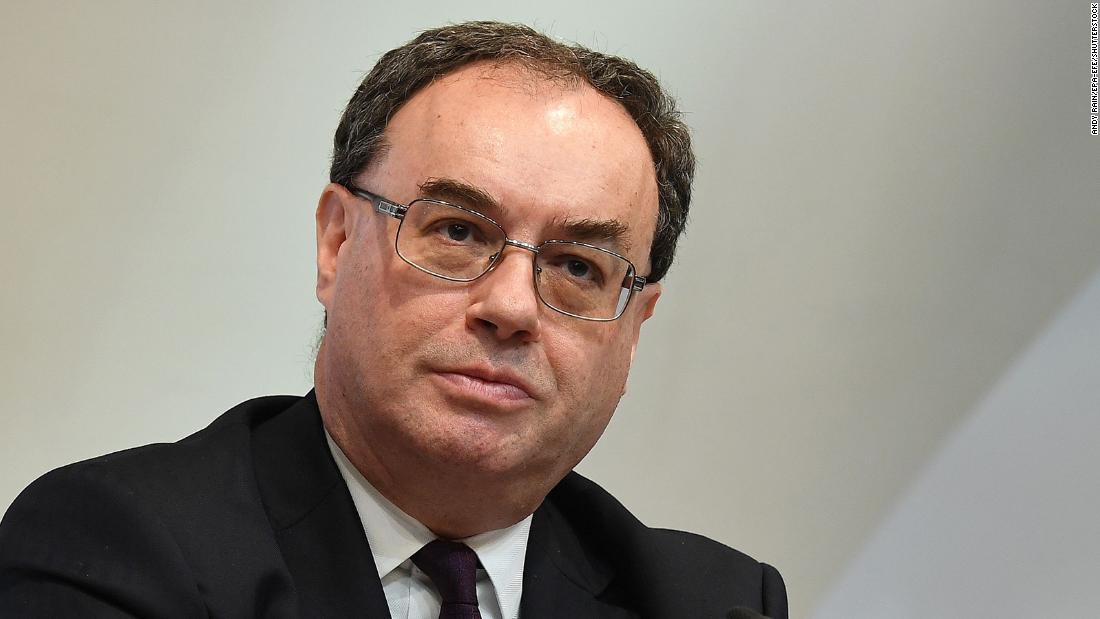 "I think the long-term effects … would be larger than the long-term effects of Covid," Bailey said Monday in response to a question from a lawmaker on what would happen if the UK government does not complete a deal before the December 31 deadline.
"It takes a much longer period of time for what I call the real side of the economy to adjust to the change in openness and to the change in profile in trade," Bailey added in testimony before parliament's Treasury committee.
The United Kingdom left the European Union in January. But the £670 billion ($895 billion) trade relationship has been largely unaffected so far because of a transition period that expires at the end of this year. Negotiators have been trying to hammer out a deal that will allow for tariff-free trade to continue. But progress has been slow, and chief EU negotiator Michel Barnier warned on Monday that "fundamental differences" still need to be resolved.
UK business groups are pushing Prime Minister Boris Johnson to secure a deal, saying that many companies have been stretched to the breaking point by the coronavirus and another round of lockdowns. Without an EU deal, UK-based firms face hefty tariffs, quotas and other barriers to doing business with the country's biggest export market starting on January 1.
The Bank of England forecast earlier this month that the UK economy will shrink by 11% in 2020. Economists are worried about "scarring" caused by coronavirus, but Bailey said on Monday that he was optimistic about the economy's ability to recover relatively quickly from the pandemic.
A change in the terms of trade with the European Union would produce more lasting upheaval, he suggested, comparing that outcome with modeling the central bank did decades ago showing it would have taken the UK economy between 30 and 40 years to adjust if policymakers had decided to drop the British pound and switch to the euro.
The UK government and the Bank of England have unleashed hundreds of billions of pounds worth of stimulus to help cushion the blow to business and workers from the pandemic.
Earlier this month, the central bank said it would increase its purchases of UK government bonds by £150 billion ($195 billion) to £875 billion ($1.1 trillion), and finance minister Rishi Sunak extended a furlough program through March 2021. The government will pay 80% of the wages of employees of businesses forced to close, capped at £2,500 ($3,270) per month.
Sunak said on Sunday that the economic situation in the country presents "a very difficult picture."
"The economy is experiencing significant stress," he told the BBC. "We've seen that particularly in the labor market, with people's jobs. We know that three quarters of a million people have tragically already lost their jobs with forecasts of more to come. Borrowing … is at record peacetime levels and more stress to come."
Sunak will deliver an update on the economic situation on Wednesday and sketch out his plans for borrowing and spending after the pandemic.