Mars Helicopter will highlight human 'Ingenuity' as it explores Jezero Crater – The Weather Network
NASA's new Mars Helicopter has a name! Thanks to Alabama highschool student Vaneeza Rupani, the robotic drone will be now officially be called Ingenuity.
In March of this year, to much fanfare, the new Mars 2020 rover received its new name, Perseverance, which was submitted to the NASA's 'Name the Rover' essay contest in 2019. The 1-ton nuclear-powered rover isn't the only robot launching to Mars on this mission, though. When it lifts off from Kennedy Space Center in July, a small robotic drone will accompany it, initially just called 'The Mars Helicopter'.
This artist concept drawing of the Mars Helicopter, now named 'Ingenuity', shows it flying above the surface of Mars' Jezero Crater, with the Perseverance rover in the background. Credit: NASA/JPL-Caltech
However, after the rover contest finished, the mission team wisely decided that the drone needed a new name, as well. Delving back into the finalists for the rover's name, the team looked over the eight remaining entries. After reading through the entry essays again, they made a decision.
As it explores Jezero Crater with the Perseverance rover, the Mars Helicopter will be called 'Ingenuity', the name submitted by Alabama highschool student Vaneeza Rupani.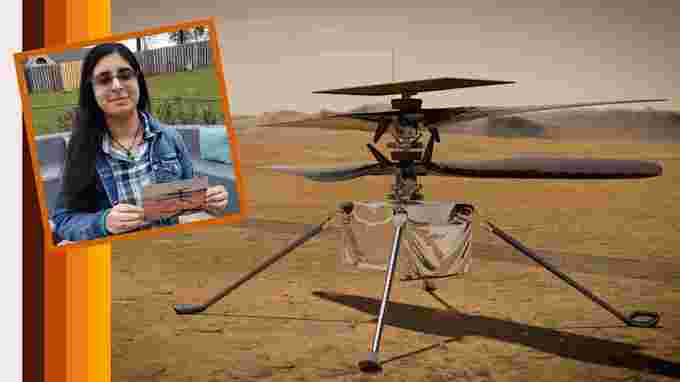 Vaneeza Rupani (inset), a junior at Tuscaloosa County High School in Northport, Alabama, submitted Ingenuity as a name for the Perseverance rover. Still, her name was instead chosen for the Mars Helicopter. Credits: NASA/JPL-Caltech/NIA/Rupani Family
"The fact that [Ingenuity] will be the first craft to fly in a controlled way on another planet is super-exciting," Rupani said in a Q&A with NASA. "Proving this is possible will open up multitudes of opportunities in space exploration. This milestone of adding an aerial element to the exploration of other worlds is extremely exciting!"
Watch below: Tiny HELICOPTER flying to Mars in 2020
Perseverance and Ingenuity will be exploring a very special location on Mars, known as Jezero Crater. Chosen based on satellite imagery, Jezero appears to have been a river basin at some point in Mars' distant past.
If there was ever microbial life on Mars, the layers of rock and sediment left behind from that river basin might contain evidence of that life. The hope is, Perseverance will be able to find that evidence buried there.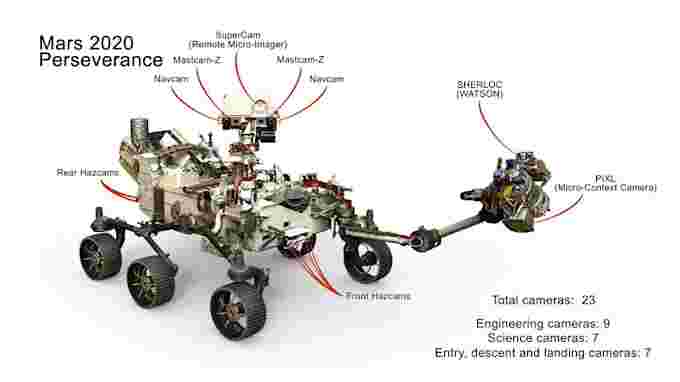 The 23 cameras onboard Mars Perseverance. Credit: NASA/JPL-Caltech
The Ingenuity drone is a 'flight demonstration', with only an initial 30-Martian-day (30 Sol) mission planned. It has passed all of its tests here on Earth, including flying in a small chamber that simulated the atmosphere and environment on Mars. Once it arrives at its destination, it will then test its flight capabilities on another planet.
If it is successful, though, the mission team will no doubt make it an integral part of Perseverance's exploration mission, for as long as it stays operational.
Its onboard cameras are primarily there to help it maneuver around its surroundings. The images it sends back to Earth, however, should also be of use to the team in quickly evaluating nearby targets for the rover to investigate.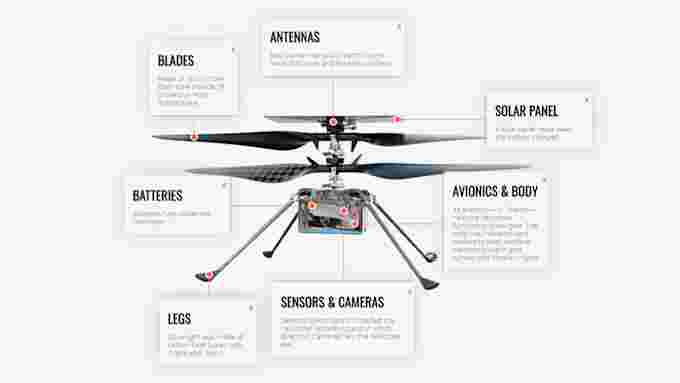 The various components of Mars Helicopter Ingenuity. Credit: NASA/JPL-Caltech
"In the early days of this project, the feasibility of flying at Mars was questioned," MiMi Aung, the Mars Helicopter project manager at JPL, said in a NASA statement. "But today we have a helicopter down at the launch site, installed on the rover and waiting to board the rocket which will carry us to the Red Planet. Like Vaneeza said in her essay, ingenuity and hard work led us to see beyond what was logical to what was possible. Now Ingenuity will have its chance to fly at Mars."
This pair of robots – Perseverance and Ingenuity – promises to be an exceptional team for exploring Mars!
Sources: NASA | NASA | NASA Mars
RELATED: PERSEVERANCE! NASA MARS2020 ROVER GETS ITS NEW NAME
B.C.'s "living dinosaurs" threatened by ocean warming and acidification – Straight.com
The world's warming oceans and the ongoing acidification of seawater are having a serious effect on B.C.'s rare glass sponges and their associated reefs, according to a study conducted by UBC researchers.
The sponge reefs—constructed by living glass sponges growing on the skeletons of previous generations—can grow to the height of a six-storey building and were thought to have become extinct worldwide about 40 million years ago, until the discovery of massive reefs 200 metres deep in Hecate Strait in northern B.C. in 1987 (although they had been observed as unexplained "mounds" on the floors of Queen Charlotte Sound and Hecate Strait during sonar surveys a few years previous).
At the time, the reefs were described by astonished scientists as "living dinosaurs". German paleontologist Manfred Krautter was quoted as saying their discovery in B.C. waters "electrified" him and was "like discovering a herd of dinosaurs on land", and the prehistoric constructs are often referred to as "Jurassic Park submerged".
Subsequent dives by scientists in submersibles determined that they were up to 6,000 years old and covered a surface area of up to 700 square kilometres. It is theorized that the sponges, which are living marine animals, started building reefs there after B.C.'s most recent glaciation period scraped the ocean bottom clean more than 9,000 years ago.
Since the first discoveries, another 19 glass-sponge reefs have been found in the Strait of Georgia, part of what is often called the Salish Sea. An American geologist found other, specialized, reefs off the coast of Washington state in 2007.
The sponges use dissolved silica—glass, essentially—to build skeletons constructed of needlelike so-called spicules. Although glass sponges are common around the world, only in very rare cases do they form reefs, building new structures on top of the skeletons of dead sponges. The relatively accessible reefs found in Howe Sound are unique in the world for their shallow depth of less than 40 metres.
The UBC paper—published on May 18 in Scientific Reports, an open-access, peer-reviewed journal—detailed the results of an experiment initiated by Angela Stevenson, a postdoctoral fellow at UBC's zoology department who is the study's lead researcher. Stevenson was aided by scientists from Fisheries and Oceans Canada's Pacific Biological Station in Nanaimo, Vancouver's Ocean Wise Research Institute, and UBC's department of botany.
Stevenson brought some examples of Aphrocallistes vastus—called the cloud sponge and one of three species of reef-building glass sponges found in B.C. waters—from Howe Sound to a UBC lab. Water temperature and acidity were then manipulated for a four-month study, resulting in the first successful long-term lab experiment involving living glass sponges.
""Their sheer size and tremendous filtration capacity put them at the heart of a lush and productive underwater system, so we wanted to examine how climate change might impact their survival," Stevenson said in a June 1 UBC news release.
The researchers were monitoring the sponges' durability, pumping ability, and skeletal strength. The results showed that the sponges experienced up to a 25 percent loss in tissue and a 50-percent reduction in pumpong capacity. Their bodies also became more elastic and lost about half their strength.
"Most worryingly, pumping began to slow within two weeks of exposure to elevated temperatures," Stevenson noted.
Glass sponges survive by pumping enormous volumes of water through their systems, filtering out the bacteria and plankton that they eat and purifying the surrounding seawater. It is estimated that the 19 reefs that are known to be in the Salish Sea can filter up to 100 billion litres of seawater every day, removing about 80 percent of the particles and microbes therein.
The Canadian Parks and Wilderness Society's (CPAWS) B.C chapter, which advocates to protect glass-sponge reefs, says that 95 percent of seawater bacteria are filtered out by glass sponges and that a small reef of the sponges will filter and clean a volume of water every 60 seconds that would fill an Olympic-sized swimming pool.
The reefs are protected by various conservation efforts in B.C's deep northern waters and shallower Salish Sea depths, including federal marine protected areas in Hecate Strait and Queen Charlotte Sound and smaller buffer zones in Howe Sound and the Strait of Georgia. CPAWS says that research shows both measuers require expansion to fully protect the delicate structures from potential fishing and resource-exploration damage.
Borttom fishing, especially trawling, can devastate glass-sponge reefs, and suspended sediment can choke the sponges' feeding filters and even kill them. Crab and prawn traps can damage or crush the sponge skeletons.
Jeff Marliave, an Ocean Wise senior researcher and paper coauthor, said in the release that more study is needed to understand how climate change might affect the reefs. "In Howe Sound, we want to figure out a way to track changes in sponge growth, size and area and area in the field so we can better understand potential climate implications at a larger scale. We also want to understand the microbial food webs that support sponges and how they might be influenced by climate cycles."
Stevenson had a cautionary thought about what is required to guarantee the future safety of the reefs, whaich have been described as "international treasures".
"When most people think about reefs, they think of tropical shallow-water reefs like the beautiful Great Barrier Reef in Australia," Stevenson said. "But we have these incredible deep-water reefs in our own backyard in Canada. If we don't do our best to stand up for them, it will be like discovering a herd of dinosaurs and then immediately dropping dynamite on them."
What a dinosaur's last supper reveals about life in the Cretaceous period – CBC.ca
A beautifully preserved armoured dinosaur found in an Alberta oilsands mine died on a full stomach. The "extraordinarily rare" preservation of its last meal offers new clues and surprises about how the dinosaur lived during its last days.
The 5.5-metre-long, 1,300 kilogram spiky, plant-eating nodosaur, similar to an ankylosaurus but without a tail club, is the only known one of its species, Borealopelta markmitchelli. (Its name means "shield of the north" and honours Mark Mitchell, the technician who spent 7,000 carefully extracting the fossil from the surrounding rock).
The nodosaur lived 110 million years ago during the early Cretaceous, in a lush forest of conifers, ferns and palm-like plants called cycads, near the coast of what was then an inland sea. At the time, the climate was warmer, similar to that of South Carolina, said Caleb Brown, a paleontologist at the Royal Tyrrell Museum of Paleontology in Alberta and lead author of the new study. It was published this week in the journal Royal Society Open Science.
The fossil was discovered by accident in 2011 by Shawn Funk, a shovel operator at the Suncor Millennium Mine near Fort McMurray. Paleontologists from the Royal Tyrrell were called to have a look and realized at once that it was no ordinary fossil.
While most fossils include only bones, this one included skin. It was so well-preserved that it has been described as "mummified."
In the dinosaur's belly, "there were these massive concentrations of what looked like rocks," Brown said.
Those were in a mass about the size of a soccer ball, and it appears they were gastroliths — rocks that some plant-eating dinosaurs use to grind up their food in their stomachs, as modern birds do, instead of using their teeth.
Sure enough, when chunks of the mass were encased in resin, sliced and examined under the microscope, the researcher could see well-preserved twigs, leaves, mosses, pollen and spores.
To get some help at identifying the plant material, the dinosaur researchers turned to paleobotanists, including University of Brandon researcher David Greenwood and his team, along with their retired Royal Tyrrell colleague Dennis Braman.
Ferns and charcoal
They discovered that the dinosaur was a bit of a picky eater. While it lumbered through a landscape that was lush with conifers, horsetails and cycads, there weren't a lot of those in its stomach.
"It's almost all ferns," Brown said, noting that ferns aren't actually very nutritious. "It wasn't just hoovering up everything on the landscape."
But to him, the biggest surprise was that the stomach also contained a significant amount of wood, mostly charcoal, suggesting it was feeding in an area that had recently been ravaged by wildfires.
"And that's a really cool result," Brown said. "Because if you look at large mammals that are herbivores today, they often seek out areas that are recovering from forest fires."
That's because the new growth tends to be lush, more nutritious than older plants, and low to the ground where it's easily accessible.
Forensic paleobotany
By looking at the types of spores and the fact that the twigs appeared to be in the middle of their growing season, the researchers figured out that the animal died during the wet season, which was late spring or early summer.
In Dinosaur Cold Case, a recent documentary about the fossil on CBC's Nature of Things, Greenwood said extreme storms and flash floods would have been a problem at that time of year on the coastal plain where the dinosaur and suggested that being swept away by rushing water may have been what caused its death.
The discoveries about the nodosaur's last meal are significant because to date, Brown said, "we know almost nothing about what herbivorous dinosaurs eat."
Only guesses can be made based on what plants lived nearby and the dinosaur's teeth. There are also clues in fossil dinosaur feces, but the plant material in those are often digested beyond recognition and it's difficult to know which dinosaur they came from.
Part of the problem is that finding preserved stomach contents from a dinosaur is "extraordinarily rare," Jim Basinger of the University of Saskatchewan, a co-author of the study, said in a statement.
Nine cases of possible dinosaur stomachs of plant-eating dinosaurs have been found, the researchers note, but most have turned out to just be plant material found nearby rather than actual stomachs. In this case, the dinosaur was washed far out to sea, without any plants from the landscape it lived in, before it was fossilized.
"So in this case we have what I would say is by far the best evidence that these are stomach contents," Brown said.
That said, he notes that it may not necessarily be representative of what this species normally ate, as an animal's diet can vary depending on its age, its health, and the seasonal availability of different foods.
Still, he said it's useful to be able to compare it to what scientists think plant-eating dinosaurs were eating at that time and raises new questions to investigate, such as: How much of this food a dinosaur this size would have needed to eat to sustain itself? And how did it digest it?
"I think give us a benchmark for figuring out how this animal may have lived."
'Strawberry Moon' to rise with a special eclipse for some skywatchers – Globalnews.ca
The full moon on Friday, June 5 might look a little different in some parts of the world, where the so-called "Strawberry Moon" will fall partially under the Earth's shadow.
The phenomenon, known as a penumbral lunar eclipse, occurs when the Earth comes between the sun and the moon, thereby casting a faint shadow on the moon. This penumbral lunar eclipse will make the full moon look slightly darker on part of its surface, although only some portions of the world will see it.
The penumbral lunar eclipse will only be visible from parts of Australia, Asia, Africa, Europe and South America, according to NASA's charts.
In other words, North Americans will need to watch a livestream on the internet to catch a glimpse of the event, which starts at 3 p.m. EDT. Nevertheless, the so-called "Strawberry Moon" will be visible to everyone.
That name comes from the time of year and not the expected colour of the moon. There are farm-related nicknames for the first full moon of every month, and the strawberry nickname originated from the Algonquin First Nation, according to the Old Farmer's Almanac. The first full moon of June often coincided with the harvest season for wild strawberries in North America, the Almanac says.
Although skywatchers in Canada and the U.S. will miss out on this penumbral lunar eclipse, they'll only have to wait a month to catch the next one. Another penumbral lunar eclipse is slated to happen on July 5, and that one should be visible from North America. The darkest penumbral lunar eclipse of the year is expected on Nov. 30.
A penumbral lunar eclipse also happened on Jan. 10, coinciding with that month's "Wolf Moon."

0:59


Timelapse captures moment sky darkens for total solar eclipse



Not to throw shade at the penumbral lunar eclipses, but they'll likely pale in comparison to the annular solar eclipse predicted for June 21. That's when the moon will pass between the Earth and the sun, making the sun look like a ring of fire for viewers in parts of Africa, China, northern India and Pakistan, according to TimeandDate.com.
Again, it won't be visible from North America — but you'll still be able to watch the whole thing online without risking eye damage from staring at the sun.
© 2020 Global News, a division of Corus Entertainment Inc.