Pop-up art installation to benefit Fredericton homeless shelter – Global News
With winter weather around the corner, Dr. Brian MacKinnon has set up a pop-up art show that will benefit the Out of the Cold shelter in Fredericton.
"This building was my ill-fated election headquarters," said Dr. Brian MacKinnon.
MacKinnon ran as a PC candidate in the provincial election for Fredericton South garnering 30 per cent of the vote.
And now he's putting the building to good use selling art he's made over the last three decades.
The Out of the Cold shelter in Fredericton takes in men and women who can't get a spot at the homeless shelters in the winter months.
"Personally I've been affected by it, with people who have been homeless from mental illness in my family," said MacKinnon.

1:52


Barista Brian uses latte art to raise funds for Fredericton's Out of the Cold shelter



The art installation is a mini-retrospective including drawings paintings, relief, plastic sculptures, paint sculptures and MacKinnon says he's excited to show it to the public.
The art is priced from a few hundred dollars to a few thousand, and MacKinnon is already making sales.
Andrew Russell bought a piece called 'If a man falls in the forest.'
"I just love the colours in the piece and I love the fact that it can mean so many different things to so many different people," said Russell, a Fredericton resident.
"I think at a time like this in 2020 during this pandemic the shelter needs more people like Dr. MacKinnon to step up," Russell added.
"That piece there with the soldier cradling the child really speaks to me, I had some experience as a solider overseas," said Brian MacDonald, another potential customer.
MacKinnon said the amount he'll donate is dependent on how much he sells.
The physically distanced pop-up art show is happening at 150 Smythe St. until Dec. 13.
© 2020 Global News, a division of Corus Entertainment Inc.
Ancient rock art shows prehistoric people 'used hallucinogenic drugs' – Yahoo Canada Sports
A swirl-like painting on the wall of a Californian cave has shown that prehistoric people were using hallucinogenic plants to create art.
New research found that the painting actually shows the flower of Datura wrightii, a plant used for its hallucinogenic properties in ceremonies.
Scientists from the University of Central Lancashire excavated the cave, and found that, as well as a painting of the plant, there were chewed materials from the hallucinogenic plant.
Datura is a powerful hallucinogen which has been associated with witchcraft or religious practices in many societies around the world.
The research was published in Proceedings of the National Academy of Sciences (PNaS).
Read more: Ancient drug pouch showed people took cocaine 1,000 years ago
Dr David Robinson, Reader in archaeology at the University of Central Lancashire (UCLan), said, 'The link between hallucinogens and rock art has long been suspected, and this research shows that it was not only a source of creative inspiration for these prehistoric groups of people, but a core tenet of important rituals and community gathering."
Datura was used in Native California as part of adolescent initiation rituals, where the root of the plant was processed into a drink for young people in the community.
Other material found at the site also suggests that the site was likely to be a communal space in which people would gather on a seasonal basis for hunting, gathering, food preparation, and eating
The researchers believe that the art played a prominent role in the daily lives of all members of the local community.
Read more: Astronomers find closest black hole to Earth
Dr Robinson says, 'These findings give us a far more in-depth understanding of the lives of indigenous American communities and their relationships, from late prehistoric times right up until the late 1800s.
'Importantly, because of this research, the Tejon Indian tribe now visits the site annually to reconnect to this important ancestral place.
Dr Matthew Baker, Reader in Chemistry at the University of Strathclyde and co-author, said: 'The combination of chemistry and archaeology in this project has truly shown the power of a multidisciplinary approach to uncover new knowledge. This was a gripping project and visiting these sites with Dave was truly memorable."
Artists want to turn the Sunday after Thanksgiving into Black Friday for art – MarketWatch
Charissa Brock knew from a young age that she wanted to be an artist.
The Portland, Ore., based sculptor began sculpting with bamboo in 1999 and later incorporated glass into her pieces, a nod to her mother's work as a glass artist. Brock sells her work through her website and online platforms like Etsy
ETSY,
-1.86%
and Artful Home, and she also teaches out of her home studio.
But when the COVID-19 pandemic hit, Brock said, "it felt like the whole world was shutting down." She lost a chunk of income when she had to cancel a year's worth of classes indefinitely, and lost potential sales from galleries and art fairs.
"As an artist, I thought, 'Oh my gosh, nobody's going to buy art when they're going to be struggling to buy food,'" she said.
Brock said her business has been "greatly impacted" by the pandemic, but she's hoping a new campaign called Artists Sunday will give her bottom line a lift.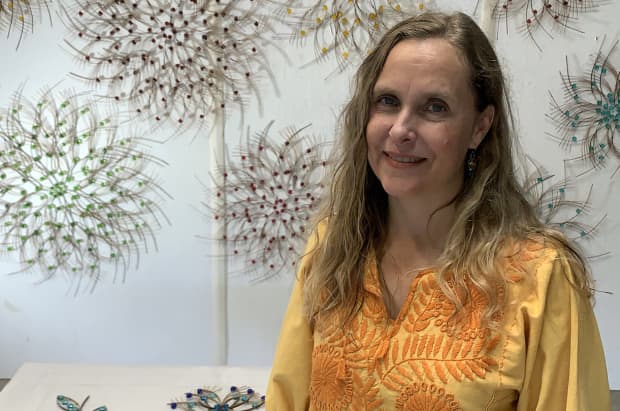 The nationwide initiative encourages consumers to do their holiday shopping with local artists and craftspeople. Photographer and entrepreneur Chris Sherman founded the movement when he noticed a bump in sales for his own photography on the Sunday after Thanksgiving last year.
Sherman started reaching out to recruit artists across the country in May, and now the campaign has brought together more than 3,000 participating artists and 400 arts, civic and economic development partner organizations who are promoting the idea of buying art this shopping season.
Sherman calls the art-focused shopping day, Nov. 29 this year, a virtual "national art fair with artists participating from all 50 states."
It's free for artists to join the online directory, and Sherman said the Artists Sunday team provides artists with a marketing toolkit and e-commerce tips.
"Artists love to be artists," he said. "Many of them don't want to focus on the business side — they'd rather be out there making art. We're trying to streamline that process for them so they can focus on their passion."
Sherman said Artists Sunday fits right in with all of the other shopping and spending events leading up to the holiday season, such as Black Friday, Small Business Saturday, Cyber Monday and Giving Tuesday. Sherman came up with the idea for Artists Sunday before the pandemic, but when state governments across the country started instituting lockdowns in the spring, he shifted his planning for the event into high gear.
"We know there's a lot of anxiety in the world right now, and many festivals and art fairs are being unilaterally canceled," he said. "Artists can't connect with consumers in a way that they would normally."
The creative economy has been hard hit by the pandemic
Creative industries nationwide have lost an estimated 2.7 million jobs and $150 billion in sales this year, according to an August study by the Brookings Institution.
"The creative economy is one of the sectors most at risk from the COVID-19 crisis," the report reads. "Arts, culture, and creativity are one of three key sectors … that drive regional economies. Any lasting damage to the creative sector will drastically undercut our culture, well-being, and quality of life."
The pandemic has put the fine and performing arts industries at a "crisis level," said Michael Seman, an assistant professor of arts management at Colorado State University and one of the authors of the Brookings report.
But, Seman said, it's not a total loss. The pandemic has shifted both artists' and art consumers' perspectives on the art business.
"We all know that the COVID-19 crisis has just devastated the arts," he said. "But what we are now learning is there are more channels to help fund the arts, and now we can embrace those."
He added, "I would have never thought of going to the internet to buy a piece from a gallery. But now that's definitely an option."
Some artists are offering discounted prices and free shipping
Sherman said he wants Artists Sunday to help artists compete with doorbuster deals at big-box stores that get the lion's share of sales during the holiday season.
One way to do that, he said, is to approach marketing and sales like these larger companies.
"Consumers react to a promotion, so the idea is to get artists to think that way as well," he said. Some artists participating in the campaign are offering deals such as discounts on their work and free shipping.
And even though people might have tighter holiday spending budgets this year, Seman said he still sees a demand for art.
"Some people are actually more interested in buying art because we're all stuck at home," he said. "People are inside and now they're reimagining their spaces."
Brock said her jewelry sales have been down since the pandemic because people aren't going out as much, but that her larger sculptures meant to display in homes are still relevant.
"Because people are in their homes more, and they're examining the spaces that they live in and trying to make them more compatible with being in their home for longer periods of time," she said.
A handmade gift can also serve to bring people together when everyone is so isolated, Sherman said.
"It allows you to maintain that connection with family in a very personal way, especially if you're social distancing," he said.
One Washington town is hosting an art walk
One town in Washington state is combining an already vibrant artist community with the Artists Sunday campaign to help bolster the local economy. In Issaquah, economic development leaders are making use of some shuttered storefronts and restaurants to showcase artists.
Corby Casler, the executive director and program manager of the Downtown Issaquah Association, said local artists will display their work on Artists Sunday, and that the city will provide a walking map so people know where to shop while still being safe.
In July, the Washington State Arts Commission designated Issaquah as a certified Creative District, so partnering with Artists Sunday "was a natural for us," Casler said.
"That designation not only helps us with grants, but it's also an acknowledgment that we can use art as an economic development tool," she said. "So that's exactly what we're doing for Artists Sunday."
A creative economy recovery strategy
While Artists Sunday could give a short term boost to artists, Seman said the United States will need a more substantial creative economy recovery strategy.
He called for a cabinet-level position in the White House for arts, culture and the creative economy to examine how the government can better integrate arts and culture within all aspects of American society like healthcare and housing and urban development. Seman also called for better economic support for artists.
"Artists are pretty much the poster children of the gig economy, so let's make them eligible for unemployment insurance," he said. "We're so far behind other countries in that situation, and yet we produce many of the leading creative minds in the world," he said. "If we just gave more support, it would be unbelievable what we could do."
For Brock, Artists Sunday means more visibility for her work. She said she looks forward to the opportunity to sell to a wider audience.
"I'm really hoping I get to use some of the cardboard boxes that I bought to ship things out in," she said.
Sculptureaday will teach you how to find art everywhere – CBC.ca
Since the middle of March, when the pandemic shut everything down, I've tried to go for a walk each day. First, it was around the block. Then, a few blocks. Now, I'll regularly find myself wandering neighbourhoods I didn't know existed. While my partner and I made astonishingly quick work of Vanderpump Rules and a dozen seasons of Below Deck, the streets and trails around our apartment have become a sort of entertainment that's just about impossible for me to exhaust. That's because every time I step out, I discover something new. Maybe it's a funny piece of graffiti, or a gargoyle scupper wearing a dopey look. One day, it was a small community of birdhouses built into a roof gable that caught my attention; another time, a pair of security cameras that looked like googly eyes. I take pictures of my findings. They become like private landmarks. The discoveries are generally small and often fleeting, but the enjoyment they spark is genuine.
For the past seven years, Port Moody, B.C.-based artist Sara Graham has catalogued such moments of curiosity, wonder and playfulness found within the urban environment. Her project, Sculptureaday (or SAD for short), shares one daily photograph featuring a peculiar form, gesture or assemblage spotted outside of the gallery setting that appears sculptural nevertheless. One recent post, for example, pictures a pumpkin-shaped mound of spent tape and packing paper left after a paint job. Another shows a weaving made from crisscrossing pipes. About 100 Canadian artists have contributed to the project, including Graham herself, who also curates submissions. Sculptureaday exhibits what rewards we can find by looking more closely at the world around us. It is a gallery dedicated to tiny, everyday marvels.
The project began as an office gag with her colleague, the writer and editor Bryne McLaughlin. The pair brought the idea online as Sculptureaday in 2013 and began inviting artist friends to participate. SAD's "accidental art" premise seemed to have its own gravity, and a small community of contributors and fans developed around the project. When her co-founder stepped away, Graham continued to steward the project solo. A Paintingaday blog followed almost naturally, collecting kindred discoveries of a more two-dimensional variety. Graham operates both daily. New contributors get sent into the wild with this definition: "(A SAD) is a found sculptural circumstance, a spontaneous constructed intervention or an unexpected observation in the urban world." Though the target may sound vague, with a little practice, Graham says, you'll know a SAD right when you see one.
Oakville, Ont.-based artist Steven Laurie is a frequent Sculptureaday contributor. He characterizes the subjects of his photography as the "subtle," "poetic," and sometimes "spectacular" moments found in ad hoc repairs and the decision-making special to everyday handyworkers. A broken emergency button at Toronto's Union Station made an early muse; it had been repeatedly but unsuccessfully affixed with tape to a cinder block wall. A more recent photo shows a neighbour's carefully manicured evergreen, which looks remarkably like the artist Paul McCarthy's famous sculpture, "Tree" (which is also to say: it looks like a sex toy). Another image — lit dramatically by the moon, nearby highway lamps and some fog — pictures a break area with a pair of picnic tables fenced in on three sides.
The same wonder, curiosity and playfulness we find in the gallery is all around us.
Before Sculptureaday, Laurie was an artist who made intricate and highly-fabricated machines. His observational photography originated as study work to inspire future sculptures — but a new house and a young family meant the long hours demanded for the design and manufacture of precise machinery "kind of went away." He had begun submitting some of these shots to Sculptureaday, and slowly, the picture-taking became his focus. "If it wasn't for Sculptureaday," Laurie says, "I wouldn't have gotten into photography in the same way." Through this platform, he's overhauled his artmaking and refined a distinct photographic voice.
East Vancouver artist Greg Snider is another one of the project's longest-running contributors. The Simon Fraser University professor emeritus says a good SAD sometimes exhibits a tic he recognizes from art history; other times, he's struck by something he cannot categorize, other than to say: "That's a thing! That's it! That's Sculptureaday!" One submission he points out roughly summarizes the whole endeavour for him. On a damp day, he found a glasses case that had been mashed into the asphalt of the street. In the photograph he made, some text printed on the case is still quite legible. It says: "Better vision for everyone." Sculptureaday has "sharpened" his vision, he says. He pays closer attention to where he is. He's seated better in the moment.
Another contributor, the Chicoutimi, Que.-based artist James Partaik, feels like he's "grown new antennas," a new "sensory input device" tuned acutely to his environment. Graham herself describes the Sculptureaday effect as a sort of mindfulness: "It causes you to be aware of your surroundings," she says, "but also to be aware that you are a part of your surroundings. As well as being an observer, you're participating in this moment."
The project trains us to bring the same close, critical and careful eye that we use to look at art to look at our everyday. If we can learn to do that, Graham says, we'll find that the same wonder, curiosity and playfulness we find in the gallery is all around us. So long as she and at least a few friends continue to encounter these moments so exciting that they demand a photograph, Sculptureaday will also continue — every day and maybe for the rest of our days.