Raptors' return to Golden State an undeniably special affair – Sportsnet.ca
Kyle Lowry doesn't do nostalgia. At least on demand.
Then again, when does the cantankerous Toronto Raptors point guard do anything that isn't his idea and on his timetable?
So, it's no surprise that as Lowry and the Raptors had their first opportunity to turn their attention to the most glorious moment in their history — both individually and organizationally — the franchise cornerstone wasn't quite ready to acknowledge it.
You might think Toronto's first engagement with the Golden State Warriors since — does it even need to be said? — deserved something other than the 'just another game' routine.
Lowry? Nah. Not yet.
Sure, every Raptors fan can recite the hits from last season's championship run on demand, and do regularly, but Lowry's been there and has the parade photos. When I asked him if it would be weird when the Raptors charter touched down in San Francisco for the first time since they arrived for Game 6 of the NBA Finals, Lowry wouldn't play.
"We always land in San Fran," he said, with a hint of mischief. "I really haven't even thought about it like that, honestly. But we always land in San Fran, just so you know. So it won't be weird."
Whatever, Kyle.
If you want to suggest that playing the Warriors for the first time since you had the greatest moment of your career, when you sprinted from the gates in a pressure-packed elimination game and put up 11 straight points before play-by-play man Mike Breen could catch his breath, infusing your team, the city of Toronto and an entire country with the belief that a championship would be won is no big deal, go right ahead.
No one believes you. And plus, they don't care. Any excuse to relive the Raptors' title run is a good excuse.
Now, a lot has changed since that stunning burst that opened the Raptors scoring in Game 6 and was a precursor to a signature 26-point, 10-assist and seven-rebound night.
The venue, for instance. The Raptors' championship win was the last NBA game ever played at Oracle Arena across the bay in Oakland. The Warriors have moved into plush new digs in San Francisco proper — Chase Center.
And the 2019-20 Warriors aren't quite the 73-9 Warriors of 2015-16 or even the injury-plagued group that couldn't hold back the Raptors tide last June. Kevin Durant is a Brooklyn Net, though he has yet to take the floor for his new team this season after tearing his Achilles tendon in Game 5 in Toronto. Klay Thompson will have missed this entire season after tearing his ACL in the second half of Game 6.
Steph Curry has played only four games for Golden State this year after breaking his hand on Oct. 30, effectively ending any realistic hopes the Warriors would even make the playoffs.
In one of those odd coincidences, Curry is set to return to the lineup on Thursday night against Toronto.
"Well, I think it's gonna be great to go to their new arena," said Raptors head coach Nick Nurse said. "Rumour has it that Curry's gonna make his debut, or whatever it is, re-debut.
"I would imagine they will be energized and the place will be excited and I hope we can get some rest and figure out a defence to stop him."
Funny Nurse should mention that. The Raptors — who have dealt with their own share of injuries this season — are hopeful to have Fred VanVleet (shoulder) back in the lineup. Also hopeful to return is Serge Ibaka (knee), although Marc Gasol (hamstring) remains doubtful.
It was VanVleet's tenacious defence on Curry — he was the 'one' in the famous 'box-and-one' defensive alignment Nurse broke out in Game 4 — that helped turn the series.
Curry shot just 41.7 per cent from the floor and 34.3 per cent from three over six games and VanVleet's defence — along with his own red-hot shooting, which included his closing 12-point volley in the fourth quarter of Game 6 — was a big reason none other than the venerable broadcaster Hubie Brown recognized VanVleet with a Finals MVP vote.
All the line-up changes have left the 2019-20 Warriors in a strange holding pattern after appearing in five straight Finals and winning three championships in five years.
This year's version is 14-48, the worst record in the NBA.
But there is optimism, too. Not only will the Warriors likely have a top-three draft pick to use this summer, they picked up another potentially high pick for 2021 when they dealt DeAngelo Russell — who they acquired from the Nets in the sign-and-trade deal for Durant — to the Minnesota Timberwolves. The picks should be fodder to either trade their way into more talent to resume what they hope remains a long contending window or to draft cheaper young talent for the same purpose.
Oh, and who else did the Warriors get for Russell?
How about former No. 1-overall pick Andrew Wiggins, perhaps the most scrutinized NBA prospect Canada has ever produced.
Stream the Raptors with Sportsnet NOW
Stream 200+ marquee NBA matchups from around the league, including over 40 Raptors games. Plus, get the NHL, MLB, Grand Slam of Curling, CHL and more.
The Warriors were excited about getting a head start integrating Wiggins into their winning ways after six years in Minnesota, perhaps the most chronically inept franchise not playing out of Madison Square Garden.
So far so good. Through nine games Wiggins is averaging 20.1 points and 3.8 assists a game while shooting a promising 46.5 per cent from the floor.
While the Warriors may not be the team Lowry pretends not to think about, having tumbled or at least taken a competitive pause this year, the Raptors have managed to keep their championship aspirations front and centre.
The idea that their title was the product of "Kawhi and the back-up singers," as VanVleet put it during the playoffs last season, has proven a myth.
The Raptors are in second place in the East, trailing only the Milwaukee Bucks, a regular-season juggernaut not far off the 73-win Warriors. League-wide they are just 4.5 games behind LeBron James and the Los Angeles Lakers, and are one game up on the Los Angeles Clippers, where Leonard skipped off to in order to build his own superteam.
And yet, Lowry claims he only looks forward, not back.
"It was awesome. But we're on to a new season," he said. "It's always about the next game, next season, right now. We're working on something right now and continue to try to build toward something that we did previously."
But the present has been informed by the past. The championship the Raptors celebrated here last June — and no one more passionately than Lowry — resonates through every fibre of the team that will take the floor Thursday night.
Not everyone is a stubborn as Lowry about it.
"Yeah, you think about that," said Raptors forward Pascal Siakam, whose breakout, All-Star season was launched on the platform provided by the Raptors title run. "Because you don't really realize what you did until sometimes you sit back and think about it.
"It's incredible what we did and I think most of the time when things aren't going well you can think back: We did that and we're capable, we have the people do it [again]."
And that, I'm willing to bet, is a premise Lowry would agree with, whether he'd acknowledge it or not.
2022 Stanley Cup Playoffs Game 7: Rangers host Penguins and Flames take on Stars on Sunday – CBS Sports
After three Game 7s on Saturday, the thrilling 2022 Stanley Cup Playoffs continue Sunday with another pair of win-or-go-home matchups. Those final two games will finalize the second round, making them must-see TV for hockey fans.
To close the first round, the Dallas Stars and Calgary Flames will battle at the Scotiabank Saddledome at 9:30 p.m. on ESPN2 and on fuboTV (try for free). The series has been a goalie showcase thus far, as Dallas' Jake Oettinger is No. 2 in save percentage in these playoffs while Calgary's Jacob Markstrom is second in goals against average. A Stars win would send them to the second round for the first time since their Stanley Cup final run in 2020, and Calgary is seeking its first playoff series win since 2015.
In an absolutely thrilling game, Artemi Panarin sent a shot to the right side of Tristan Jarry's net to put the Rangers into the second round of the Stanley Cup playoffs. Panarin was assisted by Adam Fox and Mika Zibanejad on the overtime game winner. Zibanejad was key for the Rangers' success late in the game as his goal at the 14:15 mark in the third period was what sent it to overtime. Penguins head coach Mike Sullivan was 3-0 in Game 7s coming into this game. His team finished the night with a 45-30 shot on goal advantage. Sidney Crosby did play in the game, after missing Game 6, and recorded an assist in the loss.
Follow here for all the live updates of what should be an extremely fun NHL Sunday night.
Maple Leafs show up but bow out: 'This one hurts more' – Sportsnet.ca
TORONTO – Better team. Better opponent. Same old devastating finish.
Sixth time's the harm.
Through lumped throats and hushed voices, while shot-blocking tears and puck-battling pain, one by one the leaders of the Toronto Maple Leafs stood at that familiar podium and tried to describe the opening of an old wound that seared fresh again.
"Hard to fathom," John Tavares said. "It stings. It hurts. Disappointing…. Such a fine line."
Auston Matthews: "We're right there…. We're right there."
Mitchell Marner: "We're getting sick and tired of feeling like this."
GM Kyle Dubas — the architect of this fabulously talented offensive core forever stuck on three playoff wins — has often noted that success is seldom a straight line.
But on another night like this, with hung heads and sad handshakes, when these great players fall to a ridiculous 0-9 in chances to eliminate an opponent, success feels like a flatline.
"This one hurts more," head coach Sheldon Keefe said. "Lots of reasons to be proud, yet lots of reasons to be devastated and upset.
"We're a lot closer than it appears."
The best version of these Toronto Maple Leafs is stuck with the same result.
They lost a 2-1 heartbreaker on home ice to the Tampa Bay Lightning Saturday and once again saw their post-season end in seven games or less.
The difference between this edition, this defeat, is they showed up and threw everything they could muster at the two-time champions. To think, Toronto never trailed in the series until the final buzzer.
The flip side of that fact is the Leafs led the set 1-0, 2-1, and 3-2. Given three cracks, they never seized a stranglehold. They dug a ditch and skated, albeit valiantly, from behind in games 5, 6, and 7. Hardly a smart recipe against the best third-period closeout squad in the NHL.
Look no further than Tampa out-shot-blocking Toronto 26-13 in last-goal-wins Game 7.
The Lightning have been doing everything imaginable to hang on over the past 13 days. The Maple Leafs everything they can to bust through.
And now they'll show up at training camp less scared but more scarred.
"The Leafs have a helluva team," said Tampa's Jon Cooper, who oversees one himself. "And they've been knocking at the door for so long. That's why such a big deal has been made about them not advancing in a series — because they are a really good team.
"I think they've grown as a group. I think their stars are stars. And they've got a really good team game and coach does a helluva job."
Indeed, heads should be held high. Or higher, at least.
"They've got all the pieces," Lightning captain Steven Stamkos said. "That's one of the toughest series we've played.
"They have everything. It's just, we have everything, too."
For this era of Leafs, this sick-and-tired result — Round One and done — tastes familiarly awful.
Unlike series-deciders of the past, these Maple Leafs were fast, engaged and aggressive from the drop of the puck. They looked different. Crisper.
And their long-suffering fans, loud as ever, funneled that energy back. Even when Nick Paul — that former Ottawa Senator who had been snakebit for six games — opened the scoring by banging in a Ross Colton rebound off the rush.
Toronto's Tavares appeared to tie the game 1-1 in the second period, but his clean shot was waved off due to a Justin Holl pick that gave the captain extra space in the slot.
Rush-jumping defenceman Morgan Rielly finally solved a dialed-in Andrei Vasilevskiy by finishing off a beautiful passing sequence by Marner and Matthews to knot the game for real.
"Both teams have knocked the other on the ass a little bit. Both teams have picked themselves up and continued to go at it," Keefe said.
"We've been right there with the back-to-back champs, and our guys have grown a ton of confidence in knowing they belong in this moment."
'Twas the Series of the Counterpunch.
The Team That Won't Die versus the Team That Can't Kill.
Naturally, Paul struck again, restoring the visitors' lead with a determined deke through T.J. Brodie.
"It might not be the big guy. It might be somebody that you've never heard of doing something that takes us to the next level," a prescient Corey Perry had said on Game 7 morning.
"These are where names are made. You show up for a Game 7, you're going to be remembered."
Toronto pushed, shot, got desperate, and came up empty again. The Leafs had no choice but to shake the hand, bend the knee, and tip the cap.
"How they defend as a team and how they prioritize defending and how they block shots and how they commit to give you nothing," Keefe said. "That's championship hockey."
The 2021-22 Toronto Maple Leafs should be remembered as a group that charged the throne. One that took a step in maturity, aggression and confidence — if not in the bracket.
Tragically, for this starved city, they will also be remembered as yet another skilled bunch who, ultimately, failed to accomplish the thing when it mattered most.
One that must look a little different come training camp.
"We had a lot of respect in that line from that team, which is nice to see. It was a much different tone, much different feeling of respect from the other side than we experienced previously. We're certainly earning respect," Keefe said.
"But… we're not in the respect game. We're in the winning game."
Fox's Fast 5
• Brayden Point fell awkwardly into the boards in the first period, twisting his right leg while outracing Mark Giordano to a puck. In terrible pain, the star forward immediately left the game. Point tried bravely to take a shift in Period 2 but could barely skate. Something to keep an eye on for the Battle of Florida.
• The Maple Leafs have scored zero power-play goals in their past seven games when attempting to clinch a playoff series. They had three opportunities to end that drought Saturday and came up empty.
• Matthews never registered more than five hits in a single regular-season game. He threw seven hits in Game 5, nine in Game 6, and six in Game 7. He left it on the line.
• A tidy bit of business by Julien BriseBois picking up rental Paul from the Senators for a fourth-round pick plus pending RFA Mathieu Joseph.
After 14 points in 21 regular-season games for the Bolts, Paul has been noticeable every night in his playoff debut. He had two even-strength assists and 10 shots prior to registering his first two career playoff goals, including the series-winner, Saturday.
• Vasilevskiy's ridiculous streak of five consecutive shutouts in Tampa closeout games is over. With the series on the line, he was one save better than Campbell in Game 6 overtime and one save better in Game 7. That's the difference.
Campbell's series save percentage: .897.
Vasilevskiy's series save percentage: .897.
"No goalie is immune to giving up goals. [The Rangers' Igor] Shesterkin is on the MVP ballot, and he's looked human some of these games," Cooper said.
"All I know about Vasi is, when the lights are shining the brightest, he seems to play his best."
Player grades: "Otherworldly" McDavid leads team effort as Oilers polish off Kings 2-0 in decisive Game 7 – Edmonton Journal
Article content
Kings 0, Oilers 2
Article content
Taut. Tense. Terrific.
These three T-words do as good a job as any to describe Edmonton Oilers' 2-0 win over Los Angeles Kings that finally turned a topsy-turvy seven game series in Edmonton's favour. The game was scoreless until well past the midpoint before a relentless Oilers attack was finally rewarded, and hung in the balance at 1-0 until less than four minutes to play. That's when Connor McDavid scored a Glenn Anderson-calibre clincher that simultaneously blew the roof off the joint while finally providing the home side some welcome breathing room down the stretch.
Make no mistake, the Oilers were the better team in the decisive contest, and at both ends of the sheet. They outshot the Kings 41-29 including a staggering 24-11 margin in a decisive middle period. They held a convincing 14-5 advantage in Grade A shots with a 7-2 edge in 5-alarm shots, those latter two counts logged by David Staples and myself here at the Cult of Hockey (running count).
Article content
Not quite a "perfect" outing by the home side, but tending in that direction. Not only did the Oilers not give up a goal, they didn't even take a penalty in the hard-fought but generally clean affair that saw just one official penalty called all night. They blocked 21 shots and were credited with 19 takeaways compared to just 9 giveaways. And in the process, the Oilers' first Game 7 win since another impressive shutout, 4-0 at Colorado, way back in 1998.
Odd facts of the series: 1) There was never a lead change in any game. The team that scored first would occasionally be tied but never trail in any of the 7 games. 2) The series itself featured the maximum possible THREE lead changes, as the arrow flipped from 1-0 LAK to 2-1 EDM to 3-2 LAK to 4-3 EDM. Thankfully, they stop playing games once one team gets to 4.
Article content
The formula for success in the last 2 wins was a nifty wrinkle by Jay Woodcroft on the 11F / 7D line-up, in which it was effectively the second line that had no centre. Instead, Evander Kane and Zach Hyman played with a rotating group of pivots from the first, third, and fourth lines. (Must be an absolute bear to match up against.) Meanwhile, all 7 d-men saw meaningful action and made meaningful contributions. Some pretty slick coaching going on, from where I sit.
And some excellent hockey. Plus grades all around after this beauty.
Player grades

#2 Duncan Keith, 7. Played a solid, safe game on the back end. While no goals were scored during his 19 minutes at even strength, the Oilers dominated all shot shares including 68% of shots on goal and expected goals of 76%.
Article content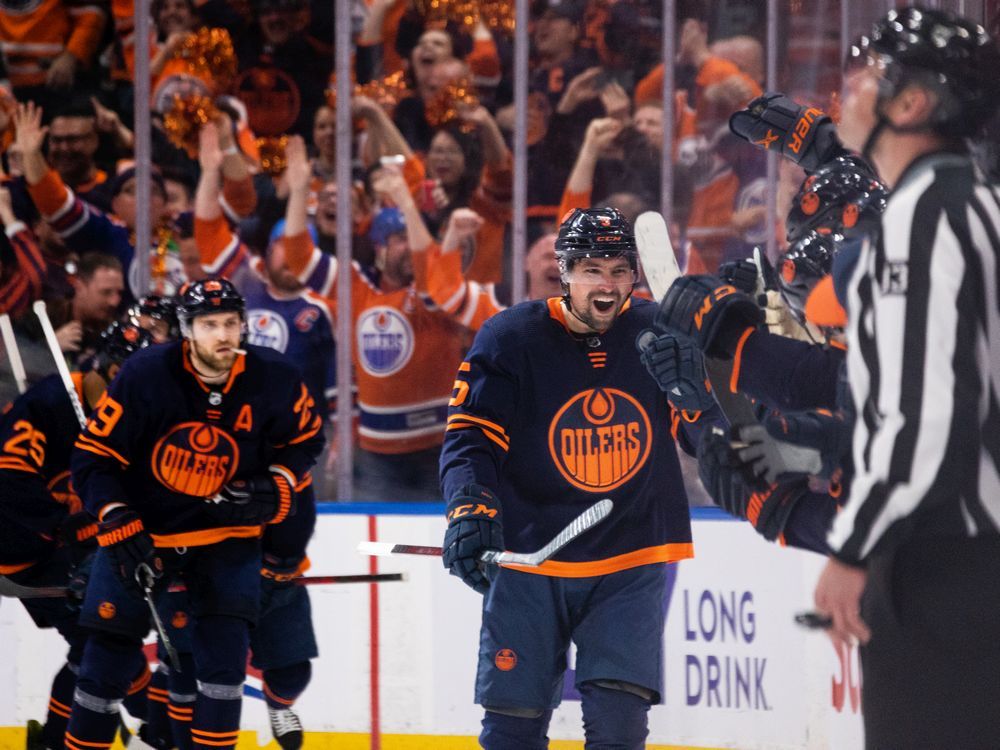 #5 Cody Ceci, 8. Had a coming out party in this series with major contributions at both ends of the ice. Scored his first goal of the playoffs at an excellent time, finally beating the stalwart Jonathan Quick 13 minutes into the middle frame by jumping into the high slot to take McDavid's feed and fire a well-placed shot past Mikey Anderson's accidental screen on the short side. It would stand up as the series-winning goal. 3 shots at one end, 3 blocks at the other, 1 very solid hit, and his usual sound defensive positioning. Finished the series 1-5-6, +8..
#6 Kris Russell, 7. Kept in the line-up as the seventh defenceman and more than covered that bet. His defensive effort is best encapsulated by this pair of stats: during his 8:44 of ice time, all at 5v5, Russell blocked 3 shots, while his goaltender only had to stop 1.

Article content
#10 Derek Ryan, 6. Consistently chipped the puck to good places to keep the cycle alive or at minimum leave the opposition with 200 feet to travel. So-so shot shares but made mistakes on precisely zero Grade A shots against. 5/11=45% on the dot.
#13 Jesse Puljujarvi, 6. Solid two-way play in limited action (6:50). 1 shot, 2 hits, excellent cycling and positive shot shares. Playing left wing for the first time in memory, and adjusting pretty well.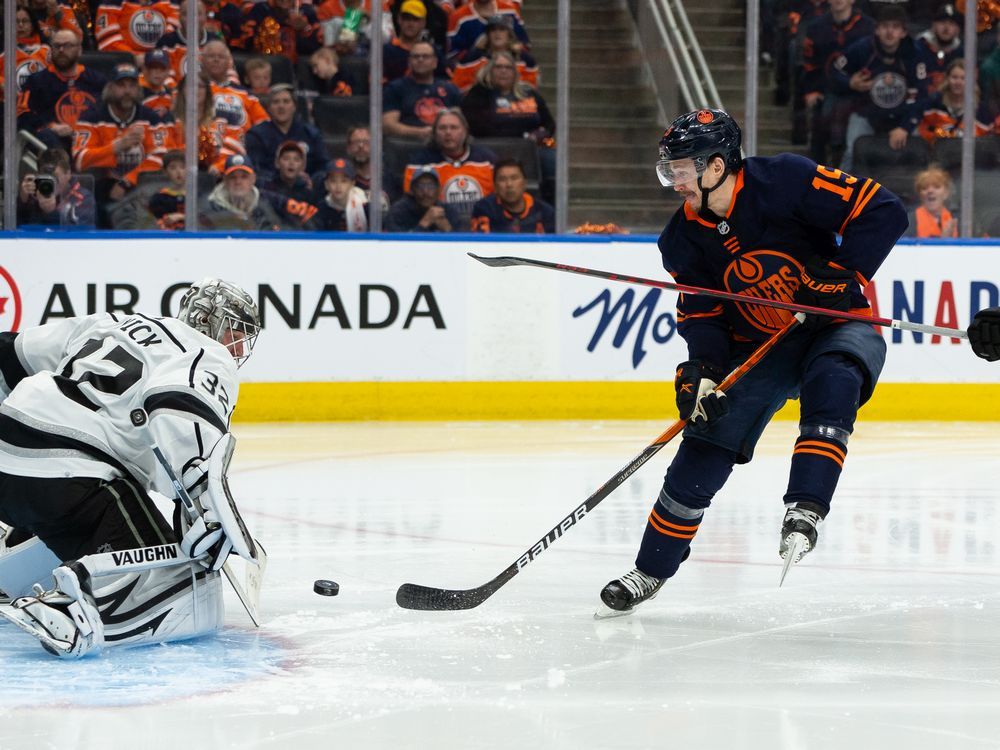 #15 Josh Archibald, 7. The Corsi Police wouldn't like his on-ice stats, but Archibald was a tenacious physical force in a series where the Oilers needed a little pushback against the likes of L.A. grinders Mikey Anderson, Matt Roy, Brendan Lemieux, Carl Grundstrom, and the freshly-retired Dustin Brown. Despite missing Game 1, Archibald led both teams with 33 hits in the series including 6 in the finale. He also had a couple of shots on net including a terrific breakaway attempt that was foiled by an outstanding stop.
Article content
#18 Zach Hyman, 7. A buzzsaw on the puck, Hyman won battles in all 3 zones. Led both teams with 7 shots on goal, many of them jam plays, while chipping in on 4 Grade A shots by the Oilers, none against. Numbers like 3 hits, 1 takeaway, 1 block speak to his involvement when the other guys had the puck.
#22 Tyson Barrie, 6. Game 6 scoring hero had no such moments in the spotlight this time, just a dependable game on the back end with positive shot shares and zero defensive issues.
#25 Darnell Nurse, 7. Repaid the teammates who bailed him out for his suspension in Game 6 with a solid effort. Looked a little more refreshed than when last we saw him, and played a far more proactive, Nurse-style game with 7 shot attempts, 2 hits and 4 blocks while posting solid shot shares primarily against the Anze Kopitar line. Made a great block of a dangerous Adrian Kempe shot in the early going. His own best shot was similarly blocked by Blake Lizotte. Did have a couple of defensive issues, notably on a powerful rush by Kempe that looked eerily similar to the overtime winner in Game 5. Fortunately Smith had the answer this time.
Article content
#27 Brett Kulak, 7. The new dad responded to his changing life circumstances with another impressive outing in Game 7. Fast on the puck and quick to move it in the right direction. His signature shift may have been when he won a race to a 50/50 puck at his own blueline to nullify a dangerous looking rush, then seconds later made a terrific keep-in at the offensive blueline. Earned a secondary assist on the clincher after winning a post-faceoff puck battle in his own end that contributed to McDavid and Yamamoto heading up-ice with speed.
#29 Leon Draisaitl, 7. Clearly labouring physically, he nonetheless found ways to contribute, his well-honed ability to feed the puck to McDavid high among them. Earned an assist on the first goal with an early touch of the puck, but his greater contribution was away from the disc when he engaged Anderson, causing a screen of Quick while opening a narrow shooting lane which Ceci hit perfectly. Minded his p's and q's on the defensive side, highlighted by a superb sequence where he chased Lizotte all the way across the Oilers blueline before eventually forcing the disc to safety. 0-1-1, +2 in an astonishing 22½ minutes.
Article content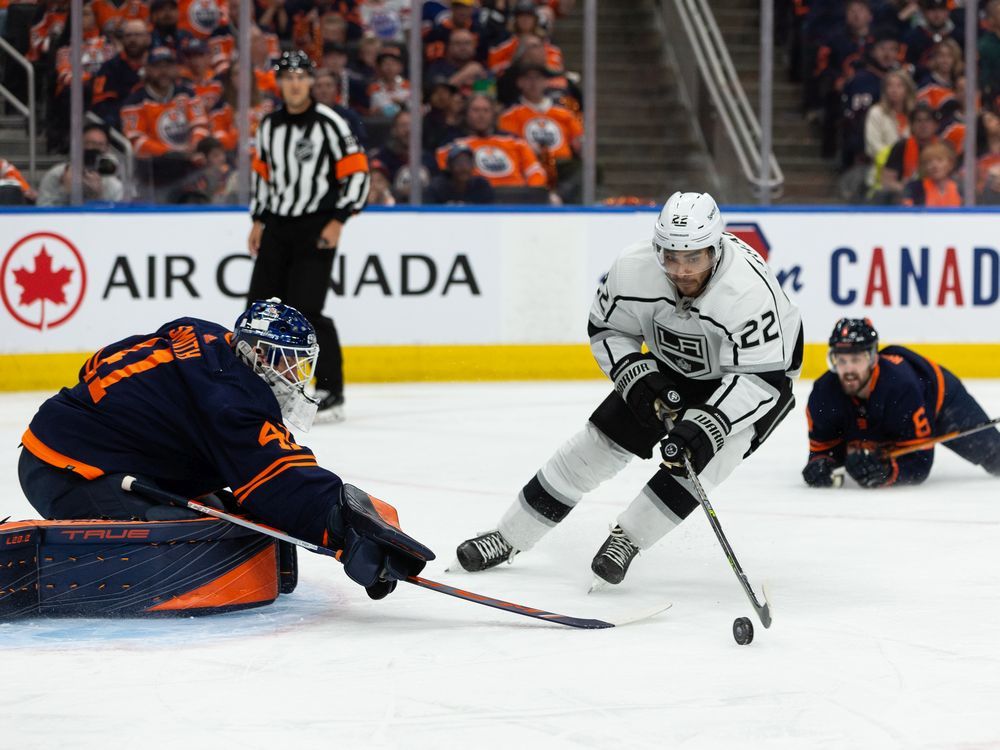 #41 Mike Smith, 9. A pillar of strength between the pipes. Didn't face a lot of glorious chances, but stopped all that he did face and scads of outside shots through traffic. Tracked the puck extremely well and controlled his rebounds expertly on those few occasions there were any rebounds at all. Did sprawl like a beached whale a couple of times but got some help from his mates on those occasions. On a night where he easily could have been the second best goalie on the ice (Jonathan Quick was outstanding at the other end), he slammed the door. 29 shots, 29 saves, 1.000 save percentage. Indeed, the shutout in his first career Game 7 earns Smith +1 on his grade. Ended the series with excellent stats including a 2.29 goals against average, .938 save percentage, and most importantly, 4 wins.
Article content
#44 Zack Kassian, 7. He like Archibald brought a consistent physical element, especially in the early going. Had a game high 7 hits including a couple of real doozies. Mashed Grundstrom and Anderson with heavy darts. Solid shot shares buttressed by 3 shots off his own stick. Sound on the defensive side of the puck.
#56 Kailer Yamamoto, 8. All over the ice, and the puck. Made a leaping play at the offensive blueline to keep the play alive in the build-up to the 1-0. Nearly scored the 2-0 himself when he found iron on a quick shot through traffic, but did set it up later with a good cross-ice pass that found a streaking McDavid hitting the line. His celebration of the goal that followed was a highlight in its own right. 2 shots, 2 blocks, 2 takeaways, 3 hits, and a pristine 4-0 in contributions to Grade A shots.
Article content
#71 Ryan McLeod, 8. Totally engaged and invested in Edmonton's biggest game of the year. Skated miles. Cleaned up a few situations in his own end, and got the puck moving north with an impressive 5 takeaways. Split his time almost evenly between two very different pairs of wingers — Kassian / Puljujarvi and Kane / Hyman — and held his own with both. 2 hits, 1 block. Made a mistake on a Kings Grade A shot, but contributed to 2 of those at the good end. Broke even (4/8=50%) on the dot, always an acceptable outcome for a rookie in a black art dominated by crafty veterans.
#75 Evan Bouchard, 7. The puck was moving north on his shift, with the Oilers posting a 70% share of expected goals during his nearly 20 minutes at even strength. Alas, one of the reasons none of those expected goals didn't materialize on the scoresheet was his inability to hit the net with any of his own shot attempts, of which there were 10 — 7 were blocked and 3 missed the target, even as 1 of those rang the iron. (Man, this guy hits a lot of posts and cross bars.) On this night did his best work in the d-zone, boxing guys out, breaking up passes, winning puck battles, moving the disc efficiently and using his partner to best advantage. His best sequence may have come defending a 2-on-2 rush by the skilled duo of Philip Danault and Trevor Moore midway in the third; Bouchard held his lane as they did a criss-cross drop pass attacking his side, then stuck with Moore to first block his shot, then finish the check hard in the corner before chipping the puck quickly up the boards towards puck support.
Article content
#91 Evander Kane, 7. Another night at the office with 5 shots, 3 hits, and 91% (!) expected goals. Actual goals were hard to come by, with his best chance pulled off the goal line by Andreas Athanasiou of all people. Nonetheless, 18 sawed-off minutes with just 4 shots against helped the cause on this night. Power forward finished the series with crooked numbers across the spectrum: 7-2-9, +5, 16 PiM and 32 hits.
#93 Ryan Nugent-Hopkins, 7. Severely limited in his usual feature roles on special teams, he delivered a sound defensive game at even strength. Won more than his share of battles along the way, one of which sprang Archibald on his breakaway. His regular line spent plenty of time behind their own blueline but with little damage; Nuge's shot shares soared when playing with the two "extra" wingers Kane and Hyman, including 6-0 shots in just 3½ minutes with Kane. A team best 7/13=54% on the faceoff dot.
Article content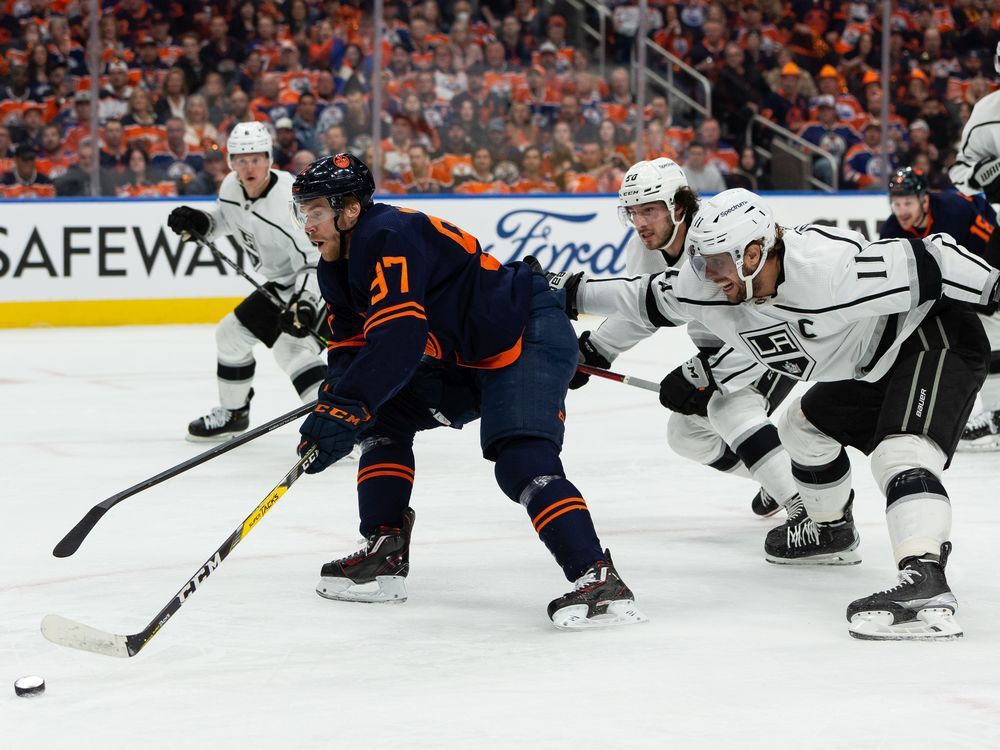 #97 Connor McDavid, 10. A third consecutive scintillating performance, over which time he was on the ice for (wait for it) 10 out of 10 Oilers goals, so why fight it. Playing like a man possessed just now, spinning out of checks like the Tasmanian Devil on Red Bull. Started his night by running over Sean Durzi with a massive open ice hit and took charge from there. Played a monstrous 27:23, with 12 shot attempts, 6 of them on net, 4 hits, 2 takeaways, and of yeah, 1-1-2, +2 in a 2-0 game. Earned a primary assist with a fine feed to Ceci. Easily could have had a couple more with a pair of brilliant setups of Yamamoto. Was all over the defensive zone, including a couple of key clears. With 4 minutes to go he put the game away at 2-0 with a brilliant sequence in which he first drew a (delayed) penalty by Durzi; while the King stopped to argue the call, McD carried on to jam a wraparound try that barely failed, then somehow recovered the pinball rebound in his skates and roofed a backhand from the slot. That set off a frenzied celebration by the player himself, his teammates, the packed house, and the thousands more watching on the big screen outside. What a moment, and what a game.
Recently at the Cult of Hockey
STAPLES: Kane brings some swagger to Oilers
LEAVINS: Player grades in Game Six
McCURDY: Reuniting the "nuclear option" for Game 6
Oilers player grades vs. Kings