Richmond youth encourage peers to get involved in politics – Richmond News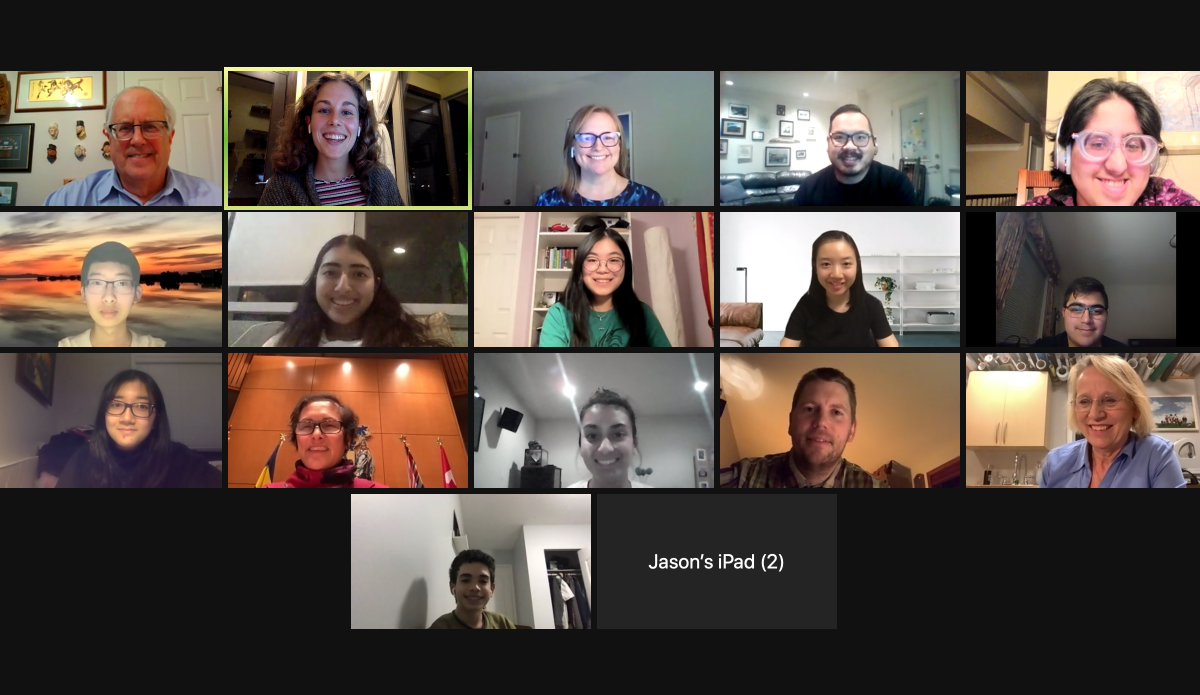 There's a lot happening at the City of Richmond that most residents are unaware of – this was one of the first impressions Sarina Sandhu, 17, got when she started taking part in the city's Youth Civic Engagement program.
Before starting the program, she attended a city council meeting last year and was impressed by a number of environmental awards given to the city.
"I think people tend to underestimate what a great city Richmond is and I wanted to learn more about what role the government plays in that," Sarina said.
So, when her social studies teacher told her about the program, she jumped on board.
Sarina is getting together with a group of like-minded youth every week over two months – on Zoom – to learn more about politics at the city level and learn how decisions are made.
This includes meeting with city staff and members of city council as well as a mock city council meeting.
"I was hoping to learn about opportunities for youth to get involved in politics and more specifically municipal politics," Sarina explained. "That's something that affects us – it's small, it's easier for us to get involved."
And Sarina is learning about what the city can control and what belongs to other levels of government, for example, that education is under the provincial jurisdiction but roads and community safety fall under the city's purview.
Top priorities for Sarina in civic government are community service and community safety. She noted the crime rate in her area is pretty high and she'd like the city to tackle that issue.
Zachary Andrade, who is in Grade 11 at Steveston-London secondary, joined the Youth Civic Engagement program wanting to earn about the inner workings of the city.
One lesson he's taken away from the program is that city government is a "slow-moving process," and just chopping down a tree or demolishing a house involves a lot of steps.
But learning about the history of Richmond, about horseracing in the city, the internment of the Japanese during the Second World War, the original Indigenous groups, has been an eye-opener for him.
Zachary was impressed when he learned during the program how many protected ecosystems there are in Richmond, and he hopes all residents work to conserve the environment.
"There's always something more that we could be doing just in our every day lives that can impact the environment in some small way," Zachary said. "And those different changes can make a larger change on a bigger scale over time."
The students have been meeting with local councillors and the mayor during their sessions.
Sarina said she was surprised at how meeting them was "not so formal" and they could have a casual conversation with them. (Sarina asked Mayor Malcolm Brodie who was the most famous person he'd met, to which he replied, "the Queen.")
Sarina would like to see more youth involved in the community – either through their school's city council or by volunteering with a political campaign, a great way to "network," she said.
During the fall provincial election, Sarina volunteered on Coun. Alexa Loo's provincial campaign, handing out flyers and knocking on doors.
Through student council at her school, Hugh McRoberts secondary, Sarina was able to give input into the school district's strategic plan, its blueprint for the future.
Zachary sits on the Steveston Youth Council and he's learning how to put on and promote events. Currently, the group is promoting Pink Shirt Day with virtual events over several weeks.
Small events like these can "boost the morale of the community," he said. Even a small, one-day event can make someone's day or week, he added.
Sarina is planning a career in medical lab sciences, but she is also considering running one day for public office, perhaps at the provincial or federal level.
While Zachary is interested in politics, he isn't sure if he wants to get involved as it seems a stressful job with lots of competition, one in which "you're never going to make everyone happy."
But that doesn't mean Richmond residents should rest of their laurels.
"Even if you're not interested in a career in politics, you should know the basics of what makes a government tick and how even the people seemingly lowest on the totem pole in terms of power (are) still significant – everyone has a role to play in the way our community runs," Zachary said.
How Giving Up Ableist Insults Can Help Heal Our Politics – Forbes
The long struggle to unlearn ableism may have an unexpected side benefit. It could help us make today's politics and public discourse a little less toxic.
American politics were never as friendly as we like to think they once were. But they have felt particularly nasty for quite a few years now – that's not just our imaginations. Most of us have a vaguely-defined but strong and understandable desire to "go back" to a kinder, less tense and corrosive dialog with our neighbors and fellow citizens – in person, on social media, and especially in politics.
How do we achieve civility when real issues divide us? Our conflicts are more than just rudeness and pointless rivalry, although we have more than enough of those, too. Real grievances need airing, and real injustices cry out for accountability. Does civility mean compromising on our own or other people's humanity and worth? Should human rights be open to debate? Is bipartisan harmony really better, if we simply agree on who will remain oppressed and precisely how much? When the stakes of political argument are real and life-altering, harmony and bipartisanship for their own sakes seem a little less important.
Still, we aren't wrong to crave a bit more mutual respect and a more chill atmosphere in politics. The trick is figuring out how to get there without simplistic difference-splitting or unilateral surrender. How do we make our politics more polite and respectful, while still standing firm for our beliefs and working on real solutions to our difficult problems?
One way we might start rebuilding respect without backing down on substance is to give up one specific and popular rhetorical style. We might stop calling our political opponents "stupid" and "crazy." It seems like a small thing. But we might find that kicking the habit of insulting people based on intelligence and sanity is a remarkably low-cost way to lower the temperature of politics, and turn us away from petty name-calling so we can focus on the conflicts that really matter.
It's not just about banning two words, "stupid" and "crazy." It's about weaning ourselves off the entire approach of criticizing opposing political views by calling those who hold them unintelligent or irrational. It's taking care to stop calling people "idiots," "morons," and "dummies" – or calling them "nuts," "certifiable," and "insane."
It's what most of us seem to do when we are so frustrated by "the other side" that we can't even describe exactly what's wrong. We slap a label of "stupidity" or "insanity" on it, and rely on deeply ingrained, fundamentally ableist contempt and fear to do our arguing for us. We know it's not the most noble form of debate. But it's so common and, frankly, often so emotionally satisfying that giving up the practice won't be easy. We will need good reasons to give up this easy and seductive brand of name-calling.
First of all, it really is ableist. "Stupid," "crazy," and their equivalents may or may not insult a particular disabled person in any given situation. But these terms always support the core ableist assumption that intellectual impairments and mental illnesses are inherently bad and invalidating. We use intelligence and rationality this way in political arguments because of the widespread belief, or maybe just a habit of thinking, that intellectually disabled and mentally ill people don't have ideas worth listening to – that they are worthless and dismissible. If those ableist assumptions really weren't there, the words wouldn't have the same power and effect, and we wouldn't be so in love with using them against our political foes.
But these insults and labels aren't just offensive to people with intellectual and developmental disabilities, or those with mental illness. And they aren't just harmful in the way they uphold ableist assumptions about people with those disabilities. Labels and insults based on intelligence and mental illness also add more pointless rancor and incivility to our politics and public discourse. These kinds of insults further foul our already hateful political discourse this without any compensating benefit to anyone, including those of us who use them.
They make political conflicts personal, distracting us from real issues and ideas of consequence.
They aren't in the least persuasive or helpful to better understanding, because they short circuit real discussion of substantive issues.
Instead of helping us explore the outlines and contours of our disagreements, they signal superiority, contempt, and dismissal.
Using mental illness diagnoses for political and ideological purposes also has a dark history, including in Soviet Russia where political dissidents were often branded as "mentally ill" and detained, based partly on the idea that only an "insane" person could disagree with approved doctrines.
Meanwhile, calling actual cruel, bigoted, violent people – and both extreme anarchists and authoritarians too –"insane" or "stupid" lets them off lightly. It also distracts us from more serious and specific problems like racism and other forms of bigotry, and from political violence which brings literal harm and suffering, and threatens the core of democracy itself. It's much easier to call racists and terrorists "idiots" and "lunatics" than to contend with the deeper things that actually drive their thinking and actions.
Over several decades, intelligence and mental illness insults, both explicit and implied, have also fueled two of the key narratives of our current political divide:
First there is the perceived conflict and unbridgeable cultural gulf between "elite" liberals who think conservatives are ignorant, unintelligent, or mentally ill, and "heartland" Americans who feel disparaged and looked down upon by "costal, liberal elites." Like all stereotypes, these are often exaggerated. But judging by rhetoric alone, at least some of the Left's contempt for the Right really does seem based on perceptions of intelligence and sanity.
It's a theme heard loudly and explicitly in pretty much every speech at a Trump rally, and further illustrated by numerous stories on Fox News and other conservative media outlets. And it's a narrative heavily reinforced from both Left and Right through whole sectors of popular culture, from music to comic books, and from movies and TV shows to comedy acts and beer commercials.
Then there is a kind of mirror version of this conflict, in which a certain strain of conservative or libertarian believes themselves to be the smart ones, grounded in a more logical, objective, and honest form of intelligence and rationality that overly emotional, hopelessly indoctrinated liberals lack. They don't believe that they just happen to be smarter and more rational than liberals. A particular type of intelligence and rationality is at the heart of their own perceived political identity, as is the supposed "stupidity" and "irrationality" of their opponents.
This is most notable in the niche popularity of "rational" or "skeptical" communities on social media and especially YouTube, much of which in the last several years has moved to the Right politically and is driven by contempt for "social justice warriors" of the Left. Again, their core argument is that they are smart and rational, while left-wing "Social Justice Warriors" are "dumb" and "illogical."
In both cases, intelligence and rationality are championed as the ultimate validations, while stupidity and insanity are the ultimate put-downs. Roughly speaking, "both sides" really do seem to do it, though it's rarely an even match. The point is that there seems to be a broad consensus across the political spectrum that it's both a fact and a strong argument to call your political opponents "stupid" or "nuts."
This specific brand of rhetoric is just one of many factors fueling incivility. Giving it up won't solve everything. But it is a factor, and moving away from it may be one of the easiest ways to foster a better political atmosphere, because it doesn't involve any real concessions from anyone.
By at least trying to move to less ableist rhetoric, we may find that we are contributing to civility. If we stop insisting that we are smarter, mentally healthier, or fundamentally better people than our opponents, it won't undo our substantive conflicts. But it could remove part of what makes our natural divisions wider: contempt for the other, and the feeling that the other holds us in contempt.
Unlike other changes and trade offs, this one should be relatively easy, or at least simple. We really can stop calling our political opponents "stupid" or "crazy," or any words for judging intelligence and sanity. Instead, we can refocus on criticizing ideas, actions, and arguments, with evidence and compelling counter-arguments.
It won't end ableism, and it won't create total harmony in politics. But it could reduce the sum total tonnage of both ableism and political rancor in everyday life. It seems worth a try on both counts.
'It's a Minefield': Biden's Pick For Health Secretary Faces Abortion Politics – NPR
As President Joe Biden works to overhaul U.S. health care policy, few challenges will loom larger for his health secretary than restoring access to family planning while parrying legal challenges to abortion proliferating across the country.
Physicians, clinics and women's health advocates are looking to Xavier Becerra, Biden's nominee to run the Department of Health and Human Services, to help swiftly unwind Trump-era funding cuts and rules that have decimated the nation's network of reproductive health providers over the past four years.
But Becerra's in the middle of confirmation hearings this week. And though he fought the Trump administration's family planning restrictions as California's attorney general, he will, if confirmed by the Senate, face a U.S. Supreme Court dominated by Republican appointees, plus other increasingly conservative federal courts that have backed efforts to restrict reproductive health services.
The leader of Biden's Health and Human Services team will also have to contend with an energized anti-abortion movement — a movement eager to leverage political power in red state legislatures to finally achieve its decades-long quest to ban abortion outright.
Any Biden administration efforts to preserve the right to an abortion and other family planning services could set up new legal battles between the federal government and states.
"It's a minefield," says Mary Ziegler, a law professor at Florida State University who has written extensively about the history of the nation's abortion debate.
"Expectations on both sides are extremely high," she says. "And the Supreme Court may force the issue to the top of the agenda if it does something aggressive to restrict abortion."
The outlines of the brewing showdown came further into focus Tuesday as Becerra faced opposition from a number of Republicans on the Senate health committee on the first of two days of confirmation hearings.
"For many of us, your record has been … very extreme," Sen. Mike Braun, R-Ind., told Becerra at the hearing, accusing him of being "against pro-life." More than three dozen groups opposed to abortion rights have urged the Senate to reject Becerra, who has been a longtime advocate for abortion rights and federal support for contraceptives.
By contrast, Becerra has drawn strong support from abortion rights groups, which have applauded his efforts challenging Trump restrictions on family planning services. "He will be a great partner," says Alexis McGill Johnson, president of the Planned Parenthood Federation of America.
Becerra, whose wife, Dr. Carolina Reyes, is an obstetrician, is scheduled to appear before the Senate Finance Committee on Wednesday, after which his nomination is expected to move to the floor of the Senate next week for consideration by the whole body.
Successive presidential administrations since the 1980s have restricted or expanded federal support for family planning, depending on which party controlled the White House.
But tensions between the two sides intensified under President Donald Trump, making the task before Biden and Becerra that much more delicate.
Trump, who relied heavily on political backing from religious conservatives, moved more aggressively than his GOP predecessors to curtail access to abortion and clamp down on federal funding for clinics that provide reproductive care.
Organizations such as Planned Parenthood that long received federal money through the half-century-old Title X program were forced out of it when the Trump administration effectively barred recipients of federal aid from providing abortions or counseling women about the procedure.
That move, in turn, led to widespread staffing cutbacks at clinics across the country and huge drops in the number of people able to get family planning services, according to health care providers.
"We're seeing so many fewer clients," says Brenda Thomas, chief executive of Arizona Family Health Partnership, which coordinates the state's Title X program. Thomas said the number of patients in Arizona's program dropped 24% in 2019 after the Trump administration issued the new rules; it then declined an additional 40% in 2020, as the COVID-19 pandemic further hampered services.
In Missouri, a provider operating three family planning clinics left the program, leading to a 14% decrease in patients getting services through Title X, according to the Missouri Family Health Council.
And in California, the Title X restrictions led to a 40% reduction in patients in 2019, says Lisa Matsubara, general counsel at Planned Parenthood Affiliates of California.
Like many other family planning advocates, Matsubara says Biden needs to do more than just reverse the cuts. "We don't want to just, like, go back to what it was before the Trump administration," she says. "We're really looking and hoping that the administration really takes the necessary steps to expand access."
Biden has pledged to rewrite the family planning regulations so clinics providing reproductive health services can return to the program.
Within days of taking office, Biden issued an executive order to reverse other family planning restrictions imposed by the last administration, including rescinding what's come to be called the global gag rule that prevented international aid groups that receive U.S. funding from counseling pregnant patients about abortion.
Rolling back some federal policies, like the restrictions on international aid, are relatively simple. Biden and Becerra likely also could quickly reverse Trump-era restrictions on mifepristone, a pill used to induce abortion early in a pregnancy.
But rewriting rules on funding for family planning or reissuing other complex regulations could be considerably more fraught, experts say.
"Both sides have really learned how to maximize use of courts," says Alina Salganicoff, who directs women's health policy at the Kaiser Family Foundation, a health policy nonprofit. (Kaiser Health News is an editorially independent program of KFF.)
"If anyone understands the legal challenges, it's Becerra," Salganicoff says. "But these are thorny issues. There are questions about how the Biden administration can move forward and how fast. And there's no question they are going to be sued."
After taking office, Biden said his administration would review the Title X restrictions, which are also under review by the Supreme Court.
As California attorney general, Becerra sued to stop the Trump administration rules. The case was rejected by lower federal courts, though a separate lawsuit in Maryland challenging the rules was successful, setting up the case for the Supreme Court.
Last month, the court issued its first abortion-related decision since Trump appointee Amy Coney Barrett replaced Ruth Bader Ginsburg, upholding a Trump-era rule that blocked mail delivery of mifepristone.
Many legal experts see more substantial court fights on the horizon as conservative-leaning states pass increasingly restrictive abortion laws.
Just last week, South Carolina Gov. Henry McMaster, a Republican, signed a bill barring abortions as soon as a fetal heartbeat can be detected with ultrasound, or about five or six weeks after a pregnancy begins.
The South Carolina law was temporarily blocked by a federal judge after Planned Parenthood filed a lawsuit.
The Supreme Court has never upheld a law as restrictive as South Carolina's. But the high court is the most conservative it has been in decades, raising the prospect that justices may reconsider the landmark 1973 Roe v. Wade decision, which recognized the right to an abortion.
That could force Biden — and potentially Becerra — to step much more directly into efforts in Congress to safeguard abortion rights, says Ziegler, the Florida law professor.
"There will be huge pressure on the Biden administration to do big, bold things," Ziegler says.
KHN (Kaiser Health News) is a nonprofit news service covering health issues. It is an editorially independent program of KFF (Kaiser Family Foundation) that is not affiliated with Kaiser Permanente.
Is Political Discrimination In The Workplace Legal? – Forbes
A picture has been making the rounds on social media, showing a sheet of paper, presumably posted at a place of business, which states the following:
"Job Applicants Please Note:
We do not hire LIBERALS. (emphasis original)
This is not because we disagree with their political views.
It is because working here requires superior reasoning, logic and reading comprehension skills, and in our experience, Liberals are deficient in those areas.
We have found that they make decisions based on their emotions, not logic. This would be very detrimental to our business.
We regret any inconvenience this may cause."
It looks like this first made its appearance on social media a few years ago, but seems to have resurfaced recently.
It's unclear if this was really posted by an employer or if it's just a political meme placed online to cause some trouble. Either way, it presents two interesting questions about employment discrimination law.
We're on the heels of one of the most partisan eras of politics in our country's history. So when it comes to the workplace, can an employer go so far as refusing to hire someone just because they're a "liberal?"
Workplace Discrimination Based on Political Views
To a large extent, private employers may discriminate against their employees and job applicants based on political beliefs and some political activities. This is because political behaviors and beliefs are not protected classes under the major employment anti-discrimination laws, such as Title VII of the Civil Rights Act of 1964. Also, First Amendment protections do not apply in the private employment setting.
And because most employees are employed at-will, their employers can fire them for any reason at any time, without notice. Two major exceptions to at-will firings are when they are illegal or against public policy.
Public employees have a few more rights in regards to political activity protections, as the First Amendment comes into play. However, these rights are not absolute and government employers can still fire or discipline employees for their political behavior in some situations.
Many states and local jurisdictions have enacted anti-discrimination laws that provide varying degrees of political protections in the employment setting. California's laws are among the most robust, prohibiting employers from discriminating against employees and job applicants based on their political activities or affiliations.
In contrast, a few other states have laws that don't directly offer political protections. North Dakota prohibits employers from discriminating against employees or job applicants based on their lawful, off-duty activities that occur away from the employer's premises.
One thing to note is that while most states have some sort of law that provides employees or job applicants some degree of protection against politics-based discrimination, they are usually very specific in their application. For instance, they may not apply to political beliefs or views, but instead, a limited range of political activities like making a political campaign contribution or running for office.
Yet a select few jurisdictions may apply their politics-based anti-discrimination laws more broadly. Examples include Seattle, Washington, where discrimination based on "political ideology" is prohibited and New Mexico, where discrimination based on political beliefs or views is unlawful.
Therefore, in most states, an employer can legally refuse to hire someone because they are a "liberal." But one of the risks for employers is that discriminating against someone because they are a liberal could be a pretext for illegal discrimination.
An employer who wishes to only hire men may believe that liberals are more likely to include women. So instead of discriminating against women, they just say they have a hiring policy against liberals. If this is what's really happening, then a "no liberals need apply" hiring policy would likely be an example of an unlawful pretext.
The Bottom Line
While it may be true that employers have a fair degree of flexibility to hire or fire their employees based on political disagreements, there exist some contextual protections for employees against this behavior depending on where they live; moreover, companies who exercise this right too readily may find themselves in legal hot water for other types of discrimination in turn.