Samsung Galaxy S20, S20+, S20 Ultra and Z Flip rumor round up – GSMArena.com news – GSMArena.com
After months of leaks and speculations, it's almost time to watch Samsung officially unveil the Galaxy S20 generation. But while we count down the last hours until the Unpacked event, we decided to summarize everything we think we know about the phones.
First off, there will be three models – S20, S20+ and S20 Ultra. In lieu of a lesser "e" model, this year Samsung decided to include a more premium "Ultra" phone as the third option.
The Galaxy S20 and S20+ will be available in 4G and 5G flavors with a €100 difference in price between the two. It's not clear if you'll be given a choice, however, as markets with burgeoning 5G networks may only get the 5G models (countries with no 5G will only receive LTE phones, of course). The Ultra model will be available only in 5G.
The Samsung Galaxy S20 Ultra will be the only one to feature a 108MP main camera with Nonacell (9-in-1) pixel binning to produce 12MP shots. The 10x periscope zoom cam will also be exclusive to the Ultra, which will use a 48MP sensor with "100x Space Zoom" mode. The camera hump on this one will be thicker than on the others, not surprising given the extra hardware. Besides packing a larger 6.9" screen, the Ultra may be the only one to have a stainless steel frame.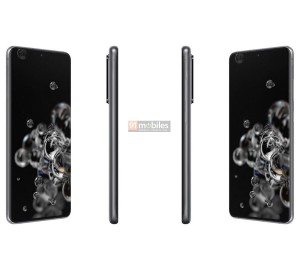 Samsung Galaxy S20 Ultra in Cosmic Gray
The Samsung Galaxy S20+ and the S20 will use a 12MP main camera instead. However, the new sensor will have larger pixels than the 12MP sensor found inside the S10 (1.8µm vs. 1.4µm). The telephoto camera will feature a 64MP sensor and will use cropping to achieve zoom. Also, it is said to record 8K video at 30fps, which will make these the first phones with usable 8K mode.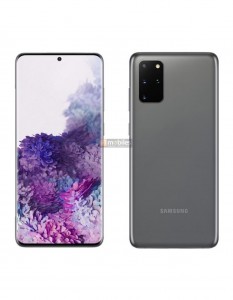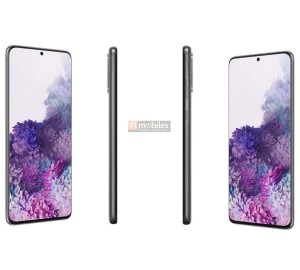 Samsung Galaxy S20+ in Cosmic Gray
All three S20 models will have a 12MP ultrawide camera. The S20+ and S20 Ultra will also have ToF cameras on the back. By the looks of it, all three phones will use the same 10MP selfie camera of the S10 generation (but this time the punch hole is centered).
The Samsung Galaxy S20 will be the smallest of the three with a 6.2" screen (vs. 6.7" for the S20+). All three S20 phones will have 120Hz screens, though this may be available only in 1080p mode (that's the software rendering resolution, the physical matrix of the screen will remain at 1440p).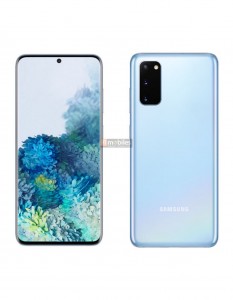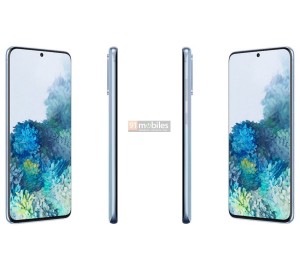 Samsung Galaxy S20 in Cloud Blue
Expect to see Snapdragon 865 chipsets in more regions than before. In fact, the Exynos 990 chip may be used only in Europe and a few other regions (the UAE, according to a premature listing by Amazon). Whatever the chipset, the phones will have up to 16GB of RAM, though the top capacity may be reserved for the 5G models.
The Galaxy S20 Ultra will be bundled with a 45W charger while the other two will have 25W adapters in the box. Samsung is also expected to include a AKG-tuned USB-C headset, but people pre-order the phones will also get Samsung's latest TWS earbuds.
Expect a increased prices compared to last year's S-series. Here's a table with the rumored prices for each model in Europe and the US:
| | | | |
| --- | --- | --- | --- |
| | Europe | UK | US |
| Samsung Galaxy S20 | €900 (8/128GB) | £800 | $1,000 |
| Samsung Galaxy S20 5G | €1,000 (12/128GB) | £875 | |
| Samsung Galaxy S20+ | €1,000 (8/128GB) | £1,000 | $1,200 |
| Samsung Galaxy S20+ 5G | €1,100 (12/128GB) | £1,075 | |
| Samsung Galaxy S20 Ultra 5G | €1,350 (12/128GB) | £1,145 | $1,400 |
| Samsung Galaxy Z Flip | €1,400 | £1,300 | $1,400 |
Note that pre-orders will come with a free pair of Galaxy Buds+, which have an MSRP of €170.
The new foldable phone, the Samsung Galaxy Z Flip will also be unveiled a the event – Samsung even aired a commercial during the Oscars. This phone will use older tech, including a Snapdragon 855+ chipset and 4G-only connectivity. The camera department will be less impressive too with a dual 12MP camera on the back (wide + ultra wide). Fast charging for the 3,300mAh battery will be limited to 15W.
[embedded content]
However, this will be the first foldable to have Ultra Thin Glass (UTG) covering the display, which should make it much more resistant to scratches than previous phones (which had plastic screen covers). That's for the internal screen, there will also be a secondary 1.1″ display on the outside for notifications.
In Europe, the Galaxy S20 pre-orders are expected to start shipping in early March and reach consumers on March 6.
The Galaxy Z Flip may be out even sooner, at least in the US – several major carriers are expected to have it by February 14 (not Verizon, it seems as it has the competing Moto Razr 2019 foldable).
Samsung Galaxy Z Flip 4, Galaxy Z Fold 4 receive 50,000 bookings in just 12 hours! – HT Tech
Samsung Galaxy Z Flip 4 and Galaxy Z Fold 4 have received 50,000 bookings in a mere 12 hours. Here is what the company informs.
The recently launched Samsung premium smartphones, Samsung Galaxy Z Flip 4 and Galaxy Z Fold 4, have garnered more than 50,000 pre- bookings in less than 12 hours, the company informed. The information was provided by Raju Pullan, Senior Vice President and Head of MX sales at Samsung India. The record figures came on Day 1 of the pre-booking opening for foldables on August 16, according to a report by IANS.
"Samsung is targeting to sell 1.5 times more foldable phones this year. We are confident of meeting our target because the new foldable phones come with huge upgrades as compared to last year," Pullan told IANS. Meanwhile, according to a report by PTI, Samsung also feels the ongoing worries on inflation are unlikely to dent the demand for mobile phones in India, adding that it sees a healthy double-digit growth in volumes this year.
Aditya Babbar, Samsung's head of product marketing said, "All our internal estimates show that the market will grow at a healthy number and we will outpace at 2x." In the premium category alone, it is looking at a 1.5-times growth in sales over the last year, he added.
It can be known that Samsung has launched a total of 16 devices across various customer segments this year with the Samsung Galaxy Z Flip 4 and Galaxy Z Fold 4 being the latest. According to a report by PTI, the newly-launched phones in the premium segment will be stocked in 10,000 stores and will be available at 12,000 points to aid the overall sales.
Samsung Galaxy Z Flip 4 Price
Priced at Rs. 89,999 for the 8GB+128GB variant and Rs. 94,999 for the 8GB+256GB variant, the Samsung Galaxy Z Flip 4 is available in several colour options including Bora Purple, Graphite, and Pink Gold colours.
Samsung Galaxy Z Fold 4 Price
Priced at Rs. 1,54,999 for the 12GB+256GB variant and Rs. 1,64,999 for the 12GB+512GB variant, the Samsung Galaxy Z Fold 4 is available in Graygreen, Beige and Phantom Black colours.
Apple iPhone 14, iPhone 14 Pro Surprise Early Release Leaked In New Report – Forbes
The next Apple special event is just days away, if the latest report is correct, and will take place on Wednesday, September 7.
That's according to Mark Gurman at Bloomberg, who has just reported the date he believes is correct. To be fair, he wasn't the first to predict this date. Last week, Max Weinbach floated the idea that the event would be on September 7, not September 13 as had been previously mooted. This meant that the likely release date for the next iPhones, not to mention a range of three Apple Watch models and perhaps the next AirPods Pro, could also be brought forward.
The possibility that the event could take place in the week commencing September 5 had been discounted, because the release is routinely a week later. And anyway, Monday, September 5 is a holiday, so flying in staff and press from around the world on a holiday for an event on Tuesday, September 6, seemed unlikely.
Unless, that is, the event is virtual rather than in person. Gurman believes the event is being recorded, so a virtual event is likely.
Moving the event date (virtual or in-person) to a Wednesday, though not unprecedented, is unusual. But holding an in-person event on Wednesday, September 7 would solve the problem of relocating staff and guests on a public holiday.
But a virtual event? I get the thinking behind this, and after all, Apple is very cautious about how it holds its events when Covid is not that far in the rearview mirror.
Even so, I think Gurman is wrong when he says, "The company intends to stream the event online — rather than holding an in-person gathering — continuing an approach it adopted at the start of the pandemic."
In June, Apple staged a highly successful hybrid event, with a pre-recorded keynote played out on a huge video screen in Apple Park to hundreds of developers, selected guests, and press.
If that was possible then, why not hold a hybrid event now with a smaller guest list, as no devs would be likely to be invited?
That event began with a live appearance from Tim Cook and Craig Federighi introducing the keynote broadcast and it worked well. My guess, and it's no more than that, is that this is the format that Apple will follow this September when it announces its new iPhones and more.
Of course, we won't know until invites go out, and until the second they do, Apple can instead opt for a virtual-only event, something I think it would only consider if there's a sudden spike in Covid transmissions in California. If that happens, then it has its pre-recorded keynote up its sleeve.
So, what does all this mean?
Whether the event is live or virtual, assuming it happens on Wednesday, September 7 at 10AM Pacific, then the shiny new iPhones, Apple Watches and AirPods Pro will go on sale on Friday, September 16, I believe.
Stay tuned for more details as they emerge.
Oppo's ColorOS 13 update has a built-in pixelation feature for message screenshots – The Verge
Oppo is launching its ColorOS 13 update today, and has detailed the features that are on the way for its devices as they're upgraded to its flavor of Android 13. Oppo — which like Vivo, OnePlus, and other Chinese brands is controlled by the tech giant BBK Electronics — says the update will be arriving first on the Find X5 and Find X5 Pro this month, ahead of its release on around 33 additional models in the Find, Reno, A, F, and K ranges before the end of the year.
One of the smaller features worth calling out is a neat pixelation feature that'll be available for screenshots in WhatsApp and Messenger chats. A new "Pixelate" option appears in the editing window, which can be tapped to automatically blur out the contact's name and profile picture (as shown in the animation above). You can also use the tool to manually blur out the contents of messages. It could be a helpful little feature if you want to quickly share a message exchange without revealing every detail.
As you'd expect, ColorOS 13 includes many of the standard features that Google has built into this year's Android update such as enhanced privacy settings or the ability to mirror Google Messages on a paired Chromebook. There are also some obvious similarities with Oppo sub-brand OnePlus' recently announced OxygenOS 13 update, which runs on the same underlying codebase as ColorOS. The two updates share the same always-on display widget designs, including one for Spotify with built-in playback controls, as well as similar design tweaks that include home screen widgets and resizable folders.
But there are also some new features for ColorOS 13 that have yet to be announced for OxygenOS. For example, Oppo has announced a new "Multi-Screen Connect" screen-mirroring feature which will allow up to three windows from a phone to be displayed on a connected Windows PC. That includes two background apps alongside one direct mirror of a phone's display. The connectivity also simplifies the transfer of files between a smartphone and Windows, according to Oppo's announcement.
Another small-yet-potentially-handy feature is something Oppo is calling "Meeting Assistant," which is designed to improve the reliability of calls made via Zoom, Microsoft Teams, or Google Meet by prioritizing their traffic data over other apps. It also reduces the size of incoming notifications in an attempt to make them less distracting while on a call.
Under the hood upgrades claimed for ColorOS 13 include the debut of what Oppo is calling the "Dynamic Computing Engine," which it says will increase battery life and allow more apps to be kept open in the background.
The launch of ColorOS 13 comes just days after the official release of Android 13 for Pixel devices, making Oppo one of the first third-party Android manufacturers to start rolling out the latest version of Google's operating system. Check out Oppo's graphic below to see its projected timeline for the update to be available across its range of handsets.