Stunning Rupert Murdoch deposition leaves Fox News in a world of trouble – The Guardian
In his 71 years as a media executive, Rupert Murdoch has proved himself to be a grand master in the arts of survival. He has weathered bruising battles with British trade unions, the phone hacking scandal, countless ratings wars and a volatile private life, all the while growing his News Corp empire into global colossus.
It was against this seven-decade backdrop of seeming invincibility that news of Murdoch's deposition in the $1.6bn Dominion Voting Systems lawsuit against Fox News Networks and its parent company Fox Corp dropped like a bomb. Not only did he admit that he knew that Fox News hosts spread lies about the 2020 presidential election being stolen from Donald Trump, but he confessed that he had allowed them to keep on doing so on air to millions of viewers.
To say that the 91-year-old's statement astounded close Murdoch watchers would be an understatement. "I was shocked," said Angelo Carusone, president of the watchdog Media Matters for America. "It is stunning, as it not only exposes a lot about how Fox works, it opens them up to potentially cascading litigation and liability."
Fox News and its parent company now face escalating damage on two fronts: to its reputation as a journalism outlet that ostensibly pays lip service to truth and accuracy – and to the financial health of the operation. Media and legal experts told the Guardian that, partly as a result of his stunning testimony, Murdoch can now expect potentially severe injury to both.
A former Republican strategist who co-founded the anti-Donald Trump Lincoln Project, Rick Wilson, said that the reputational damage was self-evident. "This is so profoundly cynical, and deeply corrosive to the role of the largest cable news network in the country," Wilson remarked. "They admittedly engaged in fraud and lied to their audience."
Wilson predicted that there would be fallout for Fox News in terms of defections from viewers angered by the admission as much as the substance of it. He said: "There's been worry at Fox for some time now that they're losing their iron grip on their audience. We are going to see a migration now of Fox News viewers to even further-right outlets like Newsmax and OANN."
Brian Stelter, the former anchor of CNN's media show Reliable Sources who is now a media and democracy fellow at Harvard's Shorenstein Center, told the Guardian that Fox News would be cushioned by its financial success. "It's a license to print money," he said. "It is facing large potential damages which may be a major blow, but not a death blow."
What would hurt most, Stelter suggested, would be the realization among the Fox News base that they had been served a dishonesty. "The most damning headlines to come so far are about the gap between what Fox News hosts say in public and private," he said. "Even if a little of that seeps into the Fox bloodstream, it still has an impact."
In his deposition, Murdoch – whose newspaper holdings include the Sun in the UK and the Wall Street Journal – made an admission that could have dire consequences, not only reputationally but also to the Dominion lawsuit on which a lot of money is riding.
Under heavy pressure from Dominion's lawyers, he admitted that several Fox News hosts – Lou Dobbs, Maria Bartiromo, Jeanine Pirro and Sean Hannity – had endorsed the lie that the 2020 presidential election was stolen from Trump and handed to Joe Biden.
"Some of our commentators were endorsing it," he said. "Yes. They endorsed."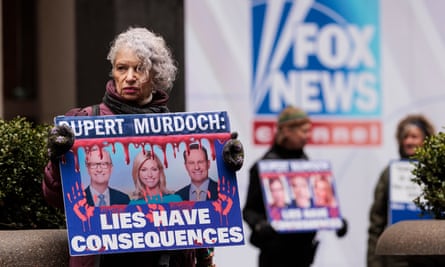 Murdoch tried to make a distinction between the hosts – "commentators" he called them – who were making false claims of election fraud and Fox itself. But in other parts of his devastating testimony, he admitted that he chose not to keep election deniers such as Rudy Giuliani off the air even though he had the power to do so.
He also tried to justify allowing Mike Lindell, an avid conspiracy theorist, to run MyPillow ads on the network as a purely financial decision. "It is not red or blue, it is green," he said.
In a statement, Fox accused Dominion of attempting to "publicly smear Fox for covering and commenting on allegations by a sitting president of the United States".
The company called the argument put forward in the lawsuit a "blatant violation of the first amendment" right to free speech and said it represented "an extreme, unsupported view of defamation law that would prevent journalists from basic reporting".
The word "endorsed" in Murdoch's deposition could be critical. Under the first amendment's protection of free speech, Dominion would have to prove "actual malice" in its defamation case against Fox. "It has to show they not only knew these claims were false, but continued to push them with a reckless disregard for the truth," Carusone said. "'Endorsement' neutralizes one of the most important defenses Fox could have used."
The Media Matters president added that, in his view, Murdoch's extraordinary deposition – so out of kilter with his previous consummate survivor's record – could be put down largely to hubris. "I think it was hubris," Carusone said. "He thought he was untouchable."
Carusone pointed to another potential devastating part of the newly released depositions – the testimony of the Republican former US House speaker Paul Ryan. The depositions revealed that Ryan had implored Murdoch to "move on from Donald Trump and stop spouting election lies".
Ryan now sits on the Fox Corp board of directors. "This is catastrophic, frankly," Carusone said. "It opens the door to litigation from shareholders, given that their own board member tried to stop this."
RonNell Andersen Jones, a media law professor at the University of Utah, said that the deposition could prove highly damaging in the ongoing Dominion case. She said: "It adds some key factual support for the narrative that Fox made a conscious decision to tell a knowing lie and that it did so to win back viewers who were defecting."
She predicted that the revelations would spur "much larger conversations about the stolen election lie and the role Fox and Murdoch played in perpetuating it".
Sri Lanka media guide – Yahoo News Canada
Sri Lanka's media divide along language and ethnic lines.
Privately-owned networks have the lion's share of the TV audience. Non-state media often engage in political debate and criticise government policies.
The state runs two TV stations, radio networks and newspapers in Sinhala, Tamil and English.
At the height of the civil war Sri Lanka was one of the world's most dangerous places for journalists.
Despite the pledges given by President Sirisena in 2015 to investigate past attacks on journalists, nearly all the crimes of violence against journalists remain unpunished, Reporters Without Borders (RSF) said in 2018.
RSF said political control over media ownership is a major concern and has the potential to undermine pluralism and impartiality.
There were some 8.9 million internet users by July 2022, comprising 41% of the population (Internetworldstats.com). The web is a popular and growing medium for news.
There were major restrictions to online connectivity and social media platforms during communal violence in early 2018, said US-based Freedom House.
4 Ways Social Media Normalizes Unhealthy Spending And How To Break Out Of The Cycle – BuzzFeed
Though money actually can buy happiness, that really only works up to a certain point. Like, more money can definitely make you happier if you're struggling to make ends meet, but if you're already comfortable, the positive effects of making more drop off fast. And the same goes for our spending.
As Paige explains it, "We tend to think that there is a linear relationship between how much we buy and how much we spend and how happy we are going to be, and it's simply not the case. So, don't buy into the lie that social media is feeding us that more is better."
Media mogul Rupert Murdoch, 92, engaged to Ann Lesley Smith – The Globe and Mail
Fox Corp Chairman Rupert Murdoch is engaged to former San Francisco police chaplain Ann Lesley Smith, his spokesperson confirmed on Monday, which will mark the fifth marriage for the 92-year-old media mogul.
Murdoch finalized his divorce from actress and model Jerry Hall in August.
Murdoch and Smith, 66, first met in September at his vineyard Moraga in Bel Air, California, and he called her two weeks later, Murdoch told the News Corp-owned NY Post, which broke the news of the engagement. Smith is a widow whose late husband was Chester Smith, a country singer, radio and TV executive.
On March 17 in New York, Murdoch presented Smith with an Asscher-cut diamond solitaire ring, according to the Post. They will be married in late summer.
"I was very nervous. I dreaded falling in love but I knew this would be my last. It better be. I'm happy," Murdoch told the Post
Murdoch's nuptials are unlikely to change the ownership structure of businesses in which he holds stakes, including Fox Corp, the parent company of Fox News Channel, and News Corp. Murdoch controls News Corp and Fox Corp through a Reno, Nevada-based family trust that holds roughly a 40% stake in voting shares of each company.
Fox is currently defending itself in a $1.6 billion defamation lawsuit from Dominion Voting Systems.
Dominion has accused the cable TV network of amplifying debunked claims that Dominion voting machines were used to rig the election against Republican Donald Trump and in favor of his rival Joe Biden, who won the election.
Fox has defended its coverage, arguing claims by Trump and his lawyers were inherently newsworthy and protected by the First Amendment of the U.S. Constitution.