Tom Sachs Reveals New McDonald's Public Art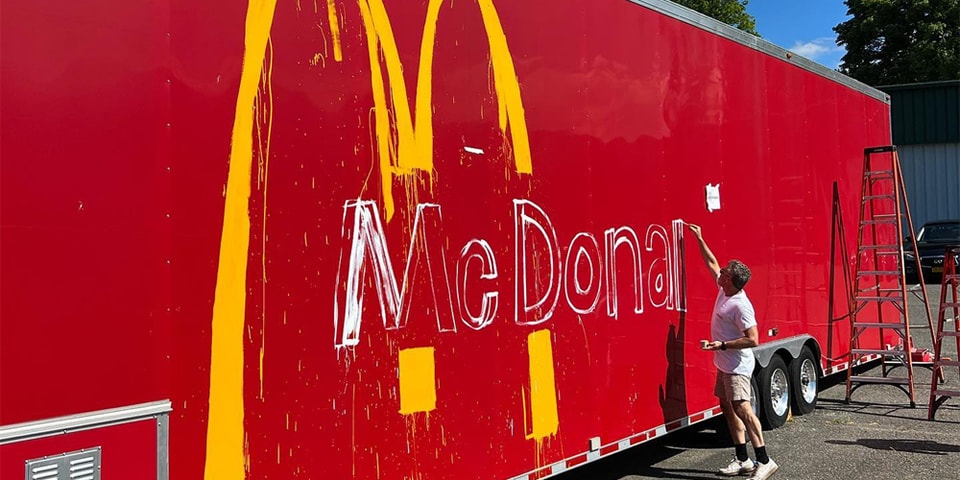 Over the weekend, contemporary visionary Tom Sachs took to Instagram to reveal a new public art piece.
Sachs is taking street art to the next level, showcasing the process of his "Enamel on Trailer" piece that he painted on the side of a red trailer in the middle of Connecticut. The post features a series of images of Sachs painting his own rendition of the McDonald's golden arches and branding. The piece includes signage on the bottom right corner of the trailer and appears to be dated in 2022. A closer look sees that Sachs finds perfection in imperfection as paint leaves streaks from the dripping.
The caption of the Instagram also showcases the dimension as well as the location of the piece — Max Power Motors in New Milford, Connecticut, and is "on display 24/7." The post also shows a Google Map zoom in on where Max Power Motors is located in the world, giving fans who might be interested or passing by, a chance to view the work.
Take a look below.
In other art news, here is an official look at Jahan Loh's Doraemon Sofubi toys.
Imaginary Friends: Barcelona art show aims to connect with our inner child – The Guardian
Nine leading contemporary artists have come together to create an interactive exhibition in Barcelona for kids – and anyone in touch with their inner child.
"Before the pandemic we had the idea of mounting an exhibition of contemporary art for people of all ages, something that children could relate to but also so that older people could relive the experience of being a child and participate as if they were children," said Martina Millà, who jointly curated the show at the Fundació Joan Miró with Patrick Ronse, the artistic director of the Be-Part contemporary art platform in Belgium.
Millà added: "There's much in this exhibition that's therapeutic, above all a return to a pre-pandemic spirit after we've all suffered so much."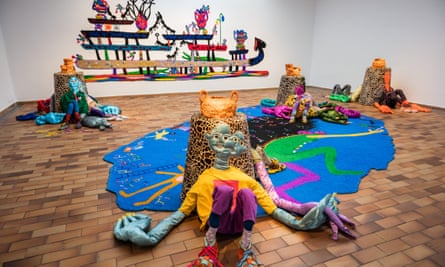 The show, titled Imaginary Friends, brings together installations from nine contemporary artists, several of whom are known to Ronse from his involvement in the 2018 Play festival of contemporary art.
Outside, at the entrance to the exhibition, visitors are invited to sit on Jeppe Hein's beguilingly convoluted bench, conceived as a riposte to the hostile architecture of street furniture, such as benches designed so that homeless people cannot sleep on them.
One of the most striking installations is We Are the Baby Gang, a collection of colourful, feathered polar bears created by Paola Pivi, an Italian artist who lives in Alaska, which Millà says is designed to make us consider the anthropomorphic way we look at animals.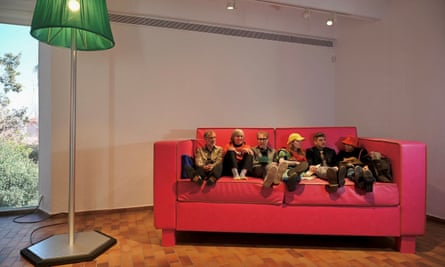 The creatures are very tactile but this part of the show is not interactive, leaving one small and disappointed boy to go into a screaming meltdown when he was told off for touching the exhibit.
That aside, the gallery is filled with the babble of excited children and the British artist Martin Creed's Half the Air in a Given Space gives them plenty of opportunity to let off steam.
Creed has filled a room almost to the ceiling with large orange balloons, creating an immediate feeling of disorientation and claustrophobia accompanied by an irresistible impulse to burst out laughing.
Perhaps the most engaging work in the show is the Swiss artist Pipilotti Rist's oversized sofa and armchair. Sitting on the enormous sofa, with your feet barely reaching the edge of the seat, never mind the floor, is an Alice in Wonderland moment that provokes a powerful physical memory of childhood.
"These works are a way of inventing a parallel life," said Millà. "It's like having an imaginary friend, and also a means of escape."
Imaginary Friends is at the Fundació Joan Miró in Barcelona until 2 July
Inspired by a Lifetime exhibition showcases art by nonagenarians – CollingwoodToday.ca
A local artist is capturing the beauty in sunset years by teaching seniors how to paint. Their work has made the walls of a local gallery.
"I thought I'd be dead before I got famous. Thank God that's not the case," jokes 92-year-old Keith Sumner, one of the many seniors whose original art is displayed at the exhibit titled Inspired by a Lifetime at Stonebridge Art Gallery.
A resident of Leacock Retirement Lodge in Orillia, he is one of the students taking lessons with Lisa Harpell, an Elmvale-based artist who has been teaching art classes to seniors in retirement homes in the region.
The work of about 40 senior artists ranging in age from 81 to 101 years old from seven retirement communities is on display at the Wasaga Beach gallery until March 27. The show includes work done by residents from Waterside Retirement Lodge (Wasaga Beach), Chartwell Whispering Pines (Barrie), Aspira Waterford Retirement Residents (Barrie), Allandale Station (Barrie), Lavita Barrington Retirement Lodge (Barrie), Bayfield House (Penetanguishene), and Leacock Retirement Lodge (Orillia).
The exhibition also includes Harpell's paintings and sculptures.
True to its title, each painting displayed for Inspired by a Lifetime has an impactful story to tell.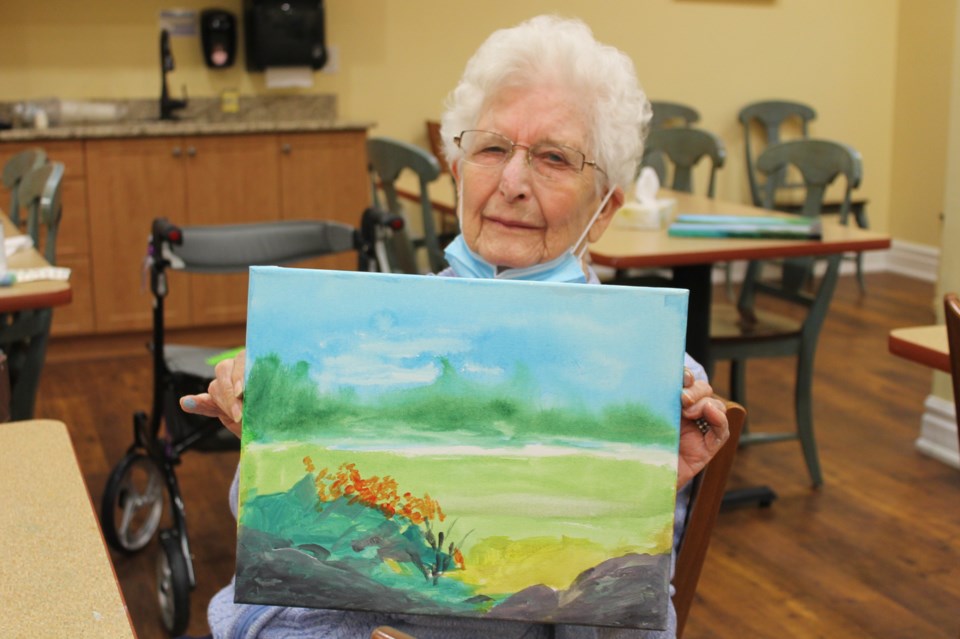 Verna Stovold, who lives with macular degeneration, is one of the many seniors attending the classes.
"Verna paints beautifully because her body remembers how to paint background, middle ground and foreground," said her teacher, Harpell. "She tells us the paint that she wants and she dabs her brush and goes right ahead and paints. She asks me all the time if it's okay if she comes to class … I say, 'Verna, you're the one that's inspiring everyone else.' Because I am holding up [her] paintings and everybody goes 'wow.'"
Stovold has two large paintings and ten studies included in the exhibition.
The process of training seniors to paint has been extremely gratifying for Harpell.
"It is deeply satisfying to the soul. It brings me to tears all the time," she said. "Because I know that what they created is worth showing. And it needs to be brought to the community not only for their sake, but for the community to realize that anyone can do this. Creativity is something that gives us hope. And that is something that is necessary in this world right now."
In her early days, Georgian College, Barrie, grad worked with the late Canadian artist, William Ronald.
"He really did bring out the kid in me. He was such a kid himself. And that [thought] is what I really try to pass on, not only his legacy. I also find that the child in every one of my students wants to just play with paint and get their hands dirty. And have some fun and laughs," says the mother of four.
Alysanne Dever, lifestyle and programs manager at Chartwell Whispering Pines Retirement Residence, said the exhibition and art classes have brought a wave of positivity for the artists, their family, and their caretakers.
"This is the first time that I have ever seen or heard of an art gallery showing for seniors with no prior experience," says Dever, noting the opening day reception crowd packed the gallery. "Really, that's what it's all about! The residents were so proud that people were complimenting and wanting to learn about what inspired them to paint specific photos. One of our residents actually sold an art piece as well and she was so thrilled!"
Dever is a strong proponent of the benefits of art therapy, and says it provides residents with a creative outlet to express what might otherwise stay bottled up.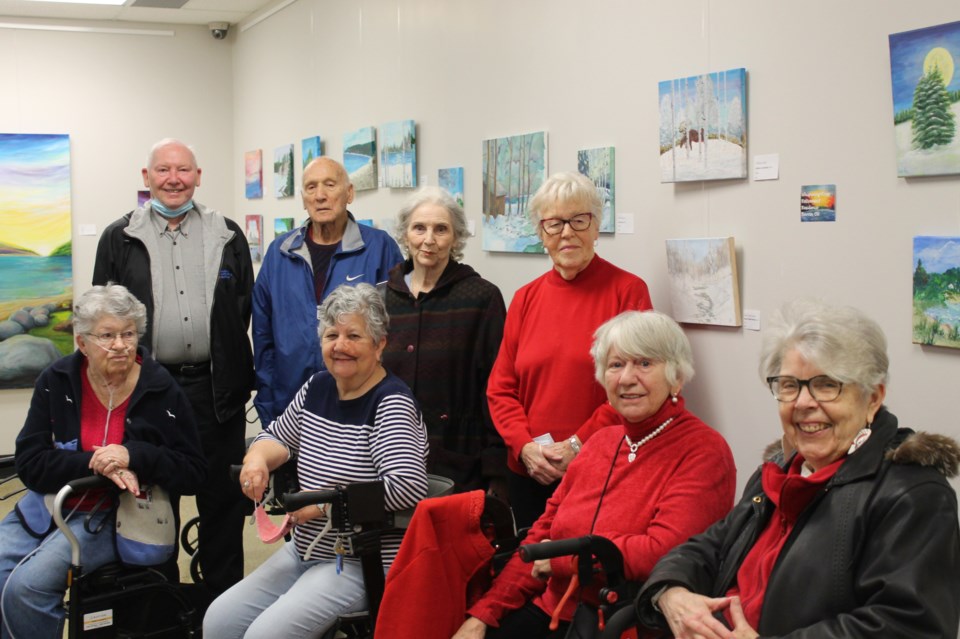 "This allows them to escape from reality, even for a little bit as they immerse themselves in their art piece in that moment," says Dever. "Art therapy encourages seniors to use their creativity and gives them a sense of control and independence, which are essential qualities as you age."
Not every brush stroke is smooth, and not every day was wrinkle-free for Harpell while she taught lessons in retirement homes. From outbreaks and whiteouts to loss of confidence, the behind-the-scenes training and coordination to make the exhibit happen meant clearing several hurdles.
And yet, Harpell says, it is during the most trying circumstances that intuitive art therapy has a larger role to play, especially among the community's vulnerable ones. Art has played such a role in Sumner's life, after he picked up the brush in his 90s.
"Painting puts you in a different mindset. Takes you away from everyday things," says Sumner. "My perception of things has changed. The sky is different every day… and it intrigues me. I am observing things more critically, in more detail…and painting has encouraged that."
The exhibit is supported by the Wasaga Society for the Arts, in part because it helps accomplish the society's mandate of making art accessible.
The society's interim president, Steve Wallace, said the group aims to introduce the community to all kinds of art, and to promote diversity and inclusion for artists and patrons.
The Inspired by a Lifetime exhibition runs at the Stonebridge Art Gallery until March 27 on Thursdays and Saturdays and on Monday, March 27 from 1 p.m. to 4 p.m.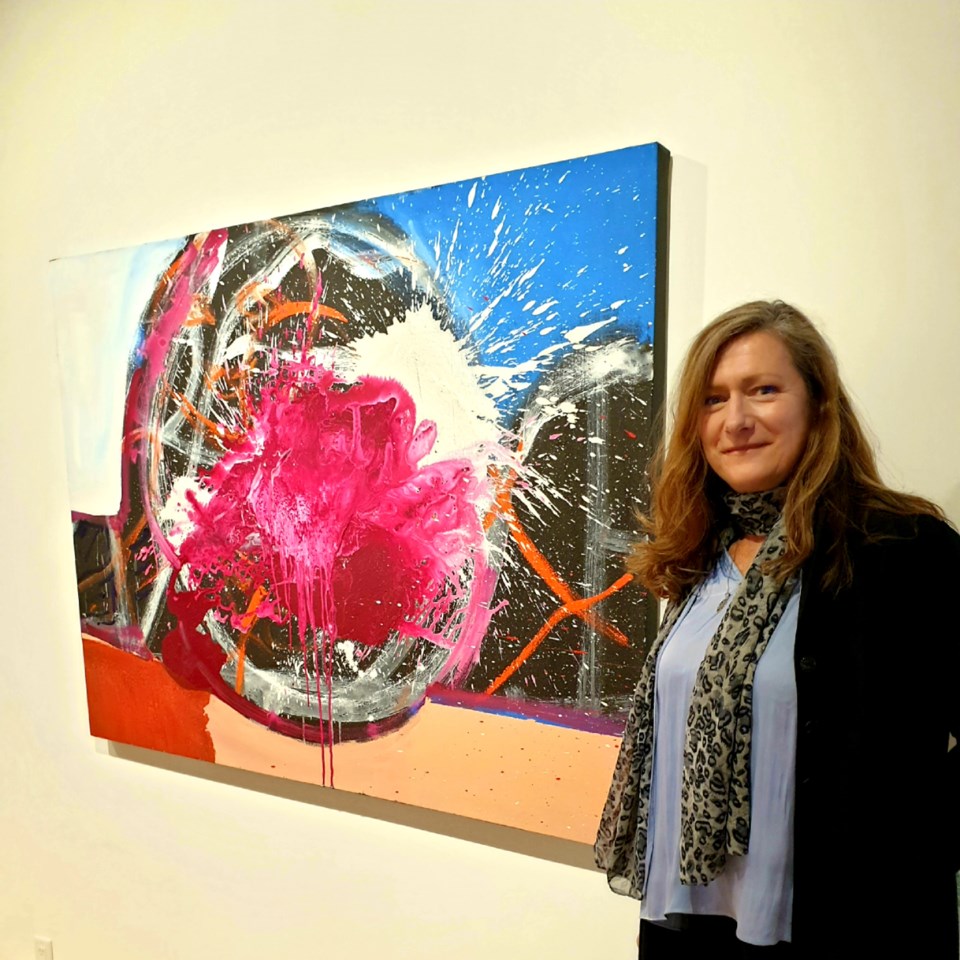 President Biden to Award National Medals of Arts – National Endowment for the Arts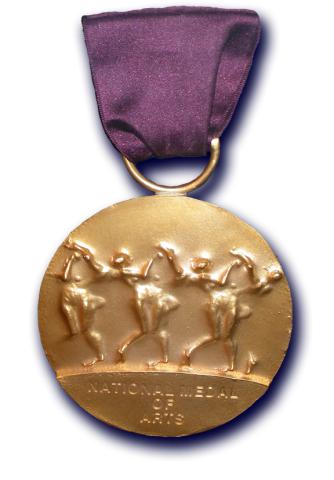 Washington, DC—President Joseph R. Biden will present the 2021 National Medals of Arts in conjunction with the National Humanities Medals on Tuesday, March 21, 2023 at 4:30 p.m. ET in an East Room ceremony at the White House. First Lady Dr. Jill Biden will attend. The event will be live streamed at www.whitehouse.gov/live.
National Endowment for the Arts (NEA) Chair Maria Rosario Jackson, PhD, said, "The National Medal of Arts recipients have helped to define and enrich our nation's cultural legacy through their life long passionate commitment. We are a better nation because of their contributions. Their work helps us see the world in different ways. It inspires us to reach our full potential and recognize our common humanity. I join the President in congratulating and thanking them."
Below is the list of 2021 recipients:
Judith Francisca Baca: Judith Francisca Baca's collaborative work has turned forgotten histories into public memory—pioneering an art form that empowers communities to reclaim public space with dignity and pride.

Fred Eychaner: From dance and architecture to arts education and a lifetime of LGBTQI+ advocacy, Fred Eychaner has helped give millions of people strength to be themselves and moved our country forward.

Jose Feliciano*: Over 60 years, 60 albums, and 600 songs, Jose Feliciano has opened hearts and built bridges—overcoming obstacles, never losing faith, and enriching the goodness and greatness of the Nation.

Mindy Kaling: Imbued with humor and heart, Mindy Kaling's work across television, film, and books inspires and delights—capturing and uplifting the experiences of women and girls across our Nation.

Gladys Knight: Gladys Knight's exceptional talent influenced musical genres—from rhythm and blues to gospel to pop—and inspired generations of artists, captivated by her soundtrack of a golden age in American music.

Julia Louis-Dreyfus: As one of the most decorated comedic actors of our time, Julia Louis-Dreyfus has blazed a trail for women in comedy and across American life through her commitment to excellence and the power of her example.

Antonio Martorell-Cardona: Transcending generation and genre, Antonio Martorell-Cardona's art exposes hard truths with whimsy and color, to help us remember and grow, as people and as a Nation.
Joan Shigekawa: Throughout her career, Joan Shigekawa has championed artists, created global exchanges, and promoted the power of the arts to heal, build strong economies, and help people and Nations reach their full potential.

Bruce Springsteen: One of our greatest performers and storytellers, Bruce Springsteen's music celebrates our triumphs, heals our wounds, and gives us hope, capturing the unyielding spirit of what it means to be American.

Vera Wang: From the runway to red carpets to retail stores, Vera Wang's modern designs and bridal collections express individualism and elegance, making beauty and style accessible to all.

The Billie Holiday Theatre: Channeling its namesake's exploration of freedom and identity, The Billie Holiday Theatre cultivates some of our Nation's most renowned Black actors, writers, designers, and musicians and has expanded the reach of American artistic expression and achievement.

The International Association of Blacks in Dance: Through teaching, training, and performance, The International Association of Blacks in Dance promotes dance by people of African ancestry and origin, explores and exchanges art, spans cultures and generations, and enriches the dance culture of America.
* Will not be in attendance at the ceremony.
The 2021 National Humanities Medals will be presented at the same ceremony
Join the conversation on Twitter at #ArtsHumanitiesMedal.
About the National Medal of Arts
The National Medal of Arts is the highest award given to artists and arts patrons by the federal government. It is awarded by the president of the United States to individuals or groups who are deserving of special recognition by reason of their outstanding contributions to the excellence, growth, support, and availability of the arts in the United States. Please see additional information and the list of past recipients on the NEA website.
The National Endowment for the Arts manages the nomination process on behalf of the White House. Each year, the Arts Endowment seeks nominations from individuals and organizations across the country. The National Council on the Arts, the NEA's presidentially appointed and Senate-confirmed advisory body, reviews the nominations and provides recommendations to the President, who selects the recipients.