Art is everywhere this weekend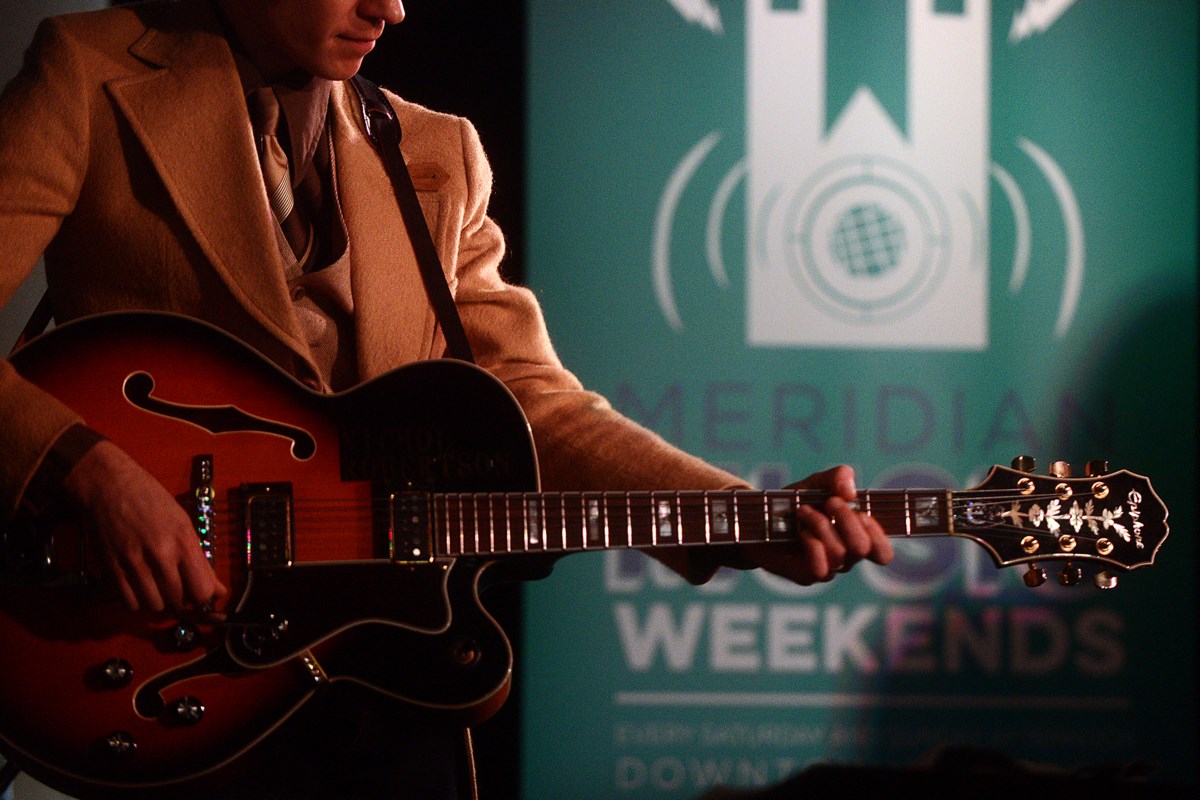 Saturday, Jan. 28
2023 ArtsEverywhere Festival
Multiple locations; 10 a.m. to 10 p.m.
From film screenings to drag brunches and book fairs, the free annual festival has something for everyone. Learn more here.
Winterstock
Royal City Studios; 7 p.m. to 11 p.m.
Join Royal City Studios for a live music tribute to Woodstock 1969; attendees are encouraged to wear their best 60s style clothes. Get tickets here.
Music Weekends
Western Burgers & Steaks; 2:00 p.m. to 5 p.m.
The genre-bouncing Probable Cause will perform live at The Western, pay-by-donation. Doors open at 2 p.m., show starts at 2:30.
Sunday, Jan. 29
2023 ArtsEverywhere Festival
River Run Centre; 10 a.m. to 2:30 p.m.
The last day of the free festival features a lecture and a film screening, both at the River Run Centre. Learn more here.
Music Weekends
Onyx Nightclub; 2p.m. to 5 p.m.
Join SHEBAD for their live concert at Onyx. It's family-friendly and pay-by-donation. Doors open at 2 p.m., show starts at 2:45.
OHL Hockey
2 p.m.: Guelph Storm vs. Sudbury Wolves, Sleeman Centre
JR's Gigantic New Installation in Hong Kong, Unveiled Ahead of Art Basel, Has Worried the City's Feng Shui Masters. Here's Why – artnet News
The French artist JR has created a monumental outdoor installation for Hong Kong to celebrate the city's art month this month. But the installation, which depicts a high jumper, has drawn criticisms from several feng shui consultants and fortune tellers, who argued that the work looks like a person who fell off from a building from afar, and hence projecting a bad omen. Titled Giants: Rising Up, the installation was unveiled this week ahead of next week's Art Basel Hong Kong, which has its VIP days beginning March 21. Commissioned by the shopping mall Harbour City and on view until April 23 at the Ocean Terminal Deck in Tsim Sha Tsui, Kowloon, the work, which measures nearly 40-feet-tall and 40-feet-wide (12 meters high and 12 meters wide), is the famed artist's first offering in Asia from his ongoing "Giants" series. "The gigantic art installation depicts a larger-than-life high jumper floating in mid-air adjacent to Hong Kong's iconic Victoria Harbour, with her body bending gracefully and her head back facing the fabulous skyline," the press release wrote. "The high-jumping athlete appears to jump off the ground and enjoys the sensation of free fall," the press statement continued, adding that the athlete's move represented "take off," referencing to a "Giants" installation on view at the 2016 Rio de Janeiro Olympics. JR also added "a touch of Hong Kong" by fusing the image with a bamboo scaffolding, a construction technique regarded as "safer than steel" that has been listed as the city's intangible cultural heritage.
But JR's artistic creation failed to appeal to some feng shui consultants, as well as practitioners and believers in the traditional art of Chinese metaphysics and divination. "Doesn't it look like someone who fell off from a building landing on a bamboo scaffolding, and the body is pierced through by the bamboos?" asked feng shui master Po Sin in a recent video on his YouTube channel. Po Sin's view was echoed by a recent Facebook post penned by feng shui practitioner Steve Lee, who also shared a similar impression of the work. Their views were also echod by some internet users. Feng shui is understood as the ancient Chinese study of arranging one's surroundings in order to facilitate the positive flow of energy or bring fortune, and is widely adopted in interior design and architecture in Hong Kong. Some non-believers, however, criticized it as mere superstition. Po Sin, nevertheless, went on saying that although bamboo scaffolding was distinctively from Hong Kong, and it could be aesthetically pleasing, the depiction in this JR work was not appealing. "You can have people climbing on a bamboo scaffolding, but not having someone landing on it on a person's back," the master said, adding that the out-of-context jump looked like the jumper was diving into the sea, which has a bad connotation in the local cultural and lingual context. Artnet News has reached out to Harbour City for comment, but did not hear back by publishing time.
Lee, the feng shui practitioner, also compared the bad omen projected by JR's new work with that of American artist Kaws's Kaws:Holiday public installation in Hong Kong that was on view in March 2019. The installation saw the gigantic, crossed-eye inflatable sculpture of Companion lying flat on its back floating on Victoria Harbour, which Lee interpreted as the "fortune basin" of Hong Kong. "Call me superstitious, but placing a 'floating dead body' in the middle of Victoria Harbour, the sight is unbearable," Lee wrote in a post in March 2019. Lee then followed up with another post in October 2019, when the city was rocked by pro-democracy protests that had tipped off in June, sparked by the anti-extradition law movement. "The artwork 'dead body in Victoria Harbour' was merely a prophecy," he wrote, predicting that the city will continue to suffer in subsequent years, affecting all local citizens regardless of age and political orientation. Whether or not Kaws's installation could be read as an omen, in reality, the city was nearly cut off from the rest of the world for almost three years under stringent Covid restrictions. The authorities continue to crackdown political dissents since the implementation of national security law in 2020 and the revival of the use of colonial-era sedition law, which saw hundreds of activists, pro-democracy politicians, and journalists arrested. The city's stock market index, Hang Seng Index, plunged from its high note at over 30,000 in May 2019 to 14,863 in October 2022, its lowest since 2009. Is JR's new artwork really a bad omen? Benson Wong, a former Hong Kong Baptist University political science professor-turned astrologer and psychic, noted that in this case, the meaning of the work is defined by viewers. If the work is associated with negative meanings, the work is seen as "a projection or manifestation of such negativity and unlucky energies," Wong told Artnet News. "It is a reflection of collective consciousness."
Follow Artnet News on Facebook:
Want to stay ahead of the art world? Subscribe to our newsletter to get the breaking news, eye-opening interviews, and incisive critical takes that drive the conversation forward.
'A real beauty': Gottfried Lindauer painting set to break auction record
International Art Centre/Supplied
The portrait of Harawira Te Mahikai, chief of the Ngāti Kahungunu Tribe, is the finest to come to market according to an art expert.
A rare Gottfried Lindauer​ painting is set to break records when it goes to market on March 29, with one art expert deeming it "the finest to ever come to market".
Lindauer was a man who, along with C F Goldie, excelled in painting important Māori subjects throughout his life, as well as depictions of Māori life during this time period.
He also produced many pieces of little-known or ordinary Māori people, most of them wearing European dress, as would have been the case in their daily life.
Richard Thomson, the director of the International Art Centre, said the Lindauer up for auction was a "real beauty".
The painting is a portrait of Harawira Te Mahikai, chief of the Ngāti Kahungunu Tribe, and a signatory of the Treaty of Waitangi.
At the time of his death in 1886, Te Mahikai was the last tattooed chief of Waimarama.
"It has all the hallmarks of a Lindauer, you don't see them that often in this kind of quality," Thomon said.
Piers Fuller/Stuff.co.nz
A Gottfried Lindauer portrait of Huru Te Hiaro was repaired and moved from Te Papa to Aratoi Museum in Masterton for a Lindauer exhibition (first published June 2017).
The piece was painted in 1883, and Thomson thinks Lindauer perhaps painted it when his son Hector was born and saved to gift to him when he turned 21.
"This one is a real masterpiece, and I think it's one of the best to come to market ever," Thomson said.
"It's in pristine condition, and it was owned by Lindauer himself until he gifted it to his son Hector in 1908."
The piece was held by descendants of the Lindauers until 1988, when it was bought by a private collector who it has been with ever since.
Lindauer pieces have had a high profile as of late due to the brazen heist of two of the pieces from the International Art Centre in April 2017.
The paintings, which were of Māori elders Chief Ngātai-Raure and Chieftainess Ngātai-Raure, were finally recovered and returned to their rightful owner in December 2022, over five years after they were stolen.
Although the Lindauer up for auction is not one of the stolen paintings, it is the first one to come up for sale since the paintings were recovered.
Thomson said despite "the heightened awareness", the story of the stolen Lindauers won't "add fuel to the value of it".
"It's probably going to be a record price, and I would be surprised if it wasn't – it's almost a certainty," Thomson said.
The director believes the piece could hit the million dollar mark, and wouldn't drop below $500,000.
The auction is taking place at the International Art Centre on March 29, and you can register your interest here.
Museums Rename Artworks and Artists as Ukrainian, Not Russian
A year into the war, institutions face pressure to note the Ukrainian roots of artworks and artists long described as Russian. It's not always simple to write a wall label.
The Metropolitan Museum of Art in New York changed the name of one of its Edgar Degas pastels Friday morning from "Russian Dancers" to "Dancers in Ukrainian Dress," the second Degas it has reclassified since Russia invaded Ukraine.
The National Gallery in London renamed one of its Degas pastels "Ukrainian Dancers" from "Russian Dancers" last year. And the J. Paul Getty Museum in Los Angeles updated an old item on its website to note that Degas's dancers were Ukrainian, not Russian.
The adjustments reflect a movement that is currently underway at museums all over the world, spurred by Russia's invasion of Ukraine. Many are re-examining — and, in a growing number of cases, relabeling — artworks and artists from the former Russian Empire and the former Soviet Union to better reflect their Ukrainian origins.
"Scholarly thinking is evolving quickly," Max Hollein, the Met's director, said in a statement, "because of the increased awareness of and attention to Ukrainian culture and history since the Russian invasion started in 2022."
But the process is not always straightforward, particularly when museums try to reflect the nationality of artists, and not just where they were born. The Met recently revised how it classifies three 19th-century painters previously described as Russian — Illia Repin, Arkhyp Kuindzhi and Ivan Konstantinovich Aivazovsky — to draw attention to their Ukrainian roots.
It updated two of the names with their Ukrainian transliteration, followed by the Russian name: Illia Repin (Ilia Efimovich Repin) and Arkhyp Kuindzhi (Arkhip Ivanovich Kuindzhi).
But after the Met changed the description of Aivazovsky from "Russian" to "Ukrainian" on its website, some critics pounced, pointing out that he was in fact Armenian. ("The Met Shouldn't Have Reclassified Ivan Aivazovsky as 'Ukrainian,'" an essay in Hyperallergic argued.) So the Met re-reclassified him: Aivazovsky is now described as "Armenian, born Russian Empire [now Ukraine]."
Activists and art historians have been pressuring museums to rethink how they label art and artists, arguing that given Ukraine's history of subjugation under the Russian Empire and Soviet Union, its culture should not be conflated with that of its rulers. Museums in the United States and Europe are complicit in its colonization, the critics argue, if they don't honor the artistic contributions of Ukrainians.
Since Russia invaded Ukraine, the Metropolitan Museum of Art has changed the way it labels works by Degas, Illia Repin and Arkhyp Kuindzhi. Jeenah Moon for The New York Times
"It's like stealing heritage," said Oksana Semenik, an art historian in Kyiv who has been pressing for change. "How you can find your identity? How you can find your culture?"
The failure to distinguish Ukrainian artists and artworks has been particularly painful, activists say, at a time when so much of Ukraine's cultural heritage has been damaged or destroyed in the current conflict, including museums, monuments, universities, libraries, churches and mosaics.
Many museums are reconsidering the identification of holdings that have long been lumped in the general category of Russian art. Among the museums that Semenik has sought to change have been the Museum of Modern Art, the Philadelphia Museum of Art, the Art Institute of Chicago, the Brooklyn Museum and the Jewish Museum.
The Museum of Modern Art in New York described artists as "born in present-day Ukraine" in its recent exhibition "In Solidarity."
"Nationality descriptions can be very complex, especially when making posthumous attributions," Glenn D. Lowry, the director of the museum, said in a statement to The Times. "We do rigorous research and approach the descriptions with sensitivity to the recorded nationality of the artist at death and birth, emigration and immigration dynamics, and changing geopolitical boundaries."
The Met has been considering such updates since last summer in consultation with its curators and outside scholars. "The changes align with The Met's efforts to continually research and examine objects in its collection," the museum said in a statement, "to determine the most appropriate and accurate way to catalog and present them."
The subject of what the Met now calls "Dancer in Ukrainian Dress" was initially identified as "women in Russian costumes" in a journal entry in 1899, the museum explains on its website. "However, several scholars demonstrated that the costumes are, in fact, traditional Ukrainian folk dress, although it has not been established if the dancers were themselves from Ukraine."
The Met has revised its wall text for artworks such as Kuindzhi's painting, "Red Sunset" (circa 1905-08), which was put on display last spring following a statement of support for Ukraine from Max Hollein, the Met's director, and Daniel H. Weiss, the president and chief executive.
The Met's European Paintings department currently describes Kuindzhi as "Ukrainian, born Russian Empire," the website explains, "to reflect the dual, intersecting nationalities identified in scholarship on the artist.
"He was descended from Greeks who moved to Mariupol from the southern coast of Crimea in the 18th century," it continues. "Greeks from Crimea are classed among the Pontic Greeks, who originated in what is now northeastern Turkey and migrated widely through the surrounding region."
While "Red Sunset" is safe in the Met's collection, the Kuindzhi Museum in Mariupol, devoted to the artist's life and work, was badly damaged by Russian airstrikes.
Asked whether it was revising the identification of works in the Jewish Museum's collection, Claudia Gould, the director, said that her institution tried to take a nuanced approach to classification. "For artists born in the Russian Empire or former Soviet Union, as well as many other regions with ever-changing borders, we use the historical regions at the time the work was made and/or their present-day equivalent," she said in an email.
Semenik, the art historian from Kyiv, has been pressing her case with museums.
"Ukraine is not the former Russian Empire," Semenik wrote in a January letter to the Brooklyn Museum. "It was colonized by Russia centuries ago."
Anne Pasternak, director of the Brooklyn Museum, said that since last summer, the European Art department has been revising the way it presents biographical information relating to nationality for objects in its collection, "precisely in response to the urgent and complex legacies of empire, colonization, and displacement that the war on Ukraine has thrown into relief."
The museum has been expanding its wall labels so that they describe an artist's place of birth and death, noting any change in national borders. For instance, the artist Repin's biographical line now reads: "Chuhuiv, Ukraine (former Russian Empire), 1844 — 1930, Repino, Saint Petersburg (former Kuokkala, Finland)."
Though it may be a challenge to satisfy everybody, "we believe that this approach better highlights the histories of war, colonization, and independence," Pasternak said, "that may be obscured when classifying by nationality."