Hamilton wins Portuguese GP to break Schumacher's F1 record – TSN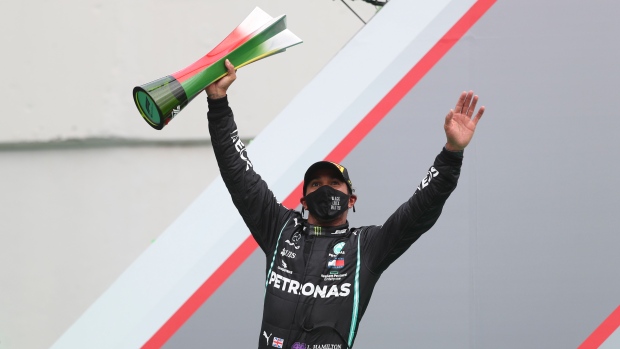 PORTIMAO, Portugal — British driver Lewis Hamilton made Formula One history on Sunday, winning the Portuguese Grand Prix for a 92nd career victory to move one ahead of German great Michael Schumacher.
Hamilton finished nearly 25.6 seconds ahead of Mercedes teammate Valtteri Bottas and 34.5 clear of Red Bull's Max Verstappen for his eighth win of another dominant season. He also took an extra point for the fastest lap to extend his huge championship lead to 77 points over Bottas with just five races left.
Hamilton won his first F1 race in 2007 and first title the following year. But his career really took off when he replaced the retired Schumacher at Mercedes in 2013. Hamilton added five more F1 titles and the runaway championship leader is now set to equal Schumacher's record of seven.
"I could only ever have dreamed of being where I am today," an emotional Hamilton said. "It's going to take some time to fully sink in. I can't find the words at the moment."
Shortly after crossing the line and celebrating with the team's mechanics and engineers, Hamilton paused to share a long hug with his father, Anthony Hamilton, who then filmed the scene on his i-pad as Hamilton celebrated on the podium while the crowd cheered him loudly.
Then it was time for the traditional Champagne spraying, although Verstappen and Bottas had the last word this time, as Verstappen poured the bottle over Hamilton's head and Bottas sprayed him good-naturedly in the face with his.
Hamilton took a record-extending 97th career pole position, starting ahead of Bottas and Verstappen on a track being used for the first time in F1.
McLaren's Carlos Sainz Jr. briefly held the race lead and then Bottas led until Hamilton passed him on Lap 20.
After that Hamilton coasted to the finish line and into the record books.
The only thing that did trouble him was a bout of cramp in his right calf muscle, but that did little to deter him.
Plenty of mask-wearing fans sat in the stands around the undulating 4.6-kilometre (3-mile) circuit in Portimao. The track has frequent elevation changes and notably caused drivers problems with grip —among them Charles Leclerc but the Ferrari driver did well to finish fourth in an uncompetitive car. AlphaTauri's Pierre Gasly made a great late overtake on Racing Point's Sergio Perez to take fifth place.
Hamilton made a hesitant start while Bottas was overtaken by Verstappen only to gain the position back and then overtake a surprisingly cautious Hamilton as rain started falling.
"I had a huge oversteer," Hamilton said. "I backed off massively."
But Sainz Jr. zoomed up from seventh to first on the quicker soft tires, until Bottas passed him on Lap 6, Hamilton did so on Lap 7 and Verstappen on the next.
Perez had a lucky escape at the start when he made contact with Verstappen and flew sideways off the track, without getting hit by another car. Kimi Raikkonen went from 16th to sixth with some typically daring moves but the 41-year-old Finn started to drift back while, up ahead, Bottas led until Hamilton overtook him.
Racing Point's Lance Stroll, from Montreal, made a reckless move on the left of Lando Norris and went off track after clipping the McLaren on Lap 19. Stroll was given a 5-second time penalty.
Toronto's Nicholas Latifi was 18th in his Williams Mercedes.
Hamilton's speed advantage was such that he was soon well clear of Bottas, whose rear right tire was graining. He perhaps gambled on Hamilton losing tire grip himself, but the gap was 10 seconds when Hamilton pitted for new tires on Lap 41.
Bottas came in on the following lap and when he came out he was caught in traffic and struggling for rhythm.
The day belonged to Hamilton, and it appears inevitable that title No. 7 will follow suit.
After which, the only thing left will be 100 victories on his way to setting another record for titles.
His first win came in Canada, 13 years ago, when driving for McLaren, and the team sportingly sent Hamilton a Tweet featuring a bottle of Champagne and the words "You never forget your first."
Report: Ravens close facility until next week; game vs. Steelers in jeopardy – Sportsnet.ca
The Baltimore Ravens are closing their training facility until Monday at the earliest due to the team's COVID-19 outbreak, according to ESPN's Adam Schefter.
Sunday's game between the Ravens and Pittsburgh Steelers — which was originally scheduled for the Thanksgiving primetime slot on Thursday — figures to be in jeopardy, though it has not yet been postponed.
Five additional Ravens tests came back positive on Thursday, with four players and one staff member contracting the coronavirus. Linebacker Pernell McPhee, running backs Mark Ingram and J.K. Dobbins and defensive tackle Brandon Williams had previously been placed on the reserve/COVID-19 list.
6 star players the Raptors could sign as free agents in 2021 | Offside – Daily Hive
After saying goodbye to Serge Ibaka and Marc Gasol this offseason, one thing is clear: the Toronto Raptors will be going all-in on free agency next year.
The Raptors reportedly refused to offer either player more than one-year deals in the name of cap flexibility, with a historically-great crop of players potentially available in 2021.
Masai Ujiri will have plenty of options, beginning with his own team. Kyle Lowry is set to become a free agent, while Norman Powell could opt out of the final year of his contract.
With that said, let's take a look at some of the top pending free agents in 2021, with an eye on who the Raptors might throw money at.
1. Giannis Antetokounmpo (Milwaukee Bucks)
Position: Power forward
Age: 25
2019-20 stats: 29.5 PTS, 13.6 REB, 5.6 AST
Two-time MVP Giannis Antetokounmpo will be the most sought after free agent in 2021, and there's a very real possibility that the Raptors could be a top contender to sign him.
Ujiri helped Giannis' family emigrate from Nigeria to Greece, and the Raptors president wanted to draft him in 2013.
Getting a player of Antetokounmpo's ability at age 25, in a position the Raptors covet no less, would be a franchise-changer.
2. Kawhi Leonard (LA Clippers)
Position: Small forward
Age: 29
2019-20 stats: 27.1 PTS, 7.1 REB, 4.9 AST
He wouldn't, would he? But what if he did?
They say absence makes the heart grow fonder, and perhaps after two years in Los Angeles, Kawhi Leonard would like to rekindle some magic back in Toronto.
It's a long shot, but the Clippers did have a disappointing playoffs and reportedly have a fractured locker room. If the team falls apart again this season, maybe it's enough for Kawhi to leave as a free agent, as he has a player option for 2021-22.
3. Paul George (LA Clippers)
Position: Shooting guard
Age: 30
2019-20 stats: 21.5 PTS, 5.7 REB, 3.9 AST
If Kawhi wants out of LA, maybe Paul George will too. And if Leonard doesn't opt for a Toronto reunion, perhaps Ujiri can convince George to come north of the border.
Crazier things have happened.
4. DeMar DeRozan (San Antonio Spurs)
Position: Small forward
Age: 31
2019-20 stats: 22.1 PTS, 5.5 REB, 5.6 AST
Speaking of reunions, wouldn't this be fun? DeMar DeRozan loved his time in Toronto and was heartbroken when the Raptors traded him to San Antonio in 2018. But perhaps that broken heart has been mended.
According to a recent story in GQ, DeRozan and Ujiri made up in the NBA bubble in Orlando. DeRozan gave the Raptors executive a "big hug," according to Ujiri, who added that he felt they had "reached a new place."
5. Rudy Gobert (Utah Jazz)
Position: Centre
Age: 28
2019-20 stats: 15.1 PTS, 13.5 REB, 1.5 AST
Seven-foot-one French centre Rudy Gobert is an intriguing piece. A two-time NBA Defensive Player of the Year, Gobert would fit in well to the Raptors' commitment to defence.
6. Victor Oladipo (Indiana Pacers)
Position: Shooting guard
Age: 28
2019-20 stats: 14.5 PTS, 3.9 REB, 2.9 AST
Victor Oladipo wants out of Indiana, and openly campaigned for a trade to the Raptors during in front of his teammates last season, according to a report in the Indianapolis Star.
While that's clearly outrageous, it is an indication that the two-time NBA All-Star wants out of Indiana. Named to the All-Defensive First Team in 2018, Oladipo would help at both ends of the court.
Report: Four more Baltimore Ravens test positive for COVID-19 – TSN
Four more Baltimore Ravens' players and one more staff member have tested positive for COVID-19, according to ESPN 's Adam Schefter.
The Ravens were set to take on the Pittsburgh Steelers Thursday night, but the game was switched to Sunday afternoon because of the coronavirus issues with Baltimore.
According to Schefter, Ravens players were told today by their head coach John Harbaugh that, for everyone's safety, they will not be allowed back in the training facility until Monday at the earliest.
The Ravens placed defensive end Jihad Ward on the reserve/COVID-19 list Thursday.
Ward, who has been inactive for the past four games, becomes the eighth player, and third defensive lineman, to go on the reserve list this week. As of Wednesday afternoon, the Ravens had seven players who tested positive for COVID-19 or were identified as close contacts.
Members of the Ravens' coaching staff and support staff also have tested positive.
A source told ESPN that a strength and conditioning coach for the Ravens didn't report symptoms and didn't always wear a mask inside the facility. That coach was suspended by the team on Wednesday.
– With files from ESPN