Leonardo DiCaprio Buys His Neighbor's $10.5 Million Home
When Leonardo DiCaprio isn't romancing every model in the fashion industry, he's busy buying and selling real estate. The 48-year-old Oscar winner decided to make a big-boss, end-of-year property move that is only going to expand his significant portfolio even more.
DiCaprio bought his next-door neighbor's 3,527-square-foot home for $10.5 million after one of the owners passed away. What makes this tale super juicy is that his neighbors, Ron and Joan Linclau, once sued DiCaprio for destabilizing their property after he built a basketball court on his land in 2008. While the couple settled the suit for an undisclosed amount, according to the New York Daily News, that didn't stop Ron from selling his home to DiCaprio over a decade later.
More from SheKnows
According to Dirt, it was an off-market deal, and the Revenant star is now the proud owner of a midcentury modern home with four bedrooms and four bathrooms. If he combines the two properties, he will own 5.14 acres in the coveted Bird Street neighborhood in the Hollywood Hills because he's been collecting his neighbors' houses over the years. His compound now boasts four houses, four swimming pools, and over 15,000 square feet of living space.
His collection of properties already includes estates in Malibu, Palm Springs, Beverly Hills, Los Feliz, New York City, and an island near Belize. Some of the ultra-luxurious places are available for rent while others are for his private use only. Now that's what we call a real estate titan, DiCaprio is officially a mogul.
Saskatoon Real Estate: 6 most expensive house lisitngs | CTV News – CTV News Saskatoon
Housing sales have been dropping in Saskatoon. However, sales are still higher than the 10-year-trend according to the Saskatchewan Realtors Association (SRA). For those searching for something a little above average, the Saskatoon market still has some of the top luxury homes to offer.
Here are six of the most expensive homes in the region.
(Realtor.ca)
(Realtor.ca)
A four-bedroom, six-bathroom home in the Nutana neighbourhood. The property has direct access to the South Saskatchewan River and offers captivating views. Over four-thousand square feet spread over three levels, including a developed basement. It also has an in-ground pool, courtyard and a dock at the river's edge. The open-concept kitchen contains a butler's pantry, coupled with a formal living and dining room on the main floor.
(Point2Homes.ca)
(Point2Homes.ca)
A four-bedroom, three-bath luxury home overlooking the South Saskatchewan River. This property was custom created to make the most of the breathtaking view. It offers floor-to-ceiling windows, an ultra-private rear courtyard with a built-in cooking area, a basement that has a space for a live-in nanny suite and a home gym. It also has a unique high-heel style bathtub in the master bedroom.
(Realtor.ca)
(Realtor.ca)
This five-bedroom, four-bathroom home offers views of the South Saskatchewan River. It is also automated, which means you can control elements through your phone, such as windows, temperature, surround sound, lighting and security system. There is also a four-car garage on the property, a second-flood deck and landscaping.
(Point2Homes.ca)
(Point2homes.ca)
A five-bedroom, seven-bathroom home that offers a lot of space and comes completely furnished, except for the piano. In the basement, there is a theatre room, powder room, and storage room. The main level features a powder room, pantry and kitchen with Miele appliances. In the yard, there is a ground-level patio and a triple garage that offers direct entry to the basement.
(Realtor.ca)
(Realtor.ca)
One of Saskatoon's original mansions, this 5-bedroom, 4-bathroom home was designed by Frank P. Martin, a well-known architect from the 1900s. Renovations have kept the original plan while updating the wiring, plumbing and more. This home features a private rooftop patio, a third-floor self-contained suite that is separate from the rest of the home, and the original carriage house with a loft.
(Realtor.ca)
(Realtor.ca)
This four-bedroom, three-bathroom home was built in 1962 by George Kerr in the Mid-Century Modern Style. It includes a large art studio, a floating staircase, a 20-foot ceiling and floor-to-ceiling windows. It offers views of the green space in Grosvenor Park and is a short walk to the University of Saskatchewan.
This Week's Top Stories: Canadian Real Estate Prices Rise Sharply In Some Markets, BoC Sees Further Declines – Better Dwelling
[unable to retrieve full-text content]
This Week's Top Stories: Canadian Real Estate Prices Rise Sharply In Some Markets, BoC Sees Further Declines Better Dwelling




Source link
Top 10 real estate sales in North and West Vancouver 2022
Wine room? Check. Heated driveway? Check. Infinity pool, boat lift, putting green? Check, check, check.
While the real estate market took a cooler, even icy, turn in the last six months of 2022, that doesn't mean that sales of luxury real estate vanished on the North Shore.
Au contraire!
In fact, those for whom the mortgage "stress test" isn't a worry were still flexing a certain amount of buying power. Buyers at the high end of the market favoured large mansions – most clocking in at around 10,000 square feet – along with large lots, waterfront or expansive water views. Finishing touches like outdoor fire places, movie theatres, gyms, spa rooms and hot tubs didn't hurt either.
Here's a look at the top 10 real estate sales of 2022 on the North Shore.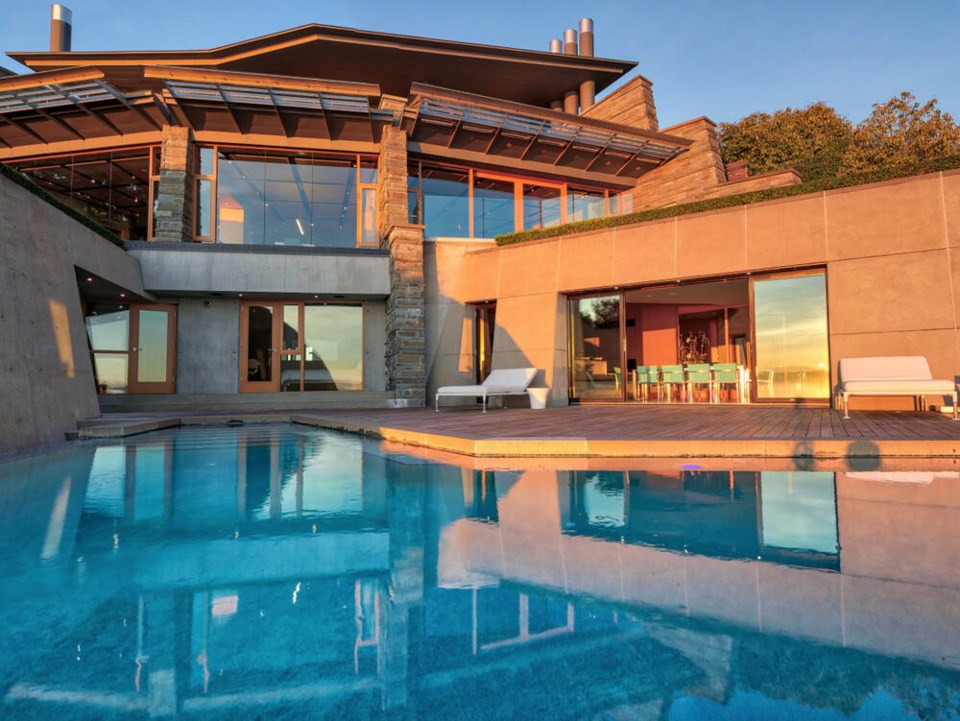 1. 2910 Park Lane
According to public real estate records, the top sale on the North Shore last year was an iconic five-bedroom, seven-bathroom luxury estate at 2910 Park Ln. on the Altamont waterfront which sold for $21.5 million on Aug. 10.
The 14-year-old, 9,400-square-foot home sits on a lot of almost half an acre of high-bank waterfront, including 98 feet of shoreline.
The home was built in 2008 by its former owner Mossadiq Medaly, a former chair of BC Hydro and a leader in the renewable energy industry, on the site of an apple orchard formerly owned by a member of Vancouver's Woodward family.
Designed by architect Peter Grant, the home features luxuries like an elevator, indoor-outdoor speaker sound system, in-floor heating system, heated driveway, five fireplaces, infinity pool, floor-to-ceiling windows and a professional music room.
The luxury home, assessed at $14 million, was originally listed for sale at about $30 million.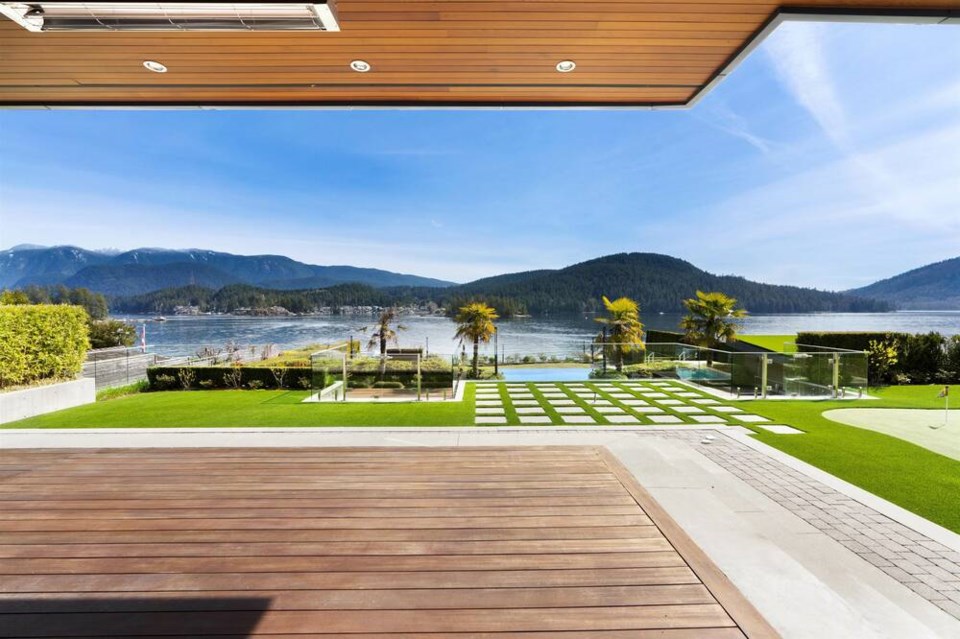 2. 754 Beachview Drive
A deluxe six-bedroom, eight-bathroom home at 754 Beachview Dr. was the only home in North Vancouver to make the Top 10 sales list. The luxury home on three-quarters of an acre was assessed at just under $12.55 million this year. The 8,850-square-foot home sold in September for $14.9 million.
Features of the oceanfront mansion include an infinity pool, 10-person hot tub (now that's a party!), golf putting green, dock with boat lift, four-jet-ski slip and private ramp. Inside features double height ceilings, Miele appliances, movie theatre, billiard area, gym, sauna, steam room and wine room.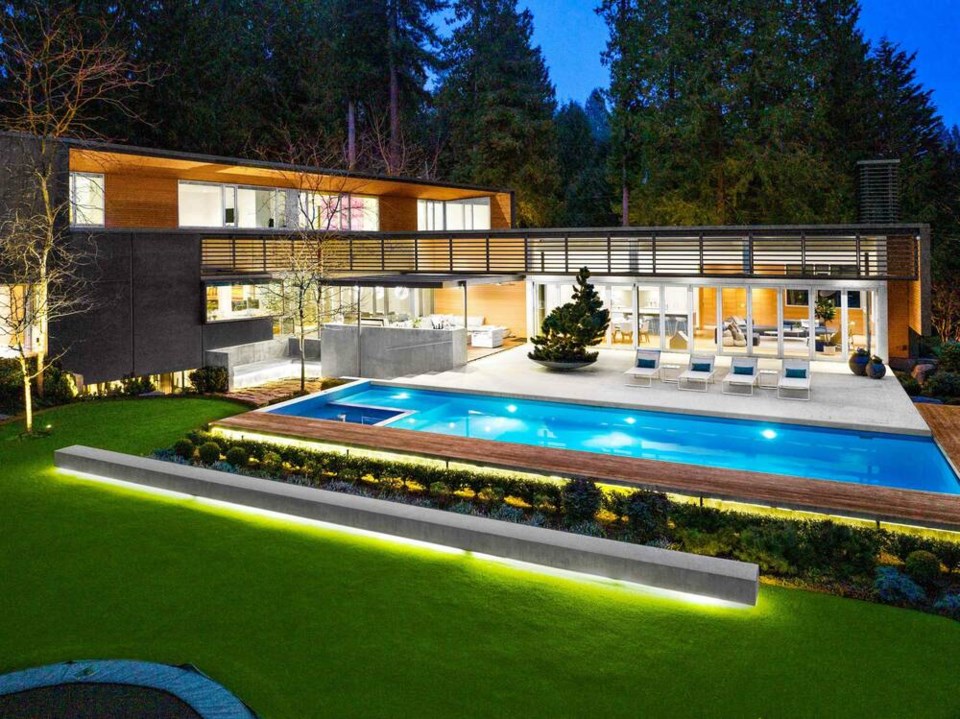 3. 2975 Palmerston Avenue
Located in West Vancouver's sought after Altamont neighbourhood, this distinctly modern mansion by architectural firm Battersby Howat sold for $14.75 million in February after just 24 days on the market. The six-year-old, 10,000-square-foot three-storey house on a landscaped half-acre lot sold for close to its asking price of $14.88 million. The home features floor-to-ceiling windows and glass doors that create a dramatic open feel leading to spectacular garden views. Outside, a hot tub and pool beckon. The home also boasts an array of technology for controlling lighting, a private elevator, security system, air conditioning and garage parking for five vehicles.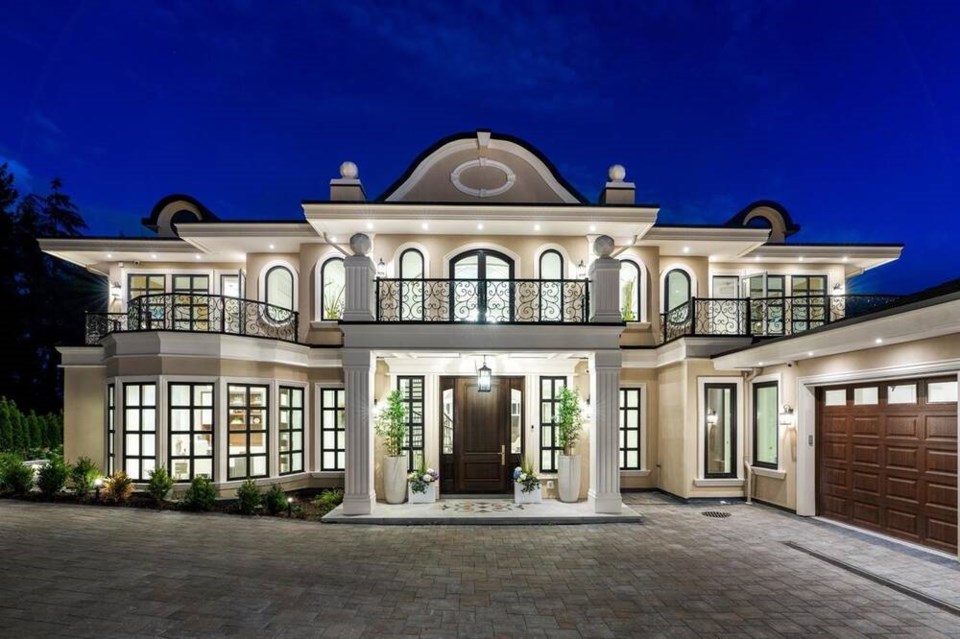 4. 1335 Chartwell Drive
Homes in the British Properties are among those often sought out in the higher echelons of the real-estate market. It's all about the views up here, and showing off luxury details. The fourth-highest sale on the North Shore, at 1335 Chartwell Dr., which sold for $12.8 million July 23 after just 15 days on the market, ticks those boxes. A one-year-old custom build, the six-bedroom, eight-bathroom 10,000-square-foot house features a "grand foyer" with a 20-foot hand-painted dome ceiling rising above a crystal chandelier. Italian tile, Miele and Wolf appliances, four marble gas fireplaces and a wine cellar, theatre, sauna, gym, pool, hot tub and heated driveway complement the bling.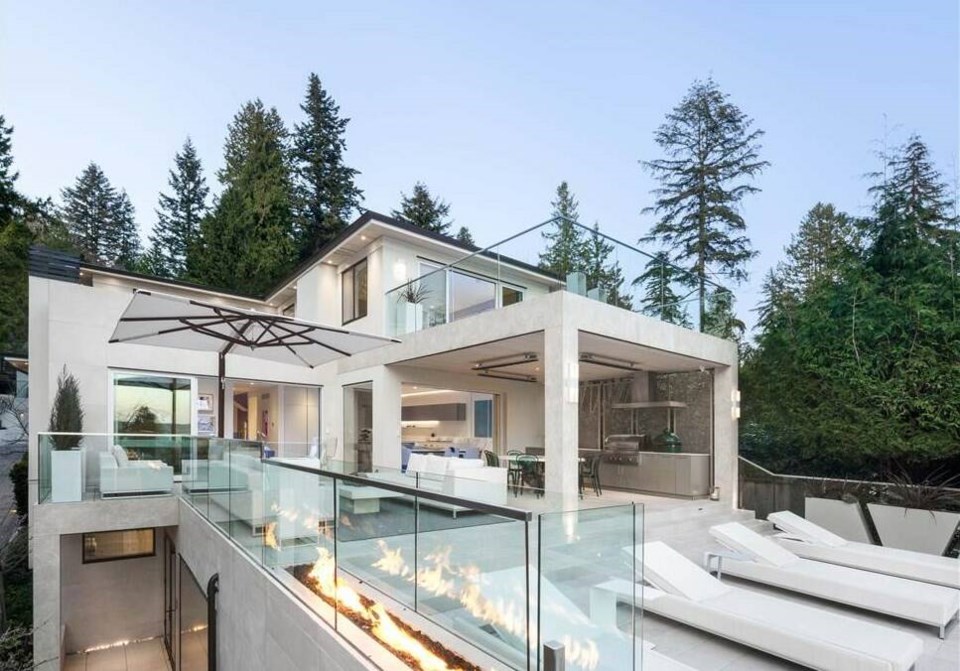 5. 2919 Mathers Avenue
A "health and wellness wing" including a massage room, separate "staff quarters," "butler's pantry" and a 27-foot, 11,000-litre tropical aquarium are among the unique features of the fifth-highest property sale on the North Shore in 2022 at 2919 Mathers Ave. The seven-bedroom, 11-bathroom 8,000-square-foot Mediterranean-inspired home on almost a half acre in Altamont sold for $11.8 million on April 11 after 55 days on the market. That's significantly less that the original asking price of $14.3 million. An integrated Band & Olufsen audio visual system, fitness room, infinity pool and jacuzzi complete the package.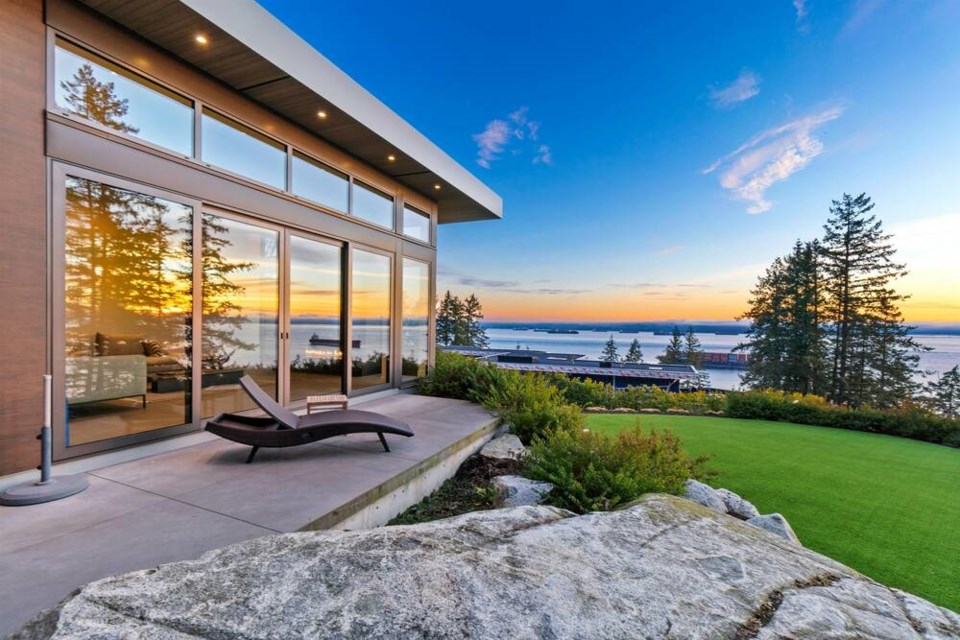 6. 3704 McKechnie Avenue
A contemporary custom-built home, nestled among trees on a "trophy property" backing on to McKechnie Park, this three-year-old 5,300-square-foot home at 3704 McKechnie Ave. sold for $11 million on Feb. 18, 2022 – less than the asking price of $12.8 million.
The five-bedroom, six-bathroom home on a third of an acre in Westmount features an open floor plan drenched in light with all rooms offering sweeping ocean views.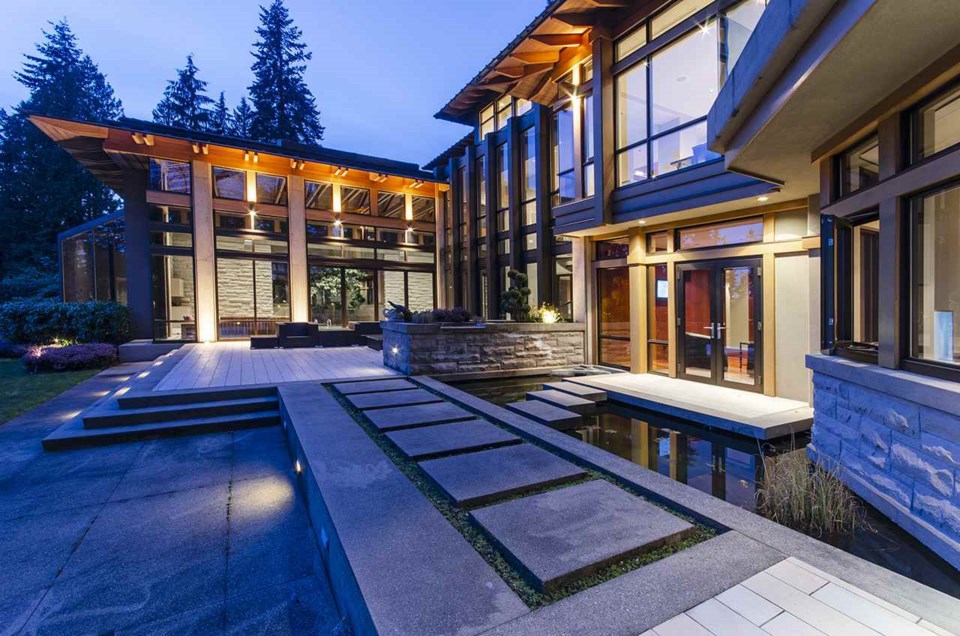 7. 2860 Mathers Avenue
A 17-year-old 12,000 square-foot home on Altamont's "Golden Mile" was the seventh highest real estate sale on the North Shore last year. The three-storey, seven-bath, six-bedroom home at 2860 Mathers Ave. sold for $10.7 million, considerably below the $14 million asking price, on April 20, after 75 days on the market. The modern concrete home features a wine room, gym and indoor swimming pool and has geothermal heating and cooling. There are also solar panels for hot water, a rainwater reclamation system and a heated driveway.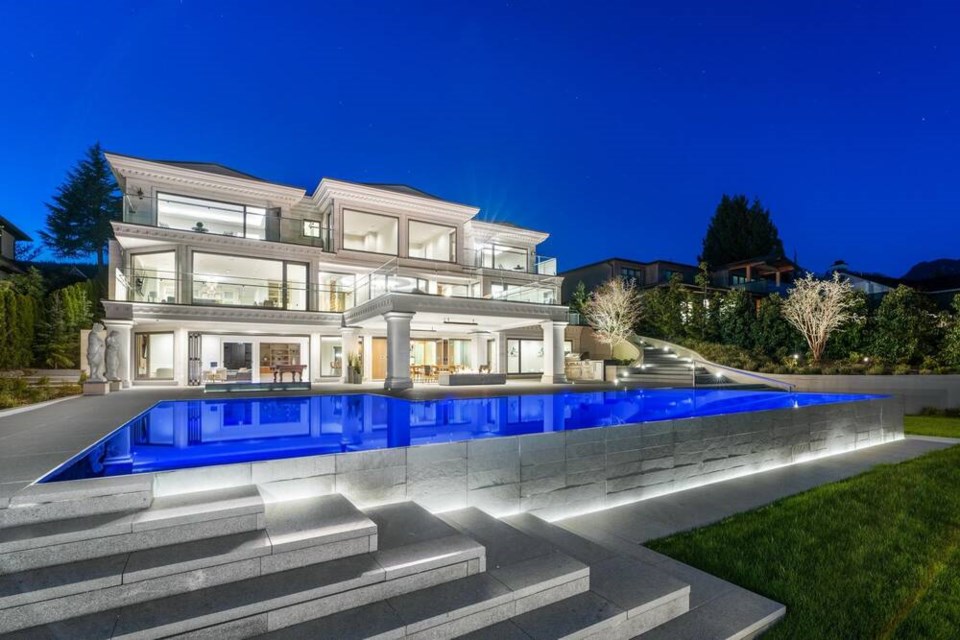 8. 1022 Eyremount Drive
If a mini golf course and elevator are among the luxurious touches you expect in home, this one-year-old British Properties mansion fits the bill.
The almost 10,000-square-foot home at 1022 Eyremount Dr. features gasp-worthy views of the ocean, city and Lions Gate Bridge. The five-bedroom, eight-bathroom mansion is billed as having "every imaginable luxury" including a walk-in wine cellar/cigar room, billiard area, home theatre and sauna, as well as five fireplaces. It sold for $10.5 million Sept. 18, after 69 days on the market, a relative bargain compared to the asking price of $16 million.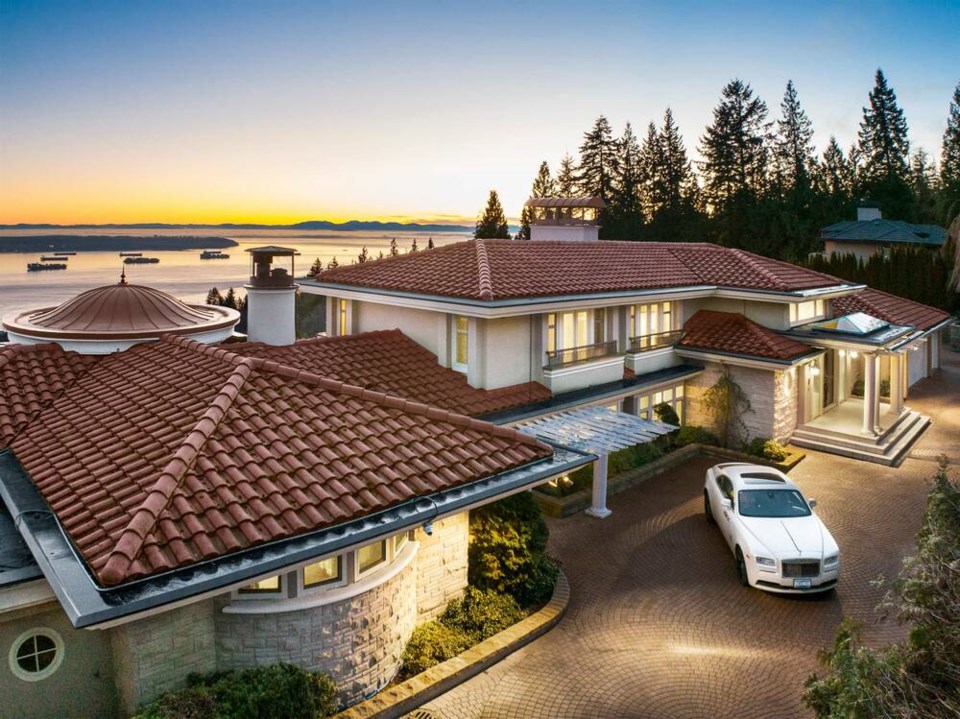 9. 1578 Chippendale Road
Amazing views from the British Properties are the key feature of this 9,700-square-foot 23-year-old home on a huge flat lot at 1578 Chippendale Rd. The three-storey, six-bed, five-bathroom mansion sold April 15 for just under $10.3 million. Almost 300 feet of frontage allows for a "massive street presence." A library, sauna and media room are also among the features of the home.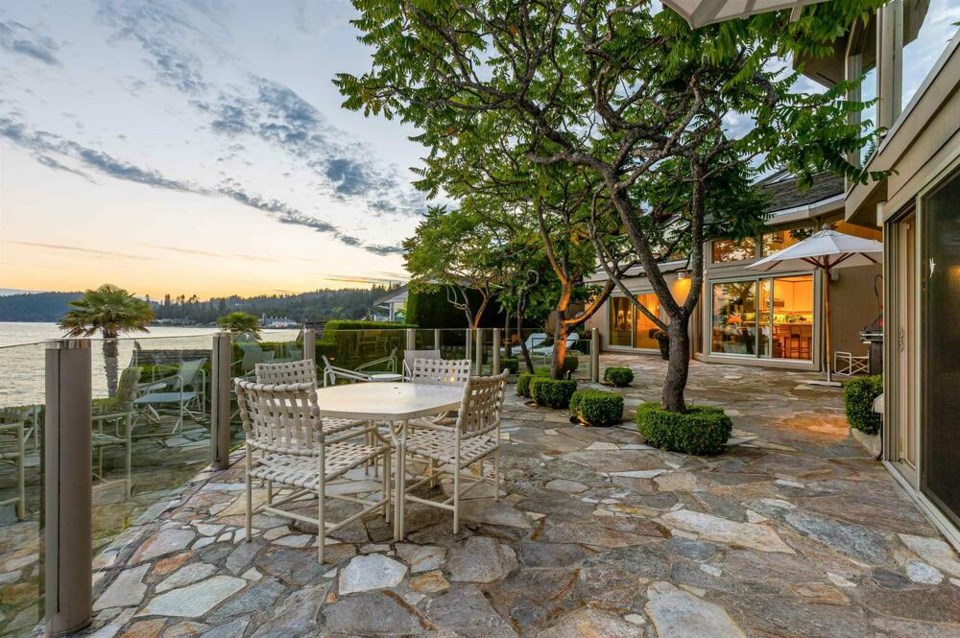 10. 3874 Marine Drive
This two-storey, four-bedroom four-bathroom home on the waterfront in West Bay at 3874 Marine Dr. is the smallest of the top ten homes to sell last year at 3,700 square feet. It's also the oldest at 73 years. But what it lacks in sheer size it makes up for in gorgeous west coast character on a spectacular 17,600-square-foot property that slopes gently to the water's edge. Tiered patios, a waterside pool and boathouse lead down to about 80 feet of natural shoreline. There's also tranquil gardens a pond and gazebo. Inside features large rooms with stunning views, all in a comfortable home.
This home was the only one on the North Shore's top ten sales that sold for under $10 million last year, fetching $9.8 million on Sept. 17, after just 17 days on the market.