NASA's 'astonishing' Mars discovery supported 'thriving life' on Red Planet surface – Daily Express
The possibility of life on Mars is a subject of huge interest to scientists due to its proximity and similarities to Earth. No proof has been found of past or present life as of yet, but evidence has shown that during the ancient Noachian period, the surface environment of Mars had liquid water and may have been habitable for microorganisms. NASA's Perseverance Rover will land on the Red Planet on February 18, 2021, and will help to determine whether the planet was once habitable, before collecting key data to help NASA prepare for future human missions.
But the Science Channel's 'NASA's Unexplained Files' revealed how the space agency got a surprise last time they touched down on the Red Planet.
The narrator detailed: "NASA's mission to Mars is on the line.
"The entire $800million (£610million) operation depends on the Opportunity Rover probe's high-risk landing inside Eagle Crater.
"When Opportunity starts transmitting, Mission Control's elation soon turns to shock.
"The Martian surface is covered in small spherical rocks."
Mars planetary scientist Professor Jim Bell explained how they identified what soon came to be known as the 'Mars blueberries'.
He said: "We're looking around, we're taking pictures, and we see the ground literally covered with these little spherical grains and this is really bizarre.
"What are these things and where did they come from?
"Mars is the Red Planet, everything is red, and these are less red, so to an astronomer that means blue."
READ MORE: NASA Moon breakthrough: 'Living bugs' found on Apollo equipment brought back to Earth
"But if they indicate the presence of water, the implications are astonishing."
The narrator explained how researchers developed a theory on the rocks.
He said: "What an artificial source could be remains pure speculation until the results of an experiment to test the effects of meteorite impacts provides an exciting possibility.
"When scientists fire high voltage plasma charges at Martian dust, the energy beams transform the fragments into perfect spheres.
"But another theory for the blueberries' origin supports the idea of life on the Red Planet."
Astronomer Marc D'Antonio detailed how the team ended up concluding the find suggested the presence of water.
He said: "Mars blueberries might seem a little strange but we also have them here on Earth.
"They are created in the presence of water and those little shapes are called concretions that form in rock as water circulates through.
"Water on Mars is very exciting because it means that, at one point, Mars was probably habitable."
Meteor specialist Dr Allan Treiman added: "We've got active groundwater, that's what you need on Earth for life, perhaps this is an environment where life could have thrived."
China successfully lands spacecraft on moon, prepares to collect lunar rocks – CBC.ca
China successfully landed a spacecraft on the moon's surface on Tuesday in a historic mission to retrieve lunar surface samples, Chinese state media reported.
China launched its Chang'e-5 probe on Nov. 24. The uncrewed mission, named after the mythical Chinese goddess of the moon, aims to collect lunar material to help scientists learn more about the moon's origins.
The mission will attempt to collect two kilograms of samples in a previously unvisited area in a massive lava plain known as Oceanus Procellarum, or "Ocean of Storms."
If the mission is completed as planned, it would make China the third nation to have retrieved lunar samples after the United States and the Soviet Union.
China's Chang'e-5 spacecraft successfully lands on the near side of the moon <a href="https://t.co/FDgFTxf5HD">https://t.co/FDgFTxf5HD</a> <a href="https://t.co/m8v2zAkiJz">pic.twitter.com/m8v2zAkiJz</a>

&mdash;@XHNews
The lander vehicle that touched down on the moon's surface was one of several spacecraft deployed by the Chang'e-5 probe.
Upon landing, the lander vehicle is supposed to drill into the ground with a robotic arm, then transfer its soil and rock samples to an ascender vehicle that would lift off and dock with an orbiting module.
State broadcaster CCTV said it would start collecting samples on the lunar surface in the next two days. The samples would be transferred to a return capsule for the trip back to Earth, landing in China's Inner Mongolia region.
China made its first lunar landing in 2013. In January last year, the Chang'e-4 probe touched down on the far side of the moon, the first space probe from any nation to do so.
China says the lander-ascender of its Chang'e-5 probe separated from the orbiter-returner and landed on the moon to collect samples, as this animated video shows. 1:03
China's sample-return Moon mission touches down – BBC News


.css-94m6rd-HeadingWrapperborder-bottom:solid 1px #BABABA;padding-bottom:1.5rem;.css-94m6rd-HeadingWrapper > *:not([hidden]):not(style) ~ *:not([hidden]):not(style)margin-top:1rem;.css-vk3nhx-ComponentWrappermargin:1.5rem 0;
.css-1759m9z-StyledFigurefont-family:ReithSans,Helvetica,Arial,freesans,sans-serif;font-weight:400;font-size:0.875rem;line-height:1.125rem;
.css-uf6wea-RichTextComponentWrappermargin:1rem 0;max-width:36.25rem;
.css-83cqas-RichTextContainercolor:#3F3F42;.css-83cqas-RichTextContainer > *:not([hidden]):not(style) ~ *:not([hidden]):not(style)margin-top:1rem;
.css-14iz86j-BoldTextfont-weight:bold;China has successfully put another probe on the Moon.
Its robotic .css-yidnqd-InlineLink:linkcolor:#3F3F42;.css-yidnqd-InlineLink:visitedcolor:#696969;.css-yidnqd-InlineLink:link,.css-yidnqd-InlineLink:visitedfont-weight:bolder;border-bottom:1px solid #BABABA;-webkit-text-decoration:none;text-decoration:none;.css-yidnqd-InlineLink:link:hover,.css-yidnqd-InlineLink:visited:hover,.css-yidnqd-InlineLink:link:focus,.css-yidnqd-InlineLink:visited:focusborder-bottom-color:currentcolor;border-bottom-width:2px;color:#B80000;@supports (text-underline-offset:0.25em).css-yidnqd-InlineLink:link,.css-yidnqd-InlineLink:visitedborder-bottom:none;-webkit-text-decoration:underline #BABABA;text-decoration:underline #BABABA;-webkit-text-decoration-thickness:1px;text-decoration-thickness:1px;-webkit-text-decoration-skip-ink:none;text-decoration-skip-ink:none;text-underline-offset:0.25em;.css-yidnqd-InlineLink:link:hover,.css-yidnqd-InlineLink:visited:hover,.css-yidnqd-InlineLink:link:focus,.css-yidnqd-InlineLink:visited:focus-webkit-text-decoration-color:currentcolor;text-decoration-color:currentcolor;-webkit-text-decoration-thickness:2px;text-decoration-thickness:2px;color:#B80000;Chang'e-5 mission touched down a short while ago with the aim of collecting samples of rock and dust to bring back to Earth.
The venture has targeted Mons Rümker, a high volcanic complex in a nearside region known as Oceanus Procellarum.
The lander is expected to spend the next couple of days examining its surroundings and gathering up surface materials.
It has a number of instruments to facilitate this, including a camera, spectrometer, radar, a scoop and a drill.
The intention is to package about 2kg of "soil", or regolith, to send up to an orbiting vehicle that can then transport the samples to Earth.
It's 44 years since this was last achieved. That was the Soviet Luna 24 mission, which picked up just under 200g.
Unlike the launch of the mission a week ago, the landing was not covered live by Chinese TV channels.
Only after the touchdown was confirmed did they break into their programming to relay the news.
Images taken on the descent were quickly released with the final frame showing one of the probe's legs casting a shadow on to the dusty lunar surface.
.css-1jltxxc-ComponentWrapper-SocialEmbedComponentWrappermargin:1.5rem 0;.css-1jltxxc-ComponentWrapper-SocialEmbedComponentWrapper iframemax-width:100%;.css-1jltxxc-ComponentWrapper-SocialEmbedComponentWrapper div > blockquoteborder:1px solid #BABABA;border-radius:4px;padding:1rem;max-width:36.25rem;margin-bottom:0.5rem;.css-1jltxxc-ComponentWrapper-SocialEmbedComponentWrapper spandisplay:block;font-size:0.875rem;line-height:1.125rem;margin-bottom:0.5rem;.css-1jltxxc-ComponentWrapper-SocialEmbedComponentWrapper .fb-postmax-width:100%;margin-bottom:0.5rem;.css-1jltxxc-ComponentWrapper-SocialEmbedComponentWrapper .fb-post spanmax-width:100%;
.css-1pzprxn-BulletListContainermargin-left:1.5rem;.css-1pzprxn-BulletListContainer *:not([hidden]):not(style) ~ *:not([hidden]):not(style)margin-top:1rem;.css-1pzprxn-BulletListContainer ullist-style-type:disc;.css-1pzprxn-BulletListContainer ollist-style-type:decimal;
.css-18mjolk-ComponentWrappermargin:1.5rem 0;max-width:50rem;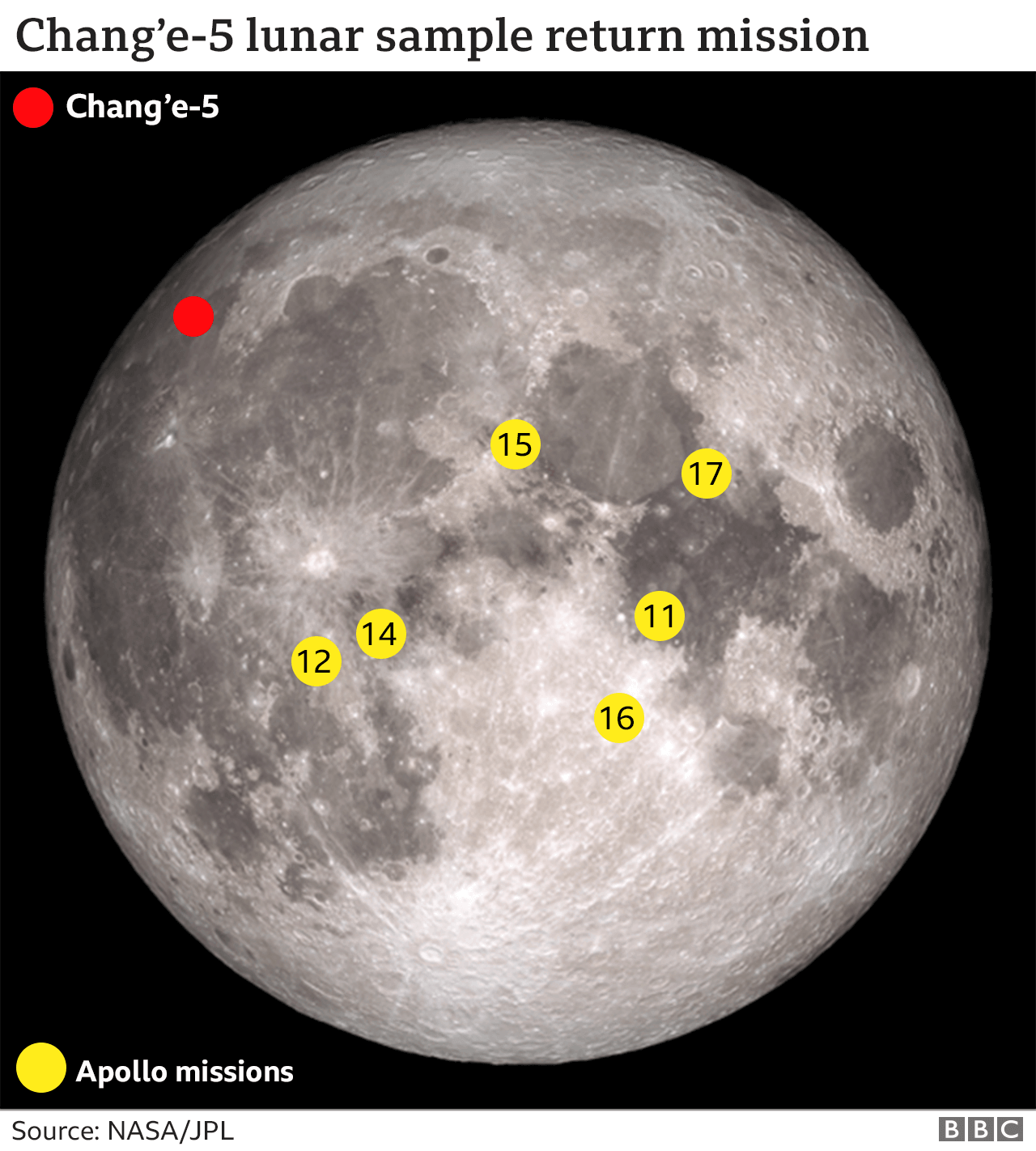 The 8.2-tonne Chang'e-5 spacecraft "stack" was launched from the Wenchang spaceport in southern China on 24 November (local time). It arrived above the Moon at the weekend and then set about circularising its orbit before splitting in two.
One half – a service vehicle and return module – stayed in orbit, while a lander-ascender segment was prepared for a touchdown attempt.
Chinese authorities say this lander-ascender element put down on the Moon's surface at about 15:15 GMT (23:15 China Standard Time), after a 15-minute automated descent, controlled by the thrust of a 7,500-newton engine.
It follows China's two previous Moon landings – Chang'e-3 in 2013 and Chang'e-4 last year. Both of these earlier missions incorporated a static lander and small rover.
A total of just under 400kg of rock and soil were retrieved by American Apollo astronauts and the Soviets' robotic Luna programme – the vast majority of these materials coming back with the crewed missions.
But all these samples were very old – more than three billion years in age. The Mons Rümker materials, on the other hand, promise to be no more than 1.2 or 1.3 billion years old. And this should provide additional insights on the geological history of the Moon.
The samples will also allow scientists to more precisely calibrate the "chronometer" they use to age surfaces on the inner Solar System planets.
This is done by counting craters (the more craters, the older the surface), but it depends on having some definitive dating at a number of locations, and the Apollo and Soviet samples were key to this. Chang'e-5 would offer a further data point.
Reports from China suggest the effort to retrieve surface samples may last no longer than a couple of days. Any retrieved materials will be blasted back into orbit on the ascent portion of the landing mechanism, and then transferred across to the service vehicle and placed in the return module.
The orbiter will shepherd the return module to the Earth's vicinity, jettisoning it to make an atmospheric entry and landing in the Siziwang Banner grasslands of the autonomous region of Inner Mongolia. This is where China's astronauts also return to Earth.
"Chang'e-5 is a very complex mission," commented Dr James Carpenter, exploration science coordinator for human and robotic exploration at the European Space Agency.
"I think it's extremely impressive what they're trying to do. And what I think is fascinating is you see this very systematic, step by step approach to increasing their exploration capabilities – from the early Chang'e missions to this latest one."
.css-144ki52-SectionWrappermargin:1.5rem 0;padding-top:1.5rem;
Alphabet"s UK subsidiary DeepMind makes breakthrough protein shape discovery – Proactive Investors USA & Canada
DeepMind, a London-based subsidiary of Google's owner Alphabet Inc, has been praised by the global scientific community after solving a 50-year-old challenge in biology.
Its artificial intelligence system AlphaFold has figured out what shapes proteins fold into, the so-called 'folding problem'.
It is a major scientific breakthrough because it allows to better understand what a protein does and how it works, since its shape is closely correlated with its function.
Proteins are the 'building blocks of life' because they underpin the biological processes in every living thing.
There are currently around 200mln known proteins and another 30mln is found every year.
Each of them has their own shape and it is often expensive and time-consuming to find their 3D composition, so we know only a fraction of the millions known to science.
Proteins are made of amino acids, which make the protein to fold when they interact, meaning there are nearly infinite possibilities for shapes.
The 3-D shape into which proteins fold themselves determines just about everything in biology. To predict that shape from the 1-D sequence of amino acids is a truly stunning achievement. If a computer program were eligible for a Nobel Prize . . .https://t.co/n8QxINE5M0

— Richard Dawkins (@RichardDawkins) December 1, 2020
AlphaFold was trained on the sequences and structures of 100,000+ proteins mapped out by scientists around the world and can now predict a protein's shape based on the sequence of amino acids.
As a result, scientists worldwide will have extra help in finding solutions, such as developing treatments for diseases or finding enzymes that break down industrial waste, because of the key role of proteins.
The system was officially recognised as a solution to the issue by the biennial Critical Assessment of protein Structure Prediction, a community created in 1994 by scientists that were looking to solve the protein folding problem.