Ontario reports 176 new COVID-19 cases, with over 7.7 million people fully vaccinated – kawarthaNOW.com
Here's an update on COVID-19 cases in Ontario as well as in the greater Kawarthas region.
Ontario is reporting 176 new COVID-19 cases today, the largest daily increase in the past week, with 7 of Ontario's 34 health units reporting double-digit increases — Toronto (37), Peel (20), Waterloo (20), Grey Bruce (15), York (11), Halton (10), annd Wellington-Dufferin-Guelph (10) — and 9 health units reporting no new cases at all.
The seven-day average of daily cases remains unchanged at 151.
Hospitalizations have dropped by 16 from yesterday to 153, with the number of ICU patients decreasing by 9 to 149 and the number of patients on ventilators decreasing by 3 to 109.
Ontario is reporting 3 new COVID-related deaths today, with 1 new death in a long-term care home.
Almost 18 million vaccine doses have been administered, an increase of 169,103 from yesterday, with over 95% of Ontario's total population now having received at least one dose. Over 7.7 million people have been fully vaccinated, an increase of 148,713 from yesterday, representing over 52% of Ontario's total population.
For a daily summary of cases in Ontario, including a breakdown of cases in each of Ontario's 34 health units, visit ontario.ca/page/how-ontario-is-responding-covid-19.
Advertisement – story continues below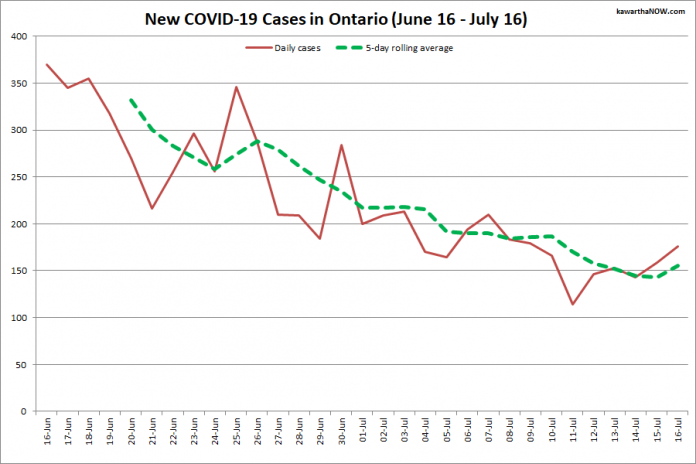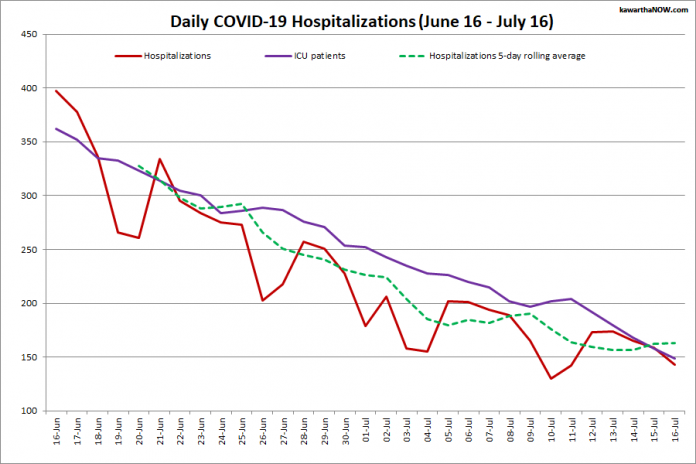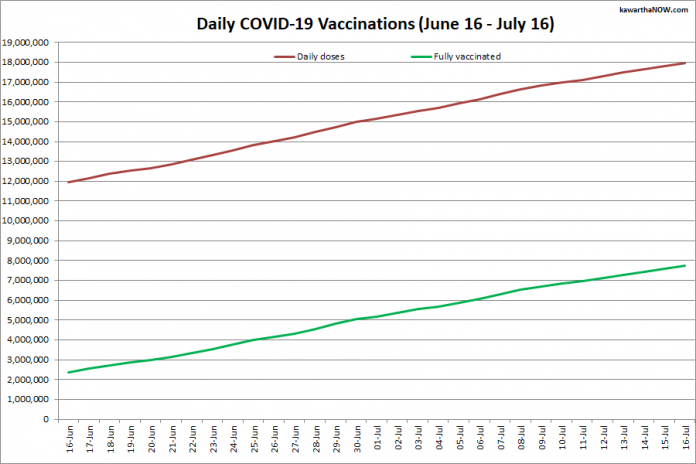 Advertisement – story continues below
Numbers for the greater Kawarthas region are unavailable on weekends as health units in the region no longer publish reports on Saturdays or Sundays. The weekend's numbers will be provided when regional health units issue their reports on Monday.
As of July 16, there were 28 active cases in the greater Kawarthas region, including 14 in Kawartha Lakes, 8 in Peterborough, 5 in Hastings Prince Edward (1 in Belleville, 1 in Tyendinaga & Deseronto, and 1 in North Hastings), and 1 in Haliburton. There are no active cases in Northumberland.
Since the pandemic began in the greater Kawarthas region, there have been 1,623 confirmed positive cases in the Peterborough area (1,593 resolved with 22 deaths), 1,136 in the City of Kawartha Lakes (1,077 resolved with 58 deaths), 946 in Northumberland County (929 resolved with 17 deaths), 123 in Haliburton County (121 resolved with 1 death), and 1,138 in Hastings and Prince Edward counties (1,122 resolved with 11 deaths). The most recent two deaths were reported in Peterborough and Kawartha Lakes on June 29.
Advertisement – story continues below
For detailed data for each health unit, visit the COVID-19 trackers for Peterborough Public Health, Haliburton, Kawartha, Pine Ridge District Health Unit, and Hastings Prince Edward Public Health.
For more information about COVID-19 in Ontario, visit covid-19.ontario.ca.
Why are Covid cases rising among double vaccinated? – Deccan Herald
By Jamie Hartmann-Boyce for The Conversation,
Sir Patrick Vallance, the UK's chief scientific adviser, has announced that 40 per cent of people admitted to hospital with Covid in the UK have had two doses of a coronavirus vaccine.
At first glance, this rings very serious alarm bells, but it shouldn't. The vaccines are still working very well.
There are several factors at play that explain why such a high proportion of cases are in the fully vaccinated.
Covid vaccines are extremely effective, but none 100 per cent so. This itself isn't surprising – flu vaccines aren't 100 per cent effective either.
Yet in the US alone flu vaccines are estimated to prevent millions of cases of illness, tens of thousands of hospitalisations and thousands of deaths every year. The Covid vaccines are doing the same in the UK right now – all one has to do is compare the curves from the winter wave with those from this summer.
As cases are rising, hospitalisations and deaths are rising too, but not at anywhere near the same level as they were in the winter. In the second half of December 2020 – a time when UK case rates were similar to what they are now – about 3,800 people were being admitted to hospital with Covid each day.
The average now is around 700. So though that's still higher than we wish it was, it's a lot lower than it was the last time we had this many infections.
Covid is also growing among the vaccinated because the number of people in the UK who have had both doses is continuing to rise. At the time of writing, 88 per cent of UK adults have had a first dose and 69 per cent a second. As more and more of the population is vaccinated, the relative proportion of those with Covid who have had both jabs will rise.
If you imagine a hypothetical scenario in which 100 per cent of the population is double vaccinated, then 100 per cent of people with Covid, and in hospital with Covid, will also have had both jabs. As with deaths, this doesn't mean the vaccine isn't working. It just means the vaccine rollout is going very well.
Also read: WHO warns of 'long term' Covid impact on mental health
We also need to remember that the vaccine rollout in the UK has systematically targeted people at the highest risk from Covid.
Older people and people with health conditions that make them more vulnerable were the first to get vaccinated. Once vaccinated, these people (including me) are at much lower risk from Covid than they would have been otherwise – but they are still at risk.
That means that when we compare people with both vaccinations being hospitalised to those who haven't had both doses, we aren't comparing like with like. People with both vaccinations are more likely to have been at greater risk from Covid in the first place. This makes them both more likely to be hospitalised and more likely to have already received both of their vaccine doses.
Is Covid different in the vaccinated?
The latest data from Public Health England suggests that against the delta variant, which is now dominant in UK, two doses of any of the vaccines available in Britain are estimated to offer 79 per cent protection against symptomatic Covid and 96 per cent protection against hospitalisation.
We don't have clear estimates yet from Public Health England on the level of protection against death caused by the delta variant – fortunately, this is partly driven by the fact deaths have been relatively low during this third wave in the UK.
But for the alpha variant, Public Health England data estimates the Pfizer vaccine to be between 95 per cent and 99 per cent effective at preventing death from Covid-19, with the AstraZeneca vaccine estimated to be between 75 per cent and 99 per cent effective. The evidence we have so far doesn't suggest that the delta variant substantially changes this picture.
There's lots we still need to learn about how people with both vaccine doses respond to getting infected with the virus. The UK's Covid Symptom Study is looking at this.
One of the key questions that remain is who is at most risk. Emerging data – released in a preprint, so yet to be reviewed by other scientists – suggests people who are overweight or obese, poorer people, and people with health conditions causing frailty seem to be more likely to get infected after having both jabs.
The preprint also suggests that age itself doesn't seem to affect chances of developing Covid after being vaccinated, nor does having a long-term condition such as asthma, diabetes or heart disease – but we need more data on this to be sure of these findings.
Generally, the Covid Symptom Study has found that people report the same Covid symptoms whether or not they've been vaccinated, but that people who've been vaccinated have fewer symptoms over a shorter period of time, suggesting less serious illness. The most commonly reported symptoms in people who had had both doses were headache, runny nose, sneezing, sore throat and loss of smell.
(The author is a Senior Research Fellow, Departmental Lecturer and Director of Evidence-Based Healthcare DPhil Programme, Centre for Evidence-Based Medicine, University of Oxford)
Canada's and Zimbabwe's paths for COVID-19 vaccination are worlds apart – The Globe and Mail
When mother-of-three Amanda Wood heard that hundreds of coronavirus shots were available for teens, only one thing prevented her from racing to the vaccination site at a Toronto high school – her 13-year-old daughter's fear of needles.
Wood told Lola: If you get the vaccine you'll be able to see your friends again. You'll be able to play sports. And enticed by the promise of resuming a normal, teen life, Lola agreed.
In Zimbabwe, more than 8,000 miles (13,000 kilometers) and a world away from Canada, immunity is harder to obtain.
On a recent day, Andrew Ngwenya sat outside his home in a working-class township in Harare, the capital, pondering how he could save himself and his family from COVID-19.
Ngwenya and his wife De-egma had gone to a hospital that sometimes had spare doses. Hours later, fewer than 30 people had been inoculated. The Ngwenyas, parents of four children, were sent home, still desperate for immunization.
"We are willing to have it but we can't access it," he said. "We need it, where can we get it?"
The stories of the Wood and Ngwenya families reflect a world starkly divided between vaccine haves and have nots, between those who can imagine a world beyond the pandemic and those who can only foresee months and perhaps years of illness and death.
In one country, early stumbles in the fight against COVID-19 were overcome thanks to money and a strong public health infrastructure. In the other, poor planning, a lack of resources and the failure of a global mechanism intended to share scarce vaccines have led to a desperate shortage of COVID-19 shots – and oxygen tanks and protective equipment, as well.
With 70% of its adult population receiving at least one dose of a COVID-19 vaccine, Canada has among the world's highest vaccination rate and is now moving on to immunize children, who are at far lower risk of coronavirus complications and death.
Meanwhile, only about 9% of the population in Zimbabwe has received one dose of coronavirus vaccine amid a surge of the easier-to-spread delta variant, first seen in India. Many millions of people vulnerable to COVID-19, including the elderly and those with underlying medical problems, are struggling to get immunized as government officials introduce more restrictive measures.
Ngwenya said the crush of people trying to get vaccinated is disheartening.
"The queue is like 5 kilometers (about 3 miles) long. Even if you are interested in a jab you can't stand that. Once you see the queue you won't try again," he said
Vaccines weren't always plentiful in Canada. With no domestic coronavirus vaccine production, the country got off to a sluggish start, with immunization rates behind those in Hungary, Greece and Chile. Canada was also the only G7 country to secure vaccines in the first round of deliveries by a U.N.-backed effort set up to distribute COVID-19 doses primarily to poor countries known as COVAX.
Prime Minister Justin Trudeau said it had always been Canada's intention to secure vaccines through COVAX, after investing more than $400 million in the project. The vaccines alliance, Gavi, said COVAX was also meant to provide rich countries with an "insurance policy" in case they didn't have enough shots.
COVAX's latest shipment to Canada – about 655,000 AstraZeneca vaccines – arrived in May, shortly after about 60 poor countries were left in the lurch when the initiative's supplies slowed to a trickle. Bangladesh, for example, had been awaiting a COVAX delivery of about 130,000 vaccines for its Rohingya refugee population; the shots never arrived after the Indian supplier ceased exports.
Canada's decision to secure vaccines through the U.N.-backed effort was "morally reprehensible," said Dr. Prabhat Jha, chair of global health and epidemiology at the University of Toronto. He said Canada's early response to COVID-19 badly misjudged the need for control measures including aggressive contact tracing and border restrictions.
"If not for Canada's purchasing power to procure vaccines, we would be in bad shape right now," he said.
Weeks after the COVAX vaccines arrived, more than 33,000 doses were still sitting in warehouses in Ottawa after health officials recommended Canadians get shots made by Pfizer-BioNTech or Moderna instead – of which they had bought tens of millions of doses.
The Wood children got the Pfizer vaccine. When Canada began immunizing children aged 12 and over, Wood, who works with children in the entertainment industry and her architect husband didn't hesitate.
Wood said her children, who are all avid athletes, have been unable to play much hockey, soccer or rugby during repeated lockdowns. Lola has missed baking lemon loaves and chocolate chip cookies with her grandmother, who lives three blocks away.
"We felt we had to do our part to keep everyone safe, to keep the elderly safe, and to get the economy going again and the kids back to school," she said.
In Zimbabwe, there is no expectation of a return to normal anytime soon, and things are likely to get worse – Ngwenya worries about government threats to bar the unvaccinated from public services, including transport.
Although Zimbabwe was allocated nearly 1 million coronavirus vaccines through COVAX, none have been delivered. Its mix of purchased and donated shots – 4.2 million – consist of Chinese, Russian and Indian vaccines.
Official figures show that 4% of the country's 15 million population are now fully immunized.
The figures make Zimbabwe a relative success in Africa, where fewer than 2% of the continent's 1. 3 billion people have been vaccinated, according to the World Health Organization. Meanwhile, the virus is spreading to rural areas where the majority live and health facilities are shambolic.
Ngwenya is a part-time pastor with a Pentecostal church; he said he and his flock have had to rely on their faith to fight the coronavirus. But he said people would rather have vaccines first, and then prayer.
"Every man is scared of death," he said. "People are dying and we can see people dying. This is real."
Our Morning Update and Evening Update newsletters are written by Globe editors, giving you a concise summary of the day's most important headlines. Sign up today.
Vaccines best defence against Delta resurgence as Waterloo Region reopens: Dr. Wang – CTV Toronto
KITCHENER —
Waterloo Region's medical officer of health says COVID-19 vaccines remain the best defence against resurgence of the Delta variant as the economy reopens.
The region joined Ontario with a move into Step 3 last Friday. Step 2 was delayed in the area due to wide community spread of the Delta variant earlier this summer.
"The risk of Delta will increase as we reopen our economy and society," Dr. Hsiu-Li Wang said at the region's COVID-19 update on Friday. "Therefore, we need to protect ourselves. Residents should not delay getting their first or second doses."
She encouraged people to continue following all public health measures, avoid crowded indoor spaces, gather outdoors whenever possible and wear a mask if physical distancing isn't possible.
"The Delta variant continues to be the predominant strain in Waterloo Region and is estimated to have accounted for 97 per cent of cases in the previous two weeks," Dr. Wang said.
Trends in the community have improved in recent weeks. The weekly incidence rate is now down to 25 cases per 100,000 people, according to Dr. Wang.
Dr. Wang added the majority of new cases continue to be in people who aren't vaccinated, or anyone who has only received one dose.
"Fully vaccinated people are the most protected possible against infection and, in particular, severe illness that can lead to hospitalization or even death," she said.
She said there is a possibility of breakthrough cases in people who are fully vaccinated, but they are less likely to have severe symptoms or to spread the disease to others.
"The more there's spread of the virus, the more everyone is at increased risk, because there's more exposure to the virus," Dr. Wang said. "But, those who are vaccinated, especially those that are fully vaccinated, are the most protected."
The region continues to have some of the highest first-dose coverage in Ontario, but Dr. Wang reminded residents that it's too soon to relax restrictions completely.
"We may feel done with the pandemic, but the pandemic is not done with us," she said.
CONTINUED PUSH FOR ACCELERATED SECOND DOSES
Regional officials continue to encourage people get their second vaccine dose as soon as they are eligible to do so. The interval between mRNA vaccines is 28 days, and people can get a second shot eight weeks after receiving AstraZeneca.
All regional clinics are offering walk-ins for first and second doses, and all other appointments will be honoured.
"I encourage every resident who has an appointment in August, September or October to book an earlier appointment or pop into one of the clinics," said Dept. Chief Shirley Hilton, who is leading the region's vaccine rollout.
The region launched a new mobile vaccine bus this week, which is aimed at making doses more accessible to people who may not be able to get to a clinic, pharmacy or primary care facility.
Hilton said the vaccine task force is beginning to look at ramping down some of its mass vaccine clinics as more and more residents receive both first and second doses. She said they will continue to offer mobile and other vaccine options into the future.
ENFORCEMENT UPDATE
Officials reported one enforcement action at this week's COVID-19 update. Regional bylaw officers issued one ticket to a business for failing to comply with the face covering bylaw. That ticket was worth $240.