Social media 'out of control,' says Norfolk mayor – Simcoe Reformer
Port Rowan man pleads guilty to threatening Chopp
Norfolk County Mayor Kristal Chopp says harassment and even threats of violence have been part of her job since being elected in 2018.
"I'm pretty tough, but the constant barrage of abuse that some find amusing has affected my psychology," the mayor said in an interview last week.
Earlier this month, a 57-year-old Port Rowan man was sentenced after he pleaded guilty to uttering a threat to cause death or bodily harm to Chopp.
Dana Robert Dargie was placed on house arrest for 30 days and put on probation for 18 months, during which he is banned from communicating with or going near the mayor. He also can't go to the municipal building or attend any Norfolk council meetings. And he was directed to get counselling for anger management.
"It's my understanding that he was warned once to stop and he didn't," Chopp said of Dargie.
But Dargie is just one of many people who lash out on social media against the mayor, who has faced controversy over council's decisions to cut services and staff, among other things.
At a Norfolk council meeting last Tuesday, the mayor was accused by her council colleagues of using bullying tactics and intimidation as the politicians aired their feelings and grievances. Chopp refused to participate in the meeting, gathering her things and leaving.
Along with emails and negative online comments, Chopp is mocked through a parody account on Twitter, which often compares her to U.S. President Donald Trump. She said a members-only Facebook site with 3,000 members seems to have been formed specifically to discuss and denigrate her work and that of Norfolk CAO Jason Burgess, who is the municipality's fifth CAO in just over a year.
She said she regularly receives inappropriate emails, including some from a "dirty old man," who has sent dozens of messages, including half-naked photos of himself.
"I never used to believe in blocking people but that has changed in recent times. Social media has become too out of control, too offensive, too damaging and too harassing."
And that harassment has extended to her family.
Chopp said her parents' Hamilton-area farm was visited last year by bylaw officers looking for illegal cannabis.
"They realized they had been sent on a wild goose chase the second they stepped onto the farm but said they had so many phone calls and emails telling them to check it out that they finally went."
A spokesperson for the City of Hamilton confirmed bylaw officers visited the farm and found no violations.
Chopp said that incident is still under investigation and included a "22-page manifesto" from someone named "Harry Smith," who mailed his allegations to major media organizations in Canada and to Chopp's employer, Air Canada, where she works as a pilot. The "manifesto" said the mayor is a narcissistic dictator and psychopath, who owns her own plane and runs a marijuana business.
"I think there's a reason why women, in particular, don't want to get involved in politics," she said. "I can give you a list of more than a dozen men I'm allegedly sleeping with. And, if they don't get off on that one, they call me a lesbian."
Chopp said she has pondered taking civil action against some of the harassers as the abuse intensifies
She said she hopes Dargie's conviction will stop others.
"But I don't think it will," she said. "Social media has taken on a life of its own and the facts don't seem to matter.
"Ignoring the keyboard warriors is difficult but I will do my best to soldier on."
SGamble@postmedia.com
@EXPSGamble
Bernie Sanders' inauguration meme gets social media attention from sports world – Sporting News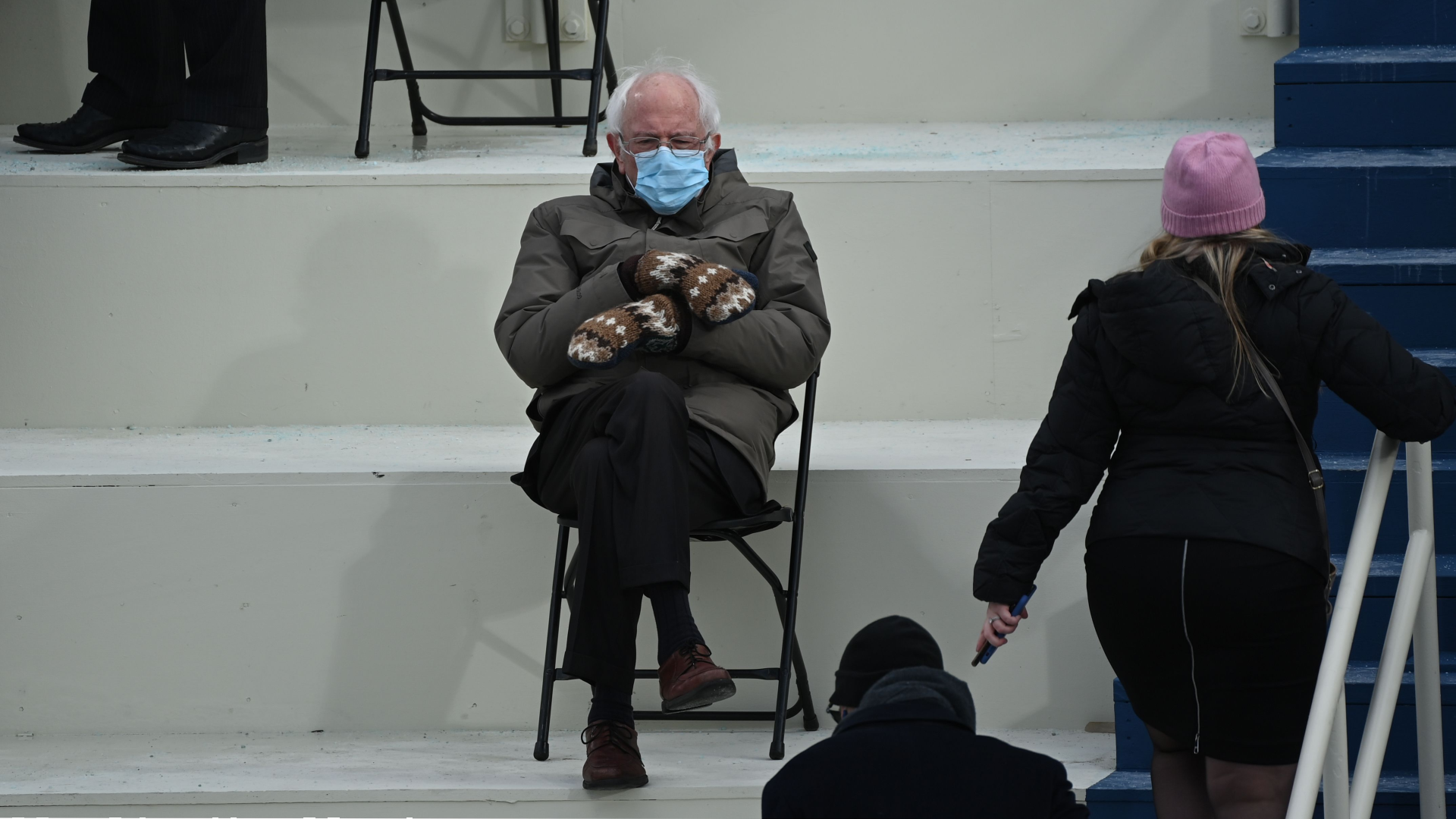 Bernie Sanders has a knack for online stardom.
The senator from Vermont is already the subject of one well-known meme — we'll get to that in a second — and on Wednesday, thanks to his inauguration outfit, socially-distanced spot and demeanor at the Capitol, he earned another one.
First off, props to Sanders who was sporting the same jacket from the original "I am once again asking" meme. If the jacket still fits and is in good shape from 2019, why not keep wearing it?
So aside from the coat, he's got a new meme thanks to a photo that popped up of the 79-year-old senator sitting in a folding chair socially distanced from everyone. He sat in said coat, with his arms crossed and warm mittens on his hands and his legs crossed — and, of course, he had on a mask.
Following COVID-19 protocols, Sanders became a social media sensation once again and the sports world was quick to follow suit as well.
Media Beat: January 21, 2021 – FYI Music News
TPX now representing AdLarge Media's cabana portfolio in Canada
The Podcast Exchange (TPX), Canadian's top podcast ad agency, expanded its brand dominance this week with an exclusive agreement to represent US-based AdLarge Media's cabana portfolio for exclusive Canadian ad sales representation.
"We are simply delighted to be cabana podcasts' strategic partner in Canada," said TPX's President and Chief Executive Officer Jean-Marie Heimrath. "cabana is our latest international signing and supports our business strategy to work with global publishers in partnership with advertisers to harness the full potential of the Canadian podcast audience."
TPX was co-founded by Jean-Marie Heimrath and Jeff Ulster to offer consulting and co-production to ad sales and IP licensing to media and in particular the fast-growing podcast industry here in Canada. The privately held company took a quantum leap in Q1 2020 when Montreal music and media tech firm Stingray acquired a 30% interest in the firm.
For the purposes of the 2021 Maclean's Power List (below), we canvassed the landscape for Canadians with qualities we think represent power in a time of transformative change. By dint of their actions, words or character, they force us to watch, listen and learn. They are moving the needle in their chosen fields, and in many cases the wider world. Importantly, they are good-faith actors. History may judge them wrong, but they act in the belief that doing so will result in a better world.
You may notice therefore a shortage of power brokers in the conventional mould—bank CEOs, cabinet ministers, scions, high-powered lobbyists. For this list, warming a seat in the establishment doesn't cut it. Nor does preserving the status quo. Nor, certainly, does exercising power for the mere sake of disruption. (Peddlers of conspiracy and disinformation could be thought of as influential; you will not find them in this ranking.)
Executive Director Daniel Bernhard, Chair of the Board Aritha van Herk, and Vice-Chair Raymonde Lavoie present at the CRTC Hearings regarding the CBC license renewal, January 18, 2021.
[embedded content]
Google and Facebook received a growing share of the federal government's advertising budget after the Trudeau Liberals took power, as Ottawa quadrupled how much it spent each year on ads from the American web giants between 2015 and 2019.
Responding to the figures, New Democrat MP Charlie Angus said that, "at the very least," Ottawa should ensure sales tax is charged on advertisements purchased from Google and Facebook. – Alex Balllingall, The Star
Canada is ushering in some new blood too with François-Philippe Champagne replacing Navdeep Bains as minister of Innovation, Science and Economic Development (ISED), thanks to a recent cabinet shuffle by Prime Minister Justin Trudeau. As the new minister responsible for the telecom file, Champagne may bring a difference in tone and possibly direction.
We canvassed some Canadian telecom industry watchers we like about these developments. Here's a summary of what they expect on both sides of the border over the next few years. – Peter Nowak, TekSavvy blog
Netflix reported that its paid streaming subscribers rose to 203.7 million at the end of the fourth quarter, up 23% from a year ago.
The streamer said the new season of The Crown drew more than 100 million households in its first 28 days, exceeding the total for its prior seasons.
The Midnight Sky, starring and directed by George Clooney was Netflix's biggest movie in the quarter with 72 million households watching in its first four weeks. The film Over the Moon attracted 43-million-member households and Netflix projected that We Can Be Heroes will reach 53 million households in its first four weeks. – Jon Lafayette, Broadcast + Cable
Lingo Media's ELL Technologies to Present at the LAAA, LATAM Accreditation Association Conference – Canada NewsWire
TORONTO, Jan. 20, 2021 /CNW/ – Lingo Media Corporation (TSXV: LM) (OTC: LMDCF) (FSE: LIMA) ("Lingo Media") subsidiary, ELL Technologies ("ELL Technologies"), a global provider of digital and print-based English language learning solutions, will be presenting at the LAAAA, LATAM Accreditation Association www.latam-aa.org virtual conference event on January 23rd and 24th, 2021.
This virtual event offers teachers, coordinators, and directors involved in language teaching an opportunity to engage in professional development by way of a unique and highly relevant international conference, focusing on the latest research, practical insights for the face to face and virtual classroom, and a vision for the future of language education.
ELL Technology will present as part of the keynote speaker event "Building Community and Connection in Our Online Learning Spaces"
About ELL Technologies
ELL Technologies Ltd. is a digital language learning and assessment company that creates innovative SaaS eLearning solutions. The Toronto-based company offers more than 2,000 hours of English learning content and also has courses in Spanish, Mandarin, French and Portuguese.
ELL Technologies' products and programs are marketed through established sales channels to key education, government and business organizations in Latin America, Asia, Europe and the U.S.
Follow ELL Technologies On:
Facebook: https://www.facebook.com/ELLTechnologies/
LinkedIn: https://ca.linkedin.com/company/elltechnologies
Twitter: https://twitter.com/ELLTechnologiez
About Lingo Media (TSX-V:LM) (OTC:LMDCF) (FSE:LIMA)
Lingo Media is a global EdTech company that is 'Changing the way the world learns languages', developing and marketing products for learners of new languages through various life stages, from classroom to boardroom. By integrating education and technology, the company empowers language educators to easily transition from traditional teaching methods to digital learning.
Lingo Media provides both online and print-based solutions through two distinct business units: ELL Technologies and Lingo Learning. ELL Technologies provides online training and assessment for language learning, while Lingo Learning is a print-based publisher of English language learning programs in China.
Lingo Media has established successful relationships with key government and industry organizations internationally, with a presence in Latin America, China and the U.S., and continues to both extend its global reach and expand its product offerings.
Follow Lingo Media On:
Facebook: https://www.facebook.com/LingoMedia
Twitter: https://twitter.com/LingoMediaCorp
YouTube: https://www.youtube.com/lingomedialm
LinkedIn: https://www.linkedin.com/company/lingo-media-corporation
RSS: http://feeds.feedburner.com/LingoMedia
Portions of this press release may include "forward-looking statements" within the meaning of securities laws. These statements are made in reliance upon Sections 21E and 27A of the Securities Exchange Act of 1934, which involve known and unknown risks, uncertainties or other factors that could cause actual results to differ materially from the results, performance, or expectations implied by these forward-looking statements. These statements are based on management's current expectations and involve certain risks and uncertainties. Actual results may vary materially from management's expectations and projections and thus readers should not place undue reliance on forward-looking statements. Lingo Media has tried to identify these forward-looking statements by using words such as "may," "should," "expect," "hope," "anticipate," "believe," "intend," "plan," "estimate" and similar expressions. Lingo Media's expectations, among other things, are dependent upon general economic conditions, the continued and growth in demand for its products, retention of its key management and operating personnel, its need for and availability of additional capital as well as other uncontrollable or unknown factors. No assurance can be given that the actual results will be consistent with the forward-looking statements. Except as otherwise required by US Federal securities laws, Lingo Media undertakes no obligation to publicly update or revise any forward-looking statements, whether as a result of new information, future events, changed circumstances or any other reason. Certain factors that can affect the Company's ability to achieve projected results are described in the Company's filings with the Canadian and United States securities regulators available on www.sedar.com or www.sec.gov/edgar.shtml.
NEITHER THE TSX VENTURE EXCHANGE NOR ITS REGULATION SERVICES PROVIDER (AS THAT TERM IS DEFINED IN THE POLICIES OF THE TSX VENTURE EXCHANGE ACCEPTS RESPONSIBILITY FOR THE ADEQUACY OR ACCURACY OF THIS RELEASE
SOURCE Lingo Media Corporation
For further information: Lingo Media, Khurram Qureshi, Chief Financial Officer, Tel: (647) 831-1462, Email: [email protected]; To learn more, visit us at lingomedia.com
Related Links