The UK economy just had its worst year in three centuries – CNN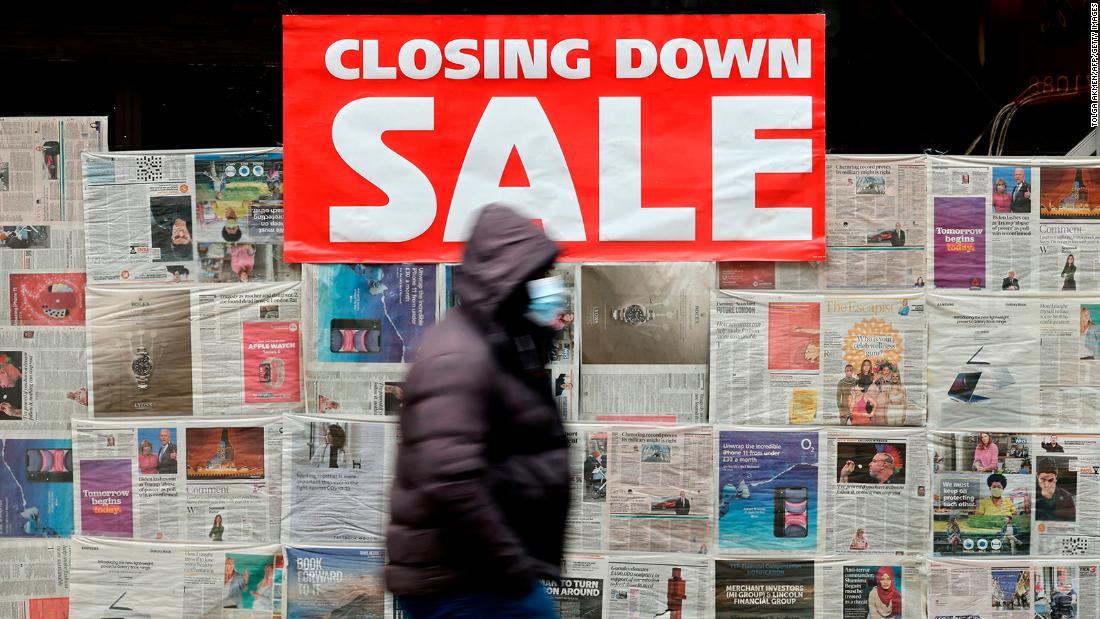 That means the Covid-19 pandemic has effectively
wiped out all growth
in the United Kingdom over the last 7 years, returning the economy close to the size it was in 2013.
The 9.9% slump in UK GDP was less severe
than expected
but still surpassed the 9.7% collapse experienced during the Great Depression in 1921, making it the worst annual drop since 1709, according to a Bank of England database. That was when Europe's harshest winter in 500 years caused widespread death and destruction.
"This time it's a pandemic to blame whereas back then, it was a Great Frost, which saw ice in the North Sea, and the War of Spanish Succession … which was doing the damage," wrote Societe Generale strategist Kit Juckes in a research note on Friday.
There were some signs of improvement in the
final months of 2020
, with GDP estimated to have increased by 1% in the fourth quarter, following record growth in the third, according to the Office for National Statistics.
But there were big swings in output between October and December, largely tracking the level of restrictions imposed to contain the coronavirus.
The United Kingdom suffered one of the worst
recessions among
major economies last year.
Germany
, for example, held up better in the pandemic than it did during the global financial crisis. Provisional estimates suggest Europe's biggest economy contracted by 5% last year.
EU GDP
, meanwhile, is expected to have shrunk 6.4%, according to Eurostat.
The United States fared even better by comparison, with GDP decreasing by 3.5% from the prior year.
"Today's figures show that the economy has experienced a serious shock as a result of the pandemic, which has been felt by countries around the world," UK finance minister Rishi Sunak said in a statement. "While there are some positive signs of the economy's resilience over the winter, we know that the current lockdown continues to have a significant impact on many people and businesses."
The new
national lockdown in the United Kingdom
, imposed on January 5, is expected to hit the economy hard in the first quarter of 2021, reversing the return to growth in the fourth quarter of 2020.
"It seems that a double dip [recession] was merely delayed rather than avoided outright," Sam Miley, an economist at the London-based Centre for Economics and Business Research said in a note on Friday.
Disruption to EU-UK trade following the end of the Brexit transition period on December 31 is also weighing on activity.
British exporters have struggled to get their products into Europe due to border delays and glitches in new customs systems. Companies selling fresh produce, such as
live shellfish
and meat, have in some cases had to discard their products as a result. Even once the dust settles, new trading arrangements are expected to add additional costs to UK companies, which rely on Europe for a large portion of their imports and exports.
The pandemic has left more than a quarter of British adults financially vulnerable, with too much debt or not enough savings to cope with a "negative life event" such as redundancy, loss of working hours, or ill health, according to a
survey
published on Thursday by the Financial Conduct Authority (FCA).
The survey also found that nearly 40% of British adults suffered financially as a consequence of the pandemic, with younger workers, Black people and the self-employed among the hardest hit.
But half of adults in the FCA survey said the pandemic had not disturbed their finances, while some 15% of adults were financially better off. That could lay the foundation for a savings-led boost to demand, according to Bank of England chief economist Andy Haldane, who pointed to high savings rates among UK households in an opinion piece published in
The Daily Mail
on Thursday.
"The rapid rollout of the vaccination programme across the UK means a decisive corner has been turned in the battle against Covid," he said. "A decisive corner is about to be turned for the economy too, with enormous amounts of pent-up financial energy waiting to be released, like a coiled spring," he added.
— Will Godley contributed to this article.
Spinning waste into gold: Victoria, Nanaimo councillors call for 'circular economy' strategy – Times Colonist
When people talk about a circular economy in which materials get reused and less waste ends up in landfills, they're really ­talking about entrepreneurs such as ­Meaghan McDonald.
The 31-year-old Victoria woman has launched a new venture that aims to make money and protect the environment at the same time.
Her brand, Salt Legacy, plans to give new life to discarded or "dead" sails from sailboats by using the durable, water- and sun-resistant materials to make backpacks, surfboard bags and other outdoor gear rather than burying all that nylon and polyester underground.
"I've always been really eco-conscious and always wanted to create something that would kind of help within the circular economy," McDonald said.
She has a background in biology rather than business, so she got help from an eight-month incubator program run by Victoria's Project Zero — a partnership between the non-profit Synergy Foundation and Vancity that assists start-up businesses looking to operate in a circular economy.
Project Zero envisions a Vancouver Island where, by 2040, "our waste will be our greatest resource" and hundreds of people will be working for small independent businesses that, like McDonald, will be "upcycling" materials into new products.
Municipal politicians are getting on board.
Victoria Coun. Jeremy Loveday describes the circular economy as an immense opportunity "to create good green jobs and live on this planet in a way that will actually be sustainable."
That's why he got Victoria council to endorse a resolution to the Union of B.C. Municipalities, calling on the provincial government to develop a circular-economy strategy.
Loveday said such a strategy would allow the province to encourage and mandate that governments, businesses and residents adopt circular-economy practices.
"And, I think, local governments are at the heart of it because cities are where the population, carbon emissions, waste and innovation are all occurring."
His motion, which emerged from the Climate Caucus, a non-partisan network of more than 300 elected officials across Canada, received final approval from Victoria council on Thursday.
In a related move, council also backed Loveday's resolution to the UBCM asking the province to adopt right-to-repair legislation, which would ensure citizens have access to the parts and information they need to fix items, rather than being discouraged by ­companies that claim ownership over the ­intellectual property of their ­products.
"The idea, essentially, is that it's time for the era of planned ­obsolescence to be over, and that consumers should have the right to receive information about their products, have access to spare parts, and that we should be able to repair the things that we purchase, rather than having a product that is designed to have an end of life," Loveday said.
Nanaimo Coun. Ben Geselbracht won approval from his council for similar motions last week, as well as a third resolution calling for a provincial strategy to deal with demolition and construction waste.
Geselbracht said that the more municipal councils sign on to the resolutions, the stronger the case for them receiving serious ­consideration at the next UBCM ­convention.
"Then, hopefully, when it gets passed to the minister, there's a pretty clear mandate that this is an important issue and we really demand action on it."
As for McDonald, she's forging ahead with her business plans and collecting old sails from marinas and sailing clubs that are only too happy to donate materials destined for the landfill.
She has the prototype for her backpack complete, work is underway on a fanny pack and a surfboard bag is in the design stage.
McDonald is also gathering the history of each discarded sail, so that she can attach stories of adventure and world travel to her new products.
"Then the new consumer can kind of have a bit of that history and that connection piece to the backpack they just bought," she said.
In that way, her products will keep stories circulating as well as the economy.
lkines@timescolonist.com
The Economy, Oil Demand And Prices – Forbes
Given data lags and uncertainty, it is often said that the Fed guidance of the economy is like someone driving through a tunnel with the windshield painted black, relying on the rearview mirrors and bouncing off the walls. Given current divergent views amongst the political tribes, I would add as a corollary that there's a child in the backseat hitting the driver with a pillow, screaming slow down they're scared, while another child does the same, except screaming they need a bathroom and the car should speed up.
Current debt levels now prevailing in most of the world's governments are outside of historical experience, so far as I know, and could have a significant impact on future growth and interest rates. Continued stimuli to promote economic recovery could mean low interest rates and rapid growth, which would certainly fuel stronger oil demand. Or it could result in inflation and thus high interest rates, leading to a new recession. Similarly, attempting to pay down the debt could slow economic growth and depress oil prices.
Aside from growth levels, interest rates have an impact on energy investment and could influence future fuel mixes. For example, low interest rates theoretically favor capital-intensive types of energy, including nuclear and renewables, along with long-term projects like deepwater oil and gas fields. (High interest rates favor shale oil and gas, because of their shorter payoff period.) It is possible that the recent surge in solar and wind power investment reflects recent low interest rates, although mandates and subsidies are probably more influential.
The heavy debt levels could, on the other hand, reduce subsidies for renewables including electric vehicles. Although it has become a cliché to claim that solar and wind are cheaper even than coal power, this is very misleading: at the least, new investment would be required to replace fossil fuels with renewables. The International Energy Agency, in its latest World Energy Outlook, projects investment needed in its scenarios, and the difference between the Stated Policies Scenario and the Sustainable Development Scenario would be $340 billion a year in the 2020s and reaches $1 trillion per year in the 2030s. (I've railed against the injustice of giving well-to-do citizens large grants to buy electric vehicles, which are one of the most expensive ways of reducing GHG that is given serios consideration.)
And where some talk about a new commodity supercycle, I worry that there is a good chance that instead there will be a collapse in asset values, with markets possibly entering bubble territory. One famous, possibly apocryphal story, is that Joe Kennedy (patriarch of the political dynasty) sold off his stock holdings just before the crash of 1929 after hearing a shoeshine boy give a stock tip: that convinced him the market was overbought. Similarly, it would seem that the roaring bull market for certain stocks such as Gamestop
GME
and Tesla
TSLA
might not be the result of fundamentals but rather the current expansionist monetary policy, which cannot last forever.
And the growing use of SPACs and the surging value of Bitcoin also reminds me of the late Charles Kindleberger's book, Manias, Panics and Crashes which describes how the invention of new forms of credit led to an expansion of the monetary supply, which caused asset bubbles followed by crashes. This could lead to a reversion to value stocks, such as oil and gas producers as well as utilities, ESG notwithstanding.
To be honest, though, I feel kind of like I'm in the passenger seat of the Fed's car shouting, "Go left! No, Right! No, Stop!" Perhaps the next killer app will be a GPS for monetary policy.
UK's Sunak says vaccine passport idea might help the economy – TheChronicleHerald.ca
LONDON (Reuters) – British finance minister Rishi Sunak said the idea of giving people vaccine passports or certificates to allow them to enter venues or events might be a way to help the country and its economy recover from the coronavirus pandemic.
"Obviously it is a complicated but potentially very relevant question for helping us reopen those parts of our country like mass events," Sunak told BBC television on Sunday.
Prime Minister Boris Johnson said last week that the government would hold a review to consider the scientific, moral, philosophical and ethical questions about using vaccine certificates for people who have received a coronavirus shot, which could help entertainment and hospitality venues reopen.
(Reporting by William Schomberg and David Milliken; Editing by David Clarke)