2020 World Junior Championship predictions – NHL.com
The United States will win the 2020 IIHF World Junior Championship, according to three NHL.com writers.
NHL.com deputy managing editor Adam Kimelman, NHL.com staff writer Mike G. Morreale and LNH.com staff writer Guillaume Lepage are each predicting the U.S. to win the elite international under-20 tournament for the second time since 2017, and fifth time in event history.
Kimelman says the U.S. will defeat Finland in a championship game rematch from the 2019 WJC, which Finland won 3-2. Morreale said he believes the U.S. will win against Sweden in the championship game, and Lepage predicts the U.S. will defeat Russia.
Each writer also made his picks for best goalie, best forward, best defensemen and top 2020 NHL Draft prospect.
The 2020 WJC starts Thursday and runs through Jan. 5 in Ostrava and Trinec, Czech Republic. Group A, which will play preliminary-round games at Werk Arena in Trinec, consists of defending champion Finland, along with Sweden, Switzerland, Slovakia and Kazakhstan. Group B, which will play at Ostravar Arena in Ostrava, includes the U.S., Canada, Russia, Czech Republic and Germany.
The preliminary round ends Dec. 31. The top four finishers in each group advance to the quarterfinals, which are on Jan. 2. The semifinals are Jan. 4., and the championship and third-place games are Jan. 5.
Many WJC games will be televised on NHL Network, including all U.S. games and each game in the medal round. A full schedule can be found here.
Kimelman predictions
Group A winner: Sweden
Group B winner: United States
Champion: United States
Second: Finland
Third: Russia
Surprise star: Moritz Seider, D, Germany
Best goalie: Spencer Knight, United States
Best defenseman: Ville Heinola, Finland
Best forward: Cole Caufield, United States
Top 2020 NHL Draft eligible player: Quinton Byfield, F, Canada
Morreale predictions
Group A winner: Sweden
Group B winner: United States
Champion: United States
Second: Sweden
Third: Russia
Surprise star: Bowen Byram, D, Canada
Best goalie: Spencer Knight, United States
Best defenseman: Ville Heinola, Finland
Best forward: Cole Caufield, United States
Top 2020 NHL Draft eligible player: Lucas Raymond, F, Sweden
Lepage predictions
Group A winner: Sweden
Group B winner: United States
Champion: United States
Second Russia
Third: Sweden
Surprise star: Jamie Drysdale, D, Canada
Best goalie: Spencer Knight, United States
Best defenseman: Alexander Romanov, Russia
Best forward: Cole Caufield, United States
Top 2020 NHL Draft eligible player: Alexis Lafreniere, F, Canada
—
Listen: New episode of NHL Draft Class
Jets' emotional weekend ends with hollow feeling as Oilers stymie late rally – Sportsnet.ca
WINNIPEG — There's nothing quite like an unexpected shot to the solar plexus to end an emotional weekend.
With the Winnipeg Jets wrapping up the busiest stretch of the NHL season after the organization completed a blockbuster deal involving a guy who was viewed as a franchise cornerstone, this rollercoaster evening included a stirring rally to take the lead late in the third period but concluded with a buzzer-beater from Leon Draisaitl.
Just like that, the Jets were left to deal with a hard-luck loss as the Oilers snatched defeat from the arms of victory. Oilers 4, Jets 3.
Even earning a single point and getting the game to overtime probably would have palatable, given that this was the fifth game in seven days. Ending up with nothing left a hollow feeling for a group that had won three consecutive games against the Ottawa Senators after a lacklustre showing against the Toronto Maple Leafs.
"There's no excuses," said Jets forward Nikolaj Ehlers, who scored in the third period and has four goals during the past four games. "We were behind and we battled our way back and didn't end up getting the two points. The way we played today, we deserved at least a point. That sucks, but we've got a game in two days and we want to get those two points so we're gonna look forward now."
Considering the Jets didn't play with the lead for a single minute until the fourth game of the season, it stands to reason that slamming the door remains a work in progress.
Losing leads is something that is going to happen over the course off a season. That doesn't take away the sting.
Nor does it take away the importance of closing out games — especially against teams that are quickly approaching in the rearview mirror.
A topsy-turvy third period saw the Jets erase a 2-1 deficit with goals from Ehlers and Blake Wheeler to take the lead with just under five minutes to play.
That ability to rally under tough circumstances is what Jets head coach Paul Maurice is going to focus in on.
Blowing a late lead doesn't erase the resilience shown, though it's a reminder of how difficult it is to win — especially when two of the most talented players in the NHL raise their respective level with the game on the line.
"The real positive for the game is our third (period). To come out and find that in the tank, I was really impressed with that," said Maurice. "So, it's a brutal way to end the game, for sure. But I will be left with how hard they pushed in the third. I'm really, really pleased with those guys finding that gear. That was just about character in the third and it's a tough lesson, the way it ended, but I'm really, really proud of them."
If come-from-behind wins (like the one the Jets had in the season opener or last Tuesday against the Senators, when 3-1 deficits turned into overtime wins) are something that teams use as a springboard for future success, is there any concern about lingering residue when a team suffers a heartbreaking loss?
"You always deal with the hockey part of it. That's always the easiest part in the NHL, dealing with that," said Maurice. "We'll look at this next game with a real strong focus, not real happy with the way it ended and feeling that we could have been in better control of our destiny at times.
"We did an awful lot of good things, but there's also going to be a bit of a light at the end of the tunnel."
That light at the end of the tunnel for the Jets will be closing out this stretch of six games in nine days.
But head coach Dave Tippett of the Edmonton Oilers opted for the nuclear option, tapped Connor McDavid on the shoulder and asked him to go out on the ice with Leon Draisaitl and Kailer Yamamoto. Folks have seen this movie before and thanks to a strong offensive-zone shift, McDavid was able to thread the needle to Yamamoto for the tying goal.
Then, after the Jets killed off a minor penalty to Dylan DeMelo, Draisaitl find a quiet spot in the slot and ripped home the game-winning goal after taking a pass from McDavid.
Game. Set. Match.
"Yeah, they are good players, and they are going to do damage when given opportunities like that," said Adam Lowry, who was frustrated by what happened on the game-winner. "So, I think I just get caught on the back-side there and vacate the slot as I'm worried about Nugent-Hopkins, and it goes right to the guy in the middle and he buries it. It's unfortunate."
Although the Jets did a great job of neutralizing McDavid and Draisaitl for a good chunk of the game, the late offensive eruption is precisely why the Jets went out and made the blockbuster move for Pierre-Luc Dubois, to give them another two-way weapon down the middle in the matchup game.
One of the most important decisions in this contest came late in the first period on a coach's challenge by Tippett.
The Jets thought they had taken a 2-0 lead on a goal from Andrew Copp. After Mikko Koskinen stopped a shot from Ehlers, the puck was loose and Copp got a piece of it — but he also caught the glove of the Oilers goalie with his stick.
Although the puck appeared to already be behind Koskinen, the referees disallowed the goal because of the contact that was made.
"It's a goal," said Maurice. "For me, I think the puck is past his glove. I'm not even sure that there's contact there. They felt it was close, so there's no argument."
Jets centre Lowry didn't feel like the group sagged after the goal was disallowed.
"Sometimes those, I just feel like you flip a coin and see how it comes out," said Lowry, who scored his third goal of the season. "I don't see a whole lot on that, I feel like we've had ones where there's more contact against us… They must have seen something that stopped Koskinen's ability to make the save, so they make that ruling and we just have to regroup from there. I don't see that we let that affect us negatively, it's unfortunate though because (Copp) had a heck of a first period and really deserved that one."
Tippett wasn't sure it was goalie interference, but figured the challenge was worth the risk even if it didn't work out, given how his team was playing.
"I was so frustrated with the way we were playing, I was going to (challenge) it anyhow," said Tippett.
Instead of being down by a pair of goals and scrambling, the Oilers steadied themselves and then came out stronger in the second period, getting a rebound goal from Ryan Nugent-Hopkins just 21 seconds in.
Jesse Puljujarvi made the most of his promotion to the top line alongside McDavid and Nugent-Hopkins. Aside from his strong net drive and primary assist on the goal from Nugent-Hopkins, Pulujarvi was around the puck, generating scoring chances and engaged physically.
That's the template for Puljujarvi to remain in that spot — or to get more future looks.
A lack of secondary scoring had been a major storyline for the Oilers in the early stage of the season but Kyle Turris put a dent in that well-deserved narrative with a well-placed shot over the glove of Jets backup Laurent Brossoit.
By the time the buzzer sounded on the period, the Oilers had outshot the Jets 19-6, outscored them 2-0 and had barely given up any scoring chances. The Oilers were fresh, while the Jets looked like a team that was playing for the fifth time in seven nights.
Just when you thought the Oilers had taken full control, the Jets scored twice in the third to pull ahead by a goal.
Instead of rolling over, the Oilers found a way to rally and they've now won two of the past three games going into Tuesday's rematch.
Aaron Rodgers laments Packers uncertain future: 'Myself included' – TSN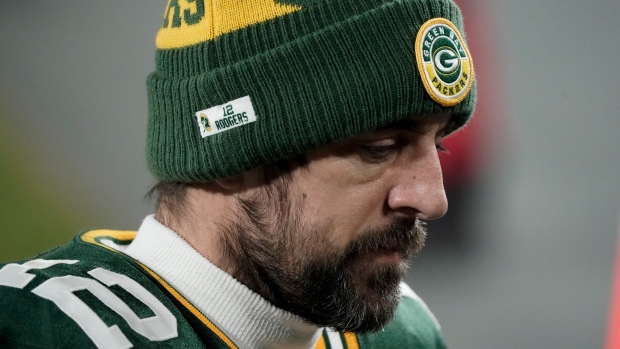 Aaron Rodgers was lamenting the sudden end of a remarkable season he'll treasure long after he's retired, running through a list of Green Bay Packers teammates he's grown the closest to.
"There's a lot of guys' futures that are uncertain, myself included," Rodgers said, managing a slight laugh as if to momentarily soften this harsh reality in the immediate aftermath of the loss to the Tampa Bay Buccaneers in the NFC championship game. "That's what sad about it most."
The 37-year-old produced by most measures in 2020 the finest performance of his brilliant career, making him a leading contender for a third NFL MVP award.
The Packers went 13-3 for the top seed in the NFC, cruising past the Los Angeles Rams in the divisional round and finally giving Rodgers a home game to play for a spot in the Super Bowl. His other four shots at it as the starter, including the win at Chicago (2010 season) that preceded his only championship, were on the road. They lost in the semifinals at San Francisco (2019), Atlanta (2016) and Seattle (2014).
Ten years and counting since the Packers won it all with Rodgers, this 31-26 loss to Brady and the Bucs will sting for awhile. Especially considering what happened last spring, when Green Bay drafted quarterback Jordan Love in the first round. Rodgers is signed through 2023, but that sure doesn't guarantee in this league that he'll stay that long — or that he'd want to.
"I'm going to have to take some time away for sure and clear my head and just kind of see what's going on with everything, but it's pretty tough right now," Rodgers said. He later added: "It's a grind to get to this point, and that makes the finality of it all kind of hit you like a ton of bricks."
Rodgers went 33 for 48 for 346 yards and three touchdowns, but this wasn't exactly his best. He had one interception that Tampa Bay used to set up a last-second touchdown before halftime and completed only two of nine attempts on goal-to-go situations. He also took five sacks.
Both of his goal-to-go completions went for scores, though, and coach Matt LaFleur twice took away a fourth-down chance to finish a drive in the end zone by settling for short field goals.
The fourth-and-8 decision with an eight-point deficit and 2:09 left — after Rodgers left the pocket and threw an incompletion to Davante Adams, eschewing the alternative of running for the pylon — was the surprisingly safe choice that Packers fans will have to chew on for years. Rodgers didn't agree with it, though he used his words carefully.
"I understand the thinking, above two minutes with all of our timeouts, but it wasn't my decision," Rodgers said.
He was frustrated, of course, by the consecutive three-and-outs in the fourth quarter after the defence came up with interceptions No. 2 and No. 3 of Brady. He was mad about the pass interference call on Kevin King that allowed the Bucs to extend their drive with 1:41 left and salt the game away.
Mostly, though, Rodgers sounded sad about what he won't get to do anymore this season — play with a Packers team that he enjoyed as much as any of his career.
There's no telling that Love would actually be ready, if the conclusion were to be reached, mutually or not, that the Rodgers era in Green Bay has ended. Throughout his video news conference with reporters from the basement of Lambeau Field, however, Rodgers sure sounded a lot like a guy saying goodbye.
Will he be back in green and gold?
"I certainly hope so," LaFleur said. "The guy is the MVP of this league. He's the heart and soul of this football team. Hell yeah, he better be back here. He's our leader. Just so appreciative of him buying into what we're trying to get done around here and believing in that group. I feel for him to be in this situation and for us not to get it done. It hurts."
___
More AP NFL coverage: https://apnews.com/NFL and https://twitter.com/AP_NFL
Player grades: Jesse Puljujarvi has game of his life as Edmonton Oilers beat Winnipeg Jets in a thriller – Edmonton Journal
Article content continued
Josh Archibald, 4. Quiet game, too quiet for a forward.
Ethan Bear, 7. His game is back in sync. He got beat by Scheifele on a rush to the Edmonton net in the second. He and Nurse failed to shut down a nasty one-handed tip off the rush by Ehlers in the third. But overall played well in tough situations.
Darnell Nurse, 7.Has played like a No. 1 d-man these last three games, a real No. 1 d-man. Not a perfect game, but a super solid one. He turned over a puck in the second leading to an iffy moment in his own zone, but quickly recovered by deflecting a pass out of danger, then throwing. a forearm shiver to bash a Jet attacker into the boards. Made a solid block on a pass on a Jets power play in the second. The power play finally looked good when he took over from Barrie.
Adam Larsson, 7. He had a strong, hard and effective stick on defence all game. Made a strong play to cut out an Ehlers centering pass late in the first. Not one major mistake on a Grade A chance against at even strength all game, even as the team was often under heavy pressure when he was out there.
Slater Koekkoek. 6. He's become a Steady Eddie of the Oil's blueline. He made a fantastic sliding blocked shot on Perreault in the slot in the second.
Kris Russell. 6. Solid, smart defensive play the whole game. Had a bad luck deflection in the slot fly into his own net. That's gotta hurt.
Tyson Barrie. 4. He made four major mistakes on Grade A chances against at even strength, so not his sharpest game back there. On the power play in the first he hit Draisaitl in the skates on a pass, part of the disconnect we're seeing on the power play. He failed to cover his man, Mason Appleton, on a dangerous, dangerous, dangerous shot in the second.
Mikko Koskinen, 6. He was a bit too slow getting across the net on Winnipeg's first goal. He came up with a huge save off Josh Morrissey later in the first after Ennis and Kassian's rancid line change. He wasn't tested much in the second, but came up with a whale of a save off Mason Appleton. I can't fault him on either third period goal. Played well enough for Oilers to win.