Amazon Banned Flipper Zero Pentesting Tool
According to reports, Amazon has stopped selling Flipper Zero, one of the most widely used pentesting tools. Amazon tagged the product as a "card-skimming device" and prohibited its selling on the e-commerce platform.
Flipper Zero was one of the best pentesting, which can potentially conduct replay attacks on unlock cars, doorbell activation, garage door unlocking, cloning digital keys, and much more.
People searching Flipper Zero on Amazon are landed on the error page which says, "Sorry we couldn't find the page. Try searching or go to Amazon Home page".
While most of the product pages are having this error, the listed products on Amazon have the availability as "Unavailable."
One of Flipper Zero's sellers received a notification that stated, "This product has been identified as a card skimming device. Amazon policy prohibits the sale or listing of card skimming device. For more information, please see our Lock Picking & Theft devices Seller Help Page."
A warning message has also been issued to all the Flipper Zero sellers that within 48 hours, they must check their listings and remove all the restricted products else their account will be deactivated.
Though this product is now banned from selling on Amazon, sellers have other places to sell it without any restrictions. If you want to buy Flipper Zero, you can visit the Flipper Official website, where the product is abundant. Flipper Zero has no service in India, instead of which users can use etsy to buy Flipper Zero.
The Brazilian Government has seized the purchases of Flipper Zero, as many threat actors are using it for alleged criminal activities. The sellers in Brazil claimed that despite all attempts to certify the device, the Brazilian National Telecommunication agency had rejected the device.
As per reports, it is still unclear whether this ban is a temporary or a permanent ban from the platform. Following this, there might be bans from other e-commerce platforms also.
Zelda: Tears of the Kingdom – Crisis at Hyrule Castle Walkthrough – GameRant
Crisis at Hyrule Castle is a main quest in The Legend of Zelda: Tears of the Kingdom that players can initiate by speaking with Purah in Lookout Landing (coordinates -0254, 0153, 0026). In order to complete this quest, fans must work through a variety of tasks, which will send them to the four corners of the surface and beyond. This walkthrough is here to help players complete those tasks and reach the end of The Legend of Zelda: Tears of the Kingdom's Crisis at Hyrule Castle main quest.
To Hyrule Castle & Find Captain Hoz
The Crisis at Hyrule Castle begins with a trip to Hyrule Castle, which is situated just north of Lookout Landing. As players walk to this location, they are advised to activate the Kyononis Shrine (coordinates -0206, 0452, 0021) to turn it into a fast travel point. Fans may also want to help Addison at coordinates -0265, 0383, 0021 before making their way to the castle gate, which can be opened with the Ultrahand ability and is situated at coordinates -0254, 0629, 0043.
RELATED: Zelda: Tears of the Kingdom – Where To Find All The Geoglyphs (Impa and the Geoglyphs Main Quest)
After passing through the gate, fans should follow the road to reach the First Gatehouse at coordinates -0379, 0850, 0109. Here, players should climb a wall to reach one of the structure's windows and then use TotK's Ascend ability to get up to Captain Hoz at coordinates -0336, 0845, 0183.
To Lookout Landing
Following a conversation with Captain Hoz, players should return to Purah in Lookout Landing to receive some information about the outpost's Emergency Shelter and Skyview Tower. The first of those locations can be unlocked by speaking with Scorpis at -0254, 0102, 0021, and Tears of the Kingdom fans may to spend some time exploring the underground shelter before visiting the Lookout Landing Skyview Tower at 0291, 0139, 0025.
At the tower, Purah will tell Link about the import of these structures and instruct him to activate the Lookout Landing Skyview Tower by interacting with the terminal and examining the blue circle that is inside. It is during this sequence that players will receive TotK's Paraglider, and they should return to Purah once the tower has been activated to move on to the next part of Crisis at Hyrule Castle.
Regional Phenomena
That next part manifests as a lengthy main quest called "Regional Phenomena," which centers around helping the Rito, Zora, Goron, and Gerudo. This complete walkthrough of Tears of the Kingdom's Regional Phenomena quest will help players work through this colossal endeavor, and they can look forward to returning to Purah when the job is done.
Find Princess Zelda in Hyrule Castle
Once players have completed Regional Phenomena and spoken with Purah in Lookout Landing (coordinates -0230, 0150, 0050), they must enter Hyrule Castle in search of Zelda. To reach this location, fans should launch Link from the Lookout Landing Skyview Tower and glide toward its entrance (coordinates -0251, 0963, 0336).
Upon landing in this position, Tears of the Kingdom players will initiate a sequence in which they must visit various locations within Hyrule Castle in an attempt to catch Zelda. While there are many ways to approach this section, here is path that players can use to reach all of Zelda's positions:
Second Gatehouse (B1)
Follow the path that travels southeast from the entrance to Hyrule Castle, stopping near coordinates -0215, 0887, 0323.
Glide east to the Second Gatehouse and drop into the center to encounter Zelda in B1.
Defeat the Monster Forces
Library (B3)
Exit the Second Gatehouse through the eastern opening and cross the water to reach a landmass.
Head northeast and climb cliffs and walls near -0095, 0909, 0284.
Continue northward, working toward the cliff near -0071, 0993, 0294.
Drop to B2 and follow the path that leads northwest.
Glide from the cliff at -0134, 1060, 0277 to enter a hole in the Library's roof.
Encounter Zelda in B3 and defeat the Monster Forces.
B3
Climb the stairs on the north side of the Library and follow the path to -0168, 1142, 0225.
Defeat the Monster Forces.
Princess Zelda's Room (B1)
Continue up the stairs and follow the path southwestward to -0345, 0967, 0269.
Use Ascend and climb stairs until dead end.
Use Ascend to reach 1F and fall into hole in floor to encounter Zelda in B1
Defeat Monster Forces.
B3
Exit room at northwest corner to reach balcony.
Glide southwest to stairs at -0376, 0977, 0259.
Follow stairs downward, and drop from cliff to reach B3 entrance at -0396, 0984, 0239.
Follow path to Zelda and defeat Monster Forces.
B3
Use Ascend and follow path south to edge of cliff at -0317, 0877, 0259.
Drop to B3 entrance.
Follow path to Zelda and defeat Monster Forces.
Sanctum (1F)
Use Ascend to reach 1F.
Go southeast and climb cliff at -0269, 0887, 0307.
Go north to encounter Zelda in Sanctum.
Phantom Ganon Boss Fight
Players must now square off against TotK's Phantom Ganon and his mimics, and this combat encounter can be easily overcome by maintaining distance and repeatedly firing arrows fused with Bomb Flowers at the enemies. If a player is low on those items, they can also try fusing Fire Fruits to their arrows, though losing out on the bomb's area-of-effect damage makes that strategy suboptimal.
To Lookout Landing
Once Phantom Ganon is defeated, players should make their way to Lookout Landing and speak with TotK's Purah at -0253, 0153, 0026. Fans will receive the Find the Fifth Sage main quest at the end of that conversation, and they should set their sights on completing it.
Find the Fifth Sage
To complete this lengthy main quest, fans must investigate the ring ruins, ascend into the sky, and plunge into the Depths. This full walkthrough of Tears of the Kingdom's Find the Fifth Sage will help players get through all of those steps, and the Crisis at Hyrule Castle quest will be marked as complete when they reach the end.
The Legend of Zelda: Tears of the Kingdom is available on Nintendo Switch.
Dyson Selling Latest Multitasking Tool—Air-Purifying Headphones—for Just $950 – Decider
You're not alone if you mostly think of vacuums and haircare when you think of Dyson.
After all, that is the brand's claim to fame, from its powerful corded and cordless vacuum cleaners to the viral Airwrap.
Headphones aren't typically the first product that comes to mind when most people think of Dyson.
And yet, the company's again struck viral gold with its first-ever wearable product, the new Dyson Zone headphones — even if the reaction is mostly confusion.
The Zone headphones aren't an ordinary pair of over-the-ear headphones with their advanced noise cancellation technology and ultra-low distortion engineering; of course, there's a Dyson twist, and it's exactly what you might expect from a company that's perfected different ways of using air.
These headphones also double as an air purifier.
Each ear has filters installed that are said to remove gases and 99% of pollutants as small as 0.1 microns, per Dyson. So the air that … hits your ears … will always be as clean as possible.
That's not even the most confusing part, though, because, besides just the headphones, the Zone comes with a detachable visor that covers your nose and mouth so you can breathe in filtered air.
If the look they were going for is Bane from The Dark Knight Rises, they nailed it.
We're not exactly sure who this product is for, but if it's you, it'll only set you back a cool $950.
How to complete Misko's Cave of Chest Side Quest in The Legend of Zelda Tears of the Kingdom – Sportskeeda
In The Legend of Zelda Tears of the Kingdom, players have multiple ways to acquire rupees and treasures. Players can earn wealth and valuable items by overcoming various challenges, defeating bosses, and engaging in Shrine challenges. However, there is an additional method available for players to earn money and valuable treasures, and that method is through side quests.
The expansive open world of the game offers a diverse range of activities beyond the main objectives, and among these activities is the completion of side quests. Engaging in these quests provides players with a unique experience and a convenient means of obtaining quick money and valuable treasures.
Each Side Quest in The Legend of Zelda Tears of the Kingdom presents players with distinctive and challenging tasks, offering valuable rewards as a guarantee. While players can obtain treasures and rupees by exploring various regions, engaging in side missions can save their time and simplify the process of acquiring treasures. The Misko's Cave of Chest Side Quest, in particular, is straightforward, making it a must-participate for players looking to earn money quickly.
---
Here's how you can complete the Misko's Cave of Chest Side Quest in The Legend of Zelda Tears of the Kingdom
To initiate this side quest, your first step is to visit the northeastern side of the map, close to Cephla Lake. Upon reaching the area, you'll come across a campfire accompanied by an adorable dog. As you continue onward, you'll encounter a pair of travelers seated near the entrance of a cave.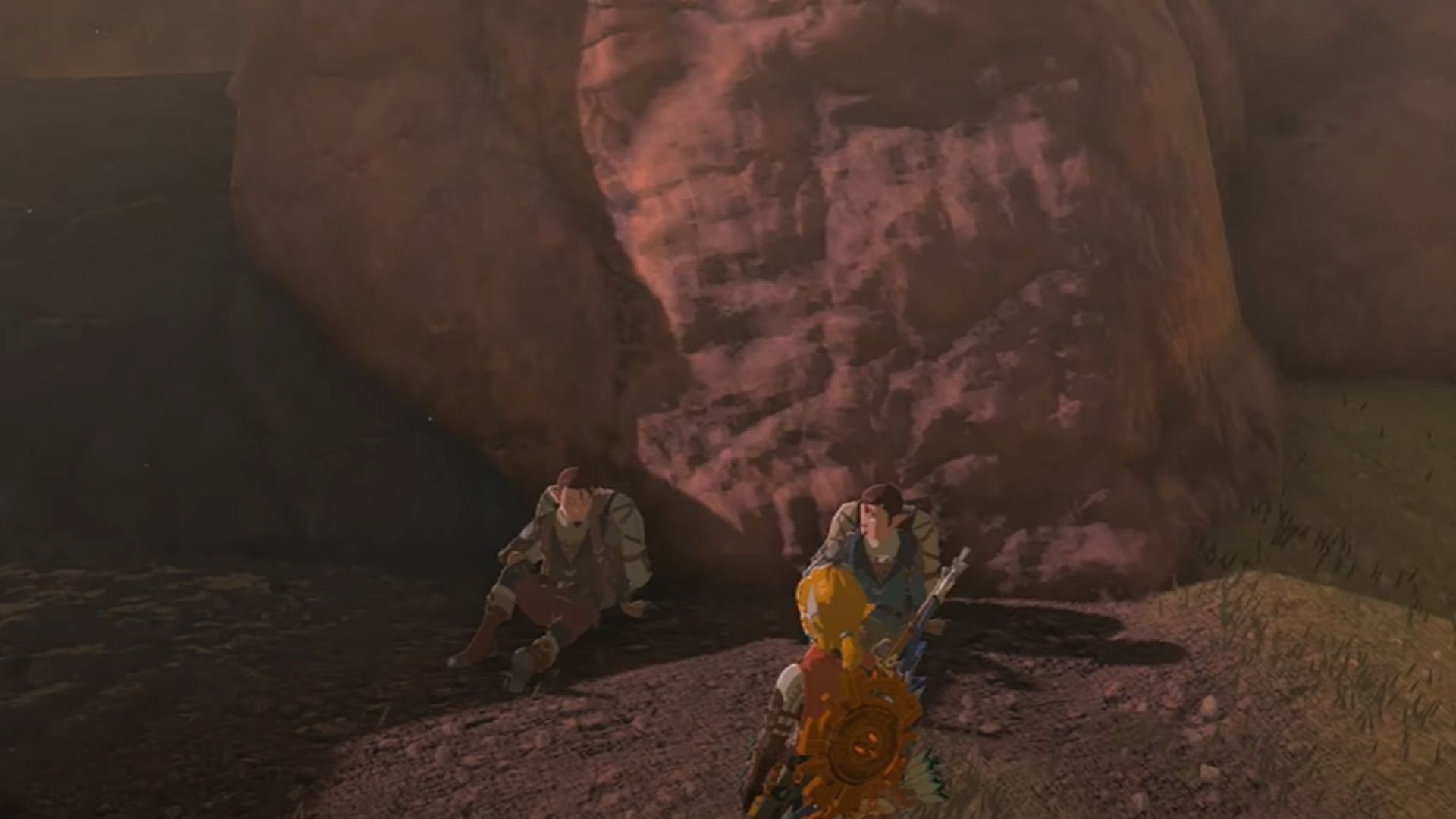 When you talk to the travelers, they will reveal information about the hidden treasures in the cave. They will talk about each separate chest, which holds a Green Rupee. One of them unintentionally reveals the existence of Misko's Hidden treasure as they continue to disclose information about the hidden treasures.
They also reveal that Misko was a notorious bandit who had caused plenty of trouble in Hyrule.
The travelers discuss the valuable clothing owned by Misko, which is concealed within treasure chests. They also mention that acquiring the exact chest containing the clothes will pose a considerable challenge due to the abundance of chests within the cave.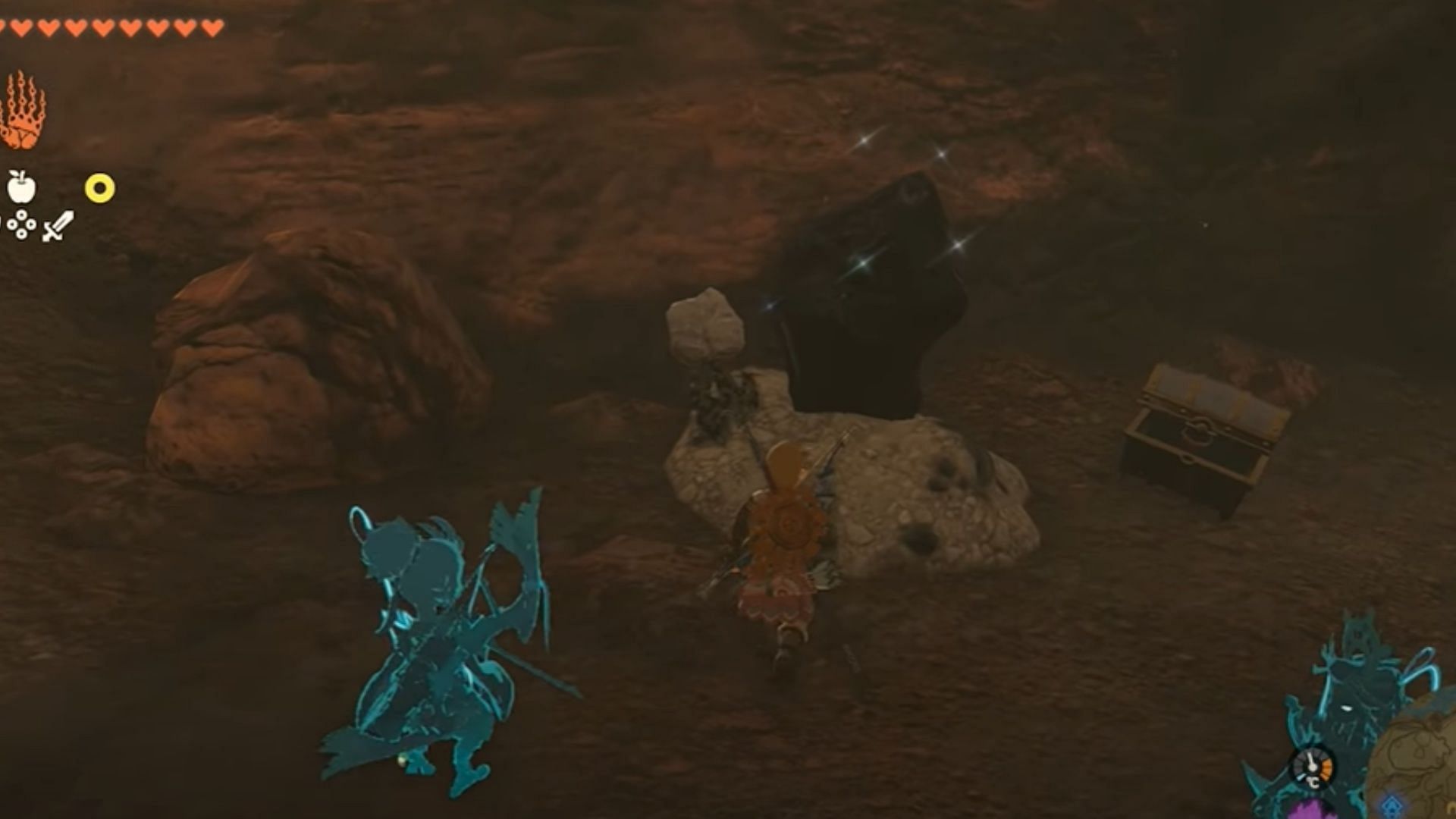 Upon engaging with the travelers, venture into the cave, where you will discover abundant Brightbloom Seeds and Sparkling Boulders. To shatter the boulders, ensure you have a rock hammer. It is crafted by combining a rock or boulder with a melee weapon. Once the Boulder is broken, you will obtain an Amber and a Flint. Following this, continue forward and encounter a vast array of treasure chests.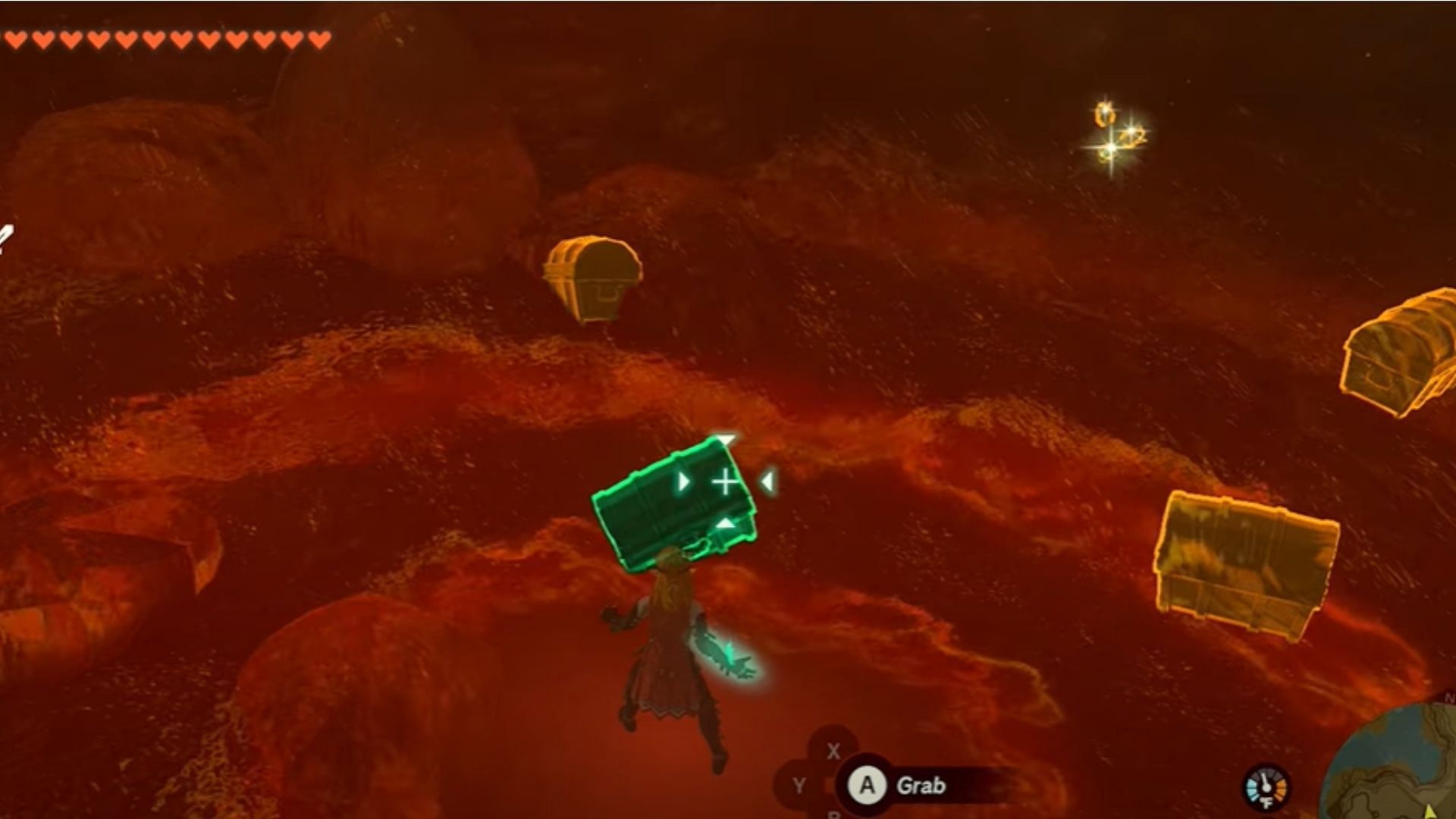 Begin by sequentially opening each chest, and you will acquire a Green Rupee. The appropriate chest can be found close to the Brightbloom Seed. Upon unlocking this chest, you will obtain the Ember Trousers, thereby completing your challenge.
Edited by Anirudh Padmanabhan