British Columbia: Petrol rations after Canada storm – BBC News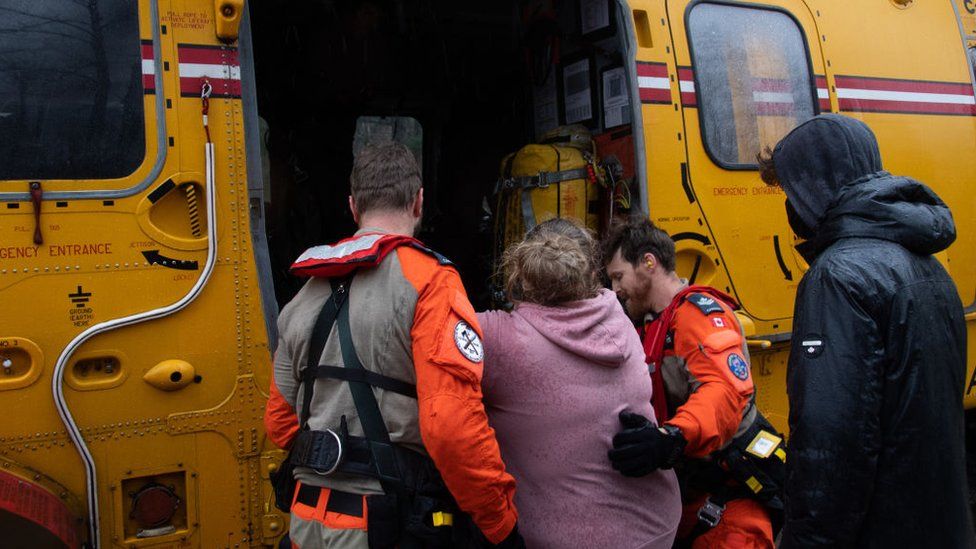 A Canadian province is rationing petrol over fuel shortage fears after a major storm cut off road and rail links.
Canadian Armed Forces personnel have begun arriving in British Columbia to help with recovery efforts in the flood-stricken region.
On Friday the province issued travel restrictions and rations on petrol, just a few days after declaring a state of emergency.
At least one person has been confirmed dead, but more deaths are expected.
British Columbia Public Safety Minister Mike Farnworth said non-essential traffic would be restricted while they rebuild the highway network. Fearing a fuel shortage, he called on people only to fill their vehicles with 30 litres per trip to the petrol station until 1 December.
He did not say how close the province was to running out of gas, and said he would not send police to enforce the ration.
"It's 10 to 11 days where we have to pull together as a province, if we're greedy, we'll fail," he told media on Friday.
"The overwhelming majority of people will do the right thing," he added.
With major highways shut and the Canadian Pacific rail line facing multiple track outages, the federal government is looking into alternatives to help supplies flow into the affected area.
US border officials have allowed truckers who don't usually cross the border to access roads so they can deliver supplies, the province says.
As of Friday, approximately 14,000 residents were still displaced from their homes. A major agricultural region, almost 1,000 farms are under an evacuation order and thousands of farm animals have already been trapped and killed by the floods.
More than 100 soldiers have been deployed to the area so far and more stand by. Helicopters stationed on Vancouver Island and other's parts of British Columbia might also be called on to ferry supplies and emergency personnel or evacuate residents.
Prime Minister Justin Trudeau has pledged to "to do more to help people directly."
Plans to build a 2.5 km levee were scrapped in favour of building a dike. Heavy rains are expected to sweep through the area next week.
Speaking to reporters on Thursday, Abbotsford mayor Henry Braun said that water levels are still rising in several areas near the town.
"We are not out of this thing by a long shot," Mr Braun said.
He estimated that repairing Abbotsford after the storm may cost up to C$1bn ($790m, £590m).
First cases of COVID-19 discovered in Canadian wildlife – CTV News
OTTAWA —
The first cases of COVID-19 in Canadian wildlife have been discovered in three white-tailed deer, a press release from Environment and Climate Change Canada reports.
The National Centre for Foreign Animal Disease confirmed the detections on Nov. 29 but the deer were sampled between Nov. 6 to 8 in the Estrie region of Quebec. The deer showed no evidence of clinical signs of disease and were "all apparently healthy."
"As this is the first detection of SARS-CoV-2 in wildlife in Canada, information on the impacts and spread of the virus in wild deer populations is currently limited," the press release states.
"The finding emphasizes the importance of ongoing surveillance for SARS-CoV-2 in wildlife to increase our understanding about SARS-CoV-2 on the human-animal interface."
The World Organisation for Animal Health was notified about the discovery on Dec. 1.
The department is urging added precaution – like wearing a well-fitted mask – when exposed to "respiratory tissues and fluids from deer."
The virus has been found in multiple animal species globally including farmed mink, cats, dogs, ferrets, and zoo animals such as tigers, lions, gorillas, cougars, otters and others.
"Recent reports in the United States have revealed evidence of spillover of SARS-CoV-2 from humans to wild white-tailed deer, with subsequent spread of the virus among deer. There has been no known transmission of SARS-CoV-2 from deer to humans at this time," the release reads.
U.N. seeks record $41 billion for aid to hotspots led by Afghanistan, Ethiopia
The United Nations appealed on Thursday for a record $41 billion to provide life-saving assistance next year to 183 million people worldwide caught up in conflict and poverty, led by a tripling of its programme in Afghanistan.
Famine remains a "terrifying prospect" for 45 million people living in 43 countries, as extreme weather caused by climate change shrinks food supplies, the U.N. said in the annual appeal, which reflected a 17% rise in annual funding needs.
"The drivers of needs are ones which are familiar to all of us. Tragically, it includes protracted conflicts, political instability, failing economies … the climate crisis, not a new crisis, but one which urges more attention and of course the COVID-19 pandemic," U.N. aid chief Martin Griffiths told reporters.
In a report to donors, the world body said: "Without sustained and immediate action, 2022 could be catastrophic."
Afghanistan, Syria, Yemen, Ethiopia and Sudan are the five major crises requiring the most funding, topped by $4.5 billion sought for Taliban-ruled Afghanistan where "needs are skyrocketing", it said.
In Afghanistan, more than 24 million people require life-saving assistance, a dramatic increase driven by political tumult, repeated economic shocks, and severe food insecurity caused by the worst drought in 27 years.
"We are in the business in the U.N. of trying to urgently establish with support from the World Bank as well as the U.N. system, a currency swap initiative which will allow liquidity to go into the economy," Griffiths said.
"The absence of cash in Afghanistan is a major impediment to any delivery of services," he said. "I am hoping that we get it up and running before the end of this month."
In Ethiopia, where a year-old conflict between government and Tigrayan forces has spread into the Amhara and Afar regions, thousands have been displaced, while fighting, drought and locusts push more to the brink, the U.N. said.
Nearly 26 million Ethiopians require aid, including more than 9 million who depend on food rations, including 5 million in Tigray, amid rising malnutrition rates, it said.
"Ethiopia is the most alarming probably almost certainly in terms of immediate emergency need," Griffiths said, adding that 400,000 people had been deemed at risk of famine already in May.
Noting that heavy fighting continued, with government forces battling Tigrayan People's Liberation Front forces who have moved closer to the capital Addis Ababa, he added: "But capacity to respond to an imploded Ethiopia is almost impossible to imagine."
(Reporting by Stephanie Nebehay; editing by Richard Pullin)
Doug Ford applauds new COVID-19 travel restrictions, says more discussions with feds to be held – Globalnews.ca
Ontario Premier Doug Ford thanked the federal government for implementing new travel restrictions in a bid to stop the spread of the Omicron COVID-19 variant and said more discussions will be held about possibly expanding new testing rules to travellers from the United States.
Ford made the remarks at an unrelated press conference in Mississauga Wednesday morning.
Several Omicron variant cases have already been confirmed in Ontario, and Ford said while it is a "cause for concern" it is "not cause for panic."
"Every day we hold off more cases entering our country, the more time we have to learn and prepare," Ford said.
"So the best thing we can do right now is fortify our borders. Our best defence is keeping the variant out of our country. We welcome the actions from the federal government and I want to thank the feds for taking action to date.
"We implored them last week to act quickly and be decisive on the borders and they did."
In a statement last Friday, Ford called on the federal government to enact travel bans on "countries of concern" and the feds followed through just hours later.
On Tuesday, they expanded that ban to three additional countries.
Federal Health Minister Jean-Yves Duclos said foreign nationals from Nigeria, Malawi and Egypt who have been to those countries over the past two weeks will not be able to enter Canada. This added to the seven other African countries barred by Canada on Friday: South Africa, Mozambique, Namibia, Zimbabwe, Botswana, Lesotho and Eswatini.

2:28


Egypt, Malawi and Nigeria added to Canada's travel ban amid more restrictions



Canadians and permanent residents, as well as all those who have the right to return to Canada, who have transited through these countries over the past two weeks, will have to quarantine, be tested at the airport, and await their test results before exiting quarantine, Duclos said.
It was also announced that all air travellers entering Canada — excluding those coming from the United States — would have to get tested when they arrive and isolate until they receive a negative result. That measure applies to all travellers, regardless of vaccination status.
Duclos said Wednesday that it will take time to implement the new measure.
In his statement last week, Ford also called for point-of-arrival testing to be put in place.
He also said he advised the province's chief medical officer and Public Health Ontario to "immediately implement expanded surveillance" and update planning to "ensure we are ready for any outcome."
The Omicron variant has now been detected in many countries around the world, including, as of Wednesday, the United States.
Ford was asked if he would support expanding the new testing rules to those arriving from the States.
"I would always support anything that can be cautious to prevent this variant coming into our country. So, again we'll have a discussion with the federal government. That's their jurisdiction, it's not ours," Ford said.
"They work collaboratively with all the provinces and territories and I'm always for going the cautious route as I think people have seen over the last 20 months."
The premier added that "it doesn't take much to get a test at the airport."
Federal Transport Minister Omar Alghabra said Wednesday that it's too early to say whether Canada's latest requirement to test arriving air travellers will be extended to include those coming from the United States.
"We need to be prepared and ready if we need to adjust that decision to include travellers from the U.S. We haven't made that decision yet," he said.
When asked what provincial measures are being considered in response to the Omicron variant, Ford said they will make sure there is expanded testing capacity and contact tracing.
Health Minister Christine Elliott said there is still much that isn't known about the variant, including how effective vaccines are against it.
She said the province is "continuing with all of our precautions" and said it's important to keep border restrictions in place until more is known about the variant.
Elliott also said more information will be released in the coming days "with respect to age categories" on booster shots.
— With files from Saba Aziz and The Canadian Press
© 2021 Global News, a division of Corus Entertainment Inc.