Edmonton Elks part ways with president Victor Cui
The Edmonton Elks organization is parting ways with president Victor Cui, the board announced on Tuesday.
"This was a culmination of ongoing discussions between the board and Victor, as well as the board internally about the future of the club," Tom Richards, chair of the EE Football Club board of directors, told reporters at a news conference on Tuesday afternoon.Cui was not present for the news conference but released a written statement through the Elks on Tuesday morning.
"I have made the difficult decision to step back from the club and focus on my family. Despite the team's current record, I have full confidence that the positives we are starting to see on the field will lead to success moving forward. I want to thank the board for this incredible opportunity and look forward to my role as a lifelong fan," he said.
The decision to go a different direction from Cui comes as the team tries to pull itself out of a years-long slump.
The Elks have yet to win a game in the 2023 CFL season and have not won a game at home since Oct. 12, 2019.
"It's been a challenging period for everyone who loves the Green and Gold," Richards acknowledged.
The Elks plan to name an interim president and CEO within two to three weeks, Richards said.
A permanent replacement could be named around the end of the year.
"We will not rush the process," Richards said. "We will take the necessary time to commit to making sure we've got the right person in place by the end of the year to guide us to a successful 2024."
Cui was brought on to connect with fans and improve the stadium experience.
"It was an interesting call at the time, I haven't regretted it, he was a new guy with new ideas, and we looked forward to something that was refreshing and new," Richards said.
"Some of the things that he did worked, some of the things, decisions that we made as a board didn't work, we're all in this together going forward. Good things we'll keep, other things we'll reconsider."
As the team moves in a new direction for president, Richards was asked about the position of head coach and general manager Chris Jones with the board and whether there was talk of replacing him.
"Solid," Richards said with a shrug. "I'd like to see him win some games, sure. But he wants to win some games, too. But right now (dismissing him) is not a consideration.
Edmonton Elks head coach Chris Jones reacts to an interception on his team while playing the B.C. Lions during second half CFL action in Edmonton, Alta., on Saturday July 29, 2023. (THE CANADIAN PRESS/Jason Franson)
"I don't think anybody, including him, saw where we were today, but confidence remains in Chris Jones. This is the better way for us in the future and right now, it is to keep Chris Jones."
Despite the team's record in 2023, Richards says things are slowly improving.
In last week's game against the Winnipeg Blue Bombers, the team was up 22-0 at one point before ultimately losing by nine points.
"There are great signs that things are improving on the field. And at the front office, that's what we're going to build on."
But he acknowledges getting fans back in the stand is key to the community-owned team's success.
"I'm not hiding it, we'd love to see you out. We've got concerns. If you come out, that's the best way to support," he said.
"We've got to focus on the game day experience. Come out and have fun.
"Bring your neighbour. Bring your friends."
'DIFFERENT AND BIZARRE'
TSN's Farhan Lalji first broke the news about the split on Monday night.
In an interview with CTV News Edmonton on Tuesday, he said there were a lot of reasons for Cui and the team to part.
"We've heard different things about workplace environment, there's people in the building that have gone on stress leave on the operations side, conversations around the finances and around the team, and things of that nature," he said. "So there were a few things. I know the league had some concerns, other presidents had concerns, so it all added up to a decision to part ways midway through a season."
Despite that, he said it's unusual for a team to make such a drastic change mid-season.
TSN's Farhan Lalji speaking to CTV News Edmonton on Aug. 15, 2023.
"It's absolutely different and bizarre, because again, that doesn't affect the players or the wins and losses," Lalji said. "Most of them have probably never met Victor Cui beyond a group conversation. So that part was awkward.
"There's a lot the organization didn't say, but you had to know something serious was going on for them to make a decision like this 19 months after Victor Cui got hired and midway through a CFL season."
With files from CTV News Edmonton's Evan Kenny 
Finding Your Perfect Match: The Best Ways to Choose an Online Sportsbook
In the ever-expanding world of online sports betting, selecting the right sportsbook is crucial. This is to ensure an enjoyable and secure gambling experience. With numerous options available, it can be challenging to find the perfect fit. For instance, you can be looking into sites like BestOdds to find a sportsbook to go with but do not know what exactly to check.
This article will explain the basics of finding an excellent online sportsbook.
Licensing and Regulation
The first and most critical factor when choosing an online sportsbook is ensuring it operates in a legal and transparent manner. A reputable sportsbook should possess a valid license from a recognized regulatory authority. These licenses indicate that the sportsbook adheres to strict standards, including fair play, responsible gambling and financial security.
Before registering, check for the sportsbook's licensing information. In most cases, you will find this in the footer of their website. Some of the most reputable regulatory bodies for online sports betting include the United Kingdom Gambling Commission (UKGC), the Malta Gaming Authority (MGA) and the Isle of Man Gambling Supervision Commission.
Additionally, research the sportsbook's track record for regulatory compliance and any previous non-payment or unethical practices incidents. User reviews and industry news sources can provide valuable insights into the sportsbook's reputation.
Odds and Betting Markets
The quality of odds and the variety of betting markets offered are key factors in determining the suitability of an online sportsbook. Competitive odds provide better potential returns for your bets, while a wide range of markets allows you to explore different betting options.
Compare odds from multiple sportsbooks to ensure you get the best bet value. Some websites and apps even offer odds comparison tools to make this process more convenient.
Moreover, consider the breadth of sports and events covered by the sportsbook. Whether you're into mainstream sports like football, basketball, or soccer or niche sports and events, the sportsbook should offer diverse markets to cater to your preferences.
Security and Payment Options
Security is paramount when sharing personal and financial information with an online sportsbook. Look for sportsbooks that employ the latest encryption technologies, such as SSL (Secure Socket Layer), to safeguard your data. Consider factors like two-factor authentication (2FA) to enhance account security further.
Payment options are another critical aspect. Ensure the sportsbook offers convenient and secure methods for depositing and withdrawing funds. Common payment methods include credit/debit cards, bank transfers, e-wallets (like PayPal or Skrill) and cryptocurrencies (like Bitcoin). Choosing a sportsbook that supports your preferred payment method is essential to streamline your betting experience.
As LeBron James enters Year 21, the theme of Lakers media day was passing the torch and sharing the load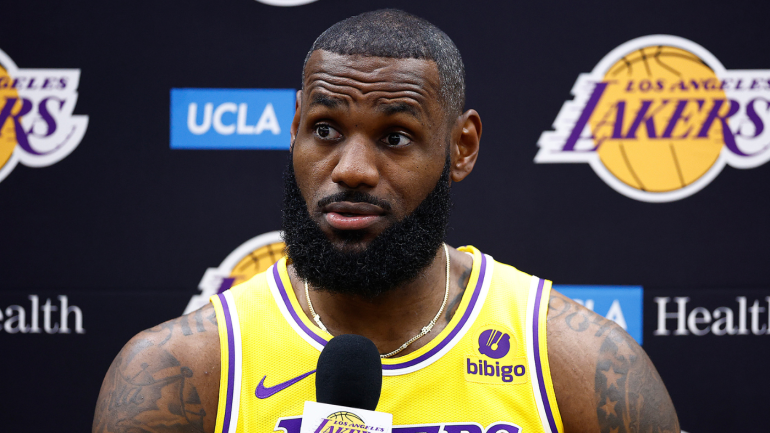 Getty Images
The budding relationship between fifth-year forward Rui Hachimura and four-time MVP LeBron James has been one of the stories of the offseason for the resurgent Los Angeles Lakers. Stories of the two working out together have become commonplace. "I call him my Daniel-san and I'm Mr. Miyagi," James joked at Lakers' media day Monday. It was an appropriate comparison not just between James and Hachimura, but the legend and his entire team.
Now that Udonis Haslem has called it a career and Andre Iguodala is seemingly headed in that direction, James is officially the NBA's oldest active player. He proved that he is still a superstar on the court last season, but aside from Anthony Davis and Taurean Prince, all of his Laker teammates are at least a decade his junior. In a perfect world, the days of James pushing for 30-point triple-doubles on a nightly basis are now over. He has a group of young teammates eager to learn from his example and lift him up when he needs it.
"I think with this team we have the most depth," new Lakers big man Christian Wood said Monday. "No team in the league has more depth than we have." This was the goal of the Lakers' offseason. Though they didn't make any particularly splashy additions, six of the seven Lakers to play at least 200 postseason minutes are back this season. Joining them are Gabe Vincent, a starter on Miami's finalist from a season ago, and Wood, one of the NBA's most dynamic scoring big men. Rounding out the new-look bench are former first-round picks Taurean Prince (29), Cam Reddish (24) and Jaxson Hayes (23). That youth-oriented approach was no accident, as Lakers coach Darvin Ham explained Friday.
"Now that we have, top-to-bottom, what we feel is a highly balanced, skilled, athletic, younger team of guys that have logged a ton of NBA minutes, we can surround both he and AD with these players who are coming in eager to contribute, eager to show that they can impact winning," Ham said. "That's gonna allow us to be able to be more efficient with his game-to-game minutes."
Managing James' minutes was difficult last season. The Lakers lacked depth on a roster depleted by the Russell Westbrook trade, and when Davis was hurt, James needed to carry a remarkable burden just to keep the Lakers afloat. He averaged 24.1 shots and 34.6 points per game between Dec. 18 and Jan. 24, Davis' longest extended absence of the season. Roughly one month later, he suffered the foot injury that hampered him for the rest of the season. It's an outcome Davis is hoping to avoid this time around.
"It's my goal every year to play 82," Davis said. Though likely unobtainable, keeping Davis on the floor will be essential to the Lakers' championship hopes this season. In fact, James might even argue that his co-star's health is more important than his own. "He is the face [of the franchise]," James said at media day. For stretches last season, he was among the NBA's best players. Between Nov. 13 and his own injury on Dec. 13, Davis averaged 32.4 points per game while doubling as the league's best defensive player.
But for the Lakers to realize their considerable potential, he'll have to sustain that dominance for longer stretches. The supporting players, who were so instrumental in lifting the Lakers from out of the top-10 in the West and into the Western Conference finals, will have to continue to benefit from James' presence as Hachimura has. The Lakers went from cellar-dweller to contender last season when they morphed from an older, star-driven roster to a younger, balanced one, and whether that means Davis stepping into James' role as the focal point of the team or the role players improving with another year in the system, the Lakers made it clear at media day that they plan to continue that transformation.
The Growing Popularity of Online Casino Apps in Canada: A Comprehensive Guide
Online casinos have surged in recent years, partly because the pandemic moved people from traditional brick-and-mortar establishments to playing from the safety of their homes and partly because technological leaps have made online gaming more engaging and immersive.
In response to the rise in online casinos, companies have invested in bringing the experience to mobile apps. Apps provide players with an accessible way to enjoy their favorite casino games—plus, there are usually more features and gameplay is more convenient.
This guide explores the benefits of online casino apps, the legal considerations surrounding gambling in Canada, the different types of casino games available on apps and future trends in the industry. If you're an online casino enthusiast looking to sample the best apps, try this list first to see if your favorite casino already has an app. Chances are, they do.
Why an app?
Smartphones have brought a level of convenience to life that is not always appreciated, especially as users become increasingly accustomed to having a tiny computer in their pocket. Ease of access to everything from email to real-time maps to e-reading devices allows for an unprecedented level of flexibility.
Online casinos are no exception. You can access a wide range of casino games while you're waiting for a bus, relaxing at home on the couch, or during a lunch break. Apps, in comparison to online casino websites, provide a user-friendly interface that is specifically designed for your phone.
Online casino and gambling regulations
It is important to understand the legal considerations and gambling regulations in Canada, or from whichever country you are partaking in online gambling. Engaging with licensed casinos is the best way to protect yourself from potential harm associated with cybercrime, scams, or other unethical practices. Reading reviews from online casino comparison sites or verifying casino licenses is recommended before playing, especially with real money.
In Canada, the legality of online gambling varies across provinces. Some provinces have their own online gambling platforms, while others rely on offshore operators. As a general rule of thumb, online gambling is legal in Canada. The legal gambling age varies by province, so it's best to check laws and regulations depending on your specific location.
Which types of games are available?
Most casino games have been adapted for mobile apps. Slot games are particularly popular because developers have been able to introduce vibrant graphics and exciting themes to the app experience. Table games such as blackjack, roulette and poker are also popular for those seeking a more strategic, reflective experience.
A lot of online casino apps also offer live dealer games, where players can interact with actual dealers and other players in real time. By leveraging a smartphone's unique features, such as vibration, these types of games played on an app can feel even more immersive and authentic.
Future trends and advanced gameplay
The online casino app industry is continuously developing, with cutting-edge innovations and trends shaping the industry's future. One emerging trend is the integration of virtual reality (VR) technology. VR technology, while still not fully mimicking physical casinos, does create a more interactive gaming environment for players.
Another trend is the improvement of mobile payment options. By incorporating a variety of payment options, such as Apple Pay and Google Pay, making deposits and withdrawals in mobile casino apps is increasingly more simple and secure. Additionally, advancements in artificial intelligence (AI) are being leveraged to enrich the gaming experience, with AI-powered chatbots providing personalized customer support.
The Wrap-Up
In today's age, apps are a normal part of our daily routine. Online casinos have successfully tapped into ever-evolving smartphone technology to create engaging and accessible entertainment options. It is as important as ever to choose reputable service providers and practice responsible gaming, but as the industry continues to innovate, more complex and engaging options are on the horizon.