Indian movie superstar Rajinikanth to launch political party – CKPGToday.ca
His political prospects appear bright following a vacuum created by the deaths of Jayaram Jayalalithaa, an actor-turned politician with the governing party in the state, and Muthuvel Karunanidhi, the leader of the opposition Dravida Munnetra Kazhagam party.
Cinema has always influenced Tamil politics by turning actors into popular politicians.
C.N. Annadurai and M. Karunanidhi were scriptwriters who went on to become chief ministers. M.G. Ramachandran, a top actor-turned-politician, also had a strong following.
Born Shivaji Rao Gaekwad, Rajinikanth worked as a bus conductor for three years before joining an acting school. He started in small roles as a villain in Tamil cinema and worked his way up, landing roles in Bollywood, the Hindi-language film industry based in Mumbai.
Bollywood superstar Amitabh Bachchan also tried his hand in politics as a member of India's Parliament, representing the Congress party in support of his friend, then-Prime Minister Rajiv Gandhi, in the 1980s. He resigned after three years following allegations that he accepted bribes in the purchase of artillery guns. His name was later cleared in the scandal.
Ashok Sharma, The Associated Press
Politics Podcast: Did Trump Change The Rules Of Politics? – FiveThirtyEight
For the final FiveThirtyEight Politics podcast episode of the Trump presidency, the crew is joined by ABC News White House Correspondent Karen Travers to discuss Trump's legacy, how he changed politics and what the lasting effects will be. To help, they look back at an article editor-in-chief Nate Silver wrote shortly after Trump was inaugurated, "14 Versions Of Trump's Presidency, From #MAGA To Impeachment," to see what came true (and what Nate didn't predict).
You can listen to the episode by clicking the "play" button in the audio player above or by downloading it in iTunes, the ESPN App or your favorite podcast platform. If you are new to podcasts, learn how to listen.
The FiveThirtyEight Politics podcast is recorded Mondays and Thursdays. Help new listeners discover the show by leaving us a rating and review on iTunes. Have a comment, question or suggestion for "good polling vs. bad polling"? Get in touch by email, on Twitter or in the comments.
Vice-President Harris: A new chapter opens in US politics – 570 News
WASHINGTON — For more than two centuries, the top ranks of American power have been dominated by men — almost all of them white. That ends on Wednesday.
Kamala Harris will become the first female vice-president — and the first Black woman and person of South Asian descent to hold the role.
Her rise is historic in any context, another moment when a stubborn boundary will fall away, expanding the idea of what's possible in American politics. But it's particularly meaningful because Harris will be taking office at a moment of deep consequence, with Americans grappling over the role of institutional racism and confronting a pandemic that has disproportionately devastated Black and brown communities.
Those close to Harris say she'll bring an important — and often missing — perspective in the debates on how to overcome the many hurdles facing the incoming administration.
"In many folks' lifetimes, we experienced a segregated United States," said Lateefah Simon, a civil rights advocate and longtime Harris friend and mentee. "You will now have a Black woman who will walk into the White House not as a guest but as a second in command of the free world."
Harris — the child of immigrants, a stepmother of two and the wife of a Jewish man — "carries an intersectional story of so many Americans who are never seen and heard."
Harris, 56, moves into the vice presidency just four years after she first went to Washington as a senator from California, where she'd previously served as attorney general and as San Francisco's district attorney. She had expected to work with a White House run by Hillary Clinton, but President Donald Trump's victory quickly scrambled the nation's capital and set the stage for the rise of a new class of Democratic stars.
Her swearing-in comes almost two years to the day after Harris launched her own presidential bid on Martin Luther King Jr. Day in 2019. Her campaign fizzled before primary voting began, but Harris' rise continued when Joe Biden chose her as his running mate last August. Harris had been a close friend of Beau Biden, the elder son of Joe Biden and a former Delaware attorney general who died in 2015 of cancer.
The inauguration activities will include nods to her history-making role and her personal story.
She'll be sworn in by Supreme Court Justice Sonia Sotomayor, the first woman of colour to serve on the high court. She'll use two Bibles, one that belonged to Supreme Court Justice Thurgood Marshall, the late civil rights icon whom Harris often cites as inspiration, and Regina Shelton, a longtime family friend who helped raise Harris during her childhood in the San Francisco Bay Area. The drumline from Harris' alma mater, Howard University, will join the presidential escort.
She'll address the nation late Wednesday in front of the Lincoln Memorial, a symbolic choice as the nation endures one of its most divided stretches since the Civil War and two weeks after a largely white mob stormed the U.S. Capitol in an effort to overturn the election results.
"We're turning the page off a really dark period in our history," said Long Beach, California, Mayor Robert Garcia, a Harris ally. As Democrats celebrate the end to Trump's presidency, Garcia said he hopes the significance of swearing in the nation's first female vice-president isn't overlooked.
"That is a huge historical moment that should also be uplifted," he said.
Harris has often reflected on her rise through politics by recalling the lessons of her mother, who taught her to take on a larger cause and push through adversity.
"I was raised to not hear 'no.' Let me be clear about it. So it wasn't like, "Oh, the possibilities are immense. Whatever you want to do, you can do,'" she recalled during a "CBS Sunday Morning" interview that aired Sunday. "No, I was raised to understand many people will tell you, 'It is impossible,' but don't listen.'"
While Biden is the main focus of Wednesday's inaugural events, Harris' swearing-in will hold more symbolic weight than that of any vice-president in modern times.
She will expand the definition of who gets to hold power in American politics, said Martha S. Jones, a professor of history at Johns Hopkins University and the author of "Vanguard: How Black Women Broke Barriers, Won the Vote, and Insisted on Equality for All."
People who want to understand Harris and connect with her will have to learn about what it means to graduate from a historically Black college and university rather than an Ivy League school. They will have to understand Harris' traditions, like the Hindu celebration of Diwali, Jones said.
"Folks are going to have to adapt to her rather than her adapting to them," Jones said.
Her election to the vice presidency should be just the beginning of putting Black women in leadership positions, Jones said, particularly after the role Black women played in organizing and turning out voters in the November election.
"We will all learn what happens to the kind of capacities and insights of Black women in politics when those capacities and insights are permitted to lead," Jones said.
Kathleen Ronayne And Alexandra Jaffe, The Associated Press
Biden DNI pick says no room for politics in intel agencies – The Tri-City News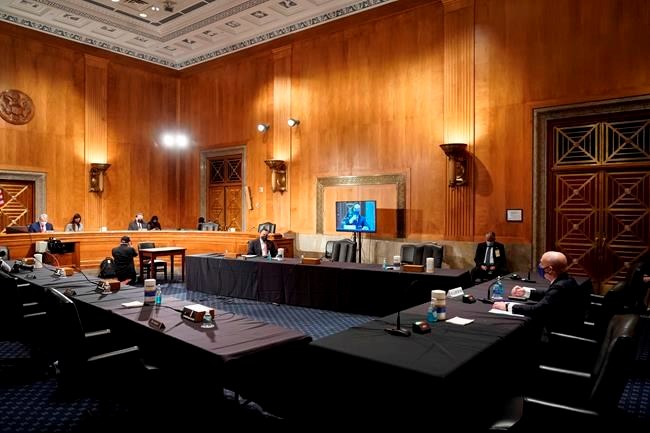 WASHINGTON — President-elect Joe Biden's nominees to lead his national security team promised a turnabout from the Trump administration's approach on the world stage, saying Tuesday they would keep partisan politics out of intelligence agencies, restore an emphasis on co-operating with international allies, and push for a stronger American leadership role.
Antony Blinken, Biden's choice to be secretary of state, pledged to repair damage done to the State Department and America's image abroad over the past four years while continuing a tougher approach to China. He said he planned to restore career officials to prominent positions in the department and strive to promote inclusivity in the ranks for the diplomatic corps.
"American leadership still matters," he said at his confirmation hearing before the Senate Foreign Relations Committee.
Neither Blinken nor Biden's other nominees for national security Cabinet posts encountered substantial opposition Tuesday.
Biden's pick to lead the intelligence community, Avril Haines, promised to "speak truth to power" and keep politics out of intelligence agencies to ensure their work is trusted. Her remarks implied a departure from the Trump administration's record of pressuring intelligence officials to shape their analysis to the president's liking.
"When it comes to intelligence, there is simply no place for politics — ever," she told the Senate Intelligence Committee.
Putting his national security team in place quickly is a high priority for Biden, not only because of his hopes for reversing or modifying Trump administration policy shifts but also because of diplomatic, military and intelligence problems around the world that may create challenges early in his tenure.
Biden's choice to head the Pentagon, Lloyd Austin, focused his opening statement on an entirely different issue — his status as a recently retired Army general, which would disqualify him from being secretary of defence without a congressional waiver of a law that prohibits a military officer from holding the job within seven years of leaving the service.
Addressing the Senate Armed Services Committee, Austin, who served 41 years in the Army, vowed to surround himself with qualified civilians and include them in policy decisions. He said he has spent nearly his entire life committed to the principle of civilian control over the military.
"I know that being a member of the president's Cabinet — a political appointee — requires a different perspective and unique duties from a career in uniform," Austin said. "I would not be here, asking for your support, if I felt I was unable or unwilling to question people with whom I once served and operations I once led, or too afraid to speak my mind to you or to the president."
Austin, who would be the first Black secretary of defence, said he understands why some have questioned the wisdom of putting a recently retired general in charge of the Defence Department.
"The safety and security of our democracy demands competent civilian control of our armed forces, the subordination of military power to the civil," he said.
The House majority leader, Rep. Steny Hoyer, indicated Tuesday that the full House would consider an Austin waiver bill on Thursday.
Although the committee gave no indication it would oppose Austin's nomination, at least one Republican – Sen. Tom Cotton of Arkansas — and one Democrat – Richard Blumenthal of Connecticut — said they would not vote for a waiver. Neither said he would vote against the nomination if he gets the waiver. Cotton said he opposes the waiver as a matter of principle, and that he regrets having voted in favour of waiving the 7-year waiting period for Jim Mattis, the retired Marine general who was Trump's first defence secretary.
Notably, the issue Austin was quizzed about most often during his hearing was sexual assault, which has been a persistent problem that previous Pentagon leaders have been unable to solve. He vowed to "fight hard to stamp out sexual assault."
Austin pledged that the Pentagon will "work hand-in-glove" with the State Department. Like Blinken, Austin said he views China as the leading international issue facing Biden's national security team.
Blinken, who previously served as deputy secretary of state during the Obama administration, said that Iran also would be a primary focus. He said he believed that the nuclear deal Trump withdrew from in 2018 should be reinvigorated with an eye toward producing "a longer and stronger agreement."
"Having said that," he said, suggesting that Iran would not be an immediate priority, "we're a long way from that."
On China, Blinken said the Trump administration was right to take a tougher stance. But, he said it had approached the matter poorly by alienating U.S. allies and not fully standing up for human rights around the world.
"As we look at China, there is no doubt that it poses the greatest threat of any nation state to the United States," he said.
Blinken said Biden would enter office with a plan to extend the New START arms control treaty with Russia that expires in February. The Trump administration made a failed last-ditch effort to extend the treaty on terms Russia rejected.
Republicans are expected to broadly support the Austin nomination, as are Democrats. Haines and Belkin encountered no significant resistance at their confirmation hearings.
Haines, a former CIA deputy director, would be the first woman to serve as director of national intelligence, or DNI — a role created after the Sept. 11, 2001 terrorist attacks.
Also testifying Tuesday at his confirmation hearing was Alejandro Mayorkas, Biden's nominee for secretary of the Department of Homeland Security. He would be the first Latino and first immigrant to lead the agency.
Sen. Josh Hawley, a Missouri Republican, said that he would block a procedural move to bypass full committee consideration of the Mayorkas nomination. The move means the nomination must go to the full Senate and there's little chance he can be confirmed by Wednesday.
In response, Biden transition spokesman Sean Savett noted that the Senate held swift votes to approve DHS secretaries on the first day of administrations in 2009 and 2017. "Senator Hawley's threat to disrupt historical practice and try to leave this vital position vacant is dangerous, especially in this time of overlapping crises when there is not a moment to waste," Savett said.
___
Associated Press writers Ben Fox, Eric Tucker and Martin Crutsinger contributed to this report.
Robert Burns, Lolita C. Baldor And Matthew Lee, The Associated Press