iPhone 2020: 1 Surprising Thing Apple Didn't Mention At The Keynote – Forbes
There's been a major overhaul of iPhones this year. Not just in terms of new design, improved features and the introduction of 5G.
As you'll have heard, the iPhone 12 no longer has earbuds or a charging plug in the box. Well, we know that applies to all four iPhone 12 models, but what about the other phones still on sale?
The removal of earbuds and charger makes the packaging significantly smaller, and allows Apple to ship up to 70% more product on a shipping pallet, the company claims. It's part of Apple's determination to reduce electronic waste. That must be a good thing. After all, we all have USB chargers lying around our homes, don't we?
The box still includes a charging cable – in fact it's a USB-C to Lightning cable, which is an upgrade from the USB-A to Lightning cable included with every iPhone from the iPhone 5 up to the iPhone 11 inclusive.
But there was one detail which Apple neglected to mention at its keynote last week: this change isn't restricted just to the new iPhones. If you bought an iPhone 11, iPhone Xr or iPhone SE last week, you'd have had a charging plug, cable and earbuds in the box.
If that's what you're buying now, you'll just get the USB-C to Lightning cable found with the latest phones.
Is this the right thing to do, Apple?
After all, of all the iPhones ever sold, only two, iPhone 11 Pro and iPhone 11 Pro Max have ever had a USB-C charging plug supplied. So, even if you bought a phone every single year but last year's was the iPhone 11, you may well not have the right plug for the cable that's now in the box.
In one way, it definitely makes good sense. If Apple is saying that its focus on reducing electronic waste leverages the fact that we all have these chargers, then why should it make any difference whether the new iPhone we're buying today is the 11 or 12?
And any iPhone charging plug and Lightning cable will work with the iPhones on sale today. Apple has dropped the price of its USB-C charging plug now, too, so that's something.
Instead, I'd suggest we need to think of it as an extra cable in the box, and, by the way, it's a useful one, not least because you can use it to charge your iPhone directly from a Mac laptop, say.
And then there's the earbuds. I can't tell you how happy I am not to have these. I almost never take them out of the box – for any smartphone, not just Apple's. They can be useful in a pinch, if I've mislaid my wireless headphones, but I seldom use them. I suspect that's the case for more people than just me – the white EarPods cables that used to be so ubiquitous are not so often seen, it seems to me, but AirPods are way more commonplace.
In the end, I believe Apple has done the right thing removing the plug and EarPods from the box.
And one thing's for sure, however much other brands say that this omission is an outrage, you can bet many of them will follow suit in the months to come.
---
Follow me on Instagram by clicking here: davidphelantech and Twitter: @davidphelan2009
iPhone 12 Pro Max battery smaller than iPhone 11 Pro Max, according to regulatory filing – AppleInsider
A Chinese regulatory filing spotted on Tuesday suggests Apple's iPhone 12 Pro Max sports a less capacious battery than last year's iPhone 11 Pro Max.
A filing with the Chinese Ministry of Industry and Information Technology's Telecommunication Equipment Certification Center (TENAA) cites iPhone 12 Pro Max's battery capacity as 3,687 mAh. By comparison, iPhone 11 Pro Max, which the 12 Pro Max replaces, was powered by a 3,969 mAh cell.
Lending credence to the document, the 3,687 mAh figure matches listings discovered on hardware certification platforms in July.
The TENAA page also says the 12 Pro Max comes with 6GB of RAM, mirroring information discovered in plist files included with Apple's Xcode 12.1 beta last week.
Despite the apparent reduction in capacity, Apple says the iPhone 12 Pro Max performs similarly to last year's handset. A comparison tool — somewhat vaguely — claims both iPhone models offer up to 20 hours of video playback between charges. That could be a negative for existing 11 Pro Max owners who need a midday top up.
This year's iPhone includes a number of enhancements, some of which are major power sinks. New photography capabilities like 10-bit HDR and Dolby Vision HDR video recording are perhaps high on the list, but the main check to a long-lasting handset is the inclusion of power-hungry 5G connectivity. Nowhere will that be more noticeable than in the U.S., where iPhone supports speedy mmWave technology.
Apple is doing its best to balance 5G support with handset longevity. As part of that effort, a new battery-saving feature dubbed "Smart Data Mode" automatically transitions iPhone 12 series devices between 4G LTE and 5G as iOS deems necessary. For example, iPhone might remain on 4G for web browsing and listening to music, but will switch to the faster, low-latency 5G for a FaceTime call.
Last week, regulatory filings from Brazil's ANATEL revealed battery specifications for iPhone 12 mini and iPhone 12 Pro, which boast 2,227 mAh and 2,815 mAh cells, respectively.
Apple is due to initiate iPhone 12 Pro Max pre-orders on Nov. 6 ahead of wide availability a week later.
The Moon Is Getting Cell Service – Futurism
Zero Bars
NASA wants any human presence on the Moon to have a great cell signal, so it's investing in a lunar 4G network.
The Space Agency gave Nokia's Bell Labs a $14.1 million in grant money to build out the Moon's telecom infrastructure, Business Insider reports. With the goal of having a network up and running by 2030, the goal is to get a network in place that could help any sort of outpost on the Moon manage life off-world.
Roaming
NASA wants anyone on a Moon base to be able to use the network to navigate their area — sort of like how we look up directions — as well as stream video messages and remotely steer rovers and other space robots, Business Insider reports.
"This mission will validate the future of other operational deployments and the potential for human habitation on the moon," Bell Labs tweeted last week.
This mission will validate the future of other operational deployments and the potential for human habitation on the moon. (6/6)

Learn more about the "Tipping Point" project here: https://t.co/M372GpU09q

— Bell Labs (@BellLabs) October 15, 2020
Moon Base Operational
The planned 4G network is just one of several investments NASA made recently with the goal of setting up a long-term base of operations on the Moon and, eventually, beyond.
"Together, NASA and industry are building up an array of mission-ready capabilities to support a sustainable presence on the Moon and future human missions to Mars," NASA administrator Jim Bridenstine said in a press release.
READ MORE: NASA gave Nokia $14.1 million to build a 4G network on the moon [Business Insider]
More on Moon exploration: Scientists: Astronauts Could Build Moon Base Using Human Urine
iPhone 12 Pro Max Has Smaller 3,687 mAh Battery According to Regulatory Filing
Apple's new iPhone 12 Pro Max is equipped with a 3,687 mAh battery, which is around 7% less capacity than the 3,969 mAh battery in the iPhone 11 Pro Max, according to a regulatory filing published by TENAA, the Chinese equivalent of the FCC.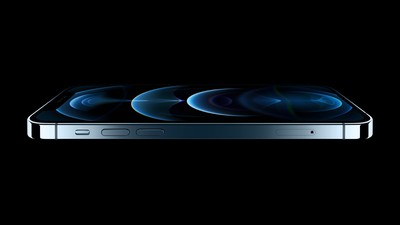 The regulatory filing, spotted by MacRumors, also lists the iPhone 12 Pro Max with 6GB of RAM as seen in benchmark results last week.
Apple has filed many products with TENAA over the years, and the listings have proven to be accurate on multiple occasions. Last year, for example, accurate battery capacities and RAM in the iPhone 11, iPhone 11 Pro, and iPhone 11 Pro Max appeared in the database a few days prior to those devices launching. A rumor also suggested that the iPhone 12 Pro Max would have a 3,687 mAh battery earlier this year.
Despite having a smaller battery, Apple's tech specs indicate that the iPhone 12 Pro Max has the same battery life as the iPhone 11 Pro Max, with both devices providing up to 20 hours of video playback and up to 80 hours of audio playback.
Apple never discloses battery capacities or RAM in iPhones, but teardowns of the new devices should confirm these details in the coming days.
Source:- MacRumors