Quebec changes COVID-19 vaccine strategy, won't hold back doses for booster shots – SooToday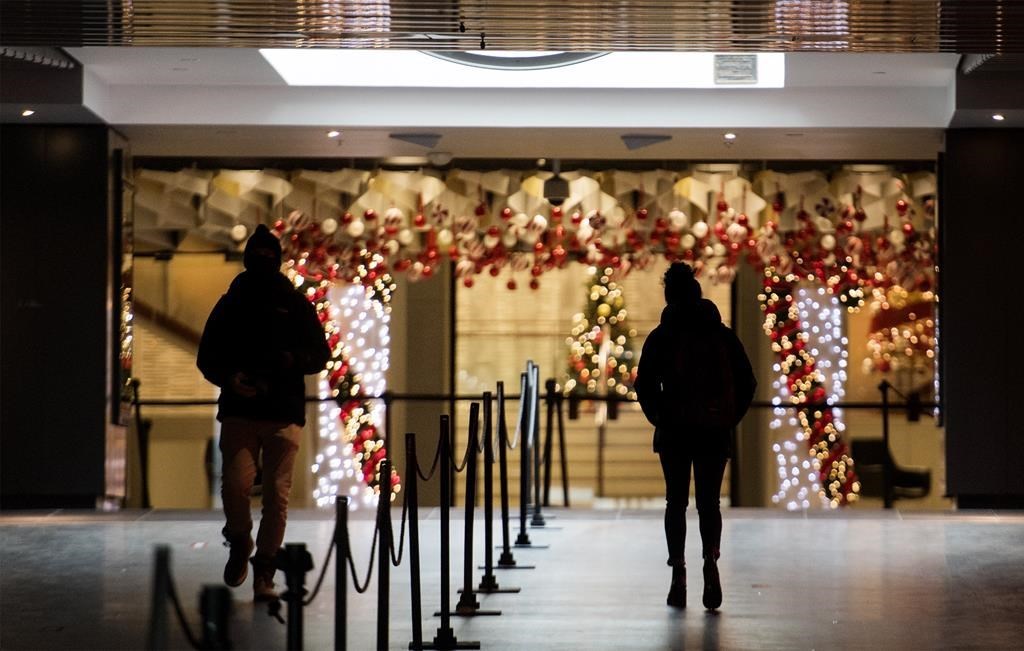 MONTREAL — Quebec is accelerating its vaccination rollout by inoculating as many people as possible instead of holding back doses to be given later as booster shots.
"All the vaccines that we have received and that we will receive in Quebec over the next few weeks will be used to immunize as many priority groups as possible," the Health Department said in a statement Thursday.
Vaccine-maker Pfizer had requested the province reserve half the doses as booster shots for those already vaccinated. That strategy had been criticized by health experts who said the province's vaccine rollout was taking too long.
Quebec has so far received 87,000 doses of vaccine — 55,000 doses from Pfizer-BioNTech and 32,500 from Moderna — and has administered 29,250 injections. Both vaccines require two doses: Pfizer recommends a second dose after 21 days while Moderna says its second dose should come 28 days after the first injection.
Dr. Gaston De Serres, chief physician of the scientific immunization group at Quebec's national public health institute, said Thursday the first dose provides the majority of the protection against the virus. The second, he added, serves mostly to prolong that protection.
Meanwhile in Quebec City, almost 100 people at a long-term care home — both residents and staff — have tested positive for COVID-19 after they were vaccinated against the virus, according to the regional health authority. The Saint-Antoine long-term care home was the site of the first COVID-19 vaccination in Canada on Dec. 14.
De Serres said the outbreak at that facility had been detected several days before vaccinations began. He said it takes time for the body to build immunity following a COVID-19 vaccine.
"It's not really a surprise to see these cases occurring," De Serres said in an interview. "In general, with vaccines, we anticipate that protection should be present starting two weeks after the vaccine has been injected, not necessarily the day the vaccine has been injected."
He said he doesn't expect any more cases among people who received the vaccine on Dec. 14 and 15. The Health Department said there were 64 active cases of COVID-19 among residents at Saint-Antoine on Wednesday, the most recent date for which data is available.
Dr. Maria Sundaram, a Toronto-based epidemiologist at health-care research agency ICES, said given the high rates of community transmission and the high risk of exposure in long-term care homes, catching COVID once vaccinated "is unfortunately almost a given at this point."
"This is not an indication that the vaccine doesn't work," she said in an interview Thursday. "This is an indication of the vaccine trying to work in sub-optimal conditions and it's in a group that hasn't been fully vaccinated."
Quebec exceeded the 200,000 COVID-19 case mark Thursday after officials reported a record 2,819 new infections. The province also reported 62 more deaths attributed to the novel coronavirus, including 22 that occurred in the past 24 hours.
Quebec has reported a total of 202,641 COVID-19 cases and 8,226 deaths linked to the virus.
This report by The Canadian Press was first published Dec. 31, 2020.
———
This story was produced with the financial assistance of the Facebook and Canadian Press News Fellowship.
Jacob Serebrin, The Canadian Press
The coronavirus is becoming more genetically diverse, leaving experts worried – Global News
The race against the virus that causes COVID-19 has taken a new turn: Mutations are rapidly popping up, and the longer it takes to vaccinate people, the more likely it is that a variant that can elude current tests, treatments and vaccines could emerge.
The coronavirus is becoming more genetically diverse, and health officials say the high rate of new cases is the main reason. Each new infection gives the virus a chance to mutate as it makes copies of itself, threatening to undo the progress made so far to control the pandemic.
READ MORE: New coronavirus strains — here's what you need to know
On Friday, the World Health Organization urged more effort to detect new variants. The U.S. Centers for Disease Control and Prevention said a new version first identified in the United Kingdom may become dominant in the U.S. by March. Although it doesn't cause more severe illness, it will lead to more hospitalizations and deaths just because it spreads much more easily, said the CDC, warning of "a new phase of exponential growth."
"We're taking it really very seriously," Dr. Anthony Fauci, the U.S. government's top infectious disease expert, said Sunday on NBC's "Meet the Press."
"We need to do everything we can now … to get transmission as low as we possibly can," said Harvard University's Dr. Michael Mina. "The best way to prevent mutant strains from emerging is to slow transmission."
So far, vaccines seem to remain effective, but there are signs that some of the new mutations may undermine tests for the virus and reduce the effectiveness of antibody drugs as treatments.

1:16


Coronavirus: Travel ban over Brazilian COVID-19 variant precautionary, U.K. transport minister says



"We're in a race against time" because the virus "may stumble upon a mutation" that makes it more dangerous, said Dr. Pardis Sabeti, an evolutionary biologist at the Broad Institute of MIT and Harvard.
[ Sign up for our Health IQ newsletter for the latest coronavirus updates ]
Younger people may be less willing to wear masks, shun crowds and take other steps to avoid infection because the current strain doesn't seem to make them very sick, but "in one mutational change, it might," she warned. Sabeti documented a change in the Ebola virus during the 2014 outbreak that made it much worse.
Mutations on the rise
It's normal for viruses to acquire small changes or mutations in their genetic alphabet as they reproduce. Ones that help the virus flourish give it a competitive advantage and thus crowd out other versions.
In March, just a couple of months after the coronavirus was discovered in China, a mutation called D614G emerged that made it more likely to spread. It soon became the dominant version in the world.
Now, after months of relative calm, "we've started to see some striking evolution" of the virus, biologist Trevor Bedford of the Fred Hutchinson Cancer Research Center in Seattle wrote on Twitter last week. "The fact that we've observed three variants of concern emerge since September suggests that there are likely more to come."
One was first identified in the United Kingdom and quickly became dominant in parts of England. It has now been reported in at least 30 countries, including the United States.
Soon afterward, South Africa and Brazil reported new variants, and the main mutation in the version identified in Britain turned up on a different version "that's been circulating in Ohio … at least as far back as September," said Dr. Dan Jones, a molecular pathologist at Ohio State University who announced that finding last week.
"The important finding here is that this is unlikely to be travel-related" and instead may reflect the virus acquiring similar mutations independently as more infections occur, Jones said.
That also suggests that travel restrictions might be ineffective, Mina said. Because the United States has so many cases, "we can breed our own variants that are just as bad or worse" as those in other countries, he said.
Treatment, vaccine, reinfection risks
Some lab tests suggest the variants identified in South Africa and Brazil may be less susceptible to antibody drugs or convalescent plasma, antibody-rich blood from COVID-19 survivors — both of which help people fight off the virus.
Government scientists are "actively looking" into that possibility, Dr. Janet Woodcock of the U.S. Food and Drug Administration told reporters Thursday. The government is encouraging development of multi-antibody treatments rather than single-antibody drugs to have more ways to target the virus in case one proves ineffective, she said.

4:32


U.K. goes into national lockdown, as COVID-19 variant continues spread



Current vaccines induce broad enough immune responses that they should remain effective, many scientists say. Enough genetic change eventually may require tweaking the vaccine formula, but "it's probably going to be on the order of years if we use the vaccine well rather than months," Dr. Andrew Pavia of the University of Utah said Thursday on a webcast hosted by the Infectious Diseases Society of America.
Health officials also worry that if the virus changes enough, people might get COVID-19 a second time. Reinfection currently is rare, but Brazil already confirmed a case in someone with a new variant who had been sickened with a previous version several months earlier.
What to do
"We're seeing a lot of variants, viral diversity, because there's a lot of virus out there," and reducing new infections is the best way to curb it, said Dr. Adam Lauring, an infectious diseases expert at the University of Michigan in Ann Arbor.
Loyce Pace, who heads the nonprofit Global Health Council and is a member of President-elect Joe Biden's COVID-19 advisory board, said the same precautions scientists have been advising all along "still work and they still matter."
"We still want people to be masking up," she said Thursday on a webcast hosted by the Johns Hopkins Bloomberg School of Public Health.
"We still need people to limit congregating with people outside their household. We still need people to be washing their hands and really being vigilant about those public health practices, especially as these variants emerge."
© 2021 The Canadian Press
B.C. adjusts COVID-19 vaccine rollout for delivery slowdown – Caledonia Courier
B.C. continues to administer both kinds of COVID-19 vaccine, preparing for a slowdown in deliveries next week, provincial health officer Dr. Bonnie Henry said Monday.
B.C. has received 26,775 doses in its latest shipments, mostly the Pfizer vaccine, plus the last currently scheduled shipments of Moderna vaccine that arrived on Friday.
Despite the temporary slowdown in deliveries to Canada, B.C. remains on track to complete its vaccination of high-risk health care employees and seniors in care by the end of March as planned, Henry and Health Minister Adrian Dix said in their regular update Jan. 18.
Public health officials reported three days of test results, with 584 new cases in the 24 hours up to Saturday, another 445 up to Sunday and 301 up to Monday, for a total of 1,330 since the last report on Friday. There were 31 additional COVID-19-related deaths over the three days, and as of Monday, there were 343 coronavirus patients in hospital, 68 in critical care.
The latest cases include 13 positive tests in people who normally live outside of Canada, and Henry said most of them are temporary foreign workers who have begun arriving again to prepare for the growing season. B.C. continues to provide hotel accommodation to quarantine arriving foreign farm workers for 14 days.
One new health care outbreak was reported at Eagle Ridge Manor in Port Moody. Outbreaks were declared over at four facilities, including McKinney Place in Oliver where 17 people have died. The others declared over are at Laurel Place in Surrey, AgeCare Harmony Court in Burnaby and Capilano Care Centre in West Vancouver, were 25 residents died during a two-month outbreak.
---
@tomfletcherbc
tfletcher@blackpress.ca
Like us on Facebook and follow us on Twitter.
Pfizer vaccine delay: Is Canada being left behind? – Newstalk 1010 (iHeartRadio)
OTTAWA — At least three provinces are now temporarily delaying or pausing COVID-19 vaccination programs amid fallout from Pfizer's decision to reduce Canada's vaccine deliveries over the next month.
More than half a million Canadians have been vaccinated against COVID-19 thus far, and more than 822,000 doses of the two approved vaccines have been delivered from Pfizer-BioNTech and Moderna.
But all provinces are being forced to revisit their vaccination programs after Pfizer suddenly told Canada on Friday morning it would be cutting the doses delivered in half over the next four weeks, while it upgrades its factory in Belgium. Pfizer was to ship 735,150 doses to Canada between Jan. 18 and Feb. 14.
Canada's deliveries after the partial pause will be bigger than previously expected so Pfizer can fulfil its contract to deliver four million doses by the end of March.
About 600,000 doses have been delivered from Pfizer so far.
The new delivery schedule has not yet been posted publicly, but provinces are preparing for the temporary downturn anyway.
Manitoba stopped taking appointments for first doses Friday but will honour appointments already made.
Ontario's chief medical officer Dr. David Williams said Saturday his province would delay giving the second dose of the Pfizer vaccine to 42 days, instead of the recommended 21 days. The 28-day schedule for Moderna's vaccine will remain intact, said Williams.
Alberta Premier Jason Kenney said Monday his province has "quite simply run out of supply" of COVID-19 vaccines and is no longer taking appointments for people to get their first doses.
"I am deeply disappointed at the situation we are now facing," said Kenney.
"Due to the unexpected supply disruption the federal government announced last week, Alberta will have no more vaccine doses available to administer as first doses by the end of today or early tomorrow."
B.C. Health Minister Adrian Dix said his province is considering whether to adjust the dosing schedule. B.C. had already changed the 21-day second-dose schedule to 35 days, but Dix said that may change again because of the delivery shortages.
Alberta hit a milestone on Sunday by delivering of the first doses of vaccine to all residents of long-term care facilities. Ontario still anticipates hitting its first target of inoculating 61,500 long-term care residents, staff and primary caregivers by Thursday.
Pfizer is trying to double its production of vaccine doses to two billion this year and is planning to temporarily curb production at its Belgian facility to make upgrades that will allow for that increase.
Pfizer Canada spokeswoman Christina Antoniou said the delivery delays will affect other countries besides Canada and the European Union but the company has not identified them.
"Multiple countries around the world, beyond Canada and the EU, will be impacted in the short term," Antoniou said.
"Pfizer is working closely with all governments on allocation of doses. While the precise percentage allocation may fluctuate, we anticipate that it will balance out by the end of (the first quarter of) 2021."
Europe has already seen its delivery delay period shortened from four weeks to just one. Pfizer told Europe Friday that delays to its dose deliveries would end Jan. 25, while Canada expects to be affected until mid-February.
European leaders were furious at the initial announcement that their deliveries would be smaller for several weeks. European Commission President Ursula von der Leyen called Pfizer's CEO directly to discuss the issue late last week.
Pfizer later announced Europe's deliveries would only be affected for this week.
Conservative health critic Michelle Rempel says Prime Minister Justin Trudeau must explain why Canada's delivery schedule is being affected for longer.
"It's up to the prime minister to explain to Canadians why they won't be able to get vaccinated for months, while European countries have minimal delays in receiving vaccines," Rempel said.
"It's up to him to explain why, based on Friday's news about vaccine delivery delays, we might be looking at many more months of lockdown — with the lost jobs, time with families, and mental health challenges that accompany them. It's up to him to find a better path forward."
Trudeau said Friday the decision was "out of our hands" but that it would not affect Canada's long-term goal to have every Canadian vaccinated by the end of September.
By the fall, Canada is to get a total 40 million doses of the Pfizer-BioNTech and Moderna vaccines. Both use a similar technology to train the human immune system to recognize the SARS-CoV-2 virus that causes COVID-19, and mount a defence against it.
Both vaccines showed they were more than 94 per cent effective at preventing serious illness after two doses.
Health Canada approved Pfizer's vaccine Dec. 9 and Moderna's on Dec. 23. It continue to review two more COVID-19 vaccines, from AstraZeneca and Johnson & Johnson, but neither is expected to complete the review process in Canada for at least several more weeks.