Samsung to relocate Chinese display production to Vietnam: media – The Journal Pioneer
HANOI (Reuters) – Samsung Electronics is planning to shift much of its display production from China to Ho Chi Minh City this year, Vietnamese state media reported on Friday, although the South Korean tech giant said those reports were untrue.
The newspaper Tuoi Tre reported the relocation of Samsung's display production from China citing an announcement on the website of Samsung Vietnam, but the parent company in Seoul said the reports were "groundless".
Samsung did not elaborate.
Several other Vietnamese online media outlets had reported the shift from China but by Friday evening those stories could no longer be viewed.
Samsung is the single largest foreign investor in Vietnam, with investments totalling $17 billion.
Samsung has display production operations in Vietnam among its six factories and two research and development centres.
The reports come as more companies look to diversify supply chains beyond China, after widespread disruption globally when the novel coronavirus first struck there.
Tuoi Tre said the screens would be produced in the Samsung Electronics Complex in Ho Chi Minh City, Vietnam's business hub.
(Reporting by Phuong Nguyen; additional reporting by Heekyong Yang in Seoul; editing by Martin Petty and Jason Neely)
MacGregor Critical of Canadian Media for Coverage of 'Act of Terror' at Rideau Hall – My Cowichan Valley Now
Our local Member of Parliament is responding to Canadian Ranger Corey Hurran breaching the grounds of Rideau Hall recently with shotguns, revolvers, and a rifle.
In a tweet, Cowichan-Malahat-Langford MP Alistair MacGregor wrote, "You don't break into the grounds where the PM lives, armed with multiple loaded firearms, wanting to have a chat."
MacGregor said we need to call this what it is, 'an act of terror' and it's surprising at the way this incident has been portrayed in the Canadian media.
"The way its been portrayed in the media is problematic because I think we need to call this out for what it is, it's an act of terror; when a person tries to intimidate or threaten the head of our government with loaded weapons," said MacGregor. "I'm actually quite surprised that this hasn't been more of a newsworthy event."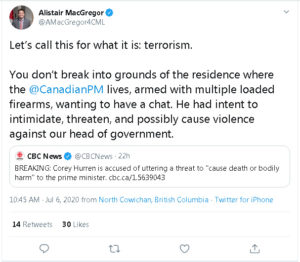 Corey Hurran, a 46-year-old Canadian Ranger from Manitoba breached the grounds of Rideau Hall, where the Prime Minister was staying on Thursday, with loaded shotguns, a rifle, and a revolver.
MacGregor said it's surprising how the media is portraying this 'act of terrorism,' and this type of incident needs to be condemned.
"I just think we need to condemn this kind of thing and express our condolences to the Prime Minister and to his family, it must have been a very scary thing," said MacGregor. "He has good security around him but the fact that it happened in the first place is very problematic."
On Friday, Hurran was charged with 22 offences, the majority of which were firearms-related charges.
They included Careless Use of a Firearm, Possession of a Weapon for a Dangerous Purpose, and Possession of a Prohibited or Restricted Firearm.
He remains in custody and is expected back in court on July 17th.
U.S. looking at banning Chinese social media apps, including TikTok, Pompeo says – CBC.ca
Secretary of State Mike Pompeo said on Monday that the United States is "certainly looking at" banning Chinese social media apps, including TikTok, suggesting it shared information with the Chinese government, a charge the company denied.
"I don't want to get out in front of the president, but it's something we're looking at," Pompeo said in an interview with Fox News, referencing Donald Trump.
U.S. lawmakers have raised national security concerns over TikTok's handling of user data, saying they were worried about Chinese laws requiring domestic companies "to support and co-operate with intelligence work controlled by the Chinese Communist Party."
Pompeo said Americans should be cautious in using the short-form video app owned by China-based ByteDance.
"Only if you want your private information in the hands of the Chinese Communist Party," Pompeo remarked when asked if he would recommend that people download TikTok.
In response to his comments, TikTok told Reuters it has never provided user data to China.
"We have no higher priority than promoting a safe and secure app experience for our users. We have never provided user data to the Chinese government, nor would we do so if asked," TikTok said in an emailed statement.
The app, which is not available in China, has sought to distance itself from its Chinese roots to appeal to a global audience.
Increasing China-U.S. tensions
Pompeo's remarks also come amid increasing U.S.-China tensions over the handling of the coronavirus outbreak, China's actions in the former British colony of Hong Kong and a nearly two-year trade war.
TikTok was recently banned in India along with 58 other Chinese apps after a border clash between India and China.
Reuters reported late on Monday that TikTok would exit the Hong Kong market within days, after China's establishment of a sweeping new national security law for the region.
Hong Kong returned to Chinese rule in 1997 with the guarantee of freedoms and far-reaching autonomy under a "one country, two systems" formula agreed to with Britain.
EU executive expresses concern over Hungary's media freedom – The Guardian
BUDAPEST (Reuters) – A senior European Commission official has expressed concern for the independence of Index.hu, one of Hungary's last major independent news websites and a leading critic of Prime Minister Viktor Orban's government.
"What you are doing, the values you are fighting for, media freedom and pluralism, are essential for democracy," Vera Jourova, the commission's Vice President for Values and Transparency, said in a message to Index published on its web site. "You can count on my support."
Editor-in-chief Szabolcs Dull said last month that Index was at risk of losing its independence because of "external influence".
He said Index wanted to remain free of government influence and undue pressure from businessmen and advisers with government ties.
Orban has extended his influence over many walks of life in Hungary during his decade-long rule.
Pro-government businessman Miklos Vaszily bought a major stake in a company with control of Index's revenue stream in March, raising fears of interference with the web site to favour Orban.
Vaszily, who has not returned Reuters requests for comment, has denied he wants to muzzle Index, saying economic problems need to be fixed. But staff are on alert as Vaszily had previously turned their competitor, Origo.hu, into a government mouthpiece.
Jourova said Index's business situation should not be used as a pretext to undermine its freedom.
"While readership and audiences have been record high, revenues have been heavily hit. Economic pressure should not turn into political pressure…I would like to express my solidarity with the staff of Index."
Media freedom was a key issue when the EU warned Hungary in April to respect the bloc's values as it fought against the coronavirus pandemic.
(Reporting by Marton Dunai; Editing by Angus MacSwan)