US Prosecutors Say Art Collector Financed Hezbollah and Violated Sanctions, Dealing Art and Diamonds Totaling $440 M.
Collector Nazem Said Ahmad has been charged for violating and evading US sanctions through $440 million worth of imports and exports in art and diamonds, according to federal prosecutors. Eight others, including several of his family members, were also charged.
The nine-count indictment unsealed this week in United States District Court for the Eastern District of New York also includes allegations of conspiring to defraud the United States and other governments, evading customs laws, and money laundering for the benefit of Lebanon-based terrorist group Hezbollah.
Ahmad has been sanctioned by the US government since 2019 for his role as a major financial donor to Hezbollah through money laundering activities, as well as for personally providing funds to the organization's secretary-general. He was barred from conducting business, like collecting and selling "high-value art," real estate, and diamonds, with US entities and persons.
But these sanctions did not stop Ahmad and his partners from using "a complex web of business entities" to procure valuable artwork from American artists and art galleries, as well as secure U.S.-based diamond-grading services, while hiding the art collector's involvement in and benefit from these transactions, according to a press release from the Justice Department.
"Luxury good market participants should be attentive to these potential tactics and schemes, which allow terrorist financiers, money launderers, and sanctions evaders to launder illicit proceeds through the purchase and consignment of luxury goods," Brian E. Nelson, the Treasury Department's undersecretary for terrorism and financial intelligence, said in a statement.
The Treasury Department said it identified 52 individuals and entities in an international network across nine countries that Ahmad used to facilitate "the payment, shipment, and delivery of cash, diamonds, precious gems, art, and luxury goods" for his alleged money laundering and sanctions evasion.
The other individuals charged for helping Ahmad include his son Firas Michael Ahmad, his daughter Hind Nazem Ahmad, his brother-in-law Rami Yaacoub Baker, as well as associates Mohamad Hijazi, Mohamad Hassan Ismail, Sarya Nemat Martin, and Ali Said Mossalem Sundar Nagarajan.
Hind Nazem Ahmad is also the owner operator of the Dida Gallery in Abidjan, Côte d'Ivoire, and Artual Gallery in Beirut, Lebanon. She disputed the allegations, saying she was unaware of the case in federal court; she called the notion of her father being a financier for Hezbollah "absurd."
"I would have never imagined this would ever be possible," she told the New York Times.
While one of the defendants was arrested this week in the United Kingdom, the Justice Department said the eight others, including Ahmad, "are believed to reside outside the United States and remain at large." The American government has also obtained seizure warrants for millions in assets in artwork, cash, and a diamond ring.
Last year, Ahmad's penthouse in Beirut was featured in Architectural Digest Middle East (since removed from the magazine's website) for its wide array of paintings and bright sculptures. According to the article, Ahmad's art collection also includes works by Jean-Michel Basquiat, Ai Weiwei, Thomas Heatherwick, and Marc Quinn.
The indictment further alleges that Ahmad and his associates obtained artwork worth more than $1.2 million from the US after he was sanctioned in 2019, but notes that amount does not account for the tax evasion from foreign governments. By comparison, the indictment said the total weight and value of the diamonds, which had allegedly passed through Ahmad's businesses after the sanctions had been imposed, were graded at approximately 1,546 carats, worth more than $91 million.
While the indictment included the prices of the art works based on export records and sales invoices, it did not identify the names of artists and galleries involved, only referring to them by location, such as "Chicago Art Gallery-1."
Using Google reverse image search on artworks attached to the indictment, several of the works appear to be artists David Salle, Terron Cooper Sorrells, Stickmonger, and UFO907; per the indictment, these pieces were paid for or acquired through other names, entities, or partial payments to obscure they were connected to Ahmad.
Three of the works in the indictment had also been posted to Ahmad's Instagram account, where he frequently posts images of artists, galleries, and exhibitions to his 172,000 followers. Ahmad identified those paintings as ones by Nicasio Fernandez and Luke Agada.
ARTnews has reached out to each of these artists and Ahmad for comment.
The indictment said the painting by Agada was paid for by wire transfer through an American financial institution based in New York. It shows a woman wearing a black blazer, a white dress with black polka-dots, white gloves, with an antique telephone box instead of a head. The woman holds a cardboard box with a label marked "EVIDENCE."
Artists slam Duke Nukem 1+2 Remaster art & claim it's "AI generated" – Dexerto
Fans of the long-dormant Duke Nukem series were elated to see a remaster of the first 2 games getting announced, but that excitement has been dampened by people calling out the game's key art for being "AI generated".
AI has been rapidly developing as of late, getting implemented in an increasing number of ways for people to generate images and text by feeding certain AI programs a prompt to work from.
AI art has become just as controversial as it has been prominent, and people are increasingly wary of AI-generated images replacing the work of real artists.
Article continues after ad
When the promotional art for the Duke Nukem 1 + 2 Remasters released, the joy of many fans was traded out for disdain, with many claiming that the art wasn't created by an actual artist. To prove their point, several artists put together a detailed analysis of the image to try and explain why they think the artist that was hired didn't do all his work by hand.
Duke Nukem 1+2 Remaster under fire for "AI generated" art
When AI art first started taking the internet by storm, it was pretty easy to discern what was and wasn't real. Though some images were more convincing than others, things like hands, facial expressions, and other small details didn't quite line up with what a human artist would produce.
Article continues after ad
However, as the technology rapidly advances, it's getting harder and harder to tell the difference. For instance, the cover art for a book by the name of Bob the Wizard was exposed as being AI generated after it won a cover art contest, with the author of the book now working with a different artist to replace it.
Subscribe to our newsletter for the latest updates on Esports, Gaming and more.
Now, Duke Nukem fans and artists are calling out Oskar Manuel, claiming that he used AI to generate the cover for the Duke Nukem 1+2 Remaster under the nose of Evercade, the company promoting the remaster.
Article continues after ad
It hasn't been confirmed by the artist or Evercade whether or not Manuel used AI in the production of art for the title, but several artists and gamers have swarmed the account, claiming that art from Manuel's portfolio seems to be AI-generated.
One artist went out of their way to mark the places in which they think the art most clearly shows its faults and other examples of art from Manuel's portfolio that includes things like clocks with no hands and characters with 6 fingers.
Article continues after ad
Neither Evercade nor Manuel have commented further on the matter at the time of writing, and the story is still developing.
Global BC sponsors Vancouver Art Gallery: Fashion Fictions – GlobalNews Events – Global News
On now until October 9
Vancouver Art Gallery
Head to the Vancouver Art Gallery for Fashion Fictions,
This exhibition explores the increasing influence of research-based, materially driven practices on the global fashion scene, and surveys experimental design practices pushing the boundaries of the art form.
Proudly sponsored by Global BC.
Details at VanArtGallery.bc.ca
Poland's quest to retrieve priceless Nazi-looted art – BBC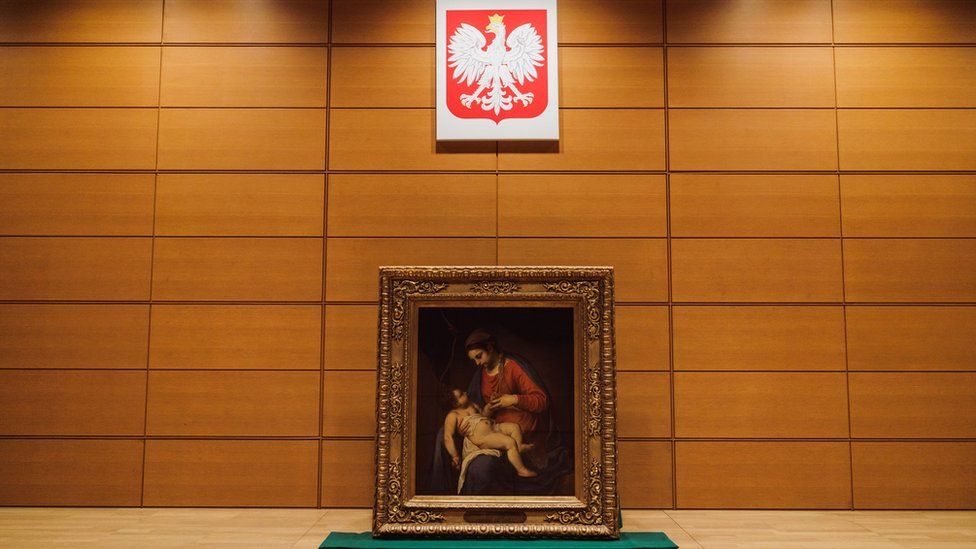 When the Nazis occupied Poland in World War Two, many of the country's priceless pieces of art were stolen.
One of those was Madonna with Child, a 16th Century painting attributed to Italian Alessandro Turchi. A Nazi official who oversaw the looting of art included the painting on a list of hundreds taken from occupied Poland.
It is one of 600 looted artworks that Poland has managed to successfully bring home, but more than 66,000 so-called war losses are yet to be recovered.
Poland recently launched a campaign seeking the return of hundreds of thousands artworks and other cultural items still missing after German and Soviet occupations in World War Two. It is also seeking $1.3 trillion in reparations from Germany for damage incurred by occupying Nazis.
Experts believe more art will be discovered with the passage of time as heirs to looted artwork attempt to sell pieces without being aware of their history.
Madonna with Child is thought to have been transferred to Germany in 1940 during the Nazi occupation of Poland. The Nazis often looted art belonging to Jewish families before killing them.
The painting was included on a list of 521 artworks in occupied Poland compiled by Kajetan Mühlmann, a Nazi official who oversaw the looting of art.
The painting reappeared in the 1990s, when it was sold at a New York auction.
It was due to be auctioned in January last year, but the sale was halted after Polish authorities spotted the piece. Once it was proven to be the looted painting, the auction house and the painting's owner agreed to return it to Poland. An official handing-over ceremony took place in Tokyo on Wednesday.
Polish art historian Natalia Cetera said the return of masterpieces like Madonna with Child help restore pride in the country's art heritage.
Poland had Rembrandt and Raphael pieces stolen, as well as internationally recognised Polish masterpieces, she said.
"So whenever there is this situation where the artworks come back to Polish collections, you feel proud because it shows the importance of Polish collections that is sometimes forgotten," Ms Cetera told the BBC.
"It means we have some strong focus on remembering our heritage, our collections and the strength we used to have in art, because this is something we tried to rebuild after the war and this is a long process to be recognised again."
Ms Cetera says she believes there has been a shift in recent years in cultural heritage "being seen as a common good".
Christopher Marinello, founder of Art Recovery International, has spent more than 30 years finding missing masterpieces. He believes that more pieces could start showing up as looted artwork gets handed down to the next generation, with the new heirs unaware of their history.
"We're talking about a generation ago now and these looted objects are being left to their heirs when the possessors pass away and the children don't necessarily know the history and they decide to sell it," Mr Marinello said.
Polish authorities have recorded stolen pieces of artwork on Interpol and other private and government databases.
"There's also a great number of art historians out there who are doing research of looted artworks from Poland and they're spotting them too," Mr Marinello said.
"The more that tech improves and auction houses start to post everything online, there's more eyes looking for the objects that have been looted."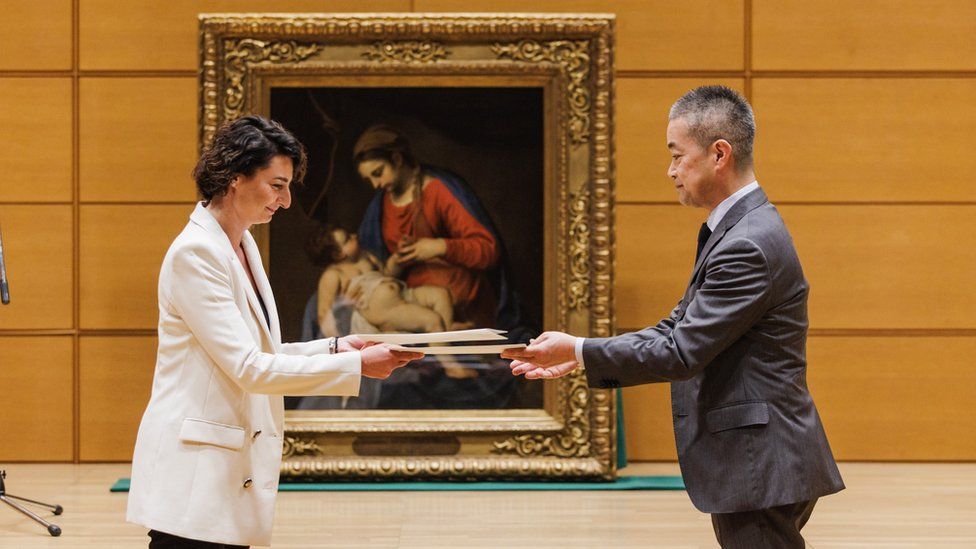 Mr Marinello believes there is also a "generational shift" in attitudes to stolen masterpieces. He's currently working on a case where a man in Chicago contacted him about a piece he believed his grandfather stole from a German museum in World War Two.
"They'd had it for an entire generation and now they realise that they can't sell it and that they would rather give it back than have any more trouble over the issue."
But the law varies from country to country, and sometimes a stolen piece can only be returned with the goodwill of the current owner.
Japan, where Madonna with Child was found, "is not a great country to recover stolen art from", Mr Marinello says.
"It's really up to the possessor in many cases to do the right thing… to understand that something was looted or stolen and that it should be returned, because you can't rely on a lawsuit under Japanese law," he said.
Ms Cetera said that the successful retrieval of Madonna with Child was a source of pride, but is unsure whether the passion for bringing stolen artwork back to Poland will continue with future generations.
"The question is whether it is important to the next generation – Gen Z and younger generations, do they really care? From what I observe, this might not be the case," she said.
Digitised art collections might mean people losing interest in the physical form, she said.
"At some point maybe we won't have to retrieve artworks… because we will have it in the Cloud and we will be able to reach it any time anywhere, no matter who has it.
"This digitisation and tech that is coming might at some point suppress the need of retrieving physical artworks."
You may also be interested in: