Windows 7 is hit by bug that stops a PC shutting down – but there's a workaround – TechRadar India
Windows 7 has another bug following official support for the OS ending, and it's more serious than the wallpaper glitch Microsoft previously patched, with users left unable to reboot or shutdown their PC – at least not without resorting to rather clunky workarounds (more on that later).
Windows 7 reached end-of-life on January 14, meaning updates and security fixes are no longer issued for the operating system, so it'll be interesting to see if despite that fact, Microsoft still fixes this problem – given its seriousness – as well as the aforementioned wallpaper gremlin which was cured.
As ZDNet spotted, the problem has manifested on various Windows 7 machines according to a number of reports online, with users complaining on several threads posted on Reddit for starters.
When trying to shut down their PC, those affected simply receive the more-than-confusing message: "You don't have permission to shut down this computer."
The actual cause is unknown, and Microsoft is yet to comment on the fresh bug, meaning that at the moment, we are very much in the dark.
According to advice from Quick Heal, a security firm and antivirus maker which chipped in on possible causes – and solutions – the problem could be down to User Account Control (or UAC) going awry in some manner, and not giving the admin account of the PC the correct permissions. That's only a theory, mind.
You would imagine that something odd is going on with Windows 7 permissions, though, given that error message.
Group (policy) hug
Quick Heal actually provides a detailed solution in an online support article which you can check out here. There are lots of caveats, though, including that this isn't promised to work – the firm believes it 'should' do the trick – and that it involves tinkering in the Group Policy Editor.
The real snag is that this functionality isn't available in the Home edition of Windows 7, so only Windows 7 Pro or Ultimate users can benefit (or indeed Enterprise editions).
If you can't access the Group Policy Editor, or don't fancy poking around in it anyway (even though the steps are reasonably straightforward), you can try one of the workarounds suggested on Reddit instead.
Here's one suggestion, and again remember like Quick Heal's possible solution, it is just that – only a possible solution:
Create another admin account
Log into that account (or another admin account that was already on the system)
Log back into the default admin account
You should now be able to reboot or shutdown as normal
The snag with side-stepping the issue in this manner is that you have to do this every single time you want to restart your PC, or shut it down, which is a bit of a bind.
Another suggestion is to "hit CTL+ALT+DEL and then restart from the red icon in the lower right-hand corner", which is certainly a quicker workaround that might be worth trying, just in case.
Even though Windows 7 is officially now out of support as mentioned, Microsoft may well feel obliged to fix this issue, just as it did with the wallpaper one, if only due to some of the conspiracy theories which inevitably float around about this being the software giant's way of 'persuading' people to upgrade to Windows 10.
You can, of course, still upgrade to Windows 10 for free from Windows 7, or as others have pointed out, there are alternative operating systems, and you could always head for the Linux hills instead.
iOS 16 Beta 5: Battery Percentage Now Displayed in iPhone Status Bar – MacRumors
With the fifth beta of iOS 16, Apple has updated the battery icon on iPhones with Face ID to display the specific battery percentage rather than just a visual representation of battery level. The new battery indicator is available on iPhone 12 and iPhone 13 models, with the exception of the 5.4-inch ‌iPhone 12‌/13 mini. It is also available on the iPhone 11 Pro and Pro Max, XS and XS Max, and iPhone X.

Battery percent has not been present on iPhones that have ‌Face ID‌ because of the lack of space on either side of the notch that houses the TrueDepth camera hardware. The new design adds the specific battery level to the battery icon, providing a better idea of battery status at a glance.
In iOS 15 and earlier versions of iOS, the battery icon shows a visual of the battery level, but it does not provide a specific percent. To get that information, ‌iPhone‌ users need to swipe down into Control Center or swipe over to the Today center view to see the battery widget.
The battery icon changes colors based on the status of the battery, and the color of the ‌iPhone‌'s wallpaper. When charging, for example, the battery icon is green and shows a charging indicator.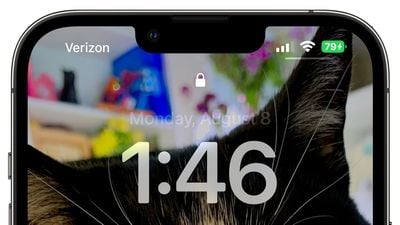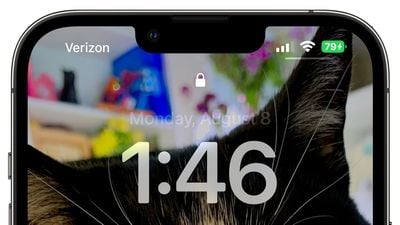 Battery percentage can be toggled on and off in the Settings app in the Battery section. The battery percentage feature appears to be available on most iPhones that have a notch, but it is not an option on the iPhone 12 mini, ‌iPhone 13‌ mini, ‌iPhone 11‌, or ‌iPhone‌ XR perhaps due to space constraints and/or display quality.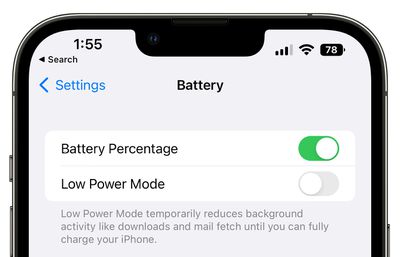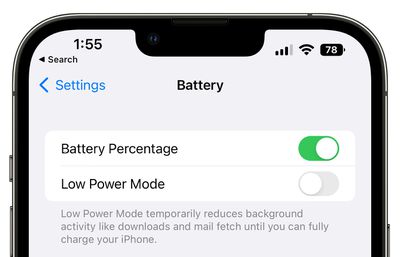 ‌iOS 16‌ beta 5 is available to developers at the current time, and Apple will be releasing a public beta in the near future.
Popular Stories
How to watch Samsung Galaxy Unpacked 2022 in Canada – MobileSyrup
Samsung will hold its next Galaxy Unpacked event today, August 10th, at 6am PT/9am ET.
As usual, we don't know exactly what will be featured there, although it's expected that we'll see the Galaxy Fold 4, Galaxy Flip 4, new Galaxy Watches and more.
Canadians interested in tuning in to the Unpacked 2022 livestream can do so via the Samsung Newsroom, Samsung's website or Samsung's YouTube channel.
It's also worth noting that to coincide with Unpacked 2022, Samsung is offering a $100 e-voucher to use towards your next purchase of any Samsung product. To claim this, you'll need to register through this site and provide some information, including your name, phone number and current device.
What are you looking forward to seeing at Unpacked 2022? Let us know in the comments.
WhatsApp to bring screenshot blocking to THESE types of messages – HT Tech
WhatsApp to now bring the ability to block screenshots to View Once messages. Know when this feature is coming.
WhatsApp is constantly adding new features to enhance the texting experience and these are coming faster than we could get used to them. Lately, the developers have focused on enhancing the privacy for users with a couple of new features. The ability to leave WhatsApp groups silently has draw a lot of attention lately. One can also choose who can see your online status going forward, and who can't. However, there is another new feature that will help those who want to share sensitive media and can't risk someone taking a screenshot of the same.
A while ago, WhatsApp rolled out the ability to send messages that can only be viewed once. The View Once feature currently only allows the media to be shown once but someone can still take a screenshot of the media, thus denying the point of the feature. Now, WhatsApp is modifying the feature, wherein it prevents the ability to take a screenshot. The feature is under development and WhatsApp hasn't revealed the date yet.
WhatsApp to block screenshot
"View Once is already an incredibly popular way to share photos or media that don't need to have a permanent digital record. Now we're enabling screenshot blocking for View Once messages for an added layer of protection. We're testing this feature now and are excited to roll it out to users soon," says WhatsApp in its official blog.
WhatsApp will also reveal more about this and several other features in the days to come via its own campaign. "To spread the word about these new layers of protection, we're also kicking off a campaign to educate people about the new features and our continued commitment to protecting your private conversations on WhatsApp. We hope people enjoy getting to use these new features and benefit from several options that help you keep your messages secure. We look forward to your feedback on what to build next," it says.
Prior to this WhatsApp, recently released the ability to transfer message backups from Android to iOS devices. The same can be done from iOS to Android as well.