China Likely Suffered Another Economic Slowdown Last Month – Bloomberg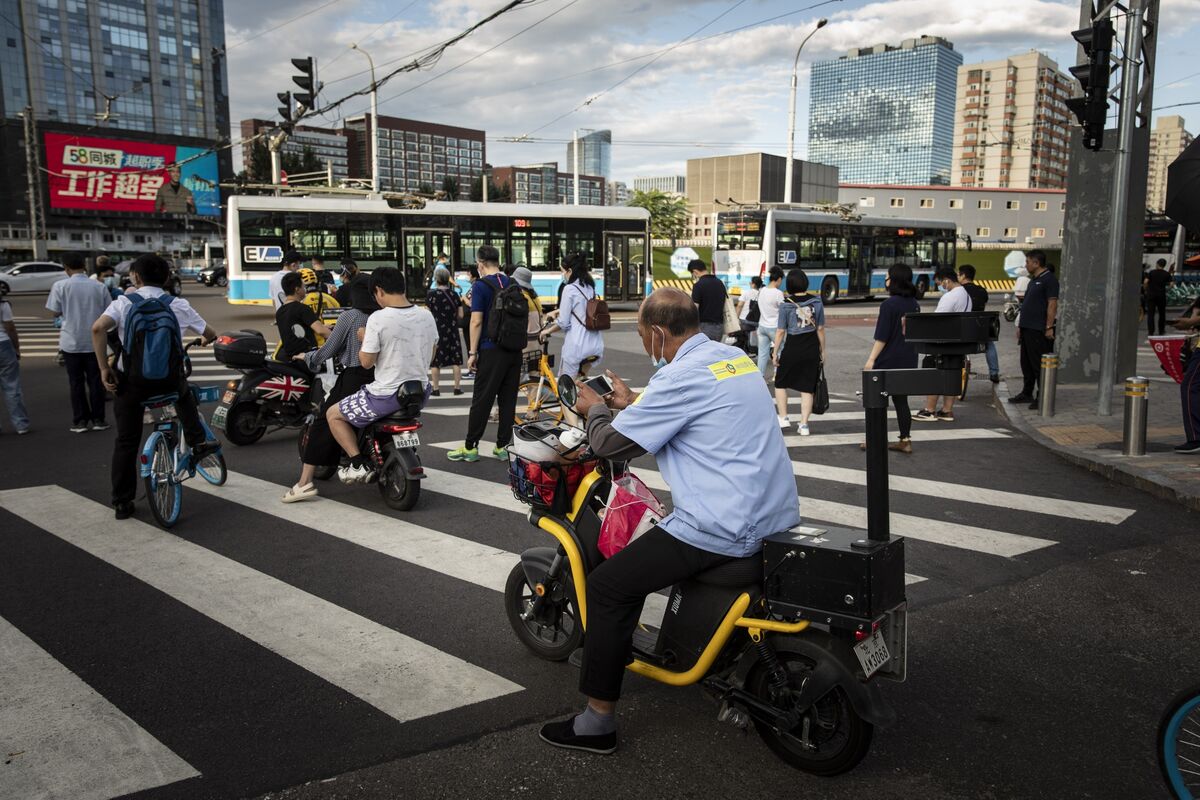 China's economy likely slowed further in August, with data on consumption, industrial output and investment due Wednesday to reveal the extent of the damage caused by an outbreak of the delta variant.
The extent of the slowdown will be closely watched for sign that it's serious enough to prompt authorities to change their current stance of slowly withdrawing liquidity from markets and keeping stimulus limited. The ongoing regulatory crackdown on sectors like education, the internet and property may have exacerbated the recent economic weakness.
Opinion | Do We Need to Shrink the Economy to Stop Climate Change? – The New York Times
This article is part of the Debatable newsletter. You can sign up here to receive it on Tuesdays and Thursdays.
If there is a dominant paradigm for how politicians and economists today think about solving climate change, it is called green growth. According to green growth orthodoxy — whose adherents populate European governments, the Organization for Economic Co-operation and Development, the World Bank and the White House — the global economy can both continue growing and defuse the threat of a warming planet through rapid, market-led environmental action and technological innovation.
But in recent years, a rival paradigm has been gaining ground: degrowth. In the view of degrowthers, humanity simply does not have the capacity to phase out fossil fuels and meet the ever-growing demand of rich economies. At this late hour, consumption itself has to be curtailed.
Degrowth is still a relatively marginal tendency in climate politics, but it's been attracting converts. In 2019, more than 11,000 scientists signed an open letter calling for a "shift from G.D.P. growth" toward "sustaining ecosystems and improving human well-being." And in May, a paper published in the journal Nature argued that degrowth "should be as widely and thoroughly considered and debated as are comparably risky technology-driven pathways."
Here's a closer look at the debate.
The case for degrowth
Perhaps the most prominent proponent of the degrowth movement is Jason Hickel, an economic anthropologist and the author of "Less Is More: How Degrowth Will Save the World." Degrowth, as he defines it, "is a planned reduction of energy and resource use designed to bring the economy back into balance with the living world in a way that reduces inequality and improves human well-being."
His argument against the green growth framework rests on two key premises:
There is no historical evidence that G.D.P. can be completely decoupled from material resource use. In other words, human economies cannot grow infinitely on a planet with finite resources.

G.D.P. can be decoupled from greenhouse gas emissions by replacing fossil fuels with renewable energy, but that decoupling isn't happening fast enough.
The requisite solution, in Hickel's view, is to reduce resource and energy consumption, which will make it easier to rapidly transition to renewable energy in the short time humanity has left to avert 1.5 degrees of global warming. But this imperative would not apply equally across the globe:
Climate change is being driven primarily by the cumulative historical consumption of the Global North, so he argues it is incumbent on rich countries to shrink their economies. (The disproportionate responsibility advanced economies bear for climate change is also why Hickel rejects calls for population control in poorer countries as "completely backward": "We do have a population problem, it's true," he said in 2018. "But it has nothing to do with poor countries. The real problem is that there are too many rich people.")

That retrenchment, in turn, would create space in the global carbon budget for poorer countries to continue growing, which they still need to do to lift their populations out of poverty.
Critics of degrowth have analogized the project to economic austerity or forced recessions, which tend to cause broad-based suffering and worsen inequality. But those negative effects, Hickel says, are merely the predictable disaster that ensues "when growth-dependent economies stop growing."
Degrowth, by contrast, calls for a different kind of economy altogether, one that could improve people's livelihoods despite a reduction in aggregate activity: It seeks to scale down "ecologically destructive and socially less necessary production" (such as S.U.V.s, weapons, beef, private transportation, advertising and consumer technologies that are designed to obsolesce) while expanding "socially important sectors" like health care and education.
Among the policies Hickel proposes to create such an economy are shortening the workweek, introducing a job guarantee with a living wage, shifting workers out of declining industries and the decommodification of goods like housing that people need to live dignified lives.
'A fantasy that distracts us from real efforts to save the planet'
In a recent newsletter, the economist Noah Smith took degrowth's main arguments to task in a defense of green growth:
First, he says economic growth can, in fact, be decoupled from resource use: "We can keep raising everyone's standard of living without exhausting the planet's resources. Because growth doesn't just mean using more and more stuff; instead, it can mean finding more efficient ways to use the stuff we have." (Hickel dismisses the claim as a hypothetical.)
Second, and more directly pertinent to climate change, Smith says that decoupling G.D.P. from greenhouse gas emissions is not just possible, as many degrowthers acknowledge, but already happening: Since 2005, 32 countries, including the United States, have managed to do it, according to the Breakthrough Institute.
Smith agrees with Hickel, though, that emissions decoupling isn't happening fast enough. The question, then, is whether degrowthers offer the correct prescription for reaching carbon neutrality on a shorter timetable.
My colleague Ezra Klein doesn't think so. The unacceptably slow pace of the transition to renewable energy, he argued on a recent podcast, is a political problem, not a technological one. And on the politics, degrowth is a much tougher sell than green growth.
The degrowth movement is "attacking the flaws of the current strategy as not moving fast enough when the impediments are political, but then not accepting the impediments to its own political path forward," he said. "I think that if the political demand of the movement becomes you don't get to eat beef, you will set climate politics back so far, so fast, it would be disastrous. Same thing with S.U.V.s. I don't like S.U.V.s. I don't drive one. But if you are telling people in rich countries that the climate movement is for them not having the cars they want to have, you are just going to lose."
This is an argument Hickel takes seriously:
New York magazine's Eric Levitz agrees that "Americans might well find themselves happier and more secure in an ultra-low-carbon communal economy in which individual car ownership is heavily restricted, and housing, health care, and myriad low-carbon leisure activities are social rights." But, he adds, "nothing short of an absolute dictatorship could affect such a transformation at the necessary speed. And the specter of eco-Bolshevism does not haunt the Global North. Humanity is going to find a way to get rich sustainably, or die trying."
Forgetting about growth
At the moment, degrowth has no mass constituency. But some of its animating ideas are nonetheless exerting an influence on political economic thought — particularly the critique of G.D.P. growth as the lodestar of human progress.
"Even within mainstream economics, the growth orthodoxy is being challenged, and not merely because of a heightened awareness of environmental perils," John Cassidy wrote in The New Yorker last year. "After a century in which G.D.P. per person has gone up more than sixfold in the United States, a vigorous debate has arisen about the feasibility and wisdom of creating and consuming ever more stuff, year after year."
What's the alternative? Kate Raworth, an English economist, has identified one option: "doughnut economics." In Raworth's view, 21st-century economies should abandon growth for growth's sake and make it their goal to reach the sweet spot — or the doughnut — between the "social foundation," where everyone has what they need to live a good life, and the "environmental ceiling."
"The doughnut model doesn't proscribe all economic growth or development," Ciara Nugent explains in Time. "But that economic growth needs to be viewed as a means to reach social goals within ecological limits, she says, and not as an indicator of success in itself, or a goal for rich countries."
Raworth's ideas have had real-world impact: Last year, during the first wave of the pandemic, Amsterdam's city government announced it would aim to recover from the crisis by adopting the precepts of "doughnut economics." A year before that, Prime Minister Jacinda Ardern of New Zealand announced her country would prioritize its residents' welfare and happiness over G.D.P. growth.
Even in the United States, which has embraced no such policy, G.D.P. growth has slowed in the past two decades, largely because of falling birthrates and a switch in spending patterns from goods to services.
That hasn't solved the problem of America's addiction to fossil fuels, of course. "Yet the sorts of policies on offer from degrowth advocates — like universal basic services and shorter working hours — could help address some of the long-standing ills now afflicting a wide range of economies," Kate Aronoff writes in The New Republic. "Rather than chasing an increasingly far-off goal by trying to coax forth elusive corporate investment with giveaways, governments could start planning for what a fairer lower growth, lower carbon future might look like."
Guinean Business Leaders Pledge to Support Economy Despite Coup – BNN
(Bloomberg) — An association of banks, insurance companies and microfinance institutions operating in Guinea pledged on Saturday to support the West African nation's economy following the Sept. 5 military coup that overthrew President Alpha Conde.
"We are servants of the Republic, that is why we solemnly wish to reiterate our commitment to support and finance all economic players and in an inclusive way," said Guy Laurent Fondjo, head of the Business Science Institute, at a meeting with the leader of the junta Colonel Mamady Doumbouya.
The meeting was part of national consultations started by the military group that began on Sept. 14 aimed at achieving an inclusive transition in the country. Doumbouya earlier urged the lenders to facilitate access to credit to help revive economic activity.
"We are committed to continuing our work of supporting the Guinean economy for the well-being of Guineans and for the sustainable development of our dear country," said Fondjo, who is also chief executive officer of Afriland First Bank Guinea.
©2021 Bloomberg L.P.
Teetering property developer Evergrande sparks contagion fears for China's economy – CBC.ca
Property developer China Evergrande Group is teetering on the brink of collapse, weighed down by a giant debt load and billions of dollars of real estate it can't sell as quickly or as profitably as anticipated.
While trouble has been brewing for a year, it's coming to a head now, as the conglomerate missed one loan payment in June and more are expected. The company's offices were the site of angry protests this week, and things could get even uglier on Monday when the company is likely to miss another key interest payment to its increasingly concerned financiers.
Evergrande's possible collapse is sparking fears that it could take other parts of China's housing market down with it — and impact business interests outside China, too.
Here's a brief explainer of what you need to know about the story.
What is Evergrande?
Founded in 1996 in the Chinese city of Shenzhen, across the border from Hong Kong, Evergrande is mostly a property developer, whose core business is buying up land and turning it into residential real estate. Company founder Hui Ka Yan is a former steel worker who rode China's 21st century real estate boom to a fortune that was at one point last year worth $30 billion US, good enough for the title of third-richest man in China.
The company has built more than 1,300 housing developments in 280 cities in China, with plans for another 3,000 projects underway in various cities across the country.
But like any good conglomerate, it has expanded into all sort of other businesses, including bottled water and food, electric vehicles, theme parks, a Netflix-like streaming service with almost 40 million customers — and even a professional soccer team.
Why are they in trouble?
Debt — and lots of it. The company has almost two trillion yuan of debt on its books, the equivalent of more than $300 billion US. The company aggressively borrowed money to buy more land to develop, and sold apartments quickly at low margins to raise enough cash to start the cycle up again. Which works fine as a business model — until it doesn't.
In late 2020, new rules brought more scrutiny to the company's finances, which revealed higher-than-expected debt loads. That, coupled with mounting construction delays spooked buyers, setting up a vicious cycle. The company began its descent to pariah status as lenders and buyers lost their nerve in lockstep with each other.
Every attempt by the company since then to distract from its problems only served to draw more attention to them. Lenders got more and more unsettled. Existing owners got upset. New sales slowed, which created a feedback loop that got lenders even more jittery.
WATCH | Investors angrily protest at Evergrande offices:
Buyers at Chinese property developer Evergrande are demanding answers from the company management, as fears mount that the company may collapse under its debt load. (David Kirton/Reuters) 0:34
In June, the company admitted it missed payment on a loan. The next month, a Chinese court froze a $20 million bank deposit at the request of one its lenders. At least one creditor, a paint supplier, is reportedly being paid in apartments that won't be ready until 2024.
According to data compiled by Bloomberg, on the 19th of July, presales at two projects in Hunan were halted. Three days later, Hong Kong banks stopped offering mortgages on any incomplete projects by the company in the city. On August 9, two more projects in Kunming stopped construction due to missed payments, followed by similar halts at projects in Nanjing and Chengdu. Things have snowballed ever since. The company's stock price has cratered by 90 per cent in the past year, and most of their bonds are in junk status.
The company is behind on its obligations to more than 70,000 investors. More than one million buyers of unfinished projects are in limbo. And the pace of problems is picking up. "Sales could slump further as the developer may struggle to restore potential homebuyers' confidence," said Lisa Zhou, an analyst with Bloomberg Intelligence.
Monday figures to be an inflection point for the company as Evergrande is supposed to make an $80 million interest payment on one of its many loans, and there's next to no chance it will pay that, which could start the clock ticking toward some undesirable outcomes.
So what could happen?
A number of bleak B words are on the table — bankruptcy, breakup, buyout, or bailout — and none of them are ideal.
The first option would be the most painful.
"If, as expected, Evergrande is defaulting on its debt and goes through a restructuring, I don't see why it would be contained," Michel Lowy of distressed debt investment firm SC Lowy, told Reuters.
But because of the Chinese government's long-standing desire for stability, that's also the least likely outcome. The company owes money to 128 different banks, and was behind almost one out of every 20 property sales in China in the past five years. Evergrande permanently employs almost 200,000 people, but hires almost four million people a year to work on various projects.
With a reach that wide, analysts who cover the sector are confident that Beijing won't let the company simply collapse. "Evergrande's escalating crisis may prompt government action to prevent social instability," Zhou said.
More likely is some version of the next two options, a breakup or buyout, where the company sells assets to raise cash and help is brought in to run things. "State-owned enterprises or other developers may also take over Evergrande's projects, after Chinese officials sent accounting and legal experts to examine the company's finances," Zhou said.
A full government bailout, however, is just as unlikely. China has been cracking down on its high-flying technology sector, trying to regulate and ban cryptocurrencies and reining in excesses in all sorts of sectors. Evergrande's problems may be a test case in Beijing's desire and ability to manage every facet of the growing economy.
Economist Art Woo with Bank of Montreal said in a note on Friday that he also doubts a bailout is coming. "As for who could bear the losses, that's frankly tricky to predict, but we think it's reasonable to believe that the authorities are unlikely to bail out equity holders or creditors in an effort to prevent moral hazard from increasing and improve financial discipline," he said.
More likely is some sort of organized wind down, to keep damage to a minimum. "We do not believe the government has an incentive to bail out Evergrande (which is a private-owned enterprise)," Nomura analyst Iris Chen said in a note to clients.
"But they will also not actively push Evergrande down and will supervise a more orderly default, if any, in our view."
WATCH | CBC reported on China's 'ghost cities' of empty towers nearly a decade ago:
CBC's Adrienne Arsenault explains how empty skyscrapers are casting shadows on the Canadian economy. 2:31
Is there an impact outside China?
Not much, directly, although the company does have assets in Europe and North America — including the ritzy Château Montebello resort in Quebec — but the company's woes are nonetheless a cautionary tale for people everywhere.
China has been in a housing boom for more than two decades now, as more and more people put money into residential real estate — almost regardless of the price and demand for the underlying asset.
Video went viral on social media this month of a 15-tower condo development in Kunming being dynamited to the ground because it was a ghost city with no actual residents, eight years after being built.
While that wasn't an Evergrande project, the worry is that there are many others out there like it.
Re-upping the stunning demolition videos showcasing housing oversupply in China: 15 skyscrapers in China that were part of the Liyang Star City Phase II Project were just demolished after sitting unfinished for eight years due to absent market demand. <a href="https://t.co/UByqjk8QXX">pic.twitter.com/UByqjk8QXX</a>

&mdash;@Jon_Hartley_
China's Lehman Brothers moment?
The 2009 financial crisis was sparked by the failure of two investment banks, Bear Stearns and then Lehman Brothers, which exposed just how much bad debt there was in the system, and caused a chain reaction of worry down the line
That may be far fetched for the economy as a whole this time around, but it's certainly on the table for China's housing market at least.
"Lehman (was) very different as it went across the financial system, freezing activity," said Patrick Perret-Green, an independent London-based analyst.
"Millions of contracts with multiple counterparties, everyone was trying to work out their exposure," he said. "With Evergrande it depresses the entire real estate sector."
"There are other developers that are suffering from the same problem of no access to liquidity and have extended themselves too much," Lowy said.
Simon MacAdam, an economist with Capital Economics, says the Lehman parables are unwarranted.
"The China's Lehman moment narrative is wide of the mark," he said. "Even if it were the first of many property developers to go bust in China, we suspect it would take a policy misstep for this to cause a sharp slowdown in its economy."
Regardless, the Evergrande saga is a cautionary tale about the down side of unrestrained real estate speculation anywhere.
As Woo put it: "A default or bankruptcy does not pose a Lehman-type threat … but it's still bad news for the economy."