Teacher's dream of Blackfoot language 'Sesame Street' inspires art exhibit
An art festival in Calgary is showcasing how animation can introduce an Indigenous language to new audiences — and perhaps future speakers.
Currently on display at the Festival of Animated Objects is an exhibit featuring 29 animated cartoons that illustrate words in the Blackfoot language.
Created by both student and professional animators, the short, whimsical cartoons teach viewers the meaning of Blackfoot words and phrases, complete with spelling and pronunciation.
The exhibit was the brainchild of Fort Macleod teacher Celestine Twigg, who dreamed of creating a Blackfoot language version of "Sesame Street."
"A lot of our children learn to speak English through Sesame Street," she said. "So why can't they learn to speak Blackfoot through cartoons?"
Twigg shared her vision with producer Xstine Cook, who is also co-artistic director for the Festival of Animated Objects. They worked to make Twigg's dream a reality.
In January of 2020, Twigg led a group of ninth-grade students at F.P. Walshe High School who were picked to be part of an animation residency hosted by the Calgary Animated Objects Society.
The animation students collaborated with Blackfoot language learners, who recorded the pronunciation of over 80 Blackfoot words. The students then spent three days in small groups coming up with concepts and storyboarding their ideas.
"Any language you learn, there is so much about the culture you learn from the language," Cook said.
"In Blackfoot, for example, the words are very action oriented. Like the word for snake, if you directly translate it, is 'the one that crawls.'"
The onset of the COVID-19 pandemic forced the residency to change course, since teaching the students in-person was no longer an option.
The organizers pivoted online and put out a call inviting animators across the world to take on the project. Many Canadians responded, as did animators in the United States and England.
The result was artwork that brings humour and fresh context to a language some might be hearing for the first time.
"Art has a magical way of translating things to all people," Cook said.
For Twigg, she hopes to be part of similar projects in the future.
"I'm on my way now," she said. "Nothing's stopping me."
The Blackfoot Language Animation Projects is on display at cSpace King Edward in Calgary's southwest. The exhibit runs through the weekend.
'Before cancer I was really unhappy': Tracey Emin on the joy of founding her own art school
It's a Saturday morning and the band of the 1st Margate Girls' and Boys' Brigade is marching down a side street with pipes and drums ringing out amid a crowd that includes luminaries of the art world, Bob Geldof, and the kids across the road who are still in their pyjamas. Then the town's Social Singing Choir launches into a version of Madonna's Like a Prayer that is so lovely people cry. Tracey Emin, too, seems to wipe away a tear as she waits in her tricorn hat and red robe – the official costume of a Freewoman of Margate – to cut the red ribbon and officially open her new art school.
This delightful public performance is an Emin artwork, but not as we know it. Emin's subject matter until now had always been herself. "That woman knows herself," as Lucian Freud said approvingly. But this ceremony is about her embrace of other people. It's about the community she is setting out to create.
Emin announced early last year that she was going to open her own art school in Margate, the Kent seaside town where she's from. Just 15 months later, she is opening the building that houses TEAR (Tracey Emin Artist Residencies), where the first year's intake of 10 young artists from around the world are already settling in. It also provides affordable work spaces for professional artists, called Tracey Emin Studios.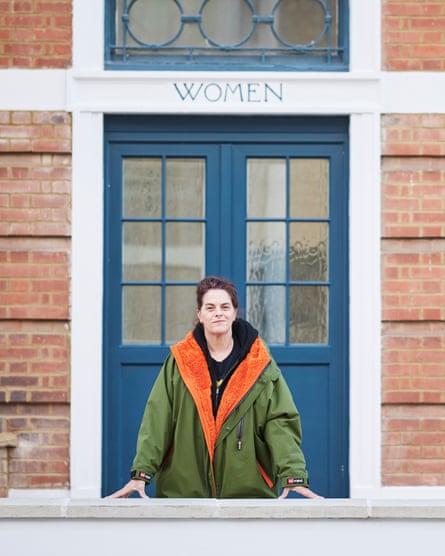 "I think being an artist is quite lonely", she tells me a couple of days ahead of the grand opening, settling into the comfy sofa in the common room of her school. "And I don't have any children. All of these things that other people seem to acquire in life, I don't have. And when I thought I might die, I thought 'Fuck, what have I been doing with my life?' And then I thought: 'Well, if I get through this, I'm going to do something. I'm going to change things.'"
Emin is now a good halfway, she tells me, to getting the all-clear from the cancer with which she was diagnosed in 2020. "The cancer was really bad, right: there was a good chance I wasn't going to get through it. And it's a bit like a promise to myself: 'What do I need it all for? You cannot take it to heaven, right, you can't – it's impossible.'"
We're sitting inside the promise Emin made to herself. This building, not far from her home, was built as a public baths in the early 20th century: the restored facade has separate entrances marked Men and Women. Now it has become Emin's idea of an artist community – a place where students and professional artists can encourage and support each other.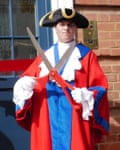 "They're quite brave to come and do it. I mean wow! To Margate. Emmie Nume, for example, who's never left Uganda before, suddenly arrives here: it's raining and freezing cold. It was quite a shock to the system. Every week they get two projects they have to do. Already they've made a film and they've written an essay on Cézanne. They also have to write a poem to read out every Monday."
I meet the students in their individual work spaces. Nume, from Kampala, is self-taught and paints abstracted portraits with an Auerbach-like intensity. Jorge K Cruz, born in Ecuador and living in Brooklyn, also a painter with no formal training, has pinned up his excellent drawing after Freud's And the Bridegroom. Bianca Raffaella, a partially sighted painter, is working close up on a painting to add to the ethereally beautiful works covering her walls and floor.
You don't have to be a painter to study here. Grace Abbott from Brooklyn prefers installation, performance and sculpture. The school is "proper", says Emin with pride: it has experienced art educator Elissa Cray as director.
"I don't think they've got anything in common," Emin says of her charges. "That's one thing I like. They all seemed from their interviews and their work to be able to work alone: two of them have never been to art school for example. But they had to be of postgraduate level even if they hadn't done a postgraduate course. We asked questions like, 'What was the last exhibition you saw? Who's your favourite artist? What book are you reading at the moment?' And if they didn't have the answers, then obviously I thought they're not going to be the right people. If people aren't willing to educate themselves, what would be the point of them being here?"
It's the one little flash of Emin's more acerbic side. But the atmosphere is very happy. The artist Lindsey Mendick, who rents one of the studios, makes me hold a fake arm bone as we look over the multicoloured skulls and maggots that have emerged from her kiln.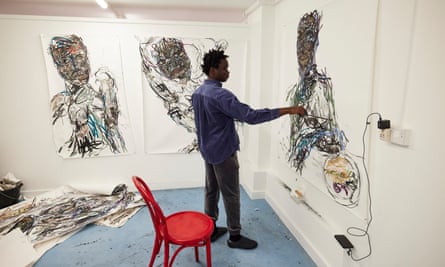 "Lindsey and the other artists, we all get on really well," says Emin. "But they're all so much younger than me. You know, sometimes I have to go, 'Fucking hell, no, I'm not doing karaoke.'"
Emin's institution is her idea of an artist community. Reeling off Margate's glorious artistic past, she points out that, as well as Turner painting the sea here and Sickert teaching local art classes, Van Gogh walked through when he was a teacher in nearby Ramsgate. Emin's Studios and Residencies are her answer to Van Gogh's creative commune, The Yellow House – an ideal of shared artistic living.
"It's a beautiful way to live and I want to have a beautiful life. And this is so lovely: come here, talk to artists, look at art. Go home, see my cats, paint my pictures. Go to the sea, go for a swim in the ice cold water, come back, dry myself, walk here, look at somebody's pictures, talk to them about what they're doing."
But what makes Emin's art school different? While TEAR teaches all kinds of art, it places the portrayal of the human figure at the heart of what art is. The corridors are covered with nude drawings the pupils made at the school's first life class. Emin believes passionately in drawing a naked model. She's already led her first life class here, and shows me the sensual drawings she did in it.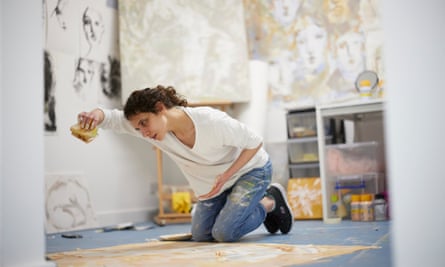 "There are 20 of us all doing life drawing in the big room upstairs. We had people who just make film or sculpture who were a little bit grumpy about it at first, but then once they got going they were like, 'Wow, I haven't done this for 10 years'. It was really lovely and the model was brilliant. It's about confidence with drawing. It's like swimming – once you get going, you can really enjoy it: you enjoy looking, you enjoy seeing, and you enjoy slowing down because you're seeing in a different way. And then after that drawing class, you see everything differently."
At her own studio a short walk away, Emin has been painting some truly stonking nudes. Her latest paintings are almost mural-scale. I flail to find the words to describe a grand nude whose flesh is subtly coloured in a soft pinky-white.
"The tits are really good," says Emin.
Seeing how strong her new work is – more energetic than ever, despite her physical challenges – makes me wonder why she wants to teach. Why take on the responsibility of nurturing young artists when she could be in her studio working on her masterpieces?
"Before the cancer I was really unhappy" she says. "I didn't have anything to lose, did I? So it had to get better. It couldn't get worse. One good thing that cancer does: when you get through the other side you really appreciate life. You see the whole world differently, and it's a kind of gift. It sounds corny but it is like being born again really, because you go 'Whoa, that was dark.'"
After trying the high life with the one per cent, she is finally finding happiness in sharing ordinary stuff. "Like when I bought this furniture, it was so much fun. So much pleasure from just getting an old three-piece suite.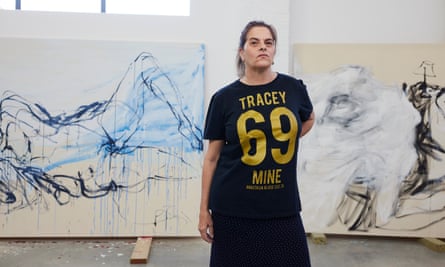 "Most people in life don't have a choice, they haven't had it all, they don't know what it's like to prance around in the south of France with a Rolex on. Well I've done it all, I could do it a million times over, but that isn't what makes me happy. It isn't and it never will be."
The truth, I realise, is that Emin's altruism and generosity are feeding her creativity. It's a wonderful reversal of the cliche that great artists have to be selfish. Turner put his mum in Bedlam. Van Gogh's Yellow House ended with him and Gauguin at daggers drawn. But the more she puts into Margate, the more it gives her back.
"It's really lovely," she concludes. "I'm going to get old with this. It's so much more positive than thinking I'm going to get old and miserable and lonely on my own. I'm not! I'm not! I'm not!"
Emily Fisher Landau, Patron of Contemporary Art, Dies at 102
A jewelry heist in her Manhattan home spurred her to start one of America's premier collections, shown in a private Queens museum and much of it donated to the Whitney.
Emily Fisher Landau, a New Yorker who used a Lloyd's insurance settlement from a spectacular jewel heist in her apartment to fund what would become one of America's premier collections of contemporary art, died on March 27 in Palm Beach, Fla. She was 102.
Her death was confirmed by her daughter, Candia Fisher.
From 1991 to 2017, Ms. Landau opened her collection of 1,200 artworks to the public in the Fisher Landau Center for Art, a repurposed former factory in Long Island City, Queens. In 2010, she pledged almost 400 works, then worth between $50 million and $75 million, to the Whitney Museum of American Art, where she had long been a trustee.
Ms. Landau's trajectory into the art world began unexpectedly on a spring afternoon in 1969, while she was out at lunch. Armed burglars disguised as air conditioning repairmen broke into her apartment in the Imperial House building on the Upper East Side, bound the cook in a guest closet and opened a floor safe hidden inside another closet.
For birthdays, anniversaries and holidays over the years, her husband, Martin Fisher, a real estate developer, had given her parures — matched necklace, earring, ring and bracelet sets holding emeralds, rubies, sapphires and diamonds — along with a 39-carat blue white diamond solitaire. All were kept in the safe.
"I was devastated," Ms. Landau said of the heist in interviews conducted for a Whitney catalog, "Legacy: The Emily Fisher Landau Collection." But, she added, "I decided that I didn't want the jewelry any more. I now had seed money for a collection," thanks to the insurance settlement.
"What I really wanted to buy was paintings," she said, "so probably the theft was one of the best things that ever happened to me." (The scene of the crime, Imperial House, on East 69th Street between Lexington and Third Avenues, had been built by her husband's company, Fisher Brothers.)
Ms. Landau had aspired to become an artist before her father, also a developer, sent her to secretarial school. Later, without ever having taken an art history class, she started collecting informally. After the jewelry theft, her first major piece was a three-and-a-half foot tall Calder mobile, which she bought in 1968 from its owner on Central Park West.
"I didn't have a car and driver in those days, and so I came back on the crosstown bus on West 86th Street and stood up and carried the Calder like a Christmas tree," she said. "Nobody asked me anything."
Ms. Landau soon discovered the work of Josef Albers when, walking along East 57th Street, she chanced on a poster in a window for a show at the Pace Gallery. "It startled my eye — so minimal," she said. "From the moment I saw that Albers, I knew I loved simplicity. Albers was my beginning point as a collector. I've never collected something because it was fashionable. It was always about what I instinctively liked."
Her curiosity led her upstairs to Pace and what turned out to be a long relationship with the gallery and its owner, Arne Glimcher. "Originally I bought art with my husband," she said. Their first large acquisition was a trio of paintings — by Picasso, Dubuffet and Léger — that Mr. Glimcher had shown her, all leaning against a wall in his office. "Later I'd buy on my own," she said.
She went on to buy works by Matisse, Mondrian, Jean Arp, Mark Rothko, Franz Kline, Paul Klee, Louise Nevelson and Lucas Samaras. "I spent all the money on art," she said. "Those were buy years."
Pace, along with the Leo Castelli Gallery in Manhattan, remained a major source for her growing collection, but Mr. Glimcher's gallery partner, Fred Mueller, proved a role model for integrating art, artists and a New York social life. She remembers a party in his spare Gracie Square apartment where Ms. Nevelson, Robert Rauschenberg and Andy Warhol circulated among their own artworks with other guests. "His example actually gave me the impetus to collect in depth," Ms. Landau said.
But then her husband died, in 1976. "After that there was a big gap in the collection," she said. "I stopped."
In about 1980, Ms. Landau met and hired the New York theater and restaurant designer Bill Katz to redecorate her apartment on Park Avenue, where she had since moved. The commission morphed into a long-term relationship in which Mr. Katz, also an art consultant, advised her on collecting beyond the core modernists she already had.
"'Emily, if you want to look at younger people's work, it would change their lives, and be an interesting experience for you,'" she recalled him telling her.
On studio visits in New York's heated art world of the 1980s and '90s, Ms. Landau focused on contemporary works, sometimes buying the whole room, as she did with a Rodney Graham show.
"She had the temperament to move forward with the zeitgeist," said the New York art adviser Amy Cappellazzo. "She became well known as a major collector, and I think her tastes encouraged that moment through the '80s and '90s. Others followed."
By the mid-1980s, Ms. Landau had become a trustee at the Whitney, where she sat on a succession of boards for nearly 25 years. The fourth floor of the museum, then located on Madison Avenue on the Upper East Side, was named in her honor in 1994, the year she established an endowment for the Whitney Biennial exhibitions.
"She probably has been one of the most important trustees in Whitney history," said Leonard Lauder, chairman emeritus of the museum.
By the mid-1980s, with the art market swelling in New York and museums expanding across the country, Ms. Landau occupied an increasingly prominent place within New York's art ecosystem, supporting artists personally and museums institutionally.
Beyond the Whitney, she sat on committees at the Museum of Modern Art and on the boards of the Georgia O'Keeffe Museum and SITE Santa Fe museum, both in New Mexico. For her support of its cultural institutions, the French government inducted her into the Order of Arts and Letters as a chevalier.
Outside the art world, she established the Fisher Landau Foundation for research on dyslexia and assistance to dyslexic children — she herself was dyslexic — and the Fisher Landau Center for the Treatment of Learning Disabilities for children, adolescents and adults at the Albert Einstein College of Medicine in the Bronx. She also had a seat on the board of the Metropolitan Opera.
In the late 1980s, Ms. Landau found a 25,000-square-foot former parachute-harness factory in Long Island City to house her collection — a private museum that would be open to the public at no charge. Max Gordon, a minimalist London architect fresh from his conversion of a paint factory into the Saatchi Collection in London, transformed the Queens plant, a three-story concrete structure, into the Fisher Landau Center for Art.
"With her own museum, she was a great example of the premier collectors in history who collect not just for themselves but for posterity," Mr. Lauder said. "She was buying more for tomorrow than today."
Emily Lanzner was born on Aug. 23, 1920, in Glens Falls, N.Y., near Lake George, and grew up in the Washington Heights section of Manhattan, living in Emily Court, a building her father, Samuel Lanzner, developed and owned, naming it after his daughter. Her mother, Cecilia Lanzner, was a homemaker.
After a brief marriage, she met and later married Mr. Fisher, at the time the young landlord of an apartment in which she was living in Forest Hills, Queens. She had three children with him, Richard, Anthony and Candia. In 1978, after Mr. Fisher's death, she married Sheldon Landau, a retired clothing manufacturer. Her son Anthony and his wife, Anne, died in a plane crash in 2003. That same year, her grandson Andrew died in an automobile accident. Richard, her older son, died in 2006. Mr. Landau died in 2009.
In addition to her daughter, Ms. Landau is survived by nine grandchildren and four great-grandchildren.
With the succession of tragedies in her immediate family — all coinciding with changing markets in the art world in the 2000s — Ms. Landau's interest in collecting diminished.
"From about 2004 to 2008, a lot of hedge fund people speculated," the New York gallerist Barbara Gladstone said. "They were a different breed, and Emily was happy to step aside. She typifies pre-2000 collectors who made an avocation out of refining their collections. She was not just buying because it would go up in value. That's a wonderfully old-fashioned tradition."
Ms. Landau's Center for Art remained open to the public until 2017. In her last years, she struggled with Alzheimer's disease and lived primarily in Greenwich, Conn.
"Whenever she spotted a woman wearing expensive jewelry," her daughter, Candia Fisher, said, "she used to say, 'That could be art on the walls.'"
How art has made a difference in the life of a northern Ont. man with severe autism
The family of a non-verbal Sudbury man with severe autism is sharing the story of how art has made a remarkable difference in his life as he heads to Toronto to display his paintings.
Morgan Kitching is a 21-year-old who discovered his love for painting four years ago during a power outage at the family cottage in Killarney, his mother told CTV News in an interview.
Pierre Sabourin, Trish Jokat and Morgan Kitching of Sudbury. March 27/23 (Alana Everson/CTV Northern Ontario)
His mother, Trish Jokat, believes the combination of colour and creating has led to incredible positive changes in him, including his eating disorder.
"The more he painted, the more he ate. It seems like the colours would imitate the food," Jokat said.
"For example, the red, he is eating cranberries now. The green, he's eating salads. His whole diet has changed."
Pierre Sabourin is Jokat's partner and a landscape artist who has sold his work all over the world.
He also teaches art and said over the past four years, Morgan's artistic talent has blossomed along with other abilities too.
"Seen some incredible changes in Morgan," Sabourin said.
"When I first met Morgan, I couldn't communicate with him at all. And all of a sudden, we were able to communicate through colour. And that's an amazing experience just in itself."
With World Autism Awareness Day on Sunday, Kitching will be displaying 200 of his paintings at Queen's Park on Monday and the family said it hopes the exhibition will shine light on the power of art.
"I hope they take away the fact that there is more therapies out there than just one or two and that they should just let their children explore, use lots of paint," Jokat said.
"'Don't ever give up hope,' is the typical standby statement and just allow them to create."
"The things that I learned teaching school was that children that are dealing with life skills have a propensity to art and I think that is very important to explore," Sabourin added.
A short documentary about Kitching's journey with art and autism is available on YouTube.