The US economy probably grew at record speed in the third quarter. But the crisis isn't over – CNN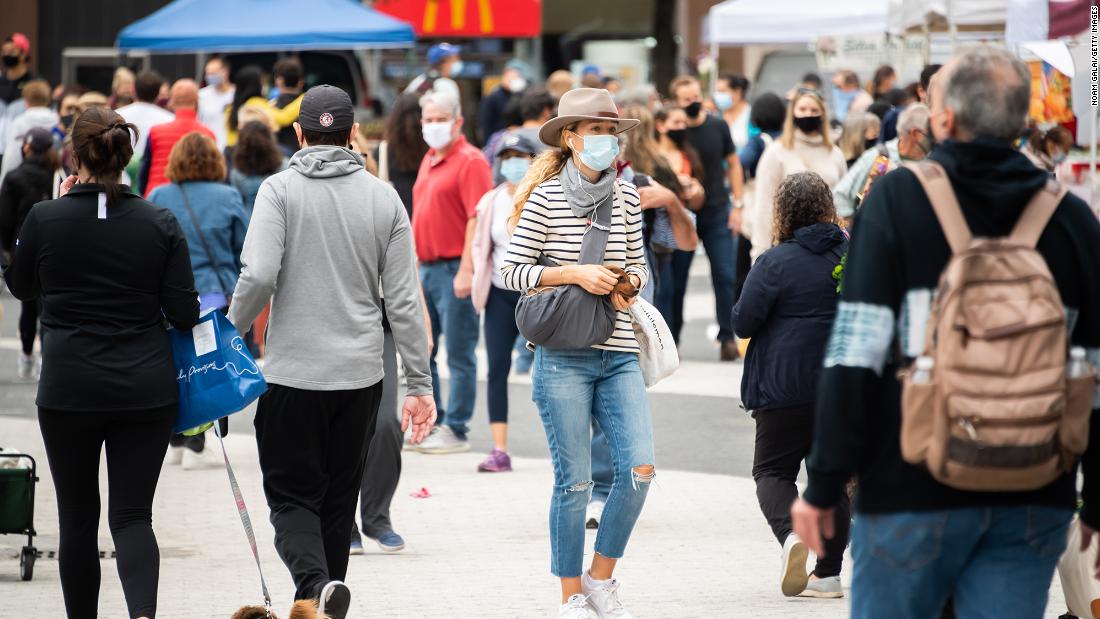 Economists polled by Refinitiv expect the economy expanded about 7%, when adjusted for seasonal particularities, between July and September compared to the prior three months. That would be a sharp gain from the second quarter, when the economy shrunk a seasonally-adjusted 9%.
Monday's fall economic statement will try to bridge current and future needs – iPolitics.ca
The Liberal government is ready to table a fall economic statement that attempts to balance the current needs of the COVID-19 response with plans for Canada's post-pandemic economy and social-safety net.
On Monday, Finance Minister Chrystia Freeland will present her first fiscal and economic update since replacing Bill Morneau after the latter's resignation in August.
The statement will provide detailed fiscal projections for the years ahead, something the Liberals haven't done since the pandemic began in the spring.
The Liberals will also present new measures to fight COVID-19, and lay the groundwork for longer-term and higher-cost priorities, such as national affordable child care, pharmacare, and fighting climate change — measures that interest labour, but concern business groups.
"I expect the government to be clear … that they remain committed to the priorities identified in the throne speech, and ensure that those things are going to be delivered on," Hassan Yussuff, president of the Canadian Labour Congress, told iPolitics.
The throne speech included a long list of promises to green the economy and strengthen the country's social safety net — efforts Yussuff says are vital, if Canada is to emerge from the pandemic stronger than before.
The fiscal update coincides with a second wave of COVID cases, which have prompted new public-health restrictions that have shuttered businesses and rattled the confidence of consumers entering the holiday season.
Levels of consumer confidence for November are now at their lowest since May, according to the Conference Board of Canada's index.
Perrin Beatty, president and CEO of the Canadian Chamber of Commerce, said COVID will still be around for the foreseeable future, so Canada must have a plan to manage, rather than merely react to, the pandemic.
"Unfortunately, up until now, the focus of governments has been: 'Shut down and write a cheque,' " he told iPolitics.
Beatty said governments need to craft a more coherent strategy that better uses data and science to bring down infection rates, and allows Canadians to safely resume their lives soon as possible, while also ensuring resources get to the most vulnerable communities and economic sectors.
He said it's wrong to think of a vaccine as a "silver bullet," because it might not entirely eliminate the threat of COVID, and its distribution will take considerable time. The fiscal update should focus on current concerns, he said.
READ MORE: Ford asks Trudeau for details of vaccine types, quantities, and timing
Speaking to reporters on Friday, Prime Minister Justin Trudeau said there are "very good chances" most Canadians will be vaccinated by September 2021.
He added that the fiscal update will include more support for Canadians during the pandemic, as well as plans to rebuild a "strong, resilient economy for everyone."
Kevin Page said he expects the Liberals to punt some of their longer-term priorities to the next budget, while still presenting a comprehensive document.
"I think it will be more than a typical update; something probably looking like a mini-budget," said Page, a former parliamentary budget officer and head of the University of Ottawa's Institute of Fiscal Studies and Democracy.
The update should focus first on getting Canadians through the current crisis, said Elliot Hughes, a former policy adviser of Morneau's.
"There's going to be lots of time to sketch out those bigger things down the road," he said. "What people want to know now is that the government's got their backs."
Hughes, now a senior advisor at Summa Strategies, cautioned that the government needs to keep its messaging "clean and straightforward," but should be ready to answer questions about what to expect in the near future, as well in the recovery phase.
"It's a tricky balance, but it's one that you need to strike," he said.
READ MORE: Female, racialized and young Canadians less likely to benefit from jobs increase
The statement will also update the deficit, which is expected to be Canada's largest since the Second World War. It's also expected to be without a fiscal anchor to manage debt levels, though Freeland has previously said there's no "blank cheque" for spending.
A report released by RBC on Friday forecasts the annual deficit to approach $370 billion, higher than the $343 billion projected in July. The report says spending announcements will add at least $90 billion to the 2021-22 deficit, and extensions to the wage subsidy and recovery benefit could add even more.
Yussuff, who hopes the fall update will include money for infrastructure, child care and employment insurance, said now is not the time for fiscal restraint: Spending will both prevent an economic disaster and support women and people of colour, who've been disproportionately affected by the pandemic, he said.
"They're going to need to be supported if we're going to get to a full recovery."
Beatty, who has supported Ottawa's emergency spending thus far, said there should be a short-term child-care program to get mothers back into the workforce. But such spending must be targeted, and this is not the time for costly programs such as universal pharmacare, he said.
"Don't get into programs that we can't afford: permanent recurring programs that are simply going to build in a structural deficit."
At what exact point Canada's debt becomes a serious concern is being fiercely debated, Page said, but bond agencies might lower their credit ratings if Ottawa doesn't re-introduce a fiscal anchor in the near future and the debt significantly increases.
India Enters Recession as Virus Pummels No. 3 Asian Economy – Yahoo Canada Finance
The Canadian Press
DUBAI, United Arab Emirates — An Iranian scientist named by the West as the leader of the Islamic Republic's disbanded military nuclear program was killed Friday in an ambush on the outskirts of Tehran, authorities said.Iran's foreign minister alleged the killing of Mohsen Fakhrizadeh bore "serious indications" of an Israeli role, but did not elaborate. Israel, long suspected of killing several Iranian nuclear scientists a decade ago, declined to immediately comment. Israeli Prime Minister Benjamin Netanyahu once told the public to "remember that name" when talking about Fakhrizadeh.The killing risks further raising tensions across the Mideast, nearly a year after Iran and the U.S. stood on the brink of war when an American drone strike killed a top Iranian general in Baghdad. It comes just as President-elect Joe Biden stands poised to be inaugurated in January and will likely complicate his efforts to return America to a pact aimed at ensuring Iran does not have enough highly enriched uranium to make a nuclear weapon.That deal, which saw Iran limit its uranium enrichment in exchange for the lifting of economic sanctions, has entirely unraveled after President Donald Trump withdrew from the accord in 2018.Trump himself retweeted a posting from Israeli journalist Yossi Melman, an expert on the Israeli Mossad intelligence service, about the killing. Melman's tweet called the killing a "major psychological and professional blow for Iran."Details about the slaying remained slim in the hours after the attack, which happened in Absard, a village just east of the capital that is a retreat for the Iranian elite. Iranian state television said an old truck with explosives hidden under a load of wood blew up near a sedan carrying Fakhrizadeh.As Fakhrizadeh's sedan stopped, at least five gunmen emerged and raked the car with rapid fire, the semiofficial Tasnim news agency said.Fakhrizadeh died at a hospital after doctors and paramedics couldn't revive him. Others wounded included Fakhrizadeh's bodyguards. Photos and video shared online showed a Nissan sedan with bullet holes in the windshield and blood pooled on the road.While no one claimed responsibility for the attack, Iranian Foreign Minister Mohammad Javad Zarif pointed the finger at Israel, calling the killing an act of "state terror.""Terrorists murdered an eminent Iranian scientist today. This cowardice — with serious indications of Israeli role — shows desperate warmongering of perpetrators," Zarif wrote on Twitter.Hossein Dehghan, an adviser to Iran's supreme leader and a presidential candidate in Iran's 2021 election, also blamed Israel — and issued a warning."In the last days of their gambling ally's political life, the Zionists seek to intensify and increase pressure on Iran to wage a full-blown war," Dehghan wrote, appearing to refer to Trump's last days in office. "We will descend like lightning on the killers of this oppressed martyr and we will make them regret their actions!"Hours after the attack, the Pentagon announced it already had brought the USS Nimitz aircraft carrier back into the Middle East, an unusual move as the carrier already spent months in the region. It cited the drawdown of U.S. forces in Afghanistan and Iraq as the reason for the decision, saying "it was prudent to have additional defensive capabilities in the region to meet any contingency."The attack comes just days before the 10-year anniversary of the killing of Iranian nuclear scientist Majid Shahriari that Tehran also blamed on Israel. That and other targeted killings happened at the time that the so-called Stuxnet virus, believed to be an Israeli and American creation, destroyed Iranian centrifuges.The area around Absard, which has a view of Mount Damavand, the country's highest peak, is filled with vacation villas. Roads on Friday, part of the Iranian weekend, were emptier than normal due to a lockdown over the coronavirus pandemic, offering his attackers a chance to strike with fewer people around.Fakhrizadeh led Iran's so-called AMAD program that Israel and the West have alleged was a military operation looking at the feasibility of building a nuclear weapon. Tehran long has maintained its nuclear program is only for civilian purposes.The International Atomic Energy Agency says Iran "carried out activities relevant to the development of a nuclear explosive device" in a "structured program" through the end of 2003. That was the AMAD program, which included work on the carefully timed high explosives needed to detonate an implosion-style nuclear bomb.Iran also "conducted computer modeling of a nuclear explosive device" before 2005 and between 2005 and 2009, the IAEA has said. The agency said, however, that those calculations were "incomplete and fragmented."IAEA inspectors now monitor Iranian nuclear sites as part of the now-unraveling nuclear deal with world powers. Experts believe Iran has enough low-enriched uranium to make at least two nuclear weapons if it chose to pursue the bomb. Meanwhile, an advanced centrifuge assembly plant at Iran's Natanz nuclear facility exploded in July in what Tehran now calls a sabotage attack.Fakhrizadeh, born in 1958, had been sanctioned by the U.N. Security Council and the U.S. for his work on AMAD. Iran always described him as a university physics professor. A member of the Revolutionary Guard, Fakhrizadeh had been seen in pictures in meetings attended by Iran's Supreme Leader Ayatollah Ali Khamenei, a sign of his power.In recent years, U.S. sanctions lists name him as heading Iran's Organization for Defensive Innovation and Research. The State Department described that organization last year as working on "dual-use research and development activities, of which aspects are potentially useful for nuclear weapons and nuclear weapons delivery systems."Iran's mission to the U.N., meanwhile, described Fakhrizadeh's recent work as "development of the first indigenous COVID-19 test kit" and overseeing Tehran's efforts at making a possible coronavirus vaccine.In 2018, Netanyahu gave a presentation in which he unveiled what he described as material stolen by Israel from an Iranian nuclear archive."A key part of the plan was to form new organizations to continue the work," Netanyahu alleged. "This is how Dr. Mohsen Fakhrizadeh, head of Project AMAD, put it. Remember that name, Fakhrizadeh."___Associated Press writers Amir Vahdat and Mohammad Nasiri in Tehran, Iran, and Deb Riechmann in Washington contributed to this report.Jon Gambrell, The Associated Press
India Enters Recession as Virus Pummels No. 3 Asian Economy – Yahoo Canada Finance
The Canadian Press
Beset by ongoing questions about Canada's COVID-19 vaccine strategy, Prime Minister Justin Trudeau tried to assuage the public with assurances most Canadians could be inoculated by September 2021, with distribution led by a former NATO commander.
Trudeau faced a barrage of questions about when and how such a rollout would unfold at a morning press conference on Friday, acknowledging public anxiety amid alarming infection rates and hospitalizations that have already scuttled holiday hopes for much of the country.
But while promising vaccine news offered "light at the end of the tunnel," Trudeau said "we must hold on a little longer."
"What really matters is when we get across the finish line … The fact that the doctors highlighted that if all goes according to plan, we should be able to have the majority of Canadians vaccinated by next September, puts us in very good stead," he said, offering the government's most specific timeline yet.
"We're going to continue to do everything we can to deliver for Canadians, listening to experts working with top people to make sure that we're doing this right, and quickly and safely."
Trudeau said Canada has turned to Maj.-Gen. Dany Fortin to lead distribution and handle logistics that include cold storage requirements, data sharing, and reaching Indigenous communities. He insisted Ottawa was committed to working with the provinces and territories on securing safe and effective COVID-19 vaccines as quickly as possible.
That wasn't good enough for Ontario Premier Doug Ford, who later Friday roasted Trudeau for failing to give provinces and territories specific information they need for a potential vaccine launch.
Ford said a conference call Trudeau held with premiers Thursday night was sorely lacking.
"I didn't get the answer we wanted to hear, none of the premiers got the answer they wanted to hear," said Ford, who appeared at a Friday press conference alongside the new head of the Ontario's vaccine distribution task force, retired Gen. Rick Hillier.
"I can't emphasize enough to the prime minister: The clock is ticking. We're going to be hopefully getting these vaccines sometime — again, hopefully — in January. I asked him the three simple questions: When are we getting it? What type of vaccine are we getting? And how much of that vaccine are we getting? To have Gen. Hillier make a proper plan, we need to know."
Ontario called on the federal government to immediately disclose its allocation plan, noting reports that other countries have already announced plans to receive doses.
U.S. officials have said 6.4 million doses of Pfizer's vaccine could reach some priority citizens within 24 hours of regulatory clearance, while Moderna's vaccine could be available by the end of the year, although the general public likely wouldn't get doses until the spring.
No matter when a vaccine arrives in Canada, Hillier said Ontario's vaccine distribution plans would be ready on Dec. 31.
In Ottawa, Procurement Minister Anita Anand also faced questions over a precise delivery date but insisted she is in constant contact with suppliers to make sure they can be deployed as soon as they are approved for use.
"This is a complex process. This is an uncertain environment. But we are on top of it," said Anand.
"I personally will make sure that we have vaccines in place in Canada when Health Canada has provided the regulatory approval."
Trudeau's September timeline was echoed by deputy chief public health officer Dr. Howard Njoo, who had last week suggested the possibility of a fall goal line for vaccinating the majority of Canadians.
Njoo said Friday the Prime Minister's prediction is "in the same ballpark" as previous rollout plans, and a good target to work toward.
But he cautioned there are still "a lot of unknowns."
"Certainly we've always been sort of optimistic, cautiously optimistic, about what the vaccination rollout will look like," said Njoo.
"Right now it's a bit of a moving target. We have two vaccines which are very promising but they're still in the process of going through the regulatory process. If all goes well, and they are approved, then they're the first two out of the pipeline."
The news follows more alarming daily COVID-19 case numbers from Ontario, which reported a record 1,855 new cases, and 20 more deaths on Friday.
Quebec reported 1,269 new COVID-19 infections and 38 more deaths linked to the virus, including nine that occurred in the past 24 hours.
Federal data shows that as of Friday, Alberta had the highest seven-day infection rate in Canada with 209 cases per 100,000 people. Manitoba and Nunavut were close behind.
The Nunavut government said it plans to spend $1 million towards community food programming, including extra funding for communities affected by the pandemic.
Ottawa has finalized agreements with five vaccine makers and is in advanced negotiations with two more.
The deals would secure 194 million doses with the option to buy another 220 million, according to Public Services and Procurement Canada.
British Columbia announced a single-day record on Friday with 911 cases of COVID-19, bringing the provincial total to 30,884 cases.
Provincial health officer Dr. Bonnie Henry appealed for people to respect store and restaurant employees as she raised recent confrontations by aggressive customers who refuse to wear masks at indoor public places.
"If you are opposed to wearing a mask then I ask you to shop online, order takeout or stay outside or stay home and not put other people at risk," she said.
Eleven more people have died in B.C., bringing the number of fatalities to 395, while a record 301 patients are in hospital.
This report by The Canadian Press was first published Nov. 27, 2020.
Cassanda Szklarski, The Canadian Press