Number of Brantford home sales increase in spring market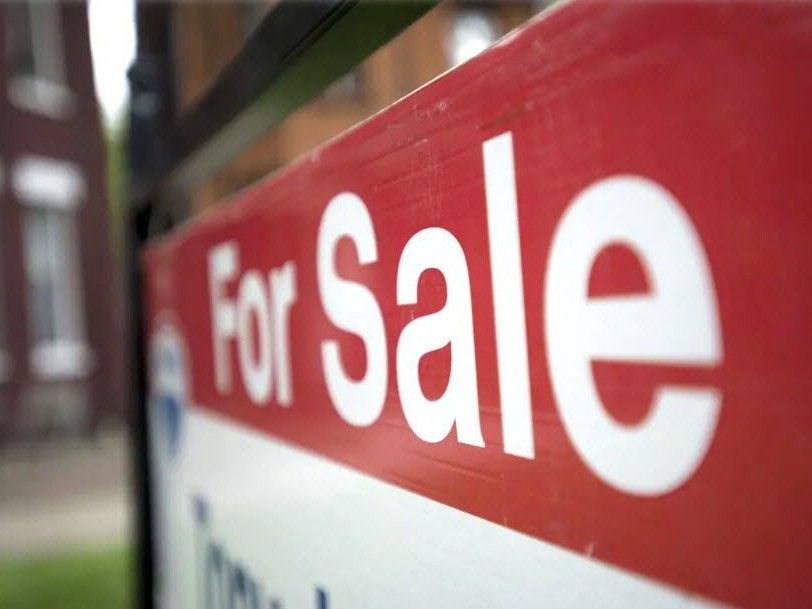 With the weather warming up, so is the local real estate market.
April proved to be a busy month, said David DeDominicis, president of the Brantford Regional Real Estate Association, with 195 homes sold, an increase of 10.8 per cent over March.
The County of Brant saw a decrease of 7.4 per cent in home sales from March to April, while Brantford's sales rose 16.4 per cent.
"It's a positive sign that sales continue to increase month over month," said DeDominicis. "But we need to stress that supply is still a large issue. In April of 2022, we saw 514 new listings. This year, we only saw 360. With prices leveling off, we are seeing positive signs, but there is still work to be done."
The average cost for local detached homes saw another decrease from the same month last year. Costs were down 18.2 per cent from $922,000 in April 2022 to $753,000 last month.
In April, the average price for a detached home in Brantford was $683,000 and just over $1 million in Brant County.
Homes stay on the market for an average of 29 days. The close price to list price ratio has shrunk significantly, from 116.7 per cent in April 2022 to 99.6 per cent last month. The close price to list price ratio indicates the difference between a property's listed value and the amount at which it eventually sells.
There are currently two months' worth of active inventory, a slight increase from the one month of inventory last April. The number of months of inventory is the calculation of the number of months it would take to turn over the current housing supply at the current rate of sales activity.
At a provincial level, residential sales activity reported through the MLS Systems of real estate boards in Ontario numbered 17,306 units in April, down sharply by 13.1 per cent from April 2022.
On a year-to-date basis, home sales totalled 51,505 units over the first four months of the year. This was a substantial decline of 32.2 per cent from the same period in 2022.
The average price of resale residential homes sold across the province in April was $911,078, a moderate decrease of 7.7 per cent from April 2022.
Looking at Ontario's major urban housing markets in terms of annual price change, Hamilton, London, and Brampton have seen about a 21 per cent year-over-year decrease in average sold prices, followed by Oshawa with a 19.5 per cent decrease and Ottawa with a 16 per cent decrease.
Locally, the highest average home prices last month were in Brant County's Ward 5, which includes Onondaga, Mount Pleasant, Cainsville and Oakland ($1.2 million). That was followed by Brant's Ward 1, which includes St. George ($1.1 million); Ward 4, which includes Scotland and Burford ($1 million); Ward 3, which includes Paris ($776,000); and Ward 2, which also includes Paris ($681,000).
The highest average sale prices for a home in Brantford last month was in Ward 1 ($793,000), followed by Ward 3 ($720,000), Ward 4 ($708,000), Ward 2 ($635,000), and Ward 5 ($530,000).
Luxe $9m South Yarra sanctuary for sale with six-car basement garage
---
A winning collaboration by some of the best in the business has produced this luxurious modern sanctuary in a prized lifestyle location.
High-end builder Agushi teamed with celebrated Workroom architects and Nathan Burkett Landscape Architects on the private inner-city residence.
The four-bedroom, five-bathroom house at 12 Rockley Rd, South Yarra has hit the market with a $9m-$9.5m asking price.
Largely crafted from concrete – which even features on the sculptural curved staircase that links the home's three levels – and marble, it delivers sophisticated interiors with carefully framed garden views.
RELATED: Funky Eltham 'treehouse' recreates childhood fantasy
Epic Balwyn house has rooftop cinema
Melbourne mansion makes $4m in two years
When at home, a mirrored lift, infinity pool with in-floor cleaning and a six-car basement garage provide the ultimate in convenience.
But it is the state-of-the-art automation that paves the way for a lock-up-and-leave lifestyle.
The technology has been a game-changer for vendor and interior designer Georgie Coombe-Tennant and her husband, Mark.
It has transformed the way they live, doing away with the need for front door keys and allowing them to turn on the oven remotely, let the postie in the gate while sitting on a ski lift or turn on the sprinkler from Europe.
---
---
---
"We had always had old traditional homes and renovated them, and we just felt like it was time for something modern," Mrs Coombe-Tennant said.
"We saw Bear (Agushi's) work and my expression for his work is that everything is so resolved.
"He has not left a single detail out of it. If you think of something you would need in a home it's there."
She has delighted in decorating the home, which she said offers loads of space despite having a townhouse feel.
"I found the home is so easy decorate and furnish because you have got this beautiful blank canvas and you can put any amount of colour or neutrality into in," she said.
As well as three living areas and four bedrooms, the two-year-old home has the luxury of two home offices with desks crafted of the same grey Damastas marble that features in the lavish kitchen and bathrooms.
---
---
---
The main open-plan living zone screams entertainer thanks to a series of full height sliding doors linking it to a covered outdoor dining space with a built-in barbecue, a conversation pit and north-facing sun deck.
A second ground floor lounge room provides another breakout space, perfect for curling up beside the fire.
Despite its proximity to Chapel St and Toorak Village, Mrs Coombe-Tennant said the home felt secluded.
"I guess with South Yarra people are always worried about noise and things like that but it's very, very quiet, it's really secretive. No one knows it's here," she said.
"Once we are in that front door you don't hear a single sound, but you have got everything on your doorstep."
---
---
---
RT Edgar Toorak director Sarah Case added that it was rare to find homes of this calibre created specifically for a lock-up-and-leave lifestyle.
"This home has every luxury we've come to expect from Agushi, who's renowned solid concrete construction, superior quality, generous spaces and meticulous attention to detail, while providing for a modern way of living with a lift to all levels, stunning pool and six-car garage," Ms Case said.
"From the magnificent marble kitchen to the beautiful bedrooms and the poolside outdoor spaces, every aspect has been thoughtfully designed to meet the needs of even the most discerning buyer."
Mr Agushi said he prided himself on building homes with "over specced" insulation, glazing, solar panels and smart home integration.
Expressions of interest close on June 15 at 5pm.
According the latest Proptrack Home Price Index, national home prices continued to stabilise in April after rising for the fourth consecutive month, rising 0.14 per cent.
A grandmother's van life and where housing investors live: This week's top real estate stories – The Globe and Mail
Here are The Globe and Mail's top housing and real estate stories this week, with the lowest mortgage rates available in Canada today, commentary from our mortgage expert and one home worth a look.
The housing crisis chose van life for this 57-year-old grandmother
Terri Smith-Fraser, a nursing assistant, was renovicted from her Halifax apartment last spring when the cost of rent for her two-bedroom apartment more than doubled. Unwilling to be a burden on her adult daughters or find a roommate, she decided van life – usually associated with the young and adventurous – was her only viable option. Suddenly a bronze 1998 GMC Savana purchased in January, 2022, was home.
"I'm a grandma. I'm not a 20-year-old nomad snowboarder. I'm just your regular person who goes to work every day, and I live in a van," Ms. Smith-Fraser told The Globe and Mail.
Three reasons why mortgage refinances are disappearing
Mortgage refinances have fallen off a cliff. They're down by 32 per cent, according to the latest data from the Canada Mortgage and Housing Corporation (CMHC). People still need to refinance, but there are three reasons why they can't, Robert McLister writes in his column:
Tumbling home values
Soaring rates
The stress test
And here's what to do about it if you're in this boat.
This week's mortgage rates: Markets price in another dose of tough rate medicine
"Higher for longer" is again the buzzphrase in Canada's rate market. So much for the mini-U.S. banking crisis, which drove rates lower for all of two months, McLister writes. Now we're dealing with a U.S. debt ceiling mess and persistently disappointing inflation indicators, not the least of which is stubbornly low unemployment. Both those factors have been driving rates higher.
Four in five Ontario housing investors live in the province: Statscan
More than 80 per cent of individual home investors in Ontario live in the province, according to a new report from Statistics Canada. Just 3 per cent of individual home investors reside elsewhere in Canada and 16 per cent live outside of the country, reports Rachelle Younglai.
The story is the same in British Columbia, Manitoba, Nova Scotia and New Brunswick, which does not reflect the spike in investor buying that occurred during the COVID-19 real estate boom. The study provides a window into investor buying patterns, which have come under scrutiny as home prices and rents have soared across the country.
Home of the week: An urban manse on Toronto's Humber River
Home of the Week, 3 Riverside Trail, Torontoimaginahome.com

1 of 15
From the street the home is an imposing two-storey stone manse at the top of a circular driveway with bay windows flanking the formal entrance. The foyer is a festival of detailed millwork and wainscotting that continues into the central hall and then into the formal rooms flanking the entrance. All of the doorways and windows in this space have modest arches, which adds a bit of Hobbit-like character.
The second floor has more of the original woodwork and arched windows, and the landing at the top of the stairs is generous enough for another formal sitting area with ravine views, and a balcony.
What do you think is the asking price for this house?
a. $2.89-million
b. $3.59-million
c. $6.69-million
d. $7.59-million
a. The asking price is $7.59-million.
LACKIE: Busy Spring in Toronto Real Estate – Toronto Sun