This contraption, designed by a UVic alum, has been named one of 2020's best inventions – CBC.ca
One man's trash disposal invention might be your new kitchen treasure.
Victor Nicolov, University of Victoria engineering alumnus and CEO of B.C.-based Anvy Technologies, is the creator of a new home waste disposal system that was recently named by Time magazine as one of the top inventions of 2020.
Every year, the magazine releases a list of inventions, selected from nominations submitted by its staff that, according to a statement, "are making the world better, smarter and even a bit more fun."
Nicolov's product is also making it less smelly.
Called the Sepura system, it is similar in function to a garburator in that it is a garbage disposal unit that sits under the kitchen sink. Users simply toss food scraps into the sink and they go down the drain into the Sepura unit.
Introducing TIME's 100 Best Inventions of 2020 <a href="https://t.co/NlII14iEPk">https://t.co/NlII14iEPk</a> <a href="https://t.co/kaS4I8wXV9″>pic.twitter.com/kaS4I8wXV9</a>

&mdash;@TIME
What is different about Nicolov's unit is that it separates and collects solids in an odourless, sealed bin under the sink. LED lights indicate when the bin is full, at which point the contents can be easily removed and emptied for composting or collection.
"It's a convenient way to get rid of food waste at home, but at the end of the day you are being eco-friendly about it," said Nicolov during an interview on CBC's All Points West.
"The idea there is to keep as many solids out of the drain as possible," he added.
Not only is this easier on the environment, Nicolov said it can also be easier on household and municipal pocket books because solids are often behind problems that arise in plumbing and sewage systems.
In a news release from the engineering department at UVic, where Nicolov studied mechanical engineering, he is quoted saying the recognition from the iconic American magazine represents about two years of hard work by a whole team.
Until COVID-19 restrictions went into effect, Nicolov ran Anvy Technologies from an office on campus.
"Super puff" exoplanet is as big as Jupiter but 10 times lighter, confusing astronomers – Barrie 360 – Barrie 360
Sophie Lewis – CBS News
About 212 light years from Earth, a gas giant light enough to be nicknamed a "super-puff" or "cotton candy" planet is circling extremely close to its host star. The exoplanet is so light, it's left astronomers questioning everything we previously knew about how gas giants form.
This super-puff exoplanet, known as WASP-107b, is about the same size as Jupiter, but only about one-tenth the mass — or about 30 times more massive than Earth. According to a new study published Monday in The Astronomical Journal, its core mass is significantly smaller than astronomers thought necessary for the creation of a gas giant planet like Jupiter and Saturn.
The discovery, made by Ph.D. student Caroline Piaulet under the supervision of professor Björn Benneke at the University of Montreal, indicates that gas giants form much more easily than previously believed.
"This study pushes the boundaries of our theoretical understanding of how giant-sized planets form. WASP-107b is one of the puffiest planets out there, and we need a creative solution to explain how these tiny cores can build such massive gas envelopes," coauthor Eve Lee said in a statement.
WASP-107b isn't a brand new discovery — astronomers first detected it in the Virgo constellation in 2017. The planet is very close to its star, over 16 times closer than Earth is to the sun, completing one orbit every 5.7 days.
WASP-107b is one of the least dense exoplanets scientists have ever found. They have nicknamed similar types of planets — gas giants with the density of cotton candy — super-puffs.
To find the planet's surprising mass, astronomers studied observations obtained at the Keck Observatory in Hawaii. They used a technique called the radial velocity method, which studies the wobbling motion of a planet's star caused by a planet's gravitational pull, in order to calculate the mass.
Scientists were shocked to conclude that the solid core of WASP-107b has a mass that is no more than four times that of the Earth, meaning more than 85% of its mass stems from the thick gaseous layer surrounding the core. This is a dramatically different breakdown from Neptune, which has a similar mass but holds just 5% to 15% of it within its gas layer.
Based on their knowledge of Jupiter and Saturn, scientists previously believed that a solid core at least 10 times the mass of Earth would be needed to acquire enough gas for a gas giant planet to form. WASP-107b challenges that theory.
"This work addresses the very foundations of how giant planets can form and grow," Benneke said. "It provides concrete proof that massive accretion of a gas envelope can be triggered for cores that are much less massive than previously thought."
Lee posits that, "The most plausible scenario is that the planet formed far away from the star, where the gas in the disc is cold enough that gas accretion can occur very quickly. The planet was later able to migrate to its current position, either through interactions with the disc or with other planets in the system."
While studying the planet, the team stumbled upon another in the same system, WASP-107c. It has a mass that is about one-third that of Jupiter and takes three years to orbit its host star once.
The planet's oval-shaped orbit suggests that the astronomers' new hypothesis is on the right track.
"WASP-107c has, in some respects, kept the memory of what happened in its system," said Piaulet. "Its great eccentricity hints at a rather chaotic past, with interactions between the planets which could have led to significant displacements, like the one suspected for WASP-107b."
The team hopes to continue studying the strange planet with the launch of the James Webb Space Telescope this year.
banner image: Artistic rendition of the exoplanet WASP-107b and its star, WASP-107. Some of the star's light streams through the exoplanet's extended gas layer. ESA/HUBBLE, NASA, M. KORNMESSER
Elephants counted from space for conservation – BBC News


.css-94m6rd-HeadingWrapperborder-bottom:solid 1px #BABABA;padding-bottom:1.5rem;.css-94m6rd-HeadingWrapper > *:not([hidden]):not(style) ~ *:not([hidden]):not(style)margin-top:1rem;.css-vk3nhx-ComponentWrappermargin:1.5rem 0;
.css-2y05cd-StyledFigurefont-family:ReithSans,Helvetica,Arial,freesans,sans-serif;font-weight:400;font-size:0.875rem;line-height:1.125rem;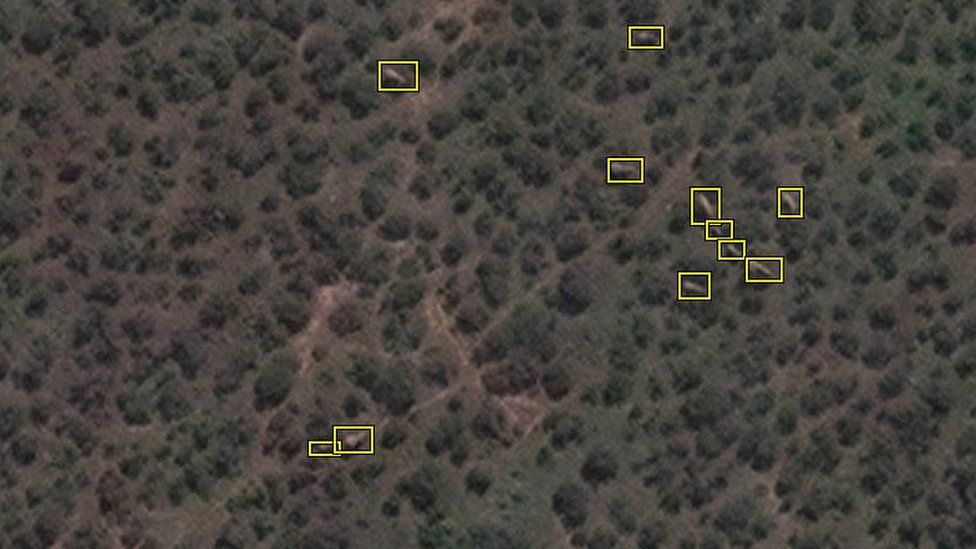 .css-uf6wea-RichTextComponentWrappermargin:1rem 0;max-width:36.25rem;
.css-83cqas-RichTextContainercolor:#3F3F42;.css-83cqas-RichTextContainer > *:not([hidden]):not(style) ~ *:not([hidden]):not(style)margin-top:1rem;
.css-14iz86j-BoldTextfont-weight:bold;At first, the satellite images appear to be of grey blobs in a forest of green splotches – but, on closer inspection, those blobs are revealed as elephants wandering through the trees.
And scientists are using these images .css-1xgj2ad-InlineLink:linkcolor:#3F3F42;.css-1xgj2ad-InlineLink:visitedcolor:#696969;.css-1xgj2ad-InlineLink:link,.css-1xgj2ad-InlineLink:visitedfont-weight:700;border-bottom:1px solid #BABABA;-webkit-text-decoration:none;text-decoration:none;.css-1xgj2ad-InlineLink:link:hover,.css-1xgj2ad-InlineLink:visited:hover,.css-1xgj2ad-InlineLink:link:focus,.css-1xgj2ad-InlineLink:visited:focusborder-bottom-color:currentcolor;border-bottom-width:2px;color:#B80000;@supports (text-underline-offset:0.25em).css-1xgj2ad-InlineLink:link,.css-1xgj2ad-InlineLink:visitedborder-bottom:none;-webkit-text-decoration:underline #BABABA;text-decoration:underline #BABABA;-webkit-text-decoration-thickness:1px;text-decoration-thickness:1px;-webkit-text-decoration-skip-ink:none;text-decoration-skip-ink:none;text-underline-offset:0.25em;.css-1xgj2ad-InlineLink:link:hover,.css-1xgj2ad-InlineLink:visited:hover,.css-1xgj2ad-InlineLink:link:focus,.css-1xgj2ad-InlineLink:visited:focus-webkit-text-decoration-color:currentcolor;text-decoration-color:currentcolor;-webkit-text-decoration-thickness:2px;text-decoration-thickness:2px;color:#B80000;to count African elephants from space.
The pictures come from an Earth-observation satellite orbiting 600km (372 miles) above the planet's surface.
The breakthrough could allow up to 5,000 sq km of elephant habitat to be surveyed on a single cloud-free day.
.css-1pzprxn-BulletListContainermargin-left:1.5rem;.css-1pzprxn-BulletListContainer *:not([hidden]):not(style) ~ *:not([hidden]):not(style)margin-top:1rem;.css-1pzprxn-BulletListContainer ullist-style-type:disc;.css-1pzprxn-BulletListContainer ollist-style-type:decimal;
.css-18mjolk-ComponentWrappermargin:1.5rem 0;max-width:50rem;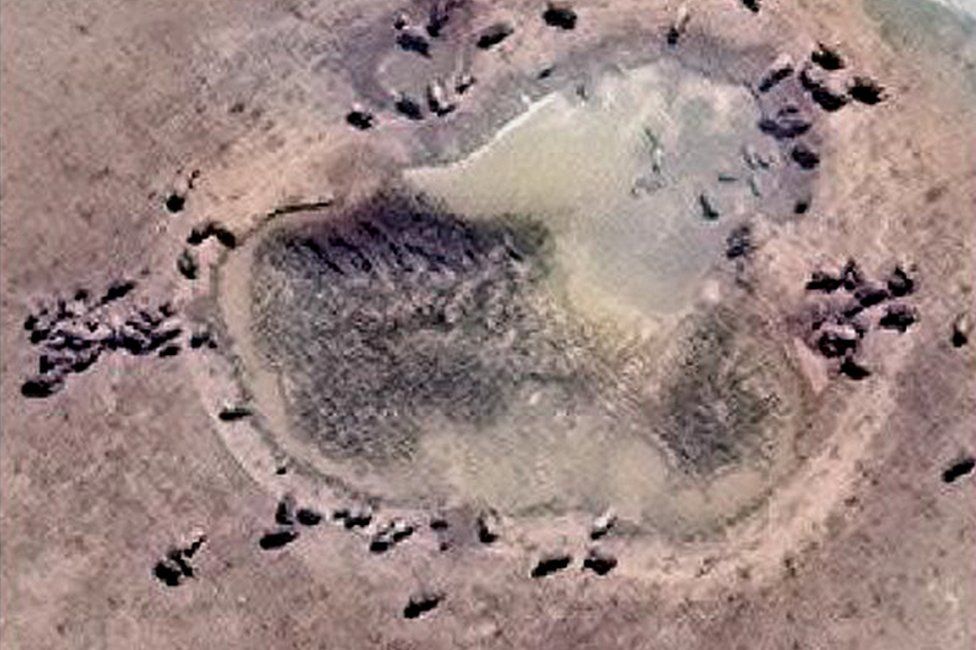 "We just present examples to the algorithm and tell it, 'This is an elephant, this is not an elephant,'"Dr Olga Isupova, from the University of Bath, said.
"By doing this, we can train the machine to recognise small details that we wouldn't be able to pick up with the naked eye."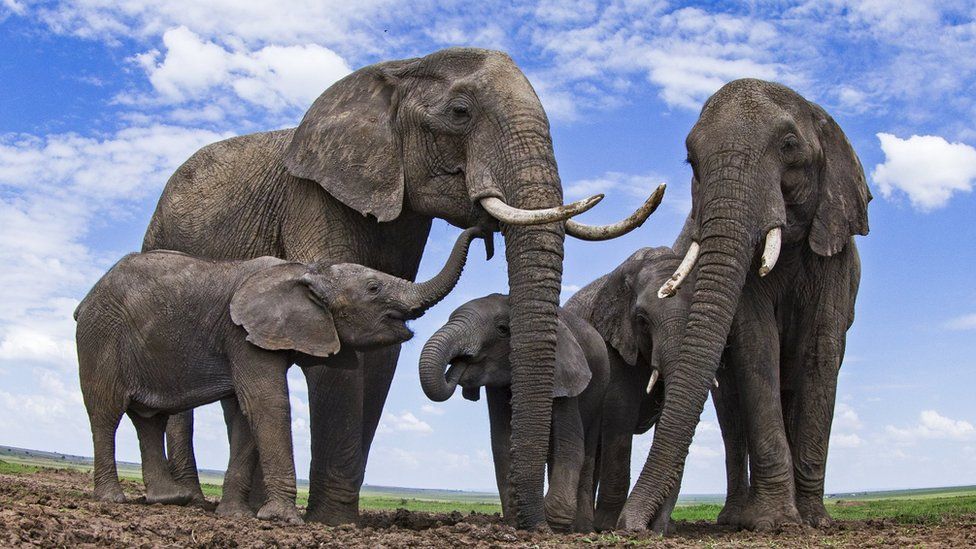 The scientists looked first at South Africa's Addo Elephant National Park.
"It has a high density of elephants," University of Oxford conservation scientist Dr Isla Duporge said.
"And it has areas of thickets and of open savannah.
"So it's a great place to test our approach.
"While this is a proof of concept, it's ready to go.
"And conservation organisations are already interested in using this to replace surveys using aircraft."
Conservationists will have to pay for access to commercial satellites and the images they capture.
But this approach could vastly improve the monitoring of threatened elephant populations in habitats that span international borders, where it can be difficult to obtain permission for aircraft surveys.
.css-mysbf6-ComponentWrapper-CrossheadComponentWrappermargin:1.5rem 0;max-width:50rem;padding-top:1rem;max-width:36.25rem;
.css-qozapo-StyledHeadingfont-family:ReithSerif,Helvetica,Arial,freesans,sans-serif;font-weight:500;font-size:1.5rem;line-height:1.75rem;color:#3F3F42;@media (min-width:37.5rem).css-qozapo-StyledHeadingfont-size:2rem;line-height:2.25rem;.css-qozapo-StyledHeading:focusoutline-style:none;.css-qozapo-StyledHeading:focus-visibleoutline-style:auto;
'Cutting-edge techniques'
The scientists say it could also be used in anti-poaching work.
"And of course, [because you can capture these images from space,] you don't need anyone on the ground, which is particularly helpful during these times of coronavirus," Dr Duporge said.
"In zoology, technology can move quite slowly.
"So being able to use the cutting-edge techniques for animal conservation is just really nice."
.css-kqym7f-SectionWrappermargin:1.5rem 0;padding-top:1.5rem;font-size:0.875rem;line-height:1.125rem;
Canadians Can Now Sign Up for Starlink Internet Beta Without an Invite, If Eligible – iPhone in Canada
SpaceX has made changes to its Starlink internet beta website, to now allow sign-ups without an invite, if your address is eligible for service, reports Tesla North.
Previously, Starlink website sign-ups for the beta program would be contacted via email to let them know about eligibility. But as of Wednesday, users in Canada and the United States can enter their address on the Starlink website—and if eligible, sign up right away.
All you have to do is visit the Starlink website here, enter your email and your home address. You'll be able to confirm your exact location with a pin on a map.
After that's done, you'll then be notified instantly if you can sign up for the internet beta program. If you are eligible, you'll be able to place an order right away for the Starlink hardware package, which contains a dish and router.
Tesla North reports Canadians in Ontario, Manitoba and Alberta were able to sign up today or received emails to join the Starlink beta. Eligible latitudes seen so far have been in the range of 43.1 to 45.3, and 50.01 to 50.71.
As for Starlink internet pricing in Canada? The dish is priced at $649 CAD, while the service is at $129 CAD per month. Starlink is targeting those in rural areas, lacking high-speed access.
Starlink internet beta invites hit Canada back in September. The low-Earth orbit satellite internet offers lower latency and faster download speeds compared to traditional satellite internet. This is because Starlink internet satellite constellations are hovering 550 km above Earth, whereas conventional satellite internet is at roughly 35,700 km above the globe, resulting in slow speeds with high latency.
[embedded content]
On Thursday morning, SpaceX's Falcon 9 rocket launched 60 more satellites into orbit, resulting in over 1,000 Starlink satellites in space. SpaceX has plans to launch 12,000 satellites and at its current pace, has a leg up on competitors.
The first location in Canada to use Starlink internet was the Pikangikum First Nation.
In Canada, the federal government recently inked a $600 million deal with Ottawa-based Telesat for its low-Earth orbit satellite internet. So far? There's only one Telesat satellite in space, but plans are to send more into orbit in 2021 aboard Amazon-backed Blue Origin rockets. Telesat satellites at 800 kg each, weigh more than three times that of a Starlink satellite, at just 227 kg.
Moreover, Telesat will sell its satellite internet services to internet providers, who will then sell directly to consumers. This is different than Starlink's direct-to-consumer business model, mirroring Tesla. Time will tell if $600 million of your tax dollars will see Telesat compete with SpaceX's Starlink internet.
For rural Canadians, Starlink internet will allow for high-speed internet connectivity that's unheard of, allowing for video conferencing and also streaming 4K video and playing video games. Beta testers have seen download speeds of 150 Mbps or higher.
Were you able to sign up for Starlink internet beta via the website?